| Shul of My Youth |
Memorable Melodies of Modzhitz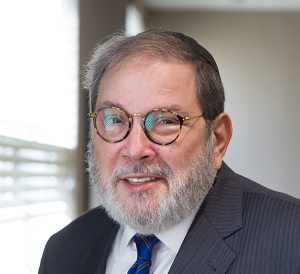 | March 20, 2019
S
habbos in our Brooklyn shtibel offered a musical feast.
When my family emigrated from Israel to the United States in the late 1950s, there was no doubt where we would be davening — the Modzhitzer shtibel in Crown Heights. My mother's sister was married to Reb Nachman Shenker, brother of the famous Modzhitzer baal menagein Reb Ben Zion Shenker z"l. My parents were friendly with the Shenkers, and my father, Rabbi Akiva Besser z"l, and Reb Ben Zion often collaborated in music. So even though our apartment address was 777 Eastern Parkway, directly across the street from Lubavitch — and sometimes I would see the Rebbe go out for an early morning walk — Modzhitz was our shul.
Davening in Modzhitz was a unique experience for me, something I looked forward to every Shabbos. The president of the shul was Reb Yitzchok Taub, son of the late Modzhitzer Rebbe. Reb Yitzchok had an amazing ability to make a little kid like me feel important. He actually talked to me like I was an adult. And he got a kick out of my calling him Rabbi Mr. President.
Another role model for us young people was Reb Avrohom Shenker, who was married to the Rebbe's daughter. He was a tremendous talmid chacham and had outstanding middos. Yet he was very tuned into the modern world and was especially good at communicating with youth. His incredible humility also had a great impact on us.
The Modzhitz Shabbos kiddush was always amazing. Sure, the herring was great, as were the cholent and kugel, but it was all about the singing. The Modzhitzer Rebbes were known for being musically gifted and composed many niggunim that were sung in the court. Reb Ben Zion, who was a musical genius, reignited the older niggunim and composed many of his new tunes under the Modzhitzer banner.

It's hard to describe 50 or so men sitting at rectangular tables and singing together with perfect harmonies, so I won't try. I'll just say that the mispallelim in the shtibel were, for the most part, Holocaust survivors who were struggling to scratch out a living during the week. On Shabbos, in shul, they became kings. Even today, for me, no concert has ever rivaled the excitement, passion, and vibrancy of the singing at the Modzhitzer shtibel.
During Seudah Shlishis, I would often sit next to Reb Ben Zion, trying to learn the melodies while I sang along with the adults. There were also the Yamim Tovim, which generated their own brand of musical selections. I vividly remember the Purim celebrations at the shtibel. The Modzhitzer rendition of Shoshanas Yaakov was particularly lengthy and musically sophisticated. The piece was composed with the intent that the volume, tempo, and beat of the music always perfectly matched the words. For instance, when we curse Haman, the tune is soft and slow. When Mordechai is blessed, the music increases in volume and tempo. Since the lyrics of Shoshanas Yaakov encompass such a variety of topics, the result is a beautiful and complicated niggun. It was challenging and stimulating to learn the ins and outs of that song. So many years later, I can still sing the entire song with expertise.
When we moved to the West Side of Manhattan, I was heartbroken at leaving the shtibel. We used to return for special occasions, which, for me, wasn't often enough.
But the Modzhitzer choir would meet at our Manhattan apartment, to rehearse for their first two albums: Motzaei Shabbos and Shalosh Regolim. Those were the days of long-playing records, before there were tapes, cassettes, and CDs. My father sang in the choir, harmonized with Reb Ben Zion, and had some solos. I have fond memories of sneaking out of my bedroom late at night and standing near the living room, so I could peek and hear the choir in its full glory.
Old-New Niggunim
This past Yom Kippur, I davened at my neighborhood shtibel. The rav was the chazzan for Mussaf. Much to my (pleasant) surprise, he used the niggun of the Modzhitzer "Omar Hashem L'Yaakov," from the first album, for Imru L'Eilokim. Not only was it impressive that the tune has remained popular for seven-plus decades, but this niggun is AA-BB-CC-DD. Most songs produced in recent memory are AA-BB — two parts, usually low and high — each part sung twice. "Omar Hashem L'Yaakov" has four different parts.
Speaking of lasting a long time, most of the Jewish world uses the Modzhitzer Eishes Chayil niggun every Friday night. Last year, a "new" niggun came out for Havdalah. This "new" tune was, in reality, "V'yitein Lecha HaElokim," from the first Modzhitzer album.
Many Modzhitzer melodies are long, haunting, and multifaceted. "Bemotzai," "Tal," and "Kol Mekadesh" are just a few examples of sophisticated and outstanding Jewish music. Last year, a concert in Israel featured a full orchestra and the world's top chazzanim singing ten Modzhitzer tunes and four medleys. The sold-out concert received a standing ovation.
Today, I no longer have a good singing voice. But I still know those Modzhitzer niggunim inside out. Whenever I hear one, the exquisite warmth comes back.
 (Originally featured in Mishpacha, Issue 753)
>