| Cooks Compete |
Marble Cake
| January 18, 2022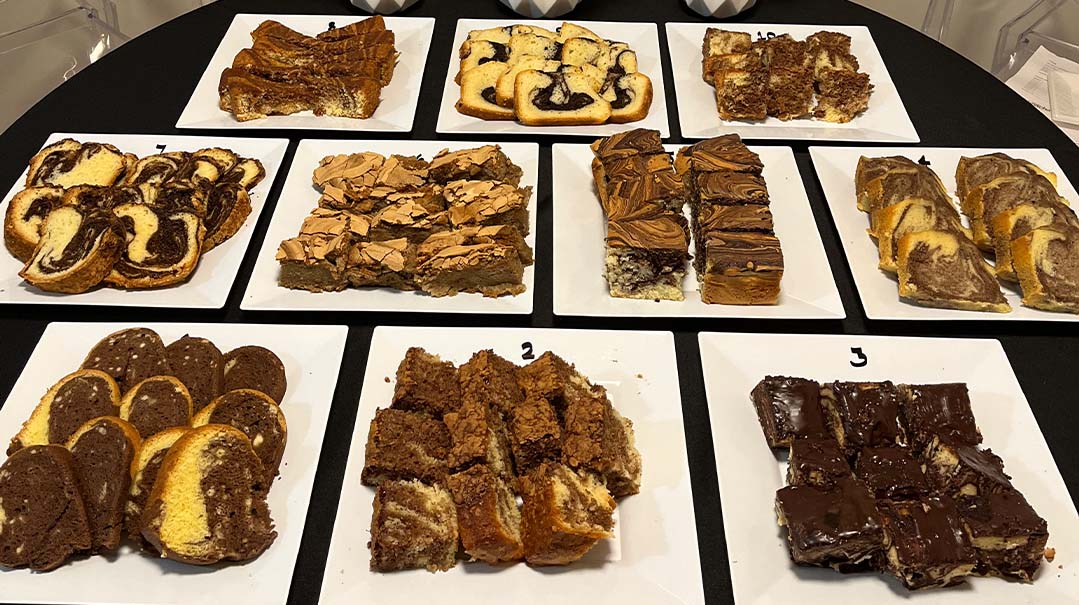 There's something about marble cake that creates a centered, homey feeling in our kitchens. Maybe it's the connection to the recipes our grandmothers made, or maybe it's the way this cake has no airs about it: it's not flashy, it's delicious, and everyone has their favorite recipe. Here are the ones that stood out for our testers.
Rich Marble Cake
Submitted by Peshy Felberbaum, Monsey, NY
I got this recipe from a cousin, with whom I swap recipes all the time. It's become a family favorite.
YIELDS 1 11X16-INCH (28X40-CM) PAN
12 eggs, separated

3 cups sugar, divided

1 cup oil

1 packet vanilla sugar

½ cup seltzer

⅓ cup lemon juice

pinch salt

3 tsp baking powder

4 cups flour
Marble Mixture
¾ cup cocoa powder

1½ cups confectioners' sugar

⅓ cup oil

⅓ cup hot water
Preheat oven to 350°F (175°C).
Beat egg whites with 2 cups sugar. Lower mixer speed to the lowest setting. Add the rest of ingredients in the order listed. Mix in flour until incorporated. 
Pour the entire batter into an 11x16-inch (28x40-cm) baking pan.
Add the marble mixture ingredients to the mixing bowl (no need to rinse the mixer bowl first). Mix on low speed. Pour over the white batter in the pan and marbleize with a fork.
Bake for 1.5–1 3/4 hours, checking if done. 
Mocha Marble Cake
Submitted by S. Porgesz, Brooklyn, NY
This cake is as easy as it gets!
YIELDS 1 10X16-INCH (25X40-CM) PAN
8 eggs

3 cups sugar

3 cups flour

2 Tbsp baking powder

2 Tbsp vanilla sugar

1 cup oil

1 cup orange juice
Marble Mixture
2 Tbsp cocoa powder

1 Tbsp coffee granules

1–2 Tbsp hot water 
Preheat oven to 350°F (175°C).
Mix all ingredients together. Pour three-quarters of the batter into a parchment-lined 10x16-inch (25x40-cm) pan.
Dissolve cocoa and coffee in hot water and stir into the remaining white batter. Pour the chocolate batter over the white batter in the pan, going up and down in a zigzag. Use a fork or knife to marbleize. Bake for 1 hour and 10 minutes. (Every oven is different, so check with a toothpick after 1 hour.)
Quick and Simple Marble Cake
Submitted by Frady Kess, Brooklyn, NY
This is a tried-and-true family favorite. Since there's no need to separate the eggs, you can mix the batter and get it into the oven in under 10 minutes. You'll never separate eggs for marble cake again!
YIELDS 1 TUBE PAN
2 cups sugar

1 cup canola oil

6 eggs

1 tsp vanilla extract

2 cups flour

2 tsp baking powder

¾ cup chocolate syrup
Preheat oven to 350°F (175°C). Grease a 10-inch (26-cm) tube pan well.
Mix together all the ingredients except the chocolate syrup. Set aside 1 cup of batter and pour the rest of the batter into the pan. 
Mix the reserved batter with the chocolate syrup to create a chocolate batter. Pour chocolate batter evenly into the pan and swirl gently with a fork.
Bake for 1 hour. Allow cake to cool before removing from pan.
Thank you to the Thornhill Community Kollel for hosting our tasting party!
(Originally featured in Family Table, Issue 777)
Oops! We could not locate your form.
>