| Washington Wrap |
Mapping the Paths to Victory
| October 21, 2020
A small number of swing states will be critically important in choosing the next president of the United States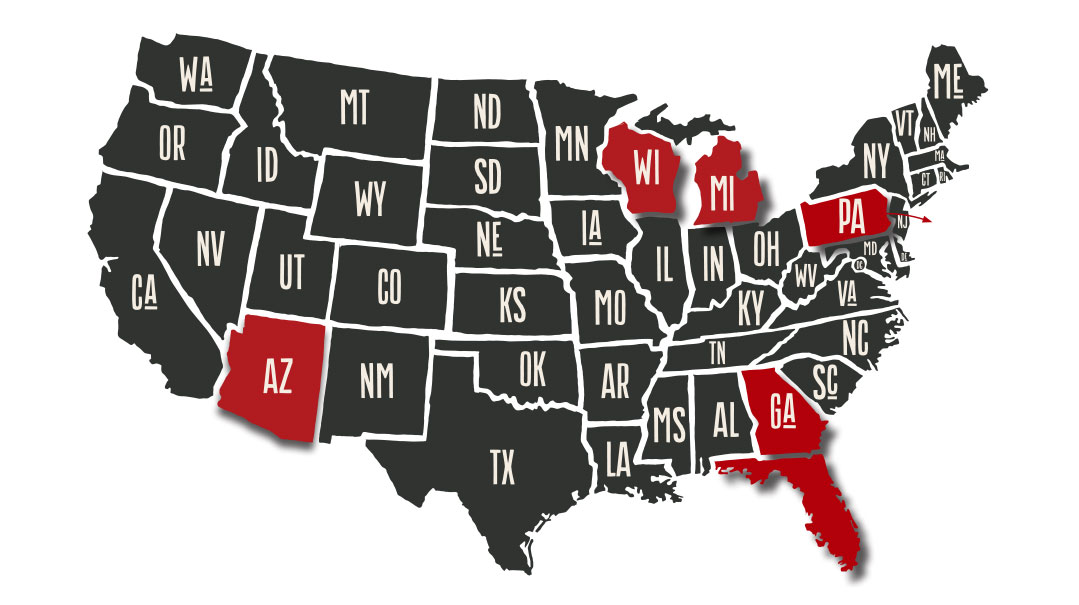 Two candidates, two coalitions. What are Trump's and Biden's paths to victory?
Both candidates have a shot at winning, but their chances rely on very different coalitions. Trump's coalition — narrower, but more enthusiastic — boils down to non-college-educated whites and conservative and religious voters, especially evangelicals. Biden's coalition is bigger but more divided. While many African American supporters see racial justice as the most important issue of the campaign, other groups in Biden's coalition view economic issues such as health care and education as the primary concern.
Paradoxically, Trump is the only thing keeping Biden's coalition together. Biden doesn't command deep enthusiasm for his own candidacy, but all his supporters share a keen desire to send Trump home.
Trump, for his part, is hoping to drive a wedge between the different parts of Biden's coalition. His law and order message is a way of bringing Democratic divisions to the fore. Trump often tells suburban voters that as president, Biden would be soft on crime, and their neighborhoods will be less safe. Anti-Trump sentiment among suburban white women is a stumbling block for Republicans. To win, Trump will have to make stronger efforts or present a more moderate approach (and persona).
Another crack in Biden's coalition comes from Amy Coney Barrett's nomination to the Supreme Court, and the Democrats' threat to pack the court with liberal justices. Many swing voters are turned off by this rhetoric, which translates to a break with 200-year-old political norms. Biden's tactic has been to try to dodge questions on it, but the further he digs in with refusing to give a straight answer on whether he'll pack the court, the bigger the issue becomes. If he persists in this approach, he's liable to lose support from moderates.
And there are also specific coalitions relevant to the Electoral College. A small number of swing states will be critically important in choosing the next president of the United States, and the unique demographic composition of each swing state creates different challenges and opportunities for each candidate.

Arizona
Since 1952, Arizona has only voted Democratic once (in 1996), but that may change this year. Latinos comprise 25% of the state's population and will be important in deciding who wins the state's 11 electoral votes. A Politico poll shows 62% of them favoring Biden, while support for Trump rises to 42% among young Latino men.
But women will likely decide the winner in Arizona. While Trump holds a 2% edge among men (per the New York Times-Siena poll), Biden leads among women by 18%. Put simply, in order to win Arizona, Trump has to up his game with the female population.
Two more critical factors: 1) Turnout among young voters, particularly in Phoenix. Without them, Biden's hopes in the state could evaporate on Election Day. And 2) Turnout among Arizona's evangelicals, who heavily favor Trump and could potentially be the decisive factor in a close race.
Wisconsin
The ultimate swing state, Wisconsin has a history of being decided by very small margins, sometimes less than 1%. While Biden holds an 8% lead, Clinton also led there by a comfortable margin before losing narrowly on Election Day. One factor favoring Trump is the fact that 59% of the state's voting age population is comprised of whites without a college degree — a demographic that favors Trump by massive margins. And while young voters under 25, particularly in Milwaukee and Madison, support Biden, older white voters tend to support Trump in big numbers. And while the law and order message doesn't seem to be gaining traction in North Carolina and Pennsylvania, it could very well have an effect in Wisconsin, a state that saw riots in Kenosha and other places throughout the summer.
Michigan, Pennsylvania, Georgia
The same theme runs through the narratives of these diverse states: Biden is counting on massive turnout among black voters in Detroit, Philadelphia, and Atlanta. Barring that, he can't win the election. Turnout among African Americans isn't usually high. In 2016, Hillary rested her hopes on them, but they didn't show up for her on Election Day. Some will say she took their votes for granted, and they weren't impressed by that. Biden's position among blacks looks better than Clinton's, but he's still very far from Obama's numbers in 2008 and 2012; and meanwhile Trump has managed to increase his support with this traditionally Democratic constituency. Even polls that have him losing by double digits nationwide show him inching into double digits with blacks.
Trump, for his part, is hoping to keep up high turnout among the white and rural counties he won in 2016, including working-class towns, coal miners, and blue-collar workers in western Pennsylvania. Biden, born to a middle-class Pennsylvania family, has some native appeal, but fracking is an effective wedge issue for Trump. Biden faces a dilemma here: If he supports fracking, he'll get in trouble with the radical wing of his party, which opposes it on environmentalist grounds. But if he comes out against it, he'll lose support the non-college-educated whites. As of now, he's promising to not ban fracking, but he seemed to clearly express opposition to it during the primaries.
Florida
With its 29 electoral votes, Florida is the biggest prize. The state currently leans to Biden by a small margin, but don't be surprised if it goes red on Election Day. Florida is one-fifth Hispanic, and while Pew shows Biden leading Trump in that demographic by 17%, an NBC poll shows the two candidates tied. Florida has a large population of Cuban emigrés, who trend 58%-38% Republican because of their experiences with socialism. Trump is investing heavily in this group. Florida's Hispanic population grew by 8% since 2016 and is viewed as key for winning the White House.
Biden, meanwhile, hopes to sweep older voters — who still turn out in much higher numbers than young and first-time voters — and Biden is counting on them to clinch Florida. An AARP poll shows Trump currently tied with Biden among seniors, a group he won by 17% in 2016. In a close race, Trump might end regretting having tweeted a picture of Biden's face pasted on to a nursing home resident.
(Originally featured in Mishpacha, Issue 832)
Oops! We could not locate your form.
>