| Recipes |
London Broil with Shallot Wine Sauce
| March 28, 2023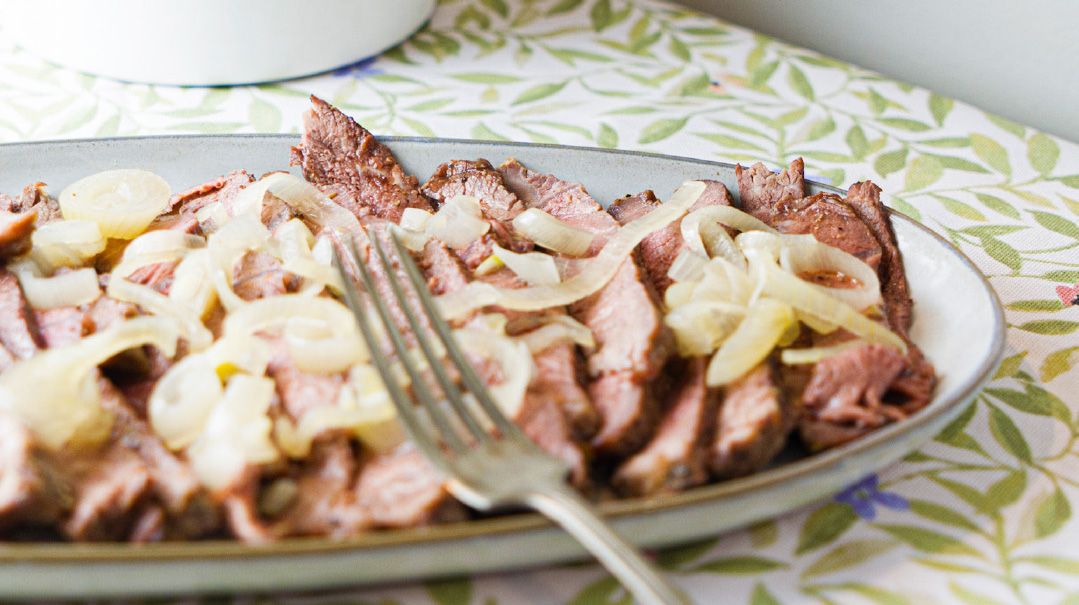 Styling, and Photography by Menachem Goodman
A traditional wine sauce is made using a red wine. But since I'm all about breaking traditions, I used a white wine instead. This recipe takes minutes to prepare, and it's legit!
SERVES 6–8
1 3-lb (1.36-kg) London broil
Marinade
¼ cup olive oil
1 tsp black pepper
1 tsp kosher salt
Shallot Wine Sauce
1 Tbsp olive oil
2 shallots, thinly sliced
¼ cup white wine (not cooking wine)
½ cup chicken or beef stock
1 tsp kosher salt
fresh cracked black pepper (optional)
In a bowl, combine all the marinade ingredients and mix well. Set aside.
Using a metal fork, pierce holes in the meat to allow the marinade to absorb. Place meat in marinade and let sit for 20 minutes.
Preheat oven to broil.
Transfer the meat to a 9x13-inch (23x33-cm) baking pan and broil on high for 5–6 minutes, then flip over and broil for another 5 minutes, until internal temperature reaches 125°F (52°C) for medium rare.
For the wine sauce: In a small saucepan over medium heat, place the oil and shallots. Cook for 5 minutes, stirring occasionally. Add the remaining ingredients except the black pepper. Bring sauce to a boil, and then lower heat and cover. Allow to simmer for 10 minutes.
Remove from heat and add a sprinkle of black pepper (if desired). Serve hot alongside meat.
Store the sauce in the fridge for up to four days. Reheat over medium heat until hot.
(Originally featured in Family Table, Issue 837)
Oops! We could not locate your form.
>