| Magazine Feature |
Life of the Party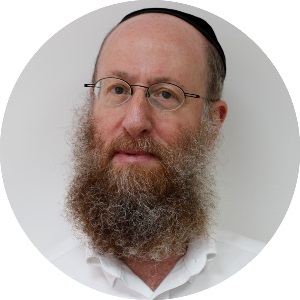 | June 28, 2022
In an exclusive interview, Senator 

Marco Rubio warns of American weakness in a hostile world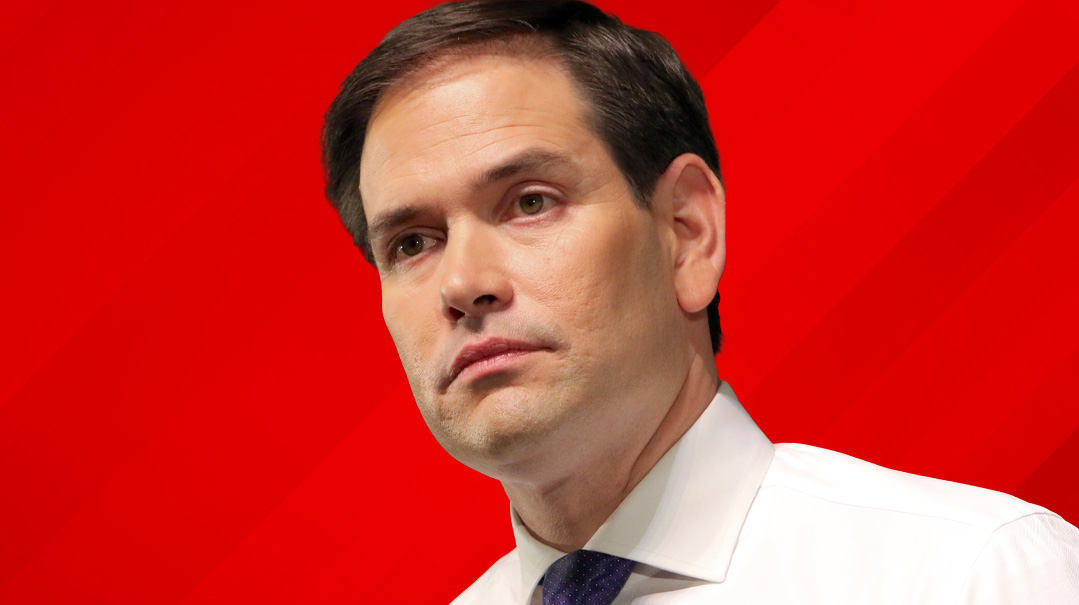 Six years ago, Marco Rubio set his sights on the presidency and ended up settling for reelection to a second term in the US Senate. Now Florida's senior senator, Rubio is running for a third term in the November midterms. In a wide-ranging conversation with Mishpacha's editor at large Binyamin Rose, the Florida Republican shared what he feels are the biggest threats facing America, what Israel ought to bear in mind when dealing with the Biden administration over Iran, a few thoughts about his controversial bill for year-round daylight saving time, and what led to his about-face on Donald Trump
When my path last crossed with Marco Rubio, less than 48 hours remained until the start of voting at the 2016 Iowa Caucuses.
I was covering a town hall meeting at the Ramada Hotel in Des Moines where Rubio was holding forth in front of a crowd that reflected Iowa's predominantly conservative and religious constituency. Looking casual in a gray zip-up sweater and Republican red tie, Rubio conveyed messages that both emanated from his core beliefs and resonated with the audience.
"Our rights come from G-d and not from government," Rubio said, adding that "Judeo-Christian values made America the most charitable nation on earth."
That night, Rubio showed flashes of humor, revealed his serious, issues-oriented side, and displayed his people skills as Iowans flocked around him after his campaign speech. I joined in, introducing myself as a former Miami Beach resident, and slipped in a quick question on the US-Israel relationship. Rubio answered by criticizing Obama for injecting unnecessary friction between the two strategic allies and promised to put an end to that if he became president.
When all the caucus votes were counted two nights later, Iowa's Republican voters proved to be less charitable to Rubio than he had hoped for. He finished third behind first-place finisher Ted Cruz and the ultimate party nominee, Donald Trump.
Rubio dropped out of the presidential race six weeks later after a disappointing second-place finish to Trump in Florida, but pulled the plug on his campaign early enough to make the pivot and run to retain his Senate seat — a race he won handily that November.
I reminded Rubio of our Iowa encounter when we spoke last Wednesday, exactly six years to the day after he declared his second Senate run.
"I was a lot younger then," he quipped. "I did a lot of Ramadas on Saturday nights in Iowa back then, but I appreciate you remembering."
Seated behind his desk in his Washington office, with the American flag behind his right shoulder and Florida's state flag to his left, Rubio took a quick, but trademark swig from a plastic water bottle before our interview began. It brought back some déjà vu to 2013 when the media took swipes at Rubio for quenching his thirst on camera before his nationally televised rebuttal to President Obama's State of the Union message. Critics looking to find fault called it a gaffe. Others thought it showed his human side. Familiar as I am with scorching and steamy D.C. summers, which are almost as unbearable as hot and muggy Florida, I can relate to the need to keep hydrated.
Call it what you will, but as Rubio runs for a third senate term this November, completing his 12th year in the Senate, he comes across as self-assured, not self-conscious in the least.
Rubio sits on the two most powerful committees that influence US foreign policy. He is vice chair of the Senate Select Committee on Intelligence and is the second-ranking Republican on the Committee on Foreign Relations. If Rubio wins reelection and the Republicans capture the Senate, he is first in line to chair the Intelligence Committee.
By the numbers, Rubio is one of America's most prolific and effective lawmakers. In the average Congressional session, only about 3 to 5 percent of the bills introduced in Congress are enacted into law. In the 116th Congress alone (January 3, 2019, to January 3, 2021), Rubio introduced 130 bills and resolutions, with 31 of them becoming laws — almost 24 percent, according to GovTrack, a leading nongovernmental source of legislative information and statistics.
GovTrack's 2020 report card ranked Rubio the number one senator for the number of bills introduced and number two in his ability to line up the most cosponsors for his bills — including Democrats. This, despite Rubio's GovTrack ranking as the second-most politically right-wing senator among those who have served more than ten years.
Even CNN, no fan of the political right, has praised Rubio's ability to reach across the political aisle. CNN recently described the arc of Rubio's political career "that has taken him from Tea Party darling to bipartisan deal-cutter to a favorite of the party establishment and now as a Republican aligned squarely with the former president."
Rubio's rapprochement with Donald Trump, who mocked Rubio as he did every opponent in the 2016 presidential primary, signified a sharp turnabout from comments Rubio made in his March 2016 interview with Mishpacha, when Rubio labeled Trump "the most vulgar person that's ever run for president" who "sets a terrible example for young people in this country."
Rubio explained his change of heart during the latter part of our interview last week.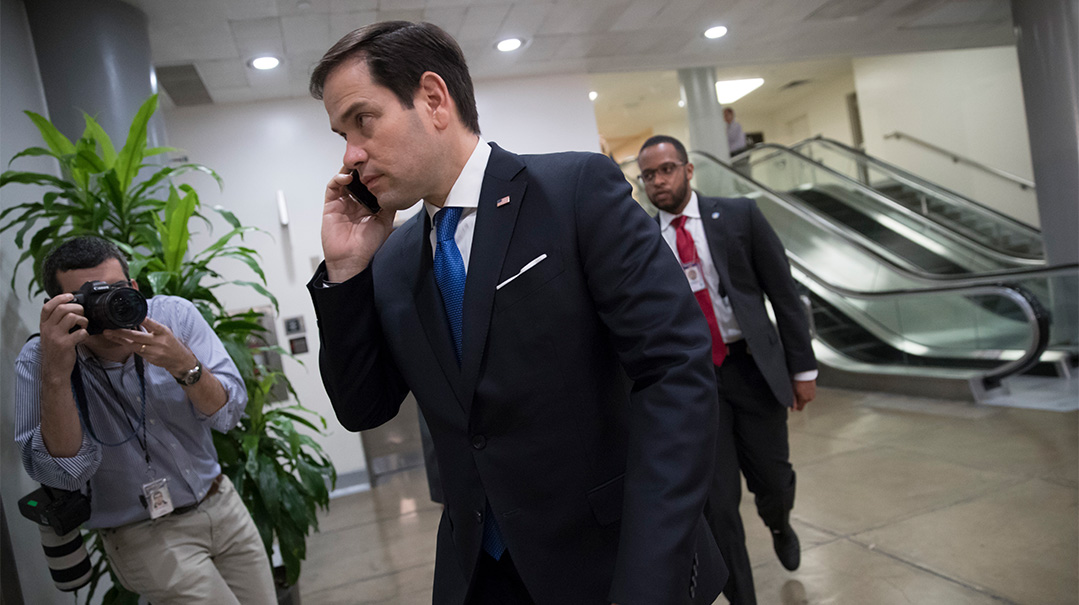 MAN ON A MISSION Bitten early by the political bug, Rubio rose through the ranks of Florida politics, before making it to the Senate where he's been outspoken about America's foreign policy weakness
Fast Track to D.C.
Marco Antonio Rubio was born in May 1971 to Cuban-born parents fortunate enough to flee from Cuba before Fidel Castro's takeover. Like many Cuban immigrants of that era, they settled in Miami. His father was a hotel bartender and his mother worked as a housekeeper in a different hotel.
Marco graduated from South Miami Senior High School in 1989 and attended Tarkio College in Missouri for one year on a football scholarship. He transferred to the University of Florida, where he earned a bachelor of science degree, and then a law degree from the University of Miami in 1996. While studying law, Rubio interned for longstanding Miami-area congresswoman Ileana Ros-Lehtinen, and also served as a statewide get-out-the-vote coordinator for Bob Dole during his unsuccessful 1996 presidential bid to unseat Bill Clinton.
Rubio, who met his wife, Colombian-born Jeanette Dousdebes, when they were still in high school, were married in 1998. They now have two girls and two boys. Rubio is Catholic, although he attended a Mormon church when his family lived in Las Vegas for a brief time.
Bitten by the political bug, Rubio made a quick political climb, first winning a seat on the West Miami City Commission in 1998, and then a seat in the Florida House of Representatives in 2000. He served in the Florida House for eight years, capturing leadership positions, including majority whip, majority leader, and speaker of the House.
He would travel around the state, hosting what he called "Idea Raisers" to solicit citizen input on ways to strengthen Florida. He compiled his best 100 ideas into a political guidebook called "100 Innovative Ideas for Florida's Future."
Some 57 of those 100 ideas eventually became state law, including measures to crack down on gangs, promote energy efficiency, and help small businesses obtain affordable health coverage. Former US House Speaker Newt Gingrich hailed his effort as "a work of genius."
His pro-Israel credentials are impeccable. The American Jewish Congress rates him highly for his support of the US embassy move to Jerusalem and his backing for the Taylor Force Act that bars the US from providing funds that might end up in the Palestinian Authority's pay-for-slay program. Rubio was a vocal critic of UN Security Council Resolution 2334, which the Obama administration supported in its waning days as its final slap in the face to Israel, declaring Jewish settlements in Judea and Samaria to be a violation of international law.
Rubio has consistently opposed the Iran nuclear deal. He cosigned a letter with several Republican senators in April asking President Biden to take immediate action to provide Israel with the military capabilities it needs to defend itself from Iran.
We discussed these and many other foreign and domestic policy matters in our interview, which is lightly edited for clarity and brevity.
You've been quite outspoken about the Russia-Ukraine war, but in retrospect, was the US too risk-averse in dealing with Vladimir Putin? Is there anything that America could have done that it didn't do to deter Russia from attacking?
"I don't know if the answer to that will ever be fully known. I certainly think there are some things that encouraged Putin to do it. The first is the energy dependence of Europe. He calculated that 'there's no way these countries are going to do anything about it because they depend on me.' The second, frankly, is that he views America as a power in decline and almost a paper tiger. Something that was reinforced in his mindset, not just by this administration's general performance, but by what happened in Afghanistan.
"Ultimately, I'm not sure anything would have prevented him from doing it, because he views himself as a great historic leader who was going to restore Greater Russia, and part of that, of course, is at least some control over Ukraine. He calculated that it would be a lot easier than it's been, but I think that certain things helped him to put the pieces together in his mind that now is as good a time as any to do it, primarily because he thought neither Europe nor the United States was capable or willing to respond aggressively."
So far, according to the White House, the US has delivered $5.6 billion in military aid to Ukraine since the invasion, and that could soon balloon to $40 billion. Should there be a limit either on the amount of money or the amount of time that the US is willing to invest in helping Ukraine defend itself?
"We should always be willing to help them defend themselves. I don't think we can be writing $40 billion checks every six months because we have a set of priorities of our own. Ultimately, we really can't help everybody if we're not strong enough to help ourselves. That's not an isolationist view of the world, it's a reality view of the world. Now, that $40 billion we passed a few weeks ago, about half that money was for us to buy replacements for the equipment we had given them, but we should be willing to continue to help Ukraine.
"At the same time, we have to understand that it's their fight. We want to help them as much as we can, and there are other countries who are even closer to that battlefield. Do I think there are limits? I don't want to give you a number, but it's not unlimited. Frankly, the Ukrainians have done a great job of fighting, and we should continue to try to help them as much as we can, but we have to balance that with our priorities. If you were to ask me where our foreign policy priorities should be, first and foremost is the Indo-Pacific region, because the relationship between the US and China is going to define the 21st century. Not that what's happening in Ukraine is not important, but what's happening in Asia is 100 times more important, and we should not take our eye off the ball."
So I'm going to return to that topic shortly, but first I want to discuss something more recent. A week ago, Politico authored an article contending that the US overestimated Russia's military might and may be underestimating China's. To that, you tweeted, and I quote: "Before the end of the week, we could see developments that signal how our complacency and overconfidence is leading us toward a kind of cataclysmic misjudgment that alters the course of history." Can you elaborate on what you had in mind when you tweeted that?
"Well, 48 hours after I tweeted that, China revealed that for the first time, they've now produced a repurposed aircraft carrier that uses a catapult launch, which is an electromagnetic-type system. There are only two of those in the world. One is ours — the Gerald Ford — and the other is now China's. So we now have a near-peer adversary in the aircraft carrier world. That's just the tip of the iceberg in terms of the things that they're developing. We know they've invested billions of dollars and now lead the world in hypersonic weaponry. We know they're investing billions of dollars in developing anti-ship missiles that would deny our Navy the ability to operate in certain spaces. They've made tremendous advances in stealth aircraft, in both their fighter jets and reconnaissance platforms. When I first got to the Senate, I remember being told by people in the military that it's going to take China 30 years to learn the lessons we've learned about aircraft carriers. It didn't take them 30 years. It took them less than seven."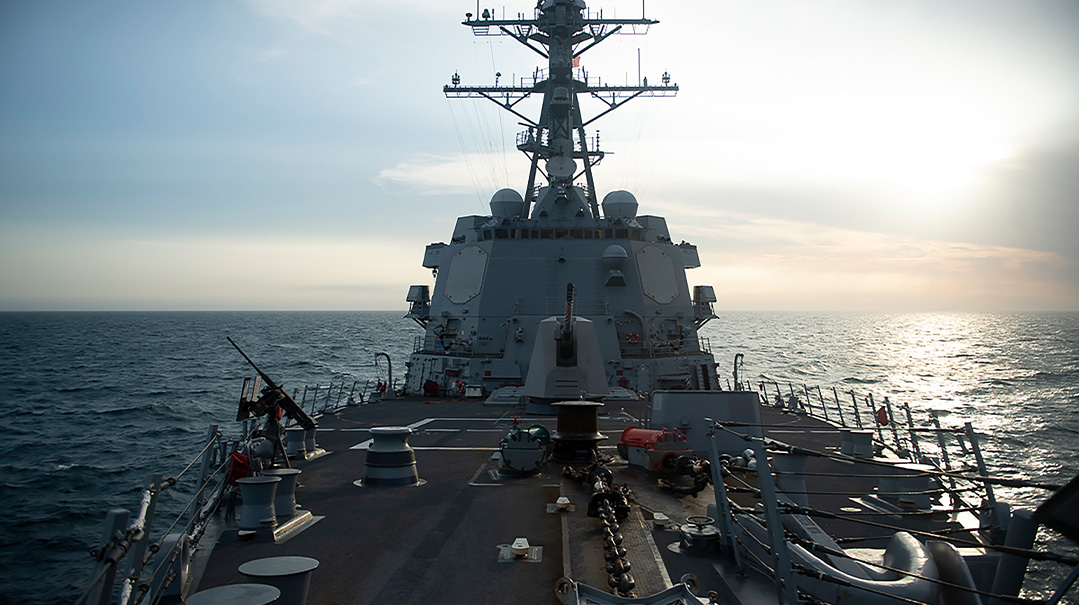 "CHINA IS A NEAR-PEER ADVERSARY" With the Chinese navy testing aircraft carrier technology as advanced as America's, Rubio says that an attempt to take Taiwan is a near-certainty
From your perch on the Senate Intelligence Committee, how concerned are you that China might invade Taiwan?
"I don't think there's any doubt that before this decade is over — and it could be next year, or it could be in four years — we're going to have something happen with Taiwan. I think the Chinese prefer that be voluntary. The Taiwanese might just conclude, 'A weak America is not going to come to our defense, so we might as well surrender and cut the best deal that we can.' I think that's China's preference, but I have no doubt that eventually, they'll move militarily if they have to.
"If China is able to conquer and take over Taiwan, and the EU and the US and our allies in the Asia-Pacific region are unable to stop it, that will be a pivotal moment in history. The signal will be very clear that they're not only the most powerful power in Asia but probably the most powerful country in the world. At that point, a bunch of countries will make decisions on that basis. Japan would decide they need nuclear weapons. South Korea may conclude the same, and multiple other countries around the world as well. It will be a real transitional moment in human history, and one we should seek to avoid by making sure the Chinese continue to have doubts for the foreseeable future about their ability to take Taiwan without too heavy a price to pay."
At the end of March, you addressed the Heritage Foundation and clearly articulated that the 21st century was going to be about the economic battle between the US and China. Does this have to be a zero-sum game where only one country emerges on top? Or is there a win-win solution where both the US and China prosper and can live peacefully with each other?
"It doesn't have to be a zero-sum game, most certainly there are some areas in which the US and China can prosper. Japan became the third-largest economy in the world and was not hostile to the United States. But that would require a change in the direction of the Chinese Communist Party leadership or a change in their government. I don't think that the scenario you've described is possible, as long as Xi Jinping is the president of China. He's made very clear that their goal is to become the world's dominant power by 2050. I think they've accelerated that time frame to closer to 2035. They want to surpass the United States in every field. In technology, commercially, militarily, diplomatically, geopolitically. And they're moving very aggressively on all those fronts. Now they have their own set of problems and challenges they're going to have to confront, but they are moving very quickly and making faster progress than most of the so-called experts around here thought they would."
So what's America's answer to this?
"The first thing we need to do is understand it, and then we need to strengthen ourselves. We're incredibly vulnerable right now to China. We depend on them for too many of the things we use in this country. Too much on technology, but also the active ingredients in pharmaceuticals. Some 80 percent of the active ingredients in generic medicines sold in this country are manufactured in China. We learned through the pandemic how vulnerable we are to supply chain disruptions. Today it's because of the pandemic, but in the future, it could be because of an act of war. They can decide we're just going to cut you off from these supplies as leverage against you, so you won't take actions that we don't want you to take.
"So we've got to strengthen our supply chains. We've got to do a better job of identifying critical industries to our national security, to our economic interests, and securing those both here and in friendly countries. We have to rebuild our industrial capacity in the United States.
"We have to begin to take the threat seriously of how China weaponizes everything. They've weaponized investment markets. They've weaponized trade and commerce. They've weaponized academia. They send graduate students to the United States and steal our research and take it back to China to reverse engineer and improve upon it. So it's going to require a long-term, holistic approach. From a military standpoint, we have to strengthen not just our military alliances in the Asia-Pacific region, but we have to understand what a conflict with China would look like and then begin to invest in the weapons systems that help defend us against their capabilities and counter them. It will require the whole of society and the whole of government to do a comprehensive realignment of everything we've been doing for the last 30 years."
It's happened twice in recent months that Israel's security establishment believed an American source leaked word on Israeli attacks on Iran's nuclear program. What's your take on that?
"I don't know who's behind the leaks, but there's no doubt that there are people with deep-seated antagonism toward the State of Israel embedded within the American bureaucracy, including in our diplomatic corps. Sometimes they're more open about it than others. Sometimes it comes across in what they say before they join the government, sometimes it comes across in leaks that seek to undermine. There are probably people involved that are desperate for this deal with Iran. Even as Iran is openly saying they're going to kill American leaders who they say were responsible for the death of Soleimani, those people negotiating the deal with Iran feel like they get some brownie points from the Iranian side. But if they leak these things and assign blame to Israel, that's a very dangerous thing for them to be doing. I would say that some of the leaks they've put out are speculation and not fact-based, but nonetheless clearly have the intention of hurting one side."
Do you feel Israel should consult with or inform the US before taking any military action on Iran?
"I would expect that Israel would, but ultimately, I expect Israeli leaders to always act in the best interest of Israel, and so a lot would depend on who's in charge at the time. If it's an administration the Israelis think is friendly to their aims and supportive, they'll probably be more willing to cooperate and share things. But if they think it's an administration that's going to leak word to the Iranians or somehow try to undermine their ability, I doubt they will [consult with the US], because ultimately what Israeli leaders understand is what I wish American leaders would understand — that their number one obligation is not to America but to the safety and the well-being of their own people. This is especially true for Israel, which is surrounded by well-armed, well-financed enemies, all with one thing in common: They seek the destruction of the Jewish state."
You were the Senate sponsor of the Sunshine Protection Act, which would keep Daylight Saving Time permanent. Orthodox Jewish groups made their objection known to you that a late sunrise would make it very difficult for us to conduct our morning prayers at the proper time. How much did you consider their views before deciding to go ahead with the bill?
"This is the first time I'd heard of that objection, because this bill had passed in the Florida legislature, and I don't believe it came up then. Ultimately, my preference is that we don't continue to change the clock back and forth. The truth of the matter is, we're only on Standard Time 16 weeks a year. Almost two-thirds of the year we are now on Daylight Saving Time. So what the bill seeks to do is make what we already do two-thirds of the year permanent. If someone has an argument as to why the other time is better, then maybe that's what ultimately I might want to do. My objective was to just keep us from going back and forth all the time on these clock changes."
America also experimented with year-round Daylight Saving Time in 1973 and 1974, and it proved to be unpopular in many parts of the country. It was reported that eight Florida schoolchildren were killed in early morning accidents when it was still dark. So why do you feel that year-round Daylight Saving Time would work any better now than it did back then?
"Well, I don't know a lot about how they did it back then. I think society has changed quite a bit since that time. I also would tell you, again, that at the end of the day, we're only on this Standard Time for 16 weeks a year. So what happens the other two-thirds of the year? If we believe that Daylight Saving Time is that damaging to society, then we should be on Standard Time year-round. So I think anyone who makes these arguments is arguing that two-thirds of the year we're on a time system that's dangerous to the country. If that's the case, it should at least be the reverse, if not eliminated altogether."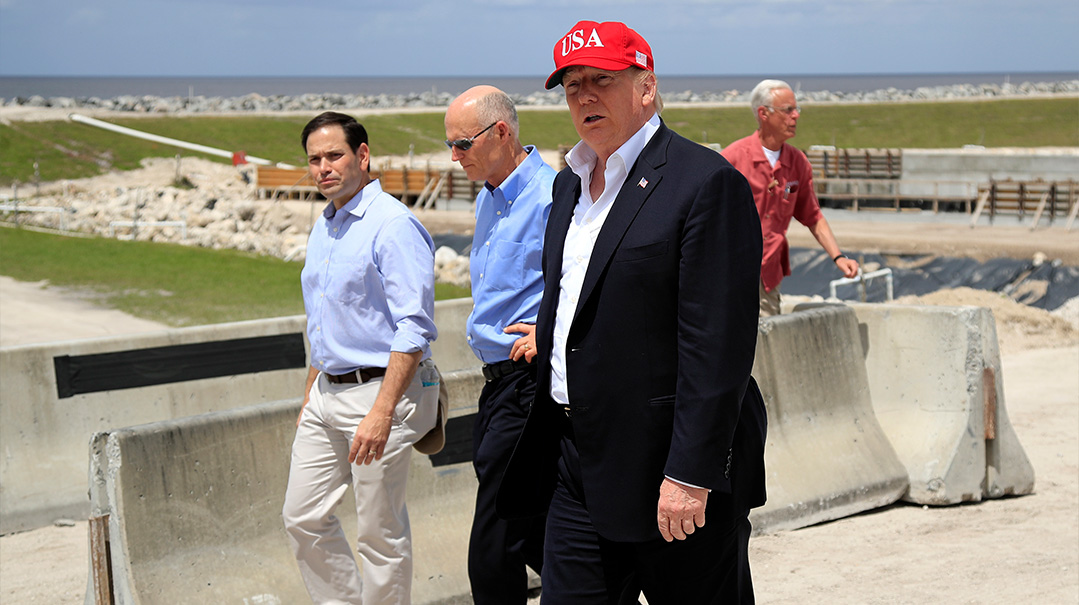 WARY RESPECT Having dismissed Donald Trump as "vulgar" in the 2016 primaries, Rubio (pictured with Trump and Senator Rick Scott of Florida) says that the former president brought working-class voters to the GOP
There's an ongoing debate over the grip that former president Trump has over the Republican Party. From your perspective in Washington, how does that manifest itself?
"At the end of the day, President Trump is the most well-known, most popular, and most supported Republican in America. That's certainly going to be a factor. People listen to what he has to say. He inspired a lot of people to become Republicans who weren't Republicans or hadn't voted Republican before. But ultimately, all members of Congress are responsible for their own votes and their own views, and they have to stand for election every six years in the Senate and every two years in the House. The way I've always approached it is that where our views align, I'm obviously going to be supportive of President Trump's position. In those instances in which our views may not be entirely aligned, I'll explain those differences and do what I think is right. In large part, President Trump was a positive force for the Republican Party. His candidacy made the Republican Party a party that brought it closer to our working-class voters in America, who are truly the people who feel alienated from American politics and underrepresented."
Your most likely opponent in the November general election is Representative Val Demings. Some political analysts contend that she's going to be tough competition. Can you give us some clues as to your campaign strategy?
"I assume anyone who runs for office in a state like Florida is going to be tough competition because it's a state that only four years ago elected Governor DeSantis by a little more than 30,000 votes, and Senator Scott by less than 10,000 votes. So it's a competitive state. I would just say this: I would ask everyone to ask Val Demings what she's ever done. She's been in Congress for six years. She has not been responsible for, involved in, or passed, one single piece of legislation. I, on the other hand, was the author of the most dramatic and successful Covid-related policy — the Paycheck Protection Program that saved millions of small businesses and millions of small business jobs. I passed the Uighur Human Rights Act, which is now the law and prevents slave labor-made products from entering the United States. I passed both of the bills that have sanctioned and taken on China, both in Taiwan and in Hong Kong. Just last week I passed the bills on the Florida Everglades and water quality. There isn't a week that goes by that some piece of legislation with my fingerprints isn't signed by a Democratic president in a Democratically controlled Congress. That's why I was ranked the most effective Republican senator by not one but two separate nonpartisan, independent analyst groups. And I ask people to compare that to Demings, the do-nothing Pelosi puppet."
I saw on GovTrack that you do have an excellent bipartisan record. What's your secret to getting along with Democrats when politics is so polarized?
"First of all, I try to treat everyone with respect as long as they treat me with respect. The second is, I think that just because I disagree with someone on 99 things doesn't mean it should keep us from working together on the one thing we agree on. There are a lot of issues that are not ideological or partisan. For example, the Uighur Human Rights Act. That's not a partisan issue, and it shouldn't be, and that's something that the Trump administration and liberal Democrats supported cracking down on. And then there's the practicality of it. I'm in a Senate where it takes 60 votes to pass legislation. So I don't know if there's a secret behind it. I think it's more of a commitment, the work, the focus. My job is to come here and make public policy that's good for America and good for Florida, and the way to do that is to try to work with people on the other side where we can. And that's what I've tried to do and with success. Both of the major reforms to the Veterans Administration, including now the toxic burn pits legislation [to aid military personnel exposed to burn waste, hazardous materials, and chemicals in Iraq and Afghanistan] were all bills that I offered, sponsored, and passed."
Would you run for president again in 2024 or any time in the future?
"I can't speak to 2024. I've got to get past 2022. I ran for president before, so clearly I've been interested in the past. I may be interested in the future. What I probably learned over the last decade is that we'll cross bridges when we get there. I don't know what my life will be like. I don't know what the party is going to want. I don't know what the country is going to be looking for at that time, so if it's something, whether it's in 2024 or 2028 or some point in the future that makes sense, and I feel called to do it, and my family and my health and everything else is supportive of it, I would probably consider it, given the fact I've done it before. But again, I don't know what the world is going to look like a year from now or even six months from now, so it would be premature for me to make announcements like that. I do know that I want to get reelected to the Senate because there are still things here I'd like to get done."
Is there any chance that the Republicans are going to be able to pull the country back to fiscal sanity? We've got $30 trillion in national debt, budgets that are totally out of balance, and especially now with high inflation and high gas prices, it seems like the economy is a train wreck. The Republicans lost their way. Can they pull things back to being the party of fiscal responsibility ever again?
"Well, we had two things happen that are pretty interesting. The first is after 2017, we are now seeing historic tax collections, meaning even though the tax rates are lower, the government is collecting historic amounts of money in terms of tax revenue. That's because the right tax cuts actually lead to more revenue, since it leads to more economic growth. We were going in the right direction until two things got in the way. Covid, which did require some spending, and unfortunately, on top of all that spending — six months after the second Covid relief bill — Biden came in with another $1.9 trillion, and it would have been another three or four trillion on top of that had it not been for two Democrats who refused to go along. So I think if we can continue on the path of economic growth at the same time that we just hold the line on spending and prioritize it in the right way, spending money in the places we need to and not spending on the places that we don't and are not essential, we can be on an arc toward a more sustainable financial future, assuming that we don't have another pandemic, G-d forbid, or something of that nature. But we won't have a chance to do that if we don't elect the right people in the Republican Party."
(Originally featured in Mishpacha, Issue 917)
Oops! We could not locate your form.
>