| Cooks Compete |
Lettuce Salad with Sweet Potato and Feta Cheese
| May 24, 2022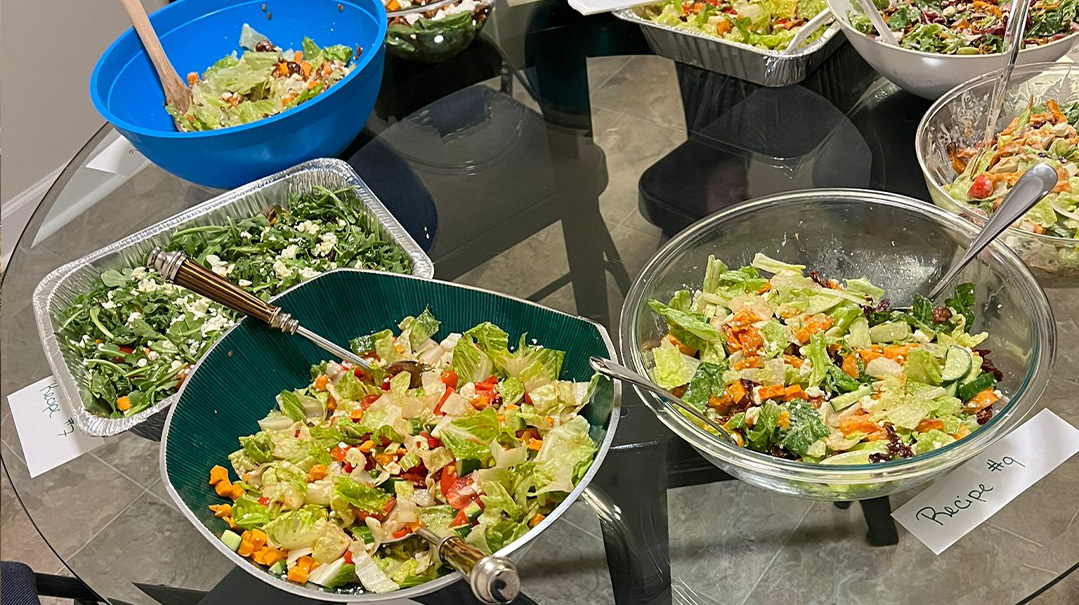 Who doesn't love a good lettuce salad with just the right amount of dressing, some feta cheese, and the sweetness of roasted sweet potatoes? Here we put them to the test and present the best recipes out there, exactly what you need for your Yom Tov table or even for a weekday lunch.
Lettuce Salad with Mushrooms and Sweet Potato Crumble
Submitted by Racheli Kirzner, Lakewood, NJ
Four years of high school lunches means a whole lot of salads! I love experimenting with new flavor combinations and ideas so they don't get too boring. Double (or triple) the sweet potato crumble and mushrooms to add to any of your old favorites.
Salad
1 bag spring mix
½ red onion, thinly sliced
sautéed mushrooms (instructions below)
4 oz (110 g) feta cheese, crumbled
sweet potato crumble (instructions below)
½ cup sugared pecans, chopped
Sweet Potato Crumble
2 large sweet potatoes
2 Tbsp olive oil
2 tsp kosher salt
¼ tsp black pepper
Sautéed Mushrooms
8 oz (225 g) white mushrooms, thinly sliced
1 Tbsp teriyaki sauce
1 Tbsp soy sauce
2 tsp brown sugar
Creamy Balsamic Dressing
½ cup mayonnaise
¼ cup balsamic vinegar
1 Tbsp oil
1 cube frozen garlic
1 Tbsp honey mustard
salt and pepper, to taste
For the sweet potato crumble: Preheat oven to 350°F (175°C).
Coarsely grate the sweet potatoes using a food processor or hand grater. Place the sweet potato shreds onto a lined baking sheet. Add oil and spices and mix. Place in the oven and roast for 30–45 minutes, tossing every 10–15 minutes (edges burn easily). Should be slightly crispy and golden.
For the mushrooms: Place all the ingredients in a small pot and bring to a boil. Turn the flame to low until the mushrooms are soft, about 10 minutes.
For the dressing: Mix or blend all the ingredients.
Combine salad ingredients in a bowl or deep serving dish, and drizzle with dressing.
Lettuce Salad with Sundried Tomatoes and Feta
Submitted by Ashira Naami, Ramat Bet Shemesh
I'm eleven years old and I made aliyah last year from Baltimore, MD to RBS, Israel. I love cooking and I love Mishpacha! I was so excited to submit this recipe and I hope everyone enjoys it!
shredded lettuce
sundried tomatoes, chopped
feta cheese, crumbled
cucumber, sliced
roasted sweet potato cubes
Dressing
¼ cup olive oil
¼ cup water
⅛ cup lemon juice
2 Tbsp mayonnaise
1 tsp Dijon mustard
½ tsp salt
1 tsp garlic powder
Combine dressing ingredients and mix well. Layer or mix together salad ingredients — amounts to your liking! Add dressing and enjoy.
Lettuce and Feta Salad with Warm Sweet Potato Fries
Submitted by Esty Rubin, Lakewood, NJ
This is a delicious all-in-one lunch or side dish. Enjoy!
shredded lettuce
dried cranberries
roasted slivered almonds
warm sweet potato fries (see instructions below)
tomatoes, sliced
red onion, thinly sliced
feta cheese, crumbled
Honey-Mustard Dressing
½ cup mayonnaise
1½ Tbsp mustard
2 Tbsp honey
1 Tbsp vinegar
1 clove garlic, crushed
salt and pepper, to taste
2 Tbsp water
For the warm sweet potato fries, cut a sweet potato into sticks and coat with olive oil, salt, and pepper to taste, then roast at 400°F (200°C) for 30 minutes. Or, for an easy shortcut, buy ready-made sweet potato fries and coat in oil, salt, and pepper and roast for 25 minutes.
Combine dressing ingredients and mix well. Pour over assembled salad right before serving.
Thanks to the women of Summit Chase Townhomes, Baltimore, for hosting this tasting party.
(Originally featured in Family Table, Issue 794)
Oops! We could not locate your form.
>