| Magazine Feature |
Let There Be Light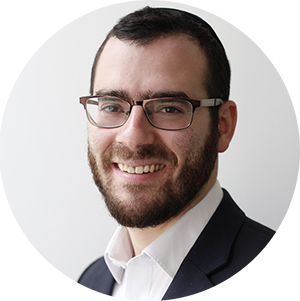 | January 17, 2023
With the hum of generators, Ukraine's Jews defy the brutal Russian blackouts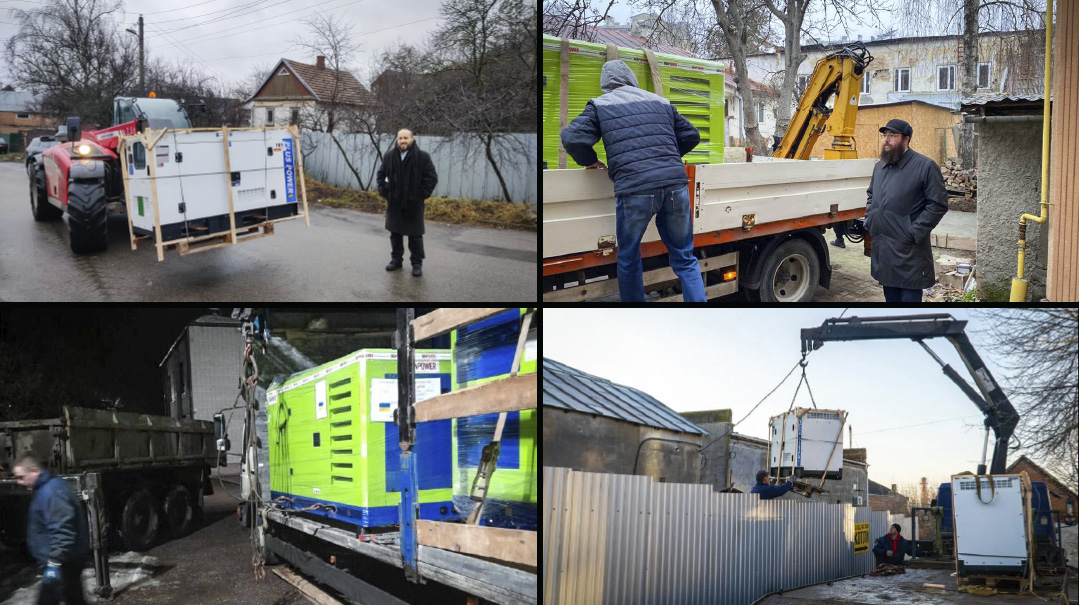 Photos: JRNU
W
hen Kyiv's Jewish community celebrated Chanukah this year, they had their own minor miracle to be thankful for — the wonder of light and electric power in a country plunged into darkness.
Ten months into Russia's assault, Ukraine has regressed a century or more in terms of basic infrastructure. Since the beginning of October, wave after wave of Moscow's cruise missiles and suicide drones have slammed into the country's critical utilities plants, knocking out electricity, heat, water, and Internet connection across much of the country.
"We only have electric power from the grid for a few hours a day, and even that is unpredictable," says Rabbi Motty Lebenhartz, a senior Chabad shaliach in Kyiv. "Without power, there are no phones, no hot water, and no light. After 5 p.m., the capital is dark, with no street lights and no traffic lights. To bake challah for Shabbos, you need to hope that there's no interruption in power. And it's well below freezing."
Into that miserable murk came a beam of light in a bulky box — a generator. The diesel-fueled electric wonder was powerful, providing enough voltage for all the community's needs, including a shul, school, and soup kitchen.
"We wanted to do a Chanukah concert to raise everyone's spirits," says Rabbi Lebenhartz, "but the musicians asked how we could guarantee electric power. With the help of the generators, we were able to have a beautiful event for 300 people, with no interruptions."
Over the weeks since the shul in an eastern district of Kyiv started generating its own power, it has become a beacon of light even for Jews who were previously unconnected. Drawn by the opportunity to charge their phones, get some hot food, and connect to the Jewish community at a time of crisis, they're coming in greater numbers than before.
The scene at the Lebenhartzes' event has been repeated in community after community across the war-stricken country. As the lights have gone out across Ukraine, over 100 large generators — each enough to power major institutions — have come onstream to provide power as part of a multimillion-dollar Jewish relief effort.
Behind Operation Generator is an international supply chain. With Ukraine's authorities desperately struggling to power their war effort, and aid donors scrambling to lay their hands on every generator possible, it's exceedingly hard to get hold of the machines. Orders to suppliers in Europe, China, and Turkey are backed up for months.
Into the breach has stepped a pan-Jewish coalition ranging from Chabad to the OU, America's Jewish Federations, and individual activists. As it became clear in the fall that Russia was going to attempt to freeze Ukraine into submission over the winter, the working group called in business and diplomatic contacts to secure the infrastructure needed to keep lights on for Ukraine's freezing schoolchildren and elderly.
With Jewish community centers now warm, the effort has greased the wheels of intercommunal relations and given new meaning to the phrase "light unto the nations," as many non-Jews come in for a dose of good cheer and some critical battery power.
As Ukraine endures the second punishing winter of a brutal war, the battle for its home front has distilled itself into two dueling soundtracks. Russian aggression is measured by the whine of incoming missiles and the thump of exploding drones. Ukrainian defiance is represented by the low hum of generators, large and small.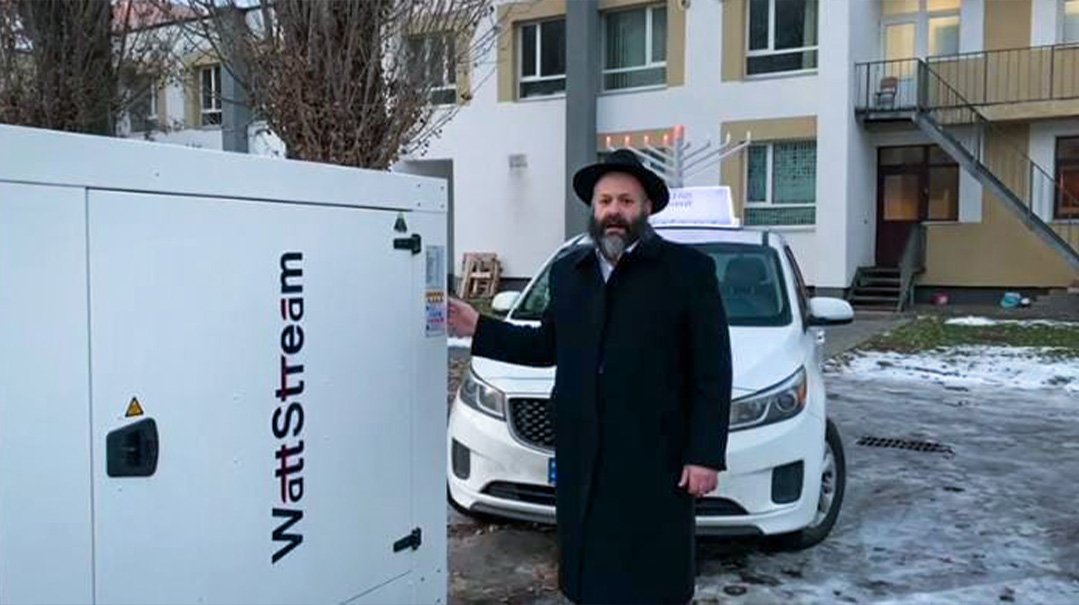 Rabbi Lebenhartz, who needs a flashlight just to cross the street in the new normal wartime Kyiv, was lucky enough to get a generator for his kehillah
Dark Matter
Satellite imagery gives an idea of just how dark Ukraine now is, after months of unrelenting Russian attacks on her energy grid. Nighttime images show the country as a giant black hole in the sea of light that is the rest of Europe.
Cell phone footage shot from the Lebenhartzes' apartment window in Kyiv tells the same story.
"Look outside at one of Kyiv's main roads," says Rabbi Lebenhartz's voiceover to the shaky camera footage of blackness relieved by a few headlights. "Even to cross the road you need a flashlight."
It's taken a while for Rabbi Motty and Devora Leah Lebenhartz — originally from Israel, and in Ukraine since 1998 — to get used to the new normal that is wartime Kyiv. Conflict came as an utter shock to them when it broke out, as it did with the rest of the population: Ukrainians had assumed that Putin's saber-rattling was just that.
When the first missiles rained onto the capital, the couple joined the exodus, heading a group of 100 community members escaping what they thought was the certain fall of Kyiv to the mighty Russian army. With tanks a short distance from their neighborhood, they fled through Kishinev to Romania and from there to Israel. But within a short time, the parents of seven were back to shepherd the community members who'd remained.
Exactly how many Jews are actually still in the country is hard to know, especially given that many — even halachic Jews — are unconnected to the official communities. Distribution lists for Pesach products are one indicator of formal Jewish commitment. Aid organizations, already preparing for the upcoming Pesach distribution, count somewhere close to 35,000 individuals.
That significant Jewish population has been desperate for leadership, both rabbinic and communal, which has had to operate under emergency conditions.
"Each stage of the war has presented challenges," Mrs. Lebenhartz says, taking over the story. "At the beginning, there was no fuel in the country. We'd have to queue for hours to get a jerry can of petrol. At that stage, though, there was electricity, so Chabad got hold of an electric van for us to use for the community. Now, it's the reverse — there's fuel but no electricity."
"I can measure the blackouts on my electric bill," says Rabbi Lebenhartz. "For the months of November and December, costs were down by two-thirds — we only had electricity for a third of the regular time."
Ukraine's current utility supply system is a mix between the modern and primitive. On the one hand, a website search by address tells you when you will or won't have power. On the other hand, that electricity supply — like in a third-world country — is erratic.
When there's an attack, you might lose power the whole day. Kyiv recently went 36 hours without power, and when it finally came back on in the middle of the night, people were putting their heads out their windows and shouting, "Slava Ukraini — glory to Ukraine."
That defiant attitude has given Ukraine's leaders the breathing room to slog on in the death struggle with the country's giant neighbor. And although far smaller, in the "gas war" with Putin, Ukraine holds a card: the gas supply to other countries, some of whose lines pass through Ukrainian territory.
Russia's Gazprom energy giant has threatened to cut its gas flows to Europe via Ukraine after accusing Kyiv of obstructing the delivery of 52.52M cubic meters of gas transiting Moldova. With the European Union providing billions of euros of financial backing to enable Kyiv to weather the winter, Ukraine is winning the winter war simply by virtue of surviving.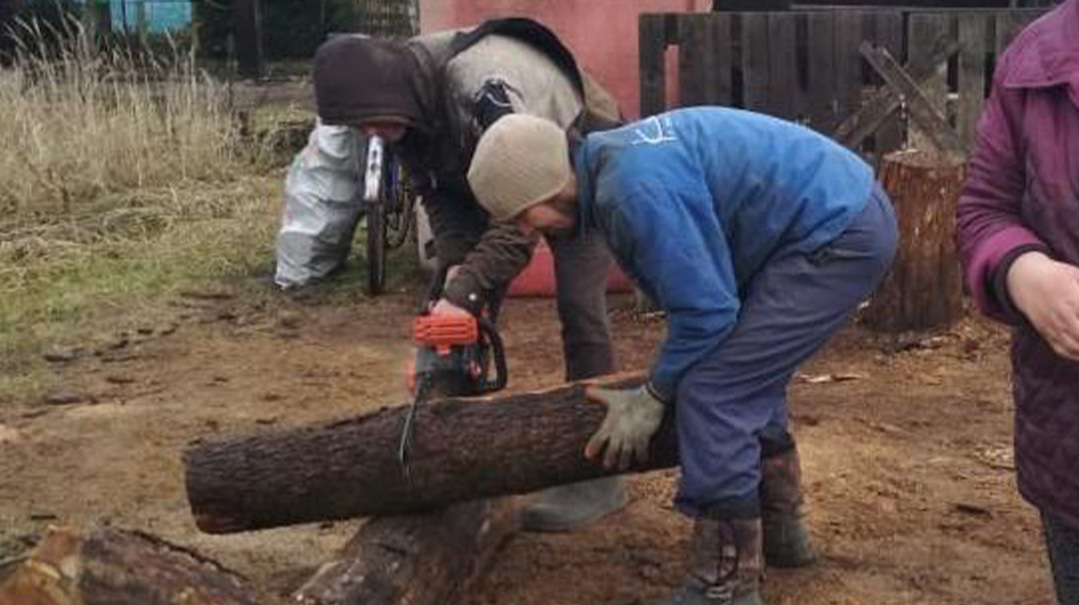 One way for this Jewish family in Vinnytsia to stay warm is to chop logs for heat. Will Russia succeed in freezing out Ukraine this winter, or will common hardship breed solidarity and resistance?
Stiff Upper Lip
The wartime conditions demand a flexible, make-do-and-mend attitude to cope. When the power is on, for a few hours, appliances hum, emails go out, and food is cooked — even if it's the middle of the night.
The Lebenhartzes' youngest child — a boy of 11 — has had to adapt more than most. As one of the only religious children left in the area, his schooling comes now almost entirely through Chabad's online school. The frequent power cuts played havoc with that schedule, though. But now that the generator and reserve batteries are keeping power going at the Lebenhartzes', things are back to normal.
Having decided to stay on in Ukraine, the veteran shluchim have toiled to secure everything needed for the community to function. Under bombardment, schools need to have a bomb shelter. That has meant digging deep — financially and literally — to carve out a government-authorized space underground.
The lighting and purification systems for the bunker come, of course, via the new generator, enabling children to continue getting a Jewish education.
After months of uncertainty, Ukrainians of all stripes have adjusted to the new normal, a strange mix of war and peace. Roadblocks — remnants of the Battle of Kyiv waged in the war's first days — litter the city, manned but otherwise just part of the scenery. Likewise, the 11 p.m. to 5 a.m. curfew is a holdover from the martial law imposed by the government as the security services hunted the Russian killers who'd infiltrated the city to assassinate President Zelensky.
As a mocking reminder of peacetime normality, bills continue to arrive — even from companies who provide barely any service.
"People here are very tough, but the months of darkness have exacted a psychological cost," says Mrs. Lebenhartz. "Still, we decided that we needed to show the community that the shul is never closed, whatever happens. It's the spiritual and material center of the community, and being part of it allows Jews to have a connection to normality."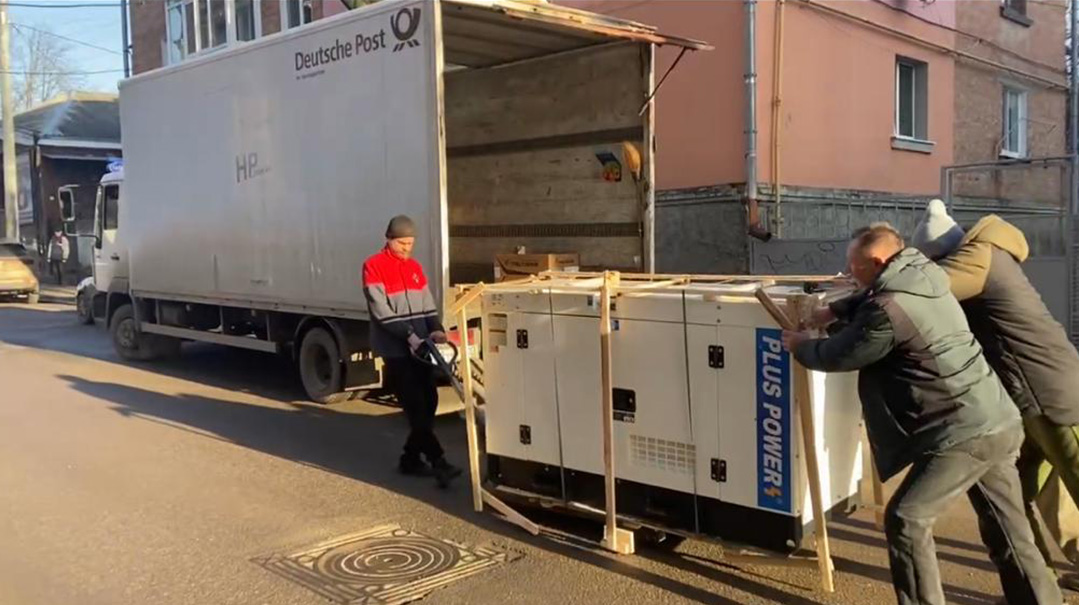 Land of Generators
Five hundred kilometers west-southwest of Kyiv, Chernivtsi in western Ukraine feels like an island of tranquility. Known to Jewish posterity as Chernovitz, it's a regional capital of the historically Jewish area of Bukovina. On the chassidish map, it's home to Sadigura, a prominent Ruzhiner dynasty.
Moshe Krais, 61, a father of three and businessman who runs the original Sadigura kloiz, is a proud Ukrainian. When the war broke out, he had no second thoughts: "I'm a patriot, and I believe that all citizens have to do their maximum in hard times," he says.
First and foremost, that means fighting. "When war broke out, my middle son Yitzchok — an engineer — volunteered to go and fight. 'I'm young and strong and have to defend my country,' he said.
"He's now in Bakhmut, where the fighting is at its fiercest."
In that special tone reserved for Yiddishe mammas talking about their son the doctor or lawyer, Moshe mentions that his son is in charge of operating and repairing the advanced HIMARS rockets system sent by the Americans.
"When he speaks to his mother, he says that he's far from the front, but the truth is that he comes very close to the front lines."
Moshe himself is fighting the good fight on the home front. "Chernivtsi itself hasn't been targeted, thank G-d," he says over the bad phone connection that's a result of one too many Russian bombardments of a regional phone antenna. "But the loss of power stations all across the country means that power gets sent to Kyiv, and we only have normal electricity for two to three hours daily."
Blackouts, he says, are managed, so that different parts of the city of a quarter million have power at different hours. At this stage in the grueling grind that is the war, people no longer race to the shelters when a siren goes off, but lack of power is far more debilitating.
The Sadigura shul under Krais's stewardship plays host to some 50 Jewish refugees from other more dangerous parts of Ukraine. Overall, the town's prewar Jewish population of some 800 has swelled thanks to the influx of refugees.
All these are mouths that must be fed — a difficult task under rolling outages. "Before the generators arrived," Krais says, "we would be baking bread, and then the power would go, and it had to be thrown away."
The generators have been a game-changer. For the Sadigura shul — smaller than Chernivtsi's main shul — a 75 kilowatt plant, drinking eight liters of diesel an hour, is enough. It provides the equivalent of the power it would take to heat 20 apartments.
With subzero temperatures in the Ukrainian winter, fending off the cold is a real problem — and most people can't sleep in the heated shuls. So alpine-grade sleeping bags are in hot demand, as well as private generators and the reserve batteries — or "accumulators" — which can store power in between blackouts.
"Ukraine is now a country of generators," says Moshe Krais. "Small ones are everywhere, on people's balconies and in their yards. As you walk outside, you hear the 'pop-pop-pop' of the generators at work."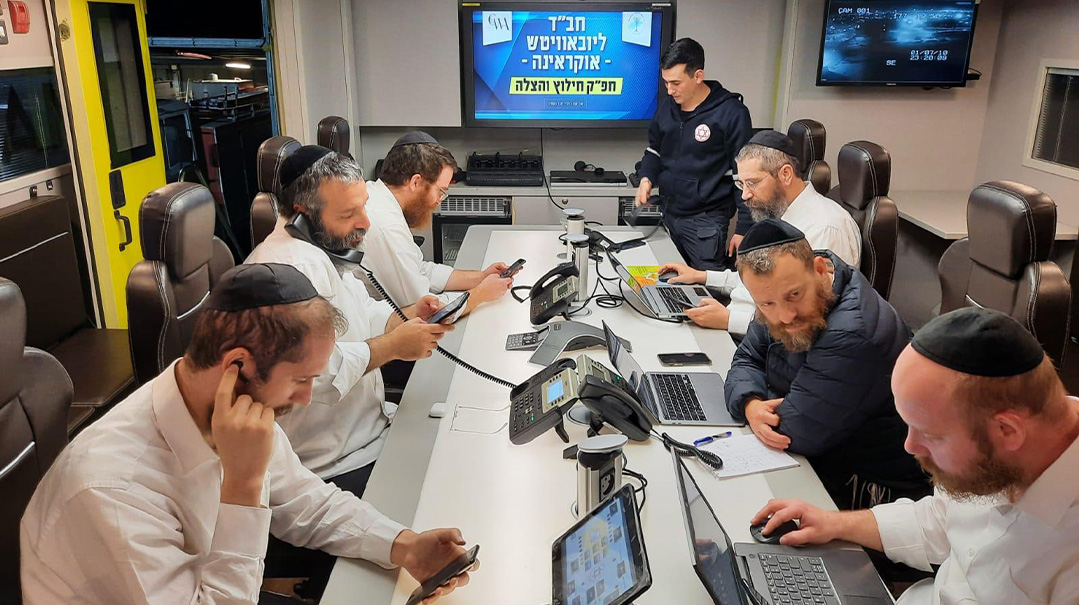 "We identified energy security as the crucial next battle for Ukraine's Jews." Shlomo Peles (center left) assesses the needs at the command center of the Jewish Relief Network Ukraine (JRNU) in Kyiv
Supply Chains
The warmth that now suffuses the shuls of Kyiv and Chernivtsi has its roots in a global operation that has brought together multiple Jewish organizational players.
"At the end of the summer, we identified energy security as the crucial next battle for Ukraine's Jews," says Shlomo Chaim Peles, director of the Jewish Relief Network Ukraine (JRNU), Chabad's rescue and aid arm in the country. "Our people on the ground went from institution to institution in each city assessing what its power needs were, and then we set about importing the generators."
Funding came partly via America's Jewish Federations, under the JFNA umbrella.
With the Ukrainian military, government institutions, and big businesses scrambling for access to the precious machinery, that meant joining a long queue — or finding a route to the top of the list.
An important partner in that effort was the OU. Zevy Wolman, who serves on the organization's board, says that the OU got involved very early on in the war and at first focused on food supply worth millions of dollars for the beleaguered Jewish community.
"As we realized that the Russians were going after the energy system, we realized the need for blankets, coats, generators, and candles.
"The OU purchased 35 to 40 large generators for shuls and schools plus the kever of Rebbe Nachman at a cost of more than half a million dollars.
"We found the people sourcing generators for the UN and called in some favors. They agreed to add our order on to their UN purchase, which allowed a timely, high-quality, and cost-effective buy. The generators have been trucked in overland from Warsaw, Poland."
The OU's involvement alongside Chabad and other private players, says Wolman, has been one of the most heartening aspects of Operation Generator.
"Too often in the frum world, there's a lack of achdus and a scattershot approach to emergencies. But here, we've all worked on the same cause. Rabbi Shlomo Noach Mandel, on behalf of the non-Chabad Shema Yisrael kehillos in Ukraine, has been paying for the freight and many of the supplies. So many Yidden, helping others without fanfare — it's unbelievable to witness."
For those on the ground in Ukraine, the human cost of the blackouts is something that will remain with them for a long time.
"I've been embarrassed to call the old people's home to ask how the residents are doing," reads one text from a rabbi of a Ukrainian community whose congregants faced the biting cold before the generators arrived.
"Some of these people are Holocaust survivors who have seen everything in their lives, and now — in their nineties — they are cold, and can't be showered, or even receive a hot meal for two days."
Ukrainians are still in for a long, hard winter as Putin pursues his strategy, attempting to freeze the country into submission, or trigger a refugee wave into Western Europe that will in turn ramp up Western pressure on Kyiv to compromise.
But history shows that bombarding a country's home front into submission, Blitz-style, rarely helps. Common hardship breeds solidarity and resistance.
Moshe Krais in Chernivtsi says that will be the case with Ukraine as well. "We are very united and we won't give up — Ukraine is going to win," he says.
Back from a five-day trip to Chabad's annual Kinus Hashluchim, Rabbi and Mrs. Lebenhartz have acclimated themselves again to a world of blood, sweat, and blackouts. They say that no one on the outside can fathom what it's like to live in a country at war.
"Not to hear sirens, or live in the dark — only people here can appreciate what a luxury that can be. But on the other hand, these conditions are waking up the Jewish neshamah — and bringing lots of people inside to the warmth."
(Originally featured in Mishpacha, Issue 945)
Oops! We could not locate your form.
>