| Cooks Compete |
Latkes
| December 13, 2022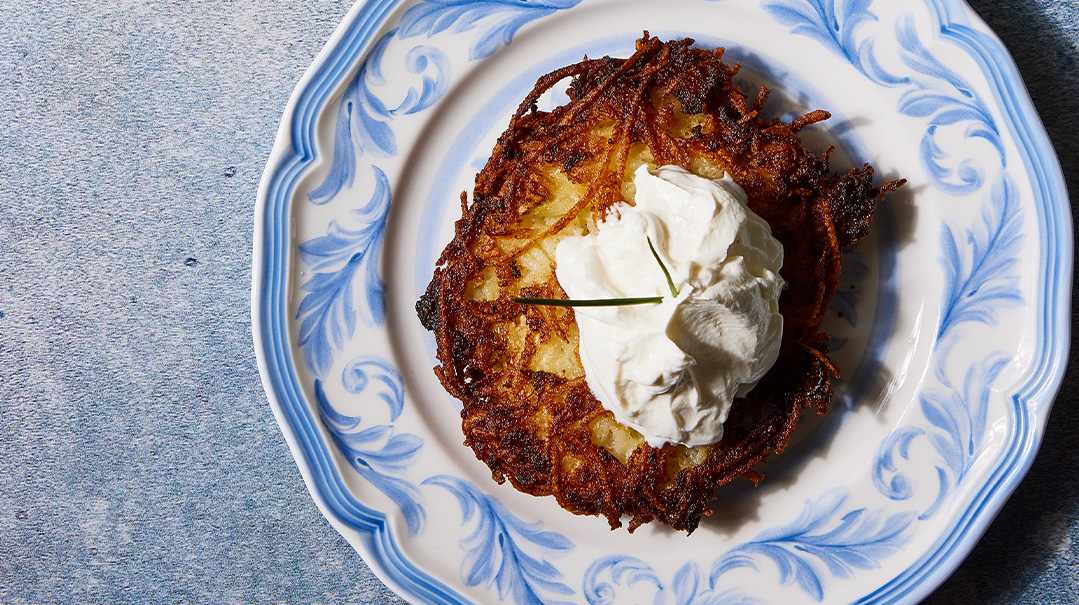 If Chanukah were to be reduced to a sound, it would be the crackle of latkes in sizzling oil. There's nothing quite like a Chanukah night, family crowding around the stove, and greedy fingers sacrificing their nerve endings to grab a fresh latke straight from the pan.
Having a tried-and-true method handy definitely helps create that special atmosphere of deep-fried satisfaction. And so, here are three incredible recipes that are sure to help cultivate that special Chanukah ambiance on any (or all) of the eight nights. Happy frying!
Classic Potato Latkes
Submitted by Yehudis C., Lakewood, NJ
We love Chanukah in our home! We try to make Chanukah extra special by doing something fun and exciting each night, whether it's a Chanukah game, having a party, giving presents, or making special Chanukah foods like these delicious latkes.
SERVES 4–6
4 large Idaho potatoes, peeled
1 medium onion
2 eggs
2 Tbsp flour
2 tsp salt
¼ tsp black pepper
oil, for frying
Grate potatoes and onion. (We like them with the string-like texture, but you can do them more finely if you prefer.) Drain some liquid from the mixture and stir in eggs, flour, salt, and pepper. Mix well.
Heat oil in a large frying pan. When oil is sizzling hot, drop 1⁄4 cup of the potato mixture into the pan, flattening it with a spatula. Fry for about 4 minutes per side, until crisp and golden. Drain on paper towels. Repeat with remaining batter and enjoy!
"Chratkes" (Chremslach/Latkes)
Submitted by Bobby Orlansky, Brooklyn, NY
My mother made chremslach for Pesach using cooked mashed potatoes, but some of my children called them "too dry." When I made latkes, some of the children called them "too oily." We came up with the idea of combining them both, and nicknamed the invention "chratkes." They're far less greasy and warm up better than traditional latkes do, and can be enjoyed at room temperature too!
SERVES 6
3 large potatoes
1 large onion
3 eggs
salt and pepper, to taste
3 cooked potatoes, mashed
oil, for frying
Grate potatoes and onion, or blend in a blender. Add eggs, salt, and pepper. Combine with mashed potatoes. Heat oil in a frying pan and fry the patties for a few minutes on each side.
Note: These are both Pesachdig and gluten free!
Tried-and-True Potato Latkes
Submitted by Pessy Levi, Toronto, ON
This fantastic latke recipe is from the Spice and Spirit cookbook, which I received as a gift when I was newly married. Many of my staple recipes come from this cookbook, and it has a prominent place on my kitchen shelf!
SERVES 4–6
8 medium potatoes, grated
1 onion, chopped with the S blade
3 eggs, beaten
⅓ cup flour
1½–2 tsp salt
¼–½ tsp pepper
4 Tbsp oil, plus more for frying
Mix all ingredients together. Heat oil in a large frying pan over medium heat and fry on one side for approximately 5 minutes until golden brown. Flip and fry on the other side for 2–3 minutes.
Special thanks to Merkaz Torah V'Chesed and the Denver women for hosting this tasting party!
(Originally featured in Family Table, Issue 822)
Oops! We could not locate your form.
>