| Kitchen Encounters |
Kosher in Dubai
| October 21, 2020
How one woman actualizes her dreams of kosher food in an unlikely landscape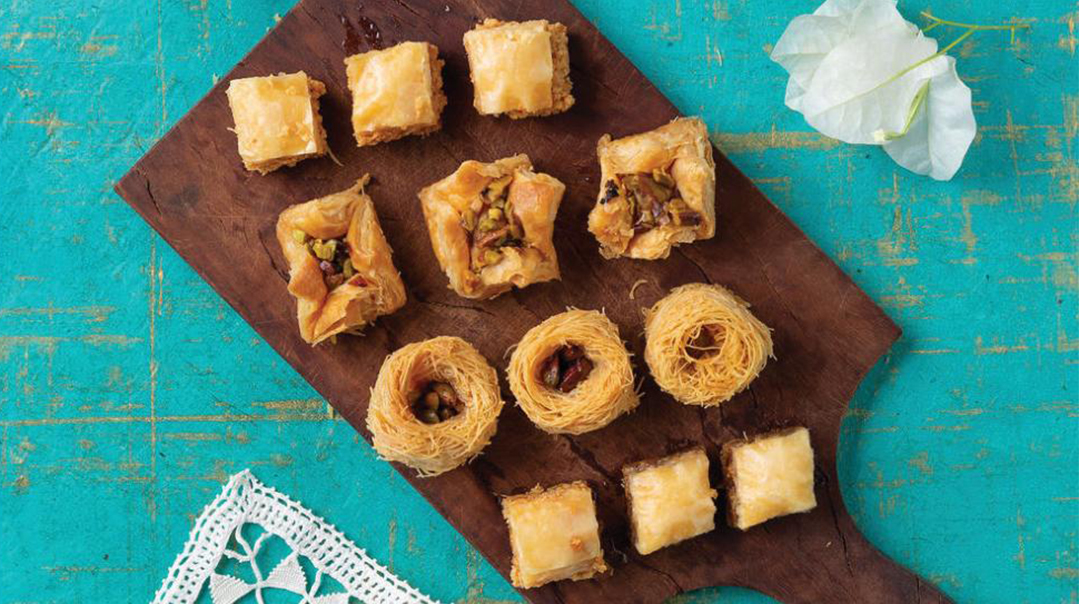 Eight years ago, Elli Kriel and her family moved to Dubai. The commute of her husband's work from Johannesburg was proving too taxing, and when he was asked if they would be willing to consider permanently relocating, after some reconnaissance, they decided to make the move.
In 2013, the Kriels were the only kosher family in Dubai, which was certainly a challenge. Elli's primary focus was to settle in her two younger children, aged three and four at the time, into this new environment, as well as set up a kosher home. For those first couple of years, her husband focused on community, and she maintained focus on the family.
On the one hand, it was daunting to maintain their frum identity in such a foreign atmosphere. On the other hand, they continued to be pleasantly surprised by the openness and support they received, both locally and internationally.
Starting Slow
Initially, the Kriels would send suitcases from South Africa to Dubai filled with food necessities (at one point they were importing 120 kilograms of food in one trip!), but once they realized what they could buy locally, they only brought the items that they truly couldn't get in Dubai, like meat, cheese, and butter. Meanwhile, word started spreading quickly that there was a kosher family in Dubai, and people began to reach out to them for guidance.
In November 2018, the Global Conference of Human Fraternity, a large interfaith conference, took place in Abu Dhabi, which is an hour from Dubai. The conference organizers reached out to the Kriels, asking for help to feed ten rabbis three meals a day. Although Elli was not a caterer — yet! — she committed to sending all three meals for these ten attendees, starting at 7 a.m. each morning. After that, word began to travel even faster.
By January of that year, the government announced they would be doing the Year of Tolerance. For this, Elli provided kosher meals for the attendees who needed it at the inaugural event.
At this point, Elli went public, launching a website and finessing her branding. She sent her website to her first customers, a family coming to Dubai, and after they shared it on social media, suddenly 4,000 people were alerted to her brand. By December 2019, the business was full-on running, with families and businessmen ordering her food daily.
Growth Curve
As with so many others, when COVID struck, her business went so quiet that Elli didn't think it would get resurrected. And then, two incredible things happened.
A journalist from a popular American newspaper contacted Elli. She had grown up next to a rabbi, and her speciality was reporting on religions in the Middle East. That interview was published in the English version of Al Arabiya, a Saudi-based newspaper, which catapulted Elli's name and products into the Dubai local markets. Overnight, she had all the emirates and expats requesting her traditional Jewish food. This unique situation got a lot of coverage in local press and major publications, and then was picked up by the Jerusalem Post and the Times of Israel.
Although Elli's focus remained on the domestic market, when the peace treaty was signed between UAE and Israel, everything suddenly changed again. With Elli's Kosher Kitchen's demands increasing, she moved her production out of her home and received OU certification, as well as a full-time mashgiach. Her goal is to continue to provide kosher food for all of the hotels and their tour groups.
One would think that kashering a kitchen in the Middle East would pose multiple challenges. Yet in Dubai, with its unprecedented luxury in hotels, there is customer service to match. It was clear to see how Elli's represented an amazing opportunity for the hospitality industry, as it moves towards creating an infrastructure that supports kosher travel. The hotels are encouraged to attract more people to Dubai, and the willingness to make this happen is evident. There's complete compliance, great support, and an understanding that there is a learning curve for all parties involved.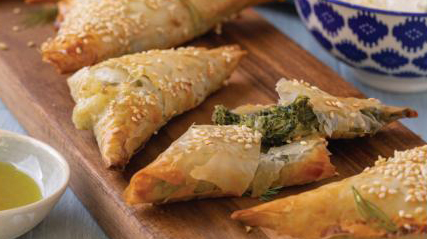 One of those learning curves has huge benefits, yet requires education: In the Middle East, there is a deep kind of connection between Muslims and Jews, cousins that date back millennia, despite the conflicts that exist. Because of this, there is a misconception in the world at large that if you eat kosher, you can eat halal. In reality, halal eaters can eat kosher, but not so vice versa. Here is where that educational process comes into play.
Kosherati
Because so many people from so many diverse backgrounds are eating Elli's food, she has a varied and eclectic menu. Elli herself has Mediterranean roots, with a cooking style that speaks to Moroccan Jews, while Ashkenazim need their tastes met also. And then, of course, there are the classics that people passing through expect from a Jewish kitchen, like latkes, matzah ball soup, and babka.
Elli coined the term Kosherati to describe her developed recipes: a fusion of Emirati-style food delivered in a kosher way.
Things you may find on her menu are balaleet kugel, which is a breakfast dish made with vermicelli noodles, sugar, and eggs, and seasoned with saffron and rose water, then cooked in a pan and fried. (Think Yerushalmi kugel, just with different spices.)
Instead of blintzes, in Emirati cuisine there's a pancake called the chebab. It's made with saffron and rose water as well, and drizzled with date syrup. Elli will make it in blintz format, fill it with cream cheese, and then finish with date syrup.
When it came to the actual delegation dinner, Elli was lucky to meet Meir Ben-Shabbat, the new national security advisor and head Israeli negotiator, and feel the incredible presence of so many others during this momentous event.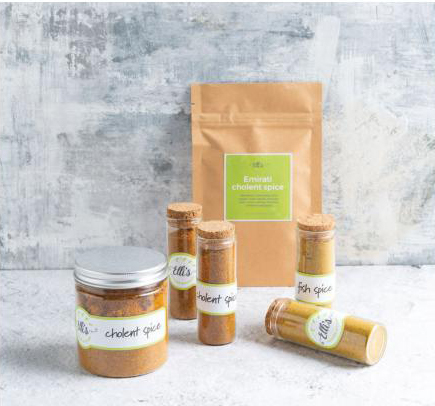 Although meat was imported from Israel for the dinner, the group only wanted fish, so Elli put her signature Mediterranean spin on it. Her menu included feta cheese coated in bread crumbs and almonds, deep fried and served with pomegranate sauce; salmon rolled in kanafe with a tomato marmalade on the side; Greek-style sea bass fillet with lemon and herbs and sweet potato sauce; risotto made with wild mushrooms and truffles; and chocolate fondants with wild berries.
Going Forward
Elli is currently setting up two facilities: one to help hotels deliver kosher food to their guests, and another that focuses on catering kosher weddings and tour groups. Her goal is to appeal to locals and develop Elli's as a high-quality, niche brand that delivers signature food reflective of Dubai and her style. She envisions peppering the Dubai landscape with Jewish classics, like mini babkas in coffee shops, and has already created a range of private-label gourmet baklava and Emirati-themed challah covers and spices — both available to order on her website.
Elli predicts that the growth of the kosher market will happen in the hotels, especially for Pesach and Succos; destination weddings; and travel for business and adventure. With an unparalleled selection of exquisite hotels and landscapes, Dubai is the perfect backdrop.
Balaleet Kugel
1 box thin vemicelli
2 Tbsp oil, ghee, or butter
3⁄4–1 cup sugar
1 tsp of saffron
1 tsp ground cardamom
4 eggs, beaten
a few drops rose water
Boil the noodles in a pot of water with a drop of oil. Once they are cooked, drain the water. Add the sugar to the noodles so that it melts and set aside to cool. Once cool, add the saffron and cardamom. Then add the beaten eggs and mix well. Place the mixture in a baking pan and sprinkle with a few drops of rose water.
Then bake in the oven until set. Cut into squares and serve.
Chebab-Style Blintzes
3 g sa­ffron
5 g cardamom
2 cups sifted flour
1 egg, beaten
1 Tbsp oil
2 Tbsp powdered milk, optional (I don't have access to kosher powdered milk so I leave this out)
2 Tbsp sugar
1⁄2 tsp yeast
1⁄2 cup warm water
FILLING
1 tub cream cheese
1 Tbsp melted butter
1 egg yolk (room temperature)
a drop of rose water
1⁄4 cup date syrup
In a small container, put the sa­ffron in with a little water to draw out its color. Crush the cardamom pods, remove the seeds, and grind them to a fi ne powder.
Mix all the ingredients together. Cover the bowl with plastic wrap and allow the yeast to activate — let it stand for approximately half an hour. Then fry like pancakes or crepes.
Mix all the filling ingredients together. Add the filling to the pancakes and fold up. I prefer eating them as above, without baking them further. However, if you wish to continue making the chebabs into blintzes, follow the steps below:
Place the filled pancakes in a baking sheet. Melt butter (about 1⁄2 cup depending on how many blintzes you make). Pour over the blintzes and then bake in the oven until golden. Serve with more cheese filling and drizzle with date syrup.
Baklava Cheesecake
SYRUP
11⁄4 cups caster sugar, divided
3⁄4 cup water
1⁄2 cup runny honey
1 tsp ground cinnamon
FILLING
150 g blanched almonds, toasted in an oven (you can also use a mix of pecan nuts, walnuts, or skinless hazelnuts)
500 g block cream cheese
1 cup sour cream
2 extra-large eggs
1 tsp vanilla
PASTRY
10 sheets phyllo dough
125 g butter, melted
Start by making the syrup. In a pot, mix 1⁄2 cup of the caster sugar with the water, honey, and cinnamon. (You can also add a cinnamon stick or two cloves and a teaspoon of lemon juice.) Stir until the sugar dissolves, then bring to a boil over medium heat.
Simmer for 10 minutes until slightly reduced and thickened. Set aside to cool. Chop the nuts and place in a bowl. Take ¼ cup of the syrup mixture and add it to the nuts.
Reserve the rest of the syrup for the end. In a separate bowl, beat the remaining caster sugar with the cream cheese, sour cream, and eggs. Add the vanilla and mix until smooth. Preheat oven to 300°F (150°C).
Line the base and sides of a 10-inch (25-cm) springform cake pan with parchment paper, with the edges hanging over the sides. Brush a sheet of phyllo dough with melted butter and fold in half lengthwise. Line the cake pan with this, with the edges of the phyllo hanging over the sides. Repeat with the remaining phyllo sheets.
(Note: the phyllo dough may dry out as you are working, so either work fast or shape the phyllo dough as you're placing the sheets in the pan.)
When the phyllo dough is done, pour half the cream cheese mixture over the phyllo. Top with half the nutty syrup mixture. Add the remaining cream cheese, then the remaining nuts.
You can make extra nuts if you'd like a thicker layer on top. If the phyllo sheets haven't dried out, fold the overhanging phyllo inwards, forming a raised crust over the cheesecake. Bake 60–70 minutes, until just set in the center but still wobbly.
Turn off­ the oven, open the door, and allow the cheesecake to cool completely. Cover and refrigerate overnight. Just before serving, pour the remaining syrup over the top.
(Originally featured in Family Table, Issue 714)
Oops! We could not locate your form.
>