| Recipes |
Kishka Corn Dogs
| November 29, 2022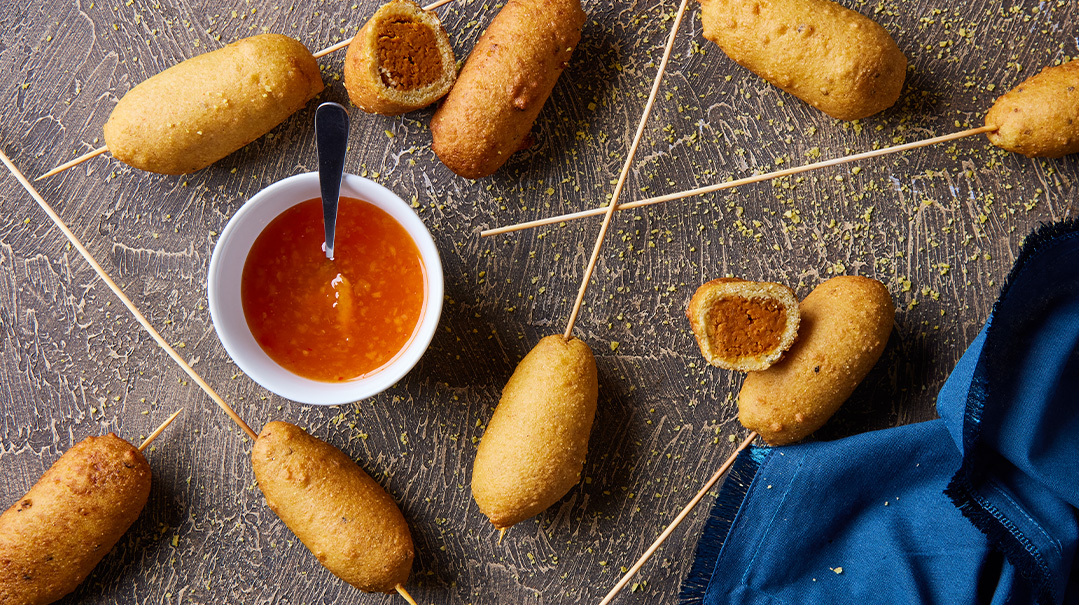 Food and prop styling by Goldie Stern
Photography by Felicia Perretti
If there's one food that defines a heimish dinner party, it's kishka! So why not fry up some kishka for Chanukah?
YIELDS 10 CORN DOGS
1 1-lb (450-g) pkg meat-based kishka (I used Meal Mart), defrosted
any neutral oil, for frying (I used canola)
Batter
1 cup yellow cornmeal
1 cup flour
2 Tbsp sugar
4 tsp baking powder
¼ tsp kosher salt
¼ tsp cracked black pepper
½ tsp cayenne pepper
1 cup unsweetened almond milk
1 egg
Dipping Sauce
2 Tbsp sweet chili sauce
2 Tbsp duck sauce
Cut the kishka into 10 equal parts by cutting 5 slices and then cutting the slices in half. Thread each piece of kishka onto a skewer so it forms a 3-inch (71⁄2-cm) log. Line the logs up on a baking pan and freeze.
Prepare the batter: Mix all the dry ingredients together in a bowl. Using a fork or a whisk, slowly add the pareve milk and eggs to form a batter.
Fill a deep fryer or a small deep saucepan with oil until it's about 3 inches (71⁄2 cm) high. Heat the oil until it's really hot.
Take a frozen kishka stick and dip it into the batter, then place immediately into the hot oil. Fry until golden brown, about 3 minutes. Work with only a few skewers at a time so as not to overcrowd the pot.
Preheat oven to 250°F (120°C).
Once all the skewers are done, line them up on a baking sheet and bake for 20 minutes. This ensures that your kishka is warmed through and totally cooked.
Combine the sweet chili and duck sauces and serve as a dipping sauce with the corn dogs.
Note: These kishka dogs freeze amazingly well. If you're freezing them, don't bake them after frying; do it only once you rewarm them.
(Originally featured in Family Table, Issue 820)
Oops! We could not locate your form.
>