| Jr. Feature |
Kids Count: Masmidei HaSiyum
| January 1, 2020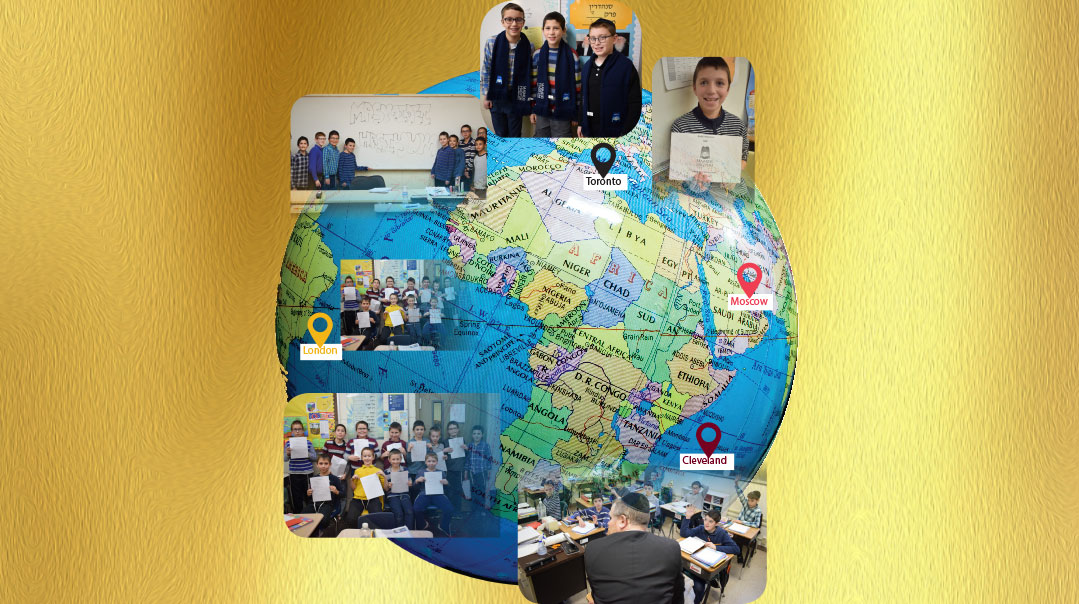 Photos: Photos: Rabbi Sender Stoll
Did you attend the 13th Siyum HaShas? Participating in the monumental completion of Shas together with the mesaymim and their families is very special. For kids who participated in the Masmidei HaSiyum program, there was an extra reason to celebrate.
How did Masmedei HaSiyum  get started?
Over seven and a half years ago, Agudas Yisrael of America created Masmidei HaSiyum so that kids could take part in the worldwide Siyum HaShas. Founded by Rabbis Shrage Goldschmidt, Yechiel Eisenstadt, and Moshe Haas, Masmidei HaSiyum turns children and teens from spectators to participants.

Masmidei HaSiyum Goes International
The program was designed so that children of various ages, in yeshivos throughout the country and around the world, could participate in the siyum by learning according to their own ability. Rabbi Armo Kuessous, menahel of Yeshivat Shaare Torah in Brooklyn and director of Masmidei HaSiyum, recalls, "We started on the East Coast, calling principals to let them know about this amazing program. They, in turn, told other principals in other schools across the country and, as they say, the rest is history." A state-of-the-art phone system was built for boys to record learning done on their own time, outside of school. Participants earned raffle tickets for great prizes according to how much they learned.
"The idea caught on like wildfire," says Rabbi Reuven Hazen, project manager of Masmidei HaSiyum. Thousands of boys signed up, including boys from the US, Canada, Mexico, the United Kingdom, Eretz Yisrael, Belgium, Panama, the Former Soviet Union and other countries. Everyone wanted to be part of the siyum. The Masmidei HaSiyum team set up hotlines in each country and the student materials were translated into five languages.

From the Principal's Office
Rabbi Sholom Noach Mandel, director of the Shema Yisroel school network, told Jr., "We have a network of schools across the country for children from the Former Soviet Union. Some of the boys don't have a strong background in Yiddishkeit and may feel more connected to the local culture than to Klal Yisrael. When Masmidei HaSiyum was introduced, I saw an opportunity for our boys to transcend what we have locally and connect with the children of Klal Yisrael in the broader Torah community."
Rabbi Moshe Bender, associate dean of Yeshivah Darchei Torah of Far Rockaway, reported, "There is a fire of Torah in every Jewish child's heart. All you need to do is provide the fuel and watch it ignite. The Masmidei HaSiyum program engaged all segments of the yeshivah. Each boy is unique, but they all have gained so much from this program."
Rabbi Dovid Asher Schnurmann, the menahel of the boys' division of Yeshivah Derech HaTorah shared, "The purpose of Masmidei HaSiyum is for you to learn how to become a masmid, which will enable you to become a misayem. It reminds me of a story when I visited the home of the Gadol Hador Rav Chaim Kanievsky shlita and a young bochur asked him for a brachah. Rav Chaim answered him, "If you will learn, you will become a talmid chacham." Wow! Masmidei HaSiyum is answering the call of our gadol hador, encouraging you from all over the world to increase your learning and through this you are assured you will become true talmidei chachamim."
Rabbi Yitzchok Margareten, the dean of Yeshivah Derech HaTorah, told me that Masmidei HaSiyum makes children feel part of Klal Yisrael. "Rarely do they have an opportunity to feel like they are personally contributing to Klal Yisrael. It creates a tremendous sense of belonging."
KIDS SPEAK
The Masmidei HaSiyum program ran in over 170 schools. One of those schools is Yeshivah Derech HaTorah in Cleveland, Ohio. I am privileged to be part of YDT and got to see firsthand how Masmidei HaSiyum has made an incredible impact. Whenever I approach kids about Masmidei HaSiyum, their eyes glow with excitement. They tell me about the many masechtos they completed, the extra chazarah they did, or the geshmak in learning they developed all because of Masmidei HaSiyum. They tell me about the prizes they won and the contests they participated in.

Doniel shared that he loved to see how much he learned and would like to see Madsmidei HaSiyum continue after Siyum HaShas. Yisroel shared that it makes him enjoy learning so much more. Yitzchak said that that he was excited to win prizes, but that wasn't the best part. The best part was that with the help of Hashem and Masmidei HaSiyum, he finished many blatt Gemara.
Shraga said, "Masmidei HaSiyum gave me something to do at Motzaei Shabbos learning programs and motivates you to learn." It even changed the way some boys look at homework. Achiezer told me that, "It gave me an excuse to go to kollel Friday night and now I enjoy doing my homework every night." Chananel said, "When I call in to register my learning, it gives me strength to learn more and more. Even if it's hard, I go on to learn more and more." Yoel shares, "I like Masmedei HaSiyum because I can see how much I did in my learning. It also makes me feel good about myself." Eliyahu reports that he loves listening to the worldwide totals.
I asked the boys if they wanted this amazing program to continue after the Siyum HaShas. Zalman Noach said yes. "I want Masmedei HaSiyum to continue after the Siyum HaShas because it gives me more geshmak when I learn." Michoel said, "I would want Masmidei HaSiyum to continue after the Siyum HaShas. It's just wonderful! It really helps many boys learn. I enjoyed the raffles and bonus prizes."
I also asked the boys what they aspire to be in the future. Yoel said that he wants to finish Shas when he gets older. Bentzi expressed that he wants to finish Shas a few times in his life. Zevi shared that since Masmidei HaSiyum began, he started learning much more and can see himself being a big talmid chacham and finishing Shas many times. Yossi wrote  that when he gets older, he plans to learn Dirshu in Shas and halachah. Daniel says he wants to finish all six sedarim of Mishnayos. Yehuda was so impressed with the contest that he wants to sponsor money for this amazing project when he gets older. Chulli shared that he completed four extra masechetos all because of Masmedei HaSiyum!
Since the program relied on the boys reporting their own learning on the phone system, I wondered if there was a risk of inaccurate reporting. Eliyahu said that once he reported 20 points and the system registered it as 40 points instead. Eliyahu immediately completed an additional 20 points, bringing his total to 40, to make sure his tally was accurate. Mi k'amcha Yisrael!
Masmidei HaSiyum in numbers:
37,269 masmidim
10 countries
62 cities in the US
172 schools
Over 15,684,517  lines of Gemara
196,056 blatt which is equal to finishing all of Shas more than 72 times
3,724,185 Mishnayos which is equal to learning Shas more than 881 times
8,541,618 pesukim in Chumash which is equal to finishing Chamishah Chumshei Torah more than 1,454  times
Masmidei HaSiyum: Boys from around the Globe
Yisroel Leitner — 11, UK
At the beginning, it was hard to stick to the extra learning involved in being part of Masmidei HaSiyum. Then I saw how much it helped me understand the gemara we were learning in school. That motivated me to put more time and effort into the program.
Yitzchok Goldschmidt — 6, Brooklyn, NY, Torah Temimah
My favorite part of Masmidei HaSiyum is learning with my Tatty. Winning a prize was also really exciting, just as good as learning with my Tatty!
Yisroel Stern — 11, UK
The most rewarding time for me was that I won once! When I saw the sign in school, I jumped up and down from excitement.
Davy Laufer — Belgium
There were times during exams when it was hard for me to learn since I didn't have time. During vacation, I learned extra to catch up.
Yehuda Leib Mermelstein — 12, Yeshivas Karlin Stolin
Being part of Masmedei HaSiyum makes me feel choshuv. It is very motivating to be part of a group of 30,000 boys all learning together. In my school, the menahel put up a screen where I can see how much each boy in the school learned. When I see that someone younger learned more than I did, it pushes me to learn even more.
David Chayo — Mexico City, Keter Torah
Once, during vacation, I was playing a game with a group of friends. We were having a lot of fun, but the time came for me to learn for Masmidei HaSiyum. I stopped in the middle of the game and went to the beis medrash to learn.
Yehoshua Harris — 13, Toronto, Yeshivas Eitz ChaimI found learning as part of Masmedei HaSiyum to be easy, not hard. In my school, as an extension of Masmedei HaSiyum, we have a chazarah program where we review the gemara we are learning in school as many times as we can. I found that the more I review, the easier it gets. It felt so good when I got to my first 100 blatt.
Asher Silver — 13, Toronto, Yeshivas Eitz Chaim Learning with the Masmedei HaSiyum program always feels really good. Since my school emphasizes reviewing the gemara we learn in school as many times as we can, I know the gemara almost by heart! That feels really good. As a result, I find I am more excited to learn Torah in general, aside from the gemara I am chazering.
A Note from Rabbi Wachsman of Yeshivas Eitz Chaim, Toronto
As the eighth-grade rebbi, I wanted to bring further motivation and achdus into the Masmedei HaSiyum program my students were joining. Modeling after Chaverei HaSiyum, I decided to have our school ultimately make a siyum Mishnayos on Shishah Sidrei Mishnah. This goal brought everyone together, enhancing the strong drive to learn that Masmedei HaSiyum brought to our school. The students contributed the mishnayos they learned in school, while alumni, rebbeim, and father-son pairs took on further mishnayos. We also had a program where the boys got blue and gold tickets for reviewing that which they learned in school. It has come to the point that even while we're taking attendance, the boys are chazering Gemara. One boy reviewed a daf gemara 36 times over one Shabbos afternoon! The goal was to chazer 2,711 dapei Gemara — equivalent to the number of dapei Gemara in Shas. By now we have gotten to over 3,500! The whole school is on fire with this project, and the motivation is unreal.

A Note from Rabbi Lish of Yeshivas Karlin Stolin, Brooklyn, NY
The devotion of the menahel of Yeshivas Karlin Stolin, Rabbi Binik, is unbelievable. He goes around from classroom to classroom daily, encouraging the talmidim to put their kochos into the Masmedei HaSiyum learning program. In schools in general, after the initial excitement of any new program, the energy of the students usually dies down. As a result of Rabbi Binik's efforts, this is not the case in Karlin Stolin. Rabbi Binik put a screen in the hallway with interesting notes and information about the Siyum HaShas. It also features a PowerPoint slideshow on the progress of the students of each class. The hallways display pictures of Karlin Stolin students who were part of the Masmedei HaSiyum program and stood on stage at the Siyum HaShas seven and a half years ago. All these are just examples of the effort put in by Rabbi Binik to motivate his students in their efforts in Masmedei HaSiyum and to keep that motivation going. His devotion and success are remarkable.

Hadran Alach: We Will Return
So all you amazing kids out there, listen up! If you were involved in Masmidei HaSiyum until now, consider yourself lucky and keep on learning. If you didn't have the opportunity yet, be on the lookout for more programs. Masmidei HaSiyum plans to surprise us with more contests, programs, and prizes.
As I interviewed Masmidei HaSiyum participants for this article, a boy by the name of Mayer expressed that he is convinced that Masmidei HaSiyum will definitely bring Mashiach. I asked him why he thought so. He replied, "The world stands on three pillars — Torah, avodah, and gemilus chasadim. Masmidei HaSiyum is making the pillar of Torah even stronger." Amen!
(Originally featured in Mishpacha, Issue 792)
Oops! We could not locate your form.
>