| PlateArt |
Key in to your Challah | April 26, 2022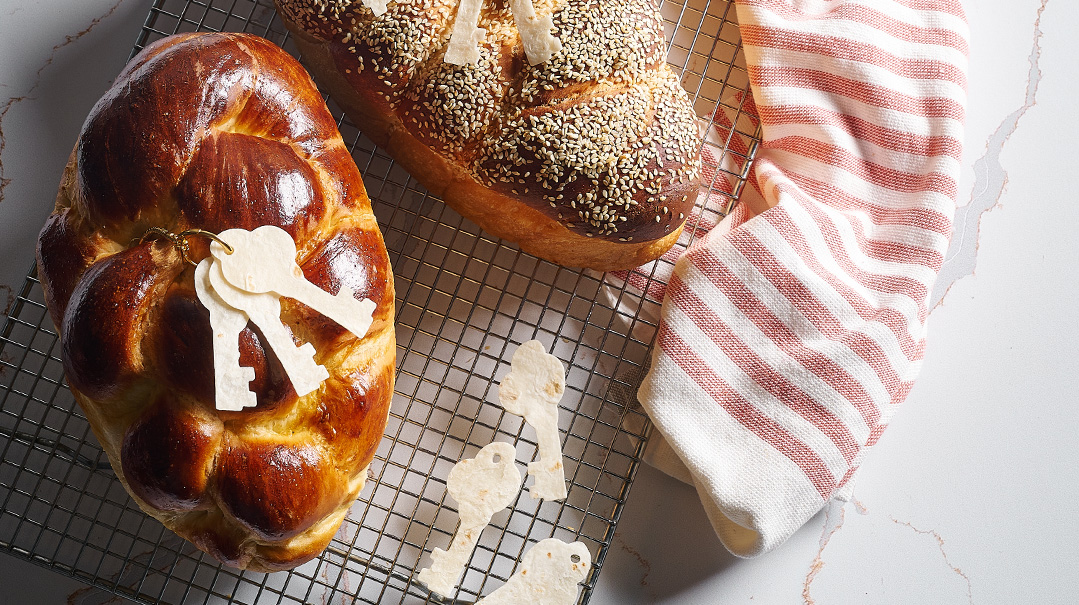 Styling by Esther Ottensoser
Photography by Hudi Greenberger
It's not uncommon for me to be off season with my article planning. None of my children would bat an eyelash if they saw a dreidel around here before Succos or mishloach manos on our table on Chanukah.
It so happens that this year I decided to put my Bosch away before Purim. Lo and behold, as soon as it was away, Chanie asked me to do a quick shlissel challah idea.
So on the Friday of Shushan Purim, my son-in-law walked into my kitchen and saw shlissel challah on the counter. His face bore a look of utter confusion and bewilderment as he said to me meekly, "I think the minhag is to do shlissel challah the week after Pesach, not the week after Purim!"
Fun Fact
With Pesach ending on Shabbos this year, you have a full week to bake shlissel challah. My brother-in-law Rabbi Dovid Heber told me that this is the last time until 5789/2029 that Acharon Shel Pesach will fall on Shabbos, so it will be seven years before this happens again.
You will need:
challah dough
key chain rings (either the simple kind that you can slide a key on and off of, or lanyard key chain rings with a lobster clasp, available from Amazon)
key chain cookie cutter, or kitchen shears and key image
wraps
straw
Braid the challah, then begin baking it as you normally would.
Use the cookie cutter to cut key shapes out of the wraps. Alternatively, place a key image on the wrap and cut out a key shape using kitchen shears.
Using a straw, punch a hole in the top of the key.
Place the "keys" on the key ring.
Place a key chain ring in the challah once the outside of the challah is no longer sticky but before it is edible (after about 20 minutes of baking). This way the key chain won't get stuck in the dough.
(Originally featured in Family Table, Issue 790)
Oops! We could not locate your form.
>