| Family Living |
Keep It Clean | July 1, 2020
Some of us are still stuck at home, and getting sick of staring at our four walls. How about a DIY paint job?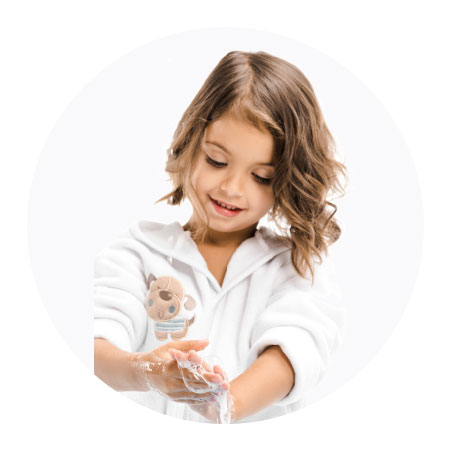 We all know the drill — masks, social distancing, and lots of hand washing. But how do you get the little ones to keep the rules?
Consistency… consistency… consistency. Never let them do anything until they wash their hands when they come home; don't let them leave until I make sure they're wearing masks.
— Shaina, Cleveland
I don't do anything. I think it's the effect of peer pressure. They see everyone taking it seriously: people on the streets with masks, the long lines outside stores, the fact that schools were closed, the magazines they love to read discussed it, the pamphlets about hygiene that came in the mail box, and they just followed suit.
— Devorah, Yerushalayim
Make it easy for them. Keep a box of masks by the front door, and soap and a towel next to the bath so the little ones don't have to use a stool or struggle to reach the sink. I also let them choose which scent of soap they want, and they're excited that their hands smell nice.
— Sara, Ramat Beit Shemesh
Told them a mashal I read in a meme. The virus is like glitter. It's stuck on the craft you made in school, and somehow little bits ended up everywhere — on your hands, in your hair; on the elevator buttons and door handles; on the floor where people get it on their shoes. If you put your craft down on the kitchen table, it will get covered in shiny dust. That was relatable and drove it home for them.
— Aviva, Melbourne
It's a family affair. Everyone who comes home, kids and parents, goes straight to the bathroom to wash hands. Once they saw that happen a few times, it became part of their routine, like eating supper and having a bath.
— Tzippy, Ramat Beit Shemesh
Blue Is the New Greige
Some of us are still stuck at home, and getting sick of staring at our four walls. How about a DIY paint job?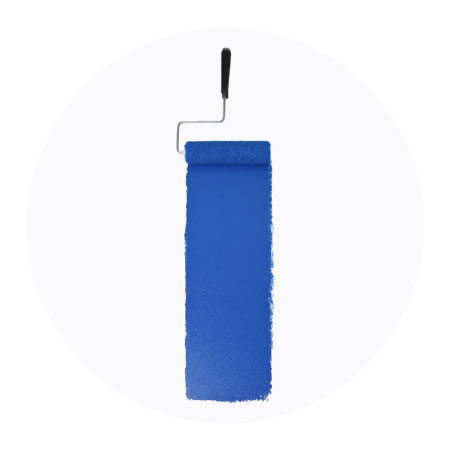 This year, blue is back big-time, moving away from the grays, beige, and greige that have been all the rage for house colors for the last years. Think navy blue kitchen cabinets, bold blue doors, powder or pale blue for the walls.
It's perfect for this period when we could all do with the calm-inducing effect of light blue and we're craving blue skies.
Other popular colors are earthy orange or coral-toned shades, as well as striking greens like emerald and sage.
Personalize Your Style

Yehudit Garmaise
Finding clothing that simultaneously fits our requirements of height, shape, comfort, style, and also adheres to our level of tzniyus is not super-easy to find.
Years ago, I started visiting a seamstress and asked her to please add material to the hems of some skirts and dresses, which, because I'm tall, were simply not long enough. As I continually made my rounds of the local fabric store, I started to think of more creative ways to alter clothing.
For instance, I wondered whether my talented seamstress could add material to the sides of skirts and dresses that I found too straight. Yes, she could!
Could she add matching material to a dress's neckline, so I wouldn't have to layer a shell under a dress that already had long sleeves? Yes!
Could she sew up slits, make kick pleats, and take in (or out) skirts, jackets, and dresses at the waist to make them more flattering and comfortable? Yes, yes, and yes! By slightly redesigning dresses I wore to friends' weddings years ago, I created a few new things to wear to shul.
Not only do I buy new clothing less frequently, but when I do need something, I quickly spot pieces that can work with modifications. If you have a skirt or dress with a fit, style, cut, or length you love, measure it and use those measurements and designs to alter the rest of your wardrobe.
If you don't like the neckline of a dress or top, you can add soft, comfortably material (such as Modal) so your collarbone is covered and you don't have to wear a shell. I had a lace dress that was too clingy and short when I bought it, but I added length and material to make it into an A-line, and now it fits perfectly.
If you have a skirt or a dress you like, but you find it too clingy or too tailored for comfort, you can add two triangular pieces of material starting at the waist and going down to the hem to make a more flattering and comfortable A-line.
This dress didn't cover my knees, so I added material to make it into a maxi dress.
If you love the pattern of a dress, but it's not tzanuah, add material to add length and to the sides to make the cut into an A-line.
My husband brought me this dress home from a business trip to China, and I added material at the sides to make it more flattering.
(Originally featured in Family First, Issue 699)
Oops! We could not locate your form.
>