| Whats Cooking |
Just Desserts | October 6, 2022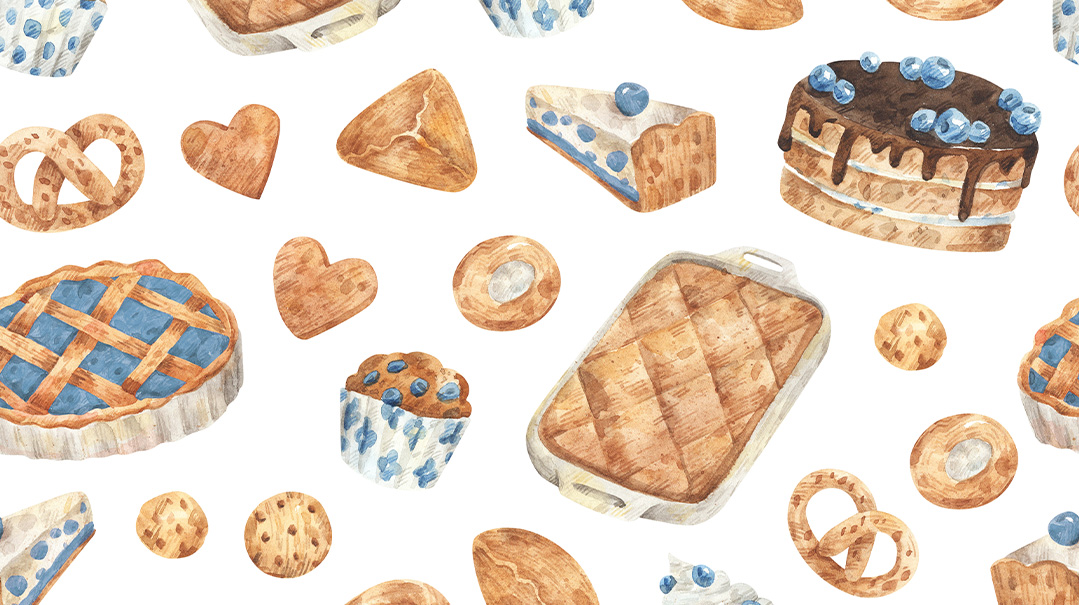 It's easy to quickly fill your menu up with appetizers, meats, sides, and salads, but don't run out of steam before dessert! Beyond just a sweet meal-ender, a great dessert conveys love — yes, we said it — like nothing else can. Find your favorites and stock your freezer because, spoiler alert: There are a lot of meals ahead of you.
Vanilla-Raspberry Custard Trifle
This is a winning recipe made all the better for the ready-made ingredients in it. Enjoy!
1 white cake recipe (use a boxed cake mix)
1 10-oz (285-g) container raspberry doughnut filling
12 pieces Viennese crunch
1 12-oz (340-g) container vanilla custard
1 16-oz (450-g) container pareve whipping cream
¼ cup confectioners' sugar
2 Tbsp amaretto liqueur
Crumble half of the white cake and lay on the bottom of your trifle bowl. (Use the second half for coffee and cake or freeze for future use.)
Carefully place small spoonfuls of raspberry doughnut filling all around the edge of the bowl, over the crumbs. (The more neatly you work, the more professional-looking dessert you will get.) Start from the outside and create a circle in the visible part of the bowl, then smear the filling over your layer of crumbs. Work slowly and don't be concerned if it's not a perfect layer.
Place the Viennese crunch in a ziplock bag and crush finely. Sprinkle over the raspberry filling, once again starting from the outside edge and working inward to ensure that you have a visible layer at the outer part of the circle.
Next, spoon your custard over the crunch layer, then smooth out.
In a large bowl, beat the whipping cream until you have soft peaks. Add the confectioners' sugar and amaretto. Continue beating until you have stiff peaks.
Spread a layer of whipped topping over the custard. Fill a decorating bag with the remaining topping and pipe rosettes or the design of your choice.
—Rivky Kleiman, recipe columnist
Mint Chocolate Cookies
I was always a big fan of Girl Scout cookies, and one of my favorites was the Thin Mint cookie. This recipe is super easy and a big treat for mint chocolate fans! They're really good frozen!
6 3oz chocolate bars (I use Carmit)
1 tsp peppermint extract
tea biscuits
Melt the chocolate in a double boiler. Once smooth, remove from heat and slowly add the peppermint extract. If the chocolate changes consistency, add canola oil an eighth of a teaspoon at a time until the chocolate is smooth again.
Dip the front of a tea biscuit into the chocolate so the entire surface is covered. Lay flat to dry.
You can store the biscuits at room temperature once the chocolate is set or freeze them. Serve alone or with ice cream. Enjoy!
—Sarina Laghaei, ad design
Chocolate Coffee Tart/Cups
I found an iteration of this recipe when I was newly married. You see, kids, in the olden days, cookbooks didn't have pictures. And there were multiple recipes on a page! And the authors of the recipes were people you davened with! (The word influencer hadn't been invented yes. Yes, I am that old.) I tweaked it and came up with this! Enjoy.
12 oz (340 g) chocolate (I use 3 Rosemarie chocolate bars)
1 Tbsp sugar
4 eggs
4 Tbsp coffee liqueur
2 graham cracker crusts
pareve whipping cream, beaten, or prepared whipped cream
crushed cookie crumbs of choice
Melt chocolate in a double boiler, stirring constantly. Add sugar. Add eggs one at a time and quickly mix them in before they curdle. Add liqueur and mix until smooth. Pour into a tart pan and let cool. Add whipped topping. Alternatively, divide among mini glasses or ramekins, add crumbs, and layer till almost the top, then cover with whipped cream. Freeze.
—Chaia Frishman, columnist
Tiramisu
Tiramisu is a fast, easy, no-bake dessert. Here's my quick cheat version.
1 pkg ladyfingers
1 8-oz (225-g) tub Better Than Cream Cheese (or real cream cheese, if you want to go dairy)
1 8-oz (225-g) container pareve whipping cream (or real cream), defrosted
½ tsp coffee granules (preferably a coffee that will dissolve easily, like Elite)
1 tsp vanilla
2 Tbsp sugar
2 cups strong coffee, with 2–3 tsp sugar added
dash cinnamon
chocolate syrup or melted chocolate, for garnish
Beat the pareve cream cheese until light, then add the pareve whipping cream, coffee granules, vanilla, and sugar and continue beating until thick. Put a layer of the mixture on the bottom of a bowl or trifle dish.
Dip the ladyfingers in the coffee for a second or two (too little and they don't absorb; too much and they fall apart), then layer over the cream. Continue layering cream and ladyfingers, ending with a layer of cream.
Sprinkle the top with a bit of cinnamon and a swirl of melted chocolate or chocolate syrup. Refrigerate until serving.
Optional: If you like a bit of a kick, add a tablespoon or two of liqueur (chocolate, coffee, your call) to the whipped cream mixture.
—Barbara Bensoussan, columnist
Chocolate-Peanut Butter Pie
I got this easiest dessert recipe ever from a friend: Melt 3 31⁄2-oz (100-g) bars of chocolate in a double boiler. Stir in a small container of pareve whip and 3 Tbsp of peanut butter. Pour into a graham cracker crust and freeze. Serve frozen.
—Libby Livshin, administration
Ice Cream Crunch with Chocolate Sauce
I first tasted this dessert at my friend's son's sheva brochos. It's positively sublime! Everyone broke their diet for this one, including yours truly!
Ice cream
2 8-oz (225-g) containers pareve whipping cream
4 eggs
½ cup sugar
1½ Tbsp vanilla sugar
1 Tbsp coffee, dissolved in 1 Tbsp water
2 Tbsp creamy peanut butter
Crunch
1 cup honey
1 cup crunchy peanut butter
8 oz (225 g) chocolate chips or good-quality baking chocolate
1 Tbsp water
8 cups rice crispies or cornflakes
To make the ice cream: Beat together the pareve whipping cream, eggs, and sugars. Add coffee and peanut butter. Pour into a container or a 9×13-inch (23×33-cm) baking pan and freeze.
To make the crunch: Melt together the honey, peanut butter, chocolate, and water. Add the cereal and mix well. Transfer to a baking tray and freeze.
To serve: Scoop ice cream onto a large plate. Spread a generous handful of the crunch over the ice cream and on the plate. Serve with warm chocolate sauce.
—Brynie Greisman, recipe columnist
Easy Mousse Cups
These mousse cups are the best! And there's no separating eggs required.
2 3½-oz (100-g) bars chocolate (minus one row)
2 8-oz (225-g) containers pareve whipping cream
confectioners' sugar
4 tsp coffee granules, dissolved in a bit of hot water
crushed nuts, for topping (optional)
Melt the chocolate. In a mixer, beat the pareve whipping cream. Add confectioners' sugar and dissolved coffee. Stir in the melted chocolate.
Pipe into dessert cups. Top with nuts if desired. Keep refrigerated until ready to serve.
—Ahuva Weis, graphics
Ice Cream with Terrific Add-ins
I have my daughter Chevy to thank for learning how to make delicious pareve ice cream without two bowls and separated eggs!
4 eggs
16 oz (450 g) pareve whipping cream
½ cup sugar
1 Tbsp vanilla sugar
optional add-ins: different flavor extracts, crushed cookies, chocolate chips, halvah, praline paste thinned with some ice cream batter, chocolate fudge, caramel cream, chopped nuts, or crushed rice crispies
Beat everything together until it forms stiff peaks. No need to add one at a time — you can put it all in one bowl! Then add in whatever you want on low speed until incorporated.
—Faigy Grossman, recipe columnist
Pavlova
I got this recipe from my husband's aunt Mandy Bachrach. It's like a very large flat meringue, but better — the outside is crisp while the inside is more gooey. It looks pretty, tastes great, and is fairly easy to make. Bonus: It's gluten free, so it's great for GF guests.
4 extra-large or 5 large eggs, room temperature, separated
pinch salt
1 cup sugar
2 tsp cornstarch
1 tsp white wine vinegar
½ tsp vanilla extract
whipped cream
blueberries and/or chopped strawberries, for garnish
Beat the egg whites with a pinch of salt until they're firm. Add sugar slowly with the beaters still on high, and beat until firm, shiny peaks form. Sift in cornstarch. Gently fold in white wine vinegar and vanilla extract.
Using a spatula, push/pour the mixture onto a parchment paper into a 10-inch (26-cm) circle shape, using the spatula to push the "batter" out and pat it down gently. Bake at 275°F (135°C) for 1 hour and 15 minutes. Turn off the oven and let the pavlova cool in the oven for an hour, removing only when completely cool.
Serve with whipped cream on top, covering most of the disc, and top with blueberries and chopped strawberries. For Rosh Hashanah, I like to top it with pomegranate seeds as well, and sometimes I'll even drizzle pomegranate sauce on top.
An alternative to baking a large pavlova is to make smaller discs, 3 inches or so, for individual servings. But that takes a little more time!
—Rachel Bachrach, associate editor
Plum Crumble
Rachel Newton has shared many tips with me; by far her most delicious share is this easy, juicy crumble. I usually double it and freeze two of the four pans — it freezes beautifully and it's a treat to have plums when they're no longer in season.
Fruit layer
7 plums, thinly sliced
3 Tbsp sugar
1½ tsp lemon juice
Crumb layer
3 cups flour
1½ cups sugar
1 tsp vanilla sugar
1 tsp baking powder
¾ cup oil
1 egg
Place the fruit layer ingredients in a bowl. Mix together and let sit while you prepare the crumble.
Mix the crumb layer ingredients by hand until you get pea-sized pieces. Lightly grease two loaf pans. Press a quarter of the crumble mixture into each pan, then divide the plum mixture between the pans, and then sprinkle remaining crumbs on top.
Bake at 350°F (175°C) for approximately 45 minutes, or until golden.
—Bassi Gruen, managing editor
Cookie Dough Ice Cream Pie
All my best recipes are from FT! This one is by Estee K. and was printed in The Best of Family Table. Everyone loves it, and it's a fun Yom Tov treat in my house.
1 recipe chocolate chip cookie dough
2 containers vanilla ice cream, slightly defrosted (or make your own)
2 graham cracker crusts
Spread the cookie dough out on a baking sheet and bake for 9–10 minutes, till it's still soft and doughy. Allow to cool. Break the dough into pieces and mix half of it into the defrosted ice cream. Pour into the crusts and smooth out. Top with the rest of the cookie dough pieces. Freeze until ready to serve.
Tip: Use the pieces from the middle of the baking sheet, which are the most doughy, for mixing into the ice cream. Save the pieces from around the perimeter of the sheet, which are crispier, for the topping.
—Chaya Baila Lieber, copy editor
Snickerdoodle Pie
Years ago, my sister-in-law Numi gave me this recipe for snickerdoodle pie that, yes, still needs a mixer, but it's straightforward, and you can do it all in one shot instead of the make-in-a-bajillion-steps dessert recipes out there.
2 graham cracker crusts (yes, this recipe makes two pies!! Amazing, I know.)
2 8-oz (225-g) containers pareve whipping cream
1 pkg vanilla pudding mix
Topping
⅓ cup Karo syrup
⅓ cup chocolate syrup
⅓ cup crunchy peanut butter
Beat pareve whipping cream until stiff. Add pudding mix and beat again. Divide the mixture between your two crusts.
Mix together topping ingredients and pour/drizzle on top of the pies. Freeze.
Remove from freezer a little while before serving to thaw a little (unless you want to build your muscles).
—Esther Kurtz, columnist
(Originally featured in Family Table, Issue 813)
Oops! We could not locate your form.
>