| Washington Wrap |
Joe Biden Hopes for a Reset
| September 29, 2021
One person that Biden could perhaps learn from is Bill Clinton — during his first term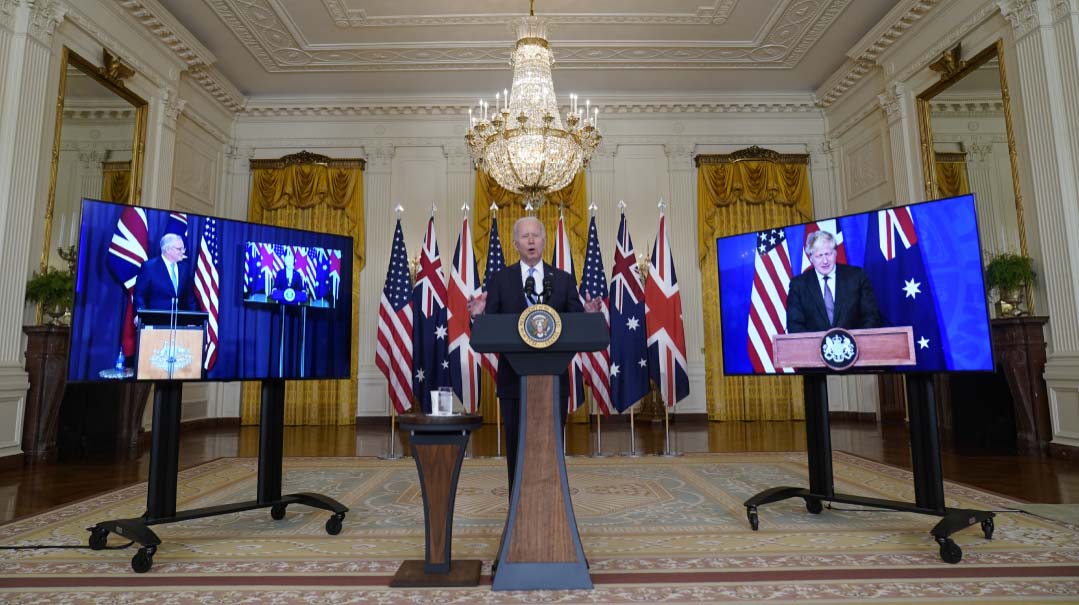 When a president faces a crisis and a sharp drop in his approval ratings, he needs fresh spin, and fast. President Biden now finds himself in that position; his disastrous last two months have cast a shadow over his first six months in office.
As the botched withdrawal from Afghanistan continues to smolder, and new Covid cases average 145,000 per day, Biden is eager for a fresh start, a reset button that would put him on track. One person that Biden could perhaps learn from is Bill Clinton — during his first term.
"Clinton had a rough start to his administration, in part because of his team's youth and inexperience, and in part because he, like Biden, ran as a moderate but began governing as a liberal," says Tevi Troy, senior fellow at the Bipartisan Policy Center, and author of Fight House: Rivalries in the White House, from Truman to Trump.
"To his credit, Clinton did make adjustments in response," says Troy. "First, he brought in David Gergen, who was not only an old White House hand but had also served in Republican administrations. Clinton did not at that time change the administration's political orientation, though. He did make more of a change after losing both the Senate and House in an off-year election repudiation in 1994.
"At that point, he secretly brought in the more conservative consultant Dick Morris — code-named Charlie — to help bring the administration closer to the center. Morris alienated the progressive White House staff, but he also helped moderate Clinton's policies and tone. As a result, Clinton successfully won reelection in 1996. While this may be a good model for Biden to follow, there is little indication at this point that he is likely to move in that direction."
Biden's plan to keep moving again had three components. First — refocus America's attention away from the disaster in Kabul and onto COVID-19 and the spread of the Delta variant. Second, achieve significant domestic political success in passing the $3.5 trillion infrastructure bill. And third, regain international momentum with a new entente with the UK and Australia to counter China.
The problem is that all three initiatives have run into major stumbling blocks, delivering a major blow for his hope to turn the page on Afghanistan.
It started on Friday when the FDA rejected his plan to provide a third COVID booster shot. Although the panel did authorize the use for a third Pfizer dose to dose who are over 65 or with a higher risk, it fell short of the White House's ambitious goal.
On the very same day, the French government took the unprecedented step of recalling its ambassador from the US, blaming the president for "a stab in the back." The reason for the blowup was the announced strategic agreement between the US, the UK, and Australia, called AUKUS. It was revealed that the entente effectively cut France out of a defense deal it had been negotiating with Australia — 12 nonnuclear submarines for $40 billion. The US, working assiduously and furtively to conceal its efforts from France, persuaded Australia to instead buy eight American nuclear submarines.
This public spat with Paris, the first of its kind in the 245-year-old alliance, fueled the administration's turmoil. The blowup is even bigger in light of Biden's repeated promises that the US-EU relationship would flourish under his watch, and renders French president Emmanuel Macron's ebullience at Biden's election ironic. If the AUKUS alliance proves effective, Biden will have made an important strategic advance; but the proof will only be seen in the long term, which helps him little with his short-term political crises.
Now we are left with the $3.5 trillion infrastructure bill. A House vote is tentatively planned for September 27, with some progressives threatening not to vote for it without guarantees that Congress will pass a massive reconciliation bill, to which moderates remain uncommitted and Republicans are implacably opposed. With polls showing average job approval of only 45percent as of this writing, Biden is desperate for a win. Given his political weakness, however, progressives have the leverage and are doubling down on their threats.
The Democrats' nervousness is growing fast as the 2022 elections near. Every president going back to Bill Clinton has seen his party fare badly in midterm Congressional elections. Biden hopes to defy history, but PredictIt, an online exchange that trades in political futures, is currently quoting a Republican House victory at 73 cents, more than twice the price they give for a Democrat win — 30 cents.
Democrats face uphill battles in four states Trump won in 2016 and Biden was able to flip in 2020: Arizona, Georgia, Pennsylvania, and Wisconsin. Given the razor-thin margins of some of these races (Arizona and Georgia, for example) it is safe to assume that Republicans will put considerable resources there. With the Democrats holding the 50-50 Senate only by virtue of Vice President Kamala Harris's tie-breaking vote, Republicans only need to flip one seat to regain control.
Democrats are drawing encouragement from California governor Gavin Newsom's win in the vote to recall him. Polls indicated that the race would be tight, but Newsom held a formidable advantage — 63 percent to 36 percent. Democrats see this as proof of their ability to organize and mobilize voters.
Biden, in the meantime, hopes to accomplish at least some of his priorities. As a savvy politician, he is well aware that the political clock is ticking.
(Originally featured in Mishpacha, Issue 879)
Oops! We could not locate your form.
>