| Family Room |
It Takes Two to Tango
| January 25, 2022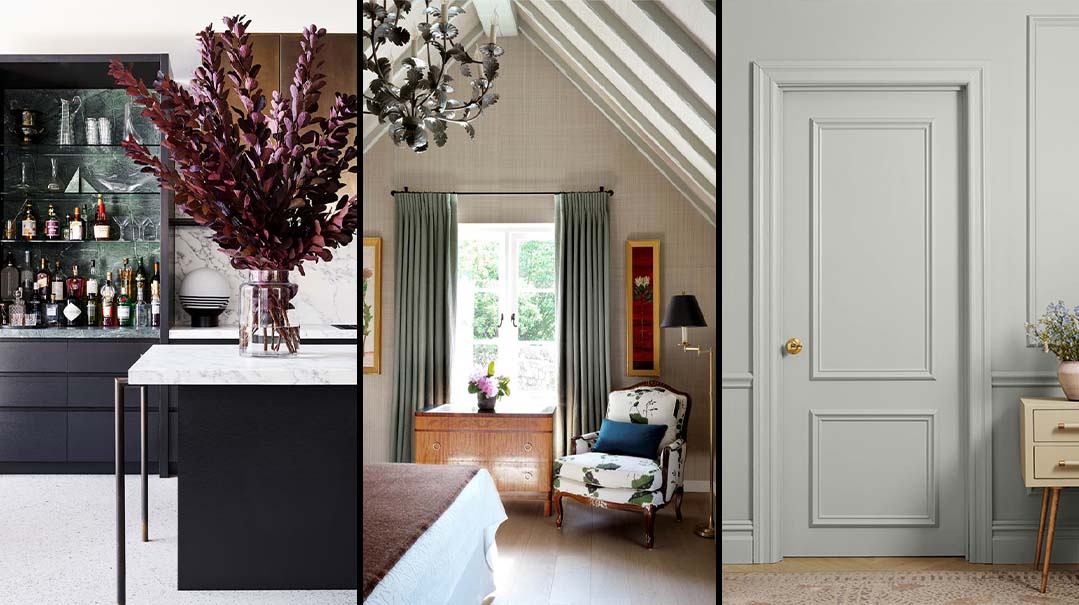 With all of the tips, tactics, and takeaways we publish in this magazine, the underlying message we want to give over is that there is no right way to design. Ultimately, it's an expression of your personal taste, and there will always be opposing sides of the preference spectrum to back up each decision.
In this article, this is expressed through the questions posed to Aeden Farkas, a designer whose taste leans modern, and myself, whose design inclination has traditional roots. You'll quickly realize that the only way to make the right design decision is to make the design decision that's right for you.
Buckle up,
Rivki
Describe your design aesthetic. Why does it work?
Aeden:
For as long as I can remember, I'd walk into a room and recreate it in my head. A fresh coat of paint to switch up the ambiance, furniture rearranged for a more cohesive feel, and unique accessories to add dimension. There are endless possibilities for every taste and budget.
I believe it's crucial to work with the architectural "bones" of the home for consistency and flow, while taking into account the needs and tastes of my clients and making sure to meet them halfway. When practicality is paramount, I'll choose flooring that's easy to clean, but may push aesthetics in areas that give a unique pop without the hassle — think lighting, accessories, or backsplash.
If I had to describe my style, I'd say modern with timeless touches to keep things interesting. Too modern can create a cold, sterile space, and overly traditional can seem formal and busy. I try to strike a balance between the two.
Rivki:
I consider my design ethos traditional with a fun perspective. Practically, this means that I lean into historical design and shapes in furniture, space planning, and finishes — but I pair them with current color palettes, art, and subtle twists. You might find a super historical-looking banister, but in a fresh color; or a heavy wood chair with a quirky pattern. I believe that, as in all areas, the greats knew best, so I get excited when I find something special that's antique, and then create ways to keep it true to its form, layered with today's elements.
I'm not opposed to forward-thinking design, but I'm a big believer in design that has longevity. Of course, what makes this work are the injections of newness that allow all of it to feel harmonious and — dare I say — fresh!
I love how ironic traditional design requires nonstop reinvention, because we're reinvigorating the old with the new; whereas a lot of the design we see today takes a piece as is, with no further creativity.
We're also seeing the damage excessive consumerism has caused to society, and we're looking for ways to reuse what we, or someone else, has already had, whether it be for budgetary reasons or style choices.
Regardless of your favored design style, it's integral for environment to be accounted for when executing successful design. Given that I was born and raised, and am now raising my own family, in Canada's harsh climate, it makes sense that I gravitate towards design that feels like a hug.
Where do you feel people go wrong executing this look?
Aeden:
A common mistake made in home design is when people think modern equals white and gray, and execute it as such, creating a drab, soulless feel.
Rivki:
People either overdo it with pattern and/or color, working overtime to make these traditional finishes and profiles feel current and cool, and instead, the end result just feels contrived, or they're stuck in the past, and it feels stuffy and too formal.
What are your favorite paint colors?
Aeden:
How paint will appear in the room depends on which direction your home faces the sunlight. Don't forget to test, test, test beforehand! I love using a nice, fresh white paint for the majority of the house, and I introduce color in enclosed spaces for a moody and cozy feel, like the powder room, family room, and bedrooms.
Chantilly Lace by Benjamin Moore is a great pure white color with no undertones. Paper Doll by Benjamin Moore is another perfect white with slight warm gray undertones.
Some dramatic colors I like are Wrought Iron, Stonington Gray, and Fatigue Green, all by Benjamin Moore.
Rivki:
This is the hardest question for me to answer. (My own home has not one shade of white in it!)
Benjamin Moore Monticello Rose is a sophisticated, decisive pink; Raphael is that elusive shade of brown-
burgundy I love.
Farrow and Ball Dropcloth is the perfect taupe; Borrowed Light is the best foray into color as it goes white or light blue depending on the lighting.
Sherwin Williams Oakmoss is the most neutral-feeling olive, in my opinion.
What are design trends that are now considered passé, and what's your trend forecast for 2022?
Aeden:
Design trends come and go. Last year, 2021, we saw lots of old trends making a comeback, including fluting, rattan, and decorative wallpaper. I believe 2022 will bring minimalism to the back burner, and we'll continue to see more layered, rich looks. Less is no longer more (at least for now).
Rivki:
I think we should be saying goodbye to curved furniture (although the design world not only doesn't agree, but is now implementing curves in static, functional pieces like kitchen islands and adding waves to the actual bases). I'd also like to see us bidding adieu to bouclé fabric.
I'm a little sad about this one, but I also feel that we have taken a centuries-old classic — black and white checkerboard floors — a little too far, and because of that ubiquity, designers (or I) respectfully request a break.
Trend forecast:
> Furniture profiles that are weird and wacky are still in high demand.
> Nature-focused concepts will be seen more and more: tactile elements reminiscent of nature, like limewash and raked plaster; natural color palettes like browns and taupes; and bringing the outdoors in with massive greenery and simple branches in large clay jugs and vases.
Minimalism and all-over neutrals will stay super prevalent going forward.
What are the websites and brands you find yourself using most often?
Aeden:
CB2, West Elm, Modern Komfort, Restoration Hardware, Sunpan.
Rivki:
1stDibs, Chairish, Matildagoad.com, Artsy.com,
Houseofantiquehardware.com, Etsy.com.
What is misunderstood about your design style?
Aeden:
Modern/contemporary does not mean uniform and boring!
The industrial revolution in the mid-20th century brought attention to aesthetics in regards to architecture, interiors, furniture, and art — hello, modern design, and the concept that form follows function. Clean lines and uncluttered spaces took the place of dark, dramatic, and heavily textured elements of the Renaissance and Victorian eras.
What we see now is contemporary design, which is constantly evolving based on what's popular today, while still incorporating trends of old.
Rivki:
Traditional design is commonly assumed to be claustrophobic or stuck in the past. I often receive photos and queries from readers, looking for ideas how to replace their dining room tables or armoires. What's funny is that I usually love these pieces! There are such simple ways of making what you already own feel current and intentional, and I'm not even starting on stripping and staining those cherry woods or repainting the yellowed crib!
Part of why I'm so passionate about design is because when it's well executed, one can appreciate any style, even if it's not the style they'd choose for themselves. I'm enamored with all styles and the inventiveness required to pull a room, house, or building together!
Aeden Farkas is the owner of Aeden Interiors, an interior design firm based in Toronto, Canada. Aeden specializes in residential homes and commercial boutiques. For projects in USA and Canada, she can be reached at aedeninteriors@gmail.com.
(Originally featured in Family Room, Issue 24)
Oops! We could not locate your form.
>