| On Site |
It Paints a Thousand Words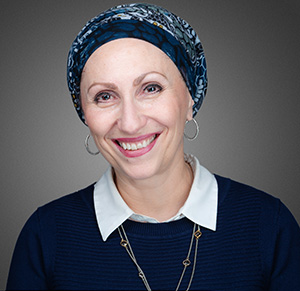 | November 4, 2020
If DovBer Marchette would create a portrait of his life, it would include objects d'art fashioned from discarded junk, paintings limited by color in order to feel the infinite, and finally, a return to the vision of the Master Artist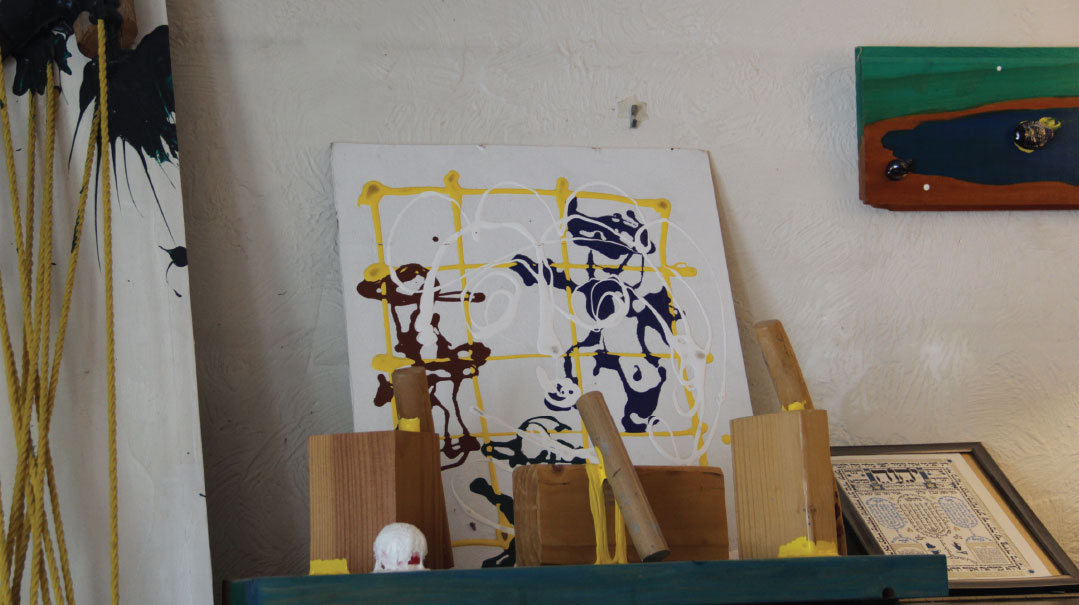 Photos: Rachel Faibish
DovBer Marchette — the artist formerly known as Barry Marchette — represents much more than a moment and a movement in the art world. As he enters his eighties, his personal history and development as an artist and a frum Jew offer a window into many years of cultural and personal evolution. Trained as a professional sculptor, Dov Ber has been a working artist for half a century, using his vision to create art from any material he finds on hand, including abandoned items from others and his own leftovers.
The past 20 years have been challenging for him due to medical issues that limit his mobility, and in the past five years, the coordination in his right hand, with which he draws, paints, and sculpts. He's thin and white-haired, his white shirt and black pants loose on his frame. But he radiates tremendous enthusiasm and energy as he speaks, eagerly seizing the opportunity to share his experiences with a Jewish world that knows little about his art or the world he comes from.
DovBer sits on a comfy couch in the living room of his semi-attached brick home in Brighton, Massachusetts, where the walls are covered with his canvases and sculptural pieces. Esther Leah, DovBer's wife of 32 years, joins us for the conversation. She's one of the cofounders of ATARA, a performing and creative arts organization for Orthodox women, as well as a serious musician who sings and plays piano, guitar, and percussion, in addition to her office job.
"DovBer and I actually met at a progressive Reform synagogue where I was the cantor," she says.
DovBer has four children from a previous marriage, and three more with Esther Leah, with one child still at home and the two married ones divided between Lakewood and Jerusalem. They have a new grandchild in Israel, but COVID-19 prevented them from meeting him until after Rosh Hashanah.
If the Shoe Fits
DovBer is a terrific raconteur of Boston Jewish history, with the authentic dropped r's of his provenance. His grandparents arrived in Boston in 1910 from Russia, and he was born in Lowell, near the New Hampshire border. But he grew up in Dorchester. His parents married young, and DovBer (originally Berel in shul, and Barry on the street) was the youngest of three.
When he was seven years old, his father left the family.
"We never heard from him again," he says. In those days, right at the close of World War II, safety nets were nonexistent; his mother, just a girl in her twenties, had to fend for herself and three children on her own. "I think about that a lot today," DovBer says. "It was tough. Today's kids don't have those hard experiences that make people into strong adults."
DovBer wasn't given artistic training as a child; he was diagnosed with a lazy eye, and later discovered he has dyslexia. When he turned six, his mother gifted him with a camera.
"I think she knew it would cure my problem," he says. "After that I was able to focus. I started to find art in nature, seeing the beauty in a puddle or a leaf."
He mastered darkroom-developing techniques and by age 11 he ran the darkroom in a summer camp.
But his family needed every penny they could bring in, and at age 12 DovBer was shining shoes to help out. One day an Italian shoemaker came in and proposed that he come work as a shoeshine boy in his cobbler shop.
"This was around 1950, and his store had oak chairs, marble steps, and brass footrests," he chuckles. "I was happy to accept. I'd do it after school, and after a few months my boss, who had no children, offered to teach me the business. By age 16 I was a master cobbler, and we became lifelong friends."
It was there, while he was minding the shop during his boss's vacation, that DovBer created his very first sculpture out of old leather cutouts for shoe soles. He carved a base out of a large block of leather and stacked one sole on top of the other to create a form. He still has it; Esther Leah runs to fetch it from another room. It's a small, abstract, spiraling shape that looks like it's made of carved, stacked ebony. Esther Leah points out that this sculpture presaged her husband's later work.
"He found used objects to create art," she says. "Even then he was able to find meaning in castoff objects, and find a way to turn them into something beautiful."
After high school, DovBer found a job selling shoes in a fancy store in downtown Boston. He'd learned how to fit shoes to customers from his Italian boss, and soon became a top salesman. From there he moved into jobs in the menswear trade, becoming a buyer for an upscale men's clothing store, and creating unique combinations of shirts, suits, and ties.
The Magic of 3D
In 1966, he headed out to visit an old friend in San Francisco. Sitting by the Sausalito Bay, on the other side of the Golden Gate Bridge, he saw a sandpiper landing gracefully on a pylon. What an image, DovBer thought.
As if of its own accord, his hand began moving, sketching the scene. The sandpiper, the pylon, and the bay appeared on the paper.
"I thought, how did I do that? he says. "It was a revelation: I'm an artist."
DovBer had never tried drawing, but now he walked to the stores just off the beach and found one that sold art supplies. He bought himself paper and charcoal and began drawing everything in sight.
He never knew he had it in him; it seemed to come from a Higher source. He thought, If this is what You want me to do, I'll do it, but I won't push it.
When DovBer returned to Boston, he signed up for a painting class at the Brookline High School Adult Education program. It was a small class, and he got what he could from it before enrolling in painting classes at the Massachusetts College of Art. Two years later, he embarked on an artist's tour of Europe, visiting Florence and Rome. In Florence, at the Uffizi gallery, he was bowled over by the statue of David.
"I was so impressed I drew a picture just of his arm, in charcoal," DovBer says. "It was a very sculptural drawing. I couldn't believe the expression in that statue. It made me realize the power of working in space, in three dimensions rather than two."
One Man's Junk
His newfound enthusiasm for sculpture quickly found an outlet. The very day he returned home, a friend called.
"There's a workshop today on direct-welding techniques, in an old shipyard and steel junkyard in Braintree," he said.
Direct welding involves taking "found" objects — whatever's available — and welding them together. DovBer learned how to weld, which he says is tricky work that's potentially dangerous. Soon he was producing pieces, honing his spatial sense and ability to find beauty in "junk."
He created his first five pieces for friends. "They were pretty good," he says. The next two pieces he created were entered into an art show, and turned out to be the stars of the exhibit.
He then enrolled in a class in welding sculpture at the Massachusetts College of Art with artist George Greenamyer, a well-known artist who taught there for 30 years. At one point, observing one of DovBer's pieces, Greenamyer commented, "That's David Smith-gutsy."
Who was David Smith? According to DovBer, he was the greatest sculptor of the 20th century, working mostly in direct welding. Smith had worked as a welder for trains, and eventually moved to Italy, where he worked from a former steel factory.
"He'd make sculpture from anything he could find," DovBer says.
Smith later moved on to work in stainless steel, producing Cubist-influenced sculpture. Although Smith died in 1965, he became DovBer's inspiration and artistic role model. DovBer went to the library and read every book and magazine he could find on him.
"I felt him inside me," he says.
He went through a long, successful phase of producing direct-welded sculpture. During the week, he'd go on the road for his clothing business; starting Thursday night, he'd work straight through the weekend as a sculptor. "I was a great welder," he states frankly, and the proof of this is that Greenamyer soon took him on as an assistant teacher. At age 35, he mounted a one-man show at the Massachusetts College of Art, a student show of abstract steel sculptures, some of them 12 feet high and immensely heavy. As the years passed, he received commissions to create sculptures for synagogues and public spaces.
Teaching Moments
DovBer arranged with the school to earn a degree while still working — he already had more than 200 credits in studio art — and when he finished, he found a job as an art teacher at a Worchester middle school. He also taught painting, sculpture, and 20th century art history, at the Art Institute of Boston for 16 years, and taught children at Boston's Torah Academy for 20 years. Some of his students from Torah Academy are today respected artists and photographers in their own right, including Rachel Feibish, the photographer and graphic artist Mishpacha has sent for today's photo shoot, and Israeli-based artist Yehudis Barmatz-Harris.
"I didn't just teach technique," he says. "I taught them creativity and problem-solving."
He enjoyed the job, saying he found the students extremely receptive to his ideas about creative process and spirituality.
"I really felt free to be myself as a teacher there," he says.
Limits Are Infinite
DovBer's early painting was realistic, and evolved into more modern art that reflected his efforts in sculpture, featuring cubes, rectangles, and poles. In the early 1980s, after serving as resident artist for the town of Sudbury, he spent some time living in a cabin nearby, in the woods near a cornfield. There the only paint colors he had available were yellow, green, blue, and brown, so he had to limit his palette to these (plus white).
"I was walking by the river, and I saw the sun shining through a hole in the trees. I saw a combination of green foliage, bright blue sky, brown earth, and yellow sunlight, and I thought, Why would I need any other colors? Let me limit myself to a select group of colors, and there will be no limit to the creativity that can be generated within these boundaries.
"No one else ever made this sort of decision, to limit himself to five colors and work with their infinite variations," he says. "Later I found more inspiration from the breastplate of the Kohein Gadol, with his 12 colored stones. If you stay within a limited palette you can still do anything you want."
Later, when he began to think more along religious lines, he related his palette to levels of spirituality. Brown, or earth, could represent nefesh; green, or foliage, represented ruach. The yellow of the sun stood for life, chayah; the blue represented the neshamah, and the white was the yechidah level of the neshamah.
Is That a Joke?
He would soon enter a new phase of artistic evolution. While taking a class in contemporary art history, one of his teachers introduced him to the work of Sol LeWitt, considered the father of conceptual art. DovBer's first reaction to his work was, "I do that as a joke!" But LeWitt was having the last laugh, as he'd done several one-man shows at MOMA and was well-known and respected.
With his irrepressible spirit and a hefty dose of chutzpah, DovBer tracked LeWitt down at his studio in New York, knocked on the door, and spoke to the great man.
"He was a funny guy, very sharp," DovBer recalls. "He disagreed with everything I said. But we became friendly."
During all this time, DovBer retained his enthusiasm for Judaism as he knew it. When speaking with famous secular Jewish artists like LeWitt and sculptor Anthony Caro, a descendant of the Beis Yosef, Rav Yosef Caro, he would bring up Jewish themes. While art was the passion of his life, DovBer never lost interest in Judaism's spiritual offerings.
DovBer moved into producing conceptual art himself. As he explains it, conceptual art is idea-based with the idea taking precedence over esthetic and technical considerations. DovBer thinks of himself as a "conceptual expressionist." He also developed his own unique approach to creative process. He conceives of an idea and produces it as a two- or three-dimensional object, using "available resources" of time, space and material. The idea moves from the process of creation to the presentation.
"I turned that 'idea, process, presentation' idea into 'concept, context, and content,' " DovBer says. "You have an idea, then you concretize it in time and space, with the materials available [context], until it's ready for presentation [content]."
In the 1970s and '80s DovBer made quite a name for himself in the Boston area. He served as artist in residence at Boston's Museum of Fine Arts in 1978, and was the artist in residence for the town of Sudbury in 1979, where he executed two sculptures that still grace the town. He had several exhibitions, including a one-man show at Boston City Hall and a large show at the Art Institute of Boston where he lectured about conceptual art, leading to his becoming an assistant professor of modern art history for seven years.
A man of many talents, DovBer also had a side business, producing his own hummus under the name The Hummus Factory.
"I used to make hummus to serve at my art shows, then I decided to market it," he says. "It was the first commercial hummus product in the US."
A Step Down to Climb
While DovBer enjoyed artistic acclaim, winning grants, awards, and invitations to create environmental installations, he also began, in the mid-1980s, to reconnect to his Jewish roots in a serious way. The baal teshuvah movement was in its heyday, and the timing was right from a career standpoint as well.
"The art world changed in the mid-80s," he explains. "It became post-modernist, which means there were no more new movements. People were doing design, not art, so I stepped back and spent more time in Jewish learning."
DovBer had always felt a strong connection to his religion; he'd attend synagogue on the Yamim Noraim and make Pesach Seders. His mother had grown up in a religious home, and his aunt remained shomer mitzvos.
"As a kid, I used to follow the older men to shul. I wanted to have a yarmulke too," he says. "I always had a strong identity."
DovBer forged a connection with prolific author Larry Kushner, the clergyman of Beth El, a Reform synagogue. After he became a member, he was commissioned to sculpt a menorah for them.
"Larry called me their Bezalel," DovBer says, "and it prompted me to look up the chapters in Shemos about Bezalel. I realized how much of Torah, from the Creation to producing the Mishkan, was about the creative process."
He became very involved in the synagogue, learning with the rabbi, and was present when someone auditioned for the position of a new cantor in 1986. It was Esther Leah.
They became friendly, and started dating. Slowly they became frum together.
"Rabbi Shmuel Posner from Chabad of Greater Boston helped us a lot," Esther Leah says.
When they married, it was Rabbi Posner who suggested DovBer take on a Hebrew name in addition to the Yiddish "Berel" he'd received at his bris. "Berel" decided to add the Hebrew equivalent, Dov, hence becoming DovBer (like the Maggid of Mezritch).
"Dov is more formal, and Ber is more casual — like a grizzly bear and a teddy bear," DovBer says, joking. "In life, you need a little of both."
DovBer and Esther Leah were inspired to continue growing religiously, even though some of their old Jewish friends raised their eyebrows when they became frum.
"Our non-Jewish friends were more supportive," DovBer says.
They went to Eretz Yisrael and took classes at Aish HaTorah; in 1988, they married under a chuppah. They became regular travelers to Uman, and to date, DovBer has gone 25 times, and Esther Leah six times. Since there was no Breslov presence in Boston at the time, they took it upon themselves to start the Boston Breslov Connection out of their home, described on the website as a "resource for classes, events, and information in the Boston area relating to the teachings of Rebbe Nachman of Breslov."
Everything is Beautiful
In 1989, DovBer stopped teaching at the college level and making large sculptures, though he continued to draw and paint and teach children. Unfortunately, around the turn of the millennium he became seriously ill with an autoimmune condition. It took a doctor willing to try a risky, out-of-the-box steroid treatment to bring him back from the brink, yet he was left with a chronic condition that made working full time impossible.
"I'd been in the food business, but I stopped. then I decided to start making sculptures again. It took some time, but I finally started up again."
He had long since abandoned his studio in downtown Boston, but now worked out of his garage, basement, or living room. Given his weakened physical condition, his days of mounting heavy steel structures were over; instead, he began making paintings and small, sculptural pieces out of wood that he painted and enhanced with found objects from former projects.
Some have Jewish themes, like "The River Yabbuk" and "The Three Crowns." With the bright yellow, blue, green, and brown colors, drips of paint, and the occasional piece of rope, dowel, or image of a chassid, they have a whimsical character. Later, DovBer moved on to creating large wooden sculptures and installations while continuing to create hundreds of paintings and photographs.
In recent years, DovBer has started having shows again in the United States, and has found an unexpected yet welcome new following in Italy, where he says people have an appreciation for art history and his contribution to the evolution of modern art.
"I moved modernism to a new place, and they recognize it over there," he says.
He has done five exhibitions there in the past three years in various cities in Tuscany, and a few of his pieces have found homes in galleries. In September there was a large exhibition of his work, mostly paintings ("Sculpture is wildly expensive to ship") in Pisa, with interviews, television spots, and reviews.
"DovBer has an unusual vision," Esther Leah says. "He never lost his sense of wonder, of looking at shapes and space and understanding their artistic potential. He's unique. He sees beauty in everything."
(Originally featured in Mishpacha, Issue 834)
Oops! We could not locate your form.
>