| Profiles |
It Belongs to You Too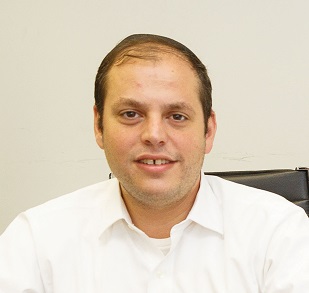 | June 14, 2017
How did Rav Shneor Potash wind up at the helm of Yeshivas Chachmei Yerushalayim a burgeoning mosad where the third siyum haShas of the zeman is being celebrated by a bochur next week?
Rav Shneor Potash was just 17 when he began giving shiur in the apartment of his late grandfather, Rav Chaim Zimmerman, which soon became a place where anyone who was serious about learning was welcome, without judgments. Two decades later, his yeshivah is famous for its bochurim completing Shas, in accordance with his motto that "learning Torah is a right, not a privilege"
H e never asked to become a rosh yeshivah — in fact it was the furthest thing from his mind when just a teenager himself he began to say a shiur in public. So how did Rav Shneor Potash wind up at the helm of Yeshivas Chachmei Yerushalayim a burgeoning mosad where the third siyum haShas of the zeman is being celebrated by a bochur next week?
Rav Potash's foray into the world of innovative yeshivah leadership really begins in the Jerusalem apartment of his individualistic, forward-thinking grandfather, the illui Rav Chaim Zimmerman z"l. Rav Chaim, a child prodigy and nephew of Rav Baruch Ber Lebowitz of Kamenitz, came to the US at age 15, and it was soon clear that he was versant in the entire Talmud Bavli and Yerushalmi, as well as Rishonim and Acharonim. After receiving semichah from Rav Moshe Soloveitchik, he taught a Talmud class at REITS, and for many years was a rosh yeshivah at the Hebrew Theological College (Beis Medrash L'Torah) in Chicago, where he often entertained the bochurim with the "pin test" — they'd stick a pin in a random page of Gemara, and he would recite the page, and that very spot, verbatim.
His knowledge of both Torah and science was indisputable, and he published several books on halachah and philosophy. His best-known halachic work was Agan HaSohar, his resolution of the halachic debate regarding the international dateline. But he only published a limited number of copies, assuming not too many people would be able to understand it. (They used to say that he understood atomic structure and quantum theory as well as physicist Neils Bohr, when many other scientists were still scratching their heads over the new physics.)
But he was never a rosh yeshivah of convention, beginning with the way he dressed, swapping the traditional rabbinic frock for a casual short jacket. (The story goes that a rav once asked him why he didn't wear a frock like so many others did, and he replied, "It says in the Gemara that a talmid chacham should wear a special garment. Now, when the am-haratzim stop wearing frocks, maybe I'll start wearing one.") Rav Chaim moved with his family to Jerusalem in 1972, where he continued to give regular shiurim from his living room on Achad Ha'am Street. It was a meeting point for talmidei chachamim, roshei yeshivah, and also for an assortment of professors and other like-minded intellectual souls who could follow the Torah and philosophy of this highly original and prolific genius.
And it was that very room that catapulted his grandson into the "accidental" position of rosh yeshivah.
Shneor Potash was 13 and about to enter yeshivah ketanah when he opted to learn full-time from his zeide instead, absorbing the derech of Rav Baruch Ber and concentrating on covering ground — and like Rav Chaim Zimmerman, he too completed Shas as a teenager. One well-known rosh yeshivah who came to learn with Rav Chaim every Friday became his personal chavrusa, and the young illui was even giving an informal chabura in the Mir. He was also an active participant in Rav Chaim's daily noon shiur.
Rav Chaim passed away in 1995, but people continued to come learn in the large living room lined with shelves of thousands of seforim — much to the elation of Rav Chaim's widow. Her joy knew no bounds as Torah continued to reverberate through the walls of her home.
The young einekel was just 17, but that didn't stop him from giving shiur every day in the 12:00 slot, and the word went out. Avreichim, bochurim, even maggidei shiur — many old enough to be his father — found their way to the Rechavia apartment. At first there were just a few, and then word spread about the clear, fast-paced, precise shiur of the 17-year-old illui. It became a place of serious, no-nonsense learning, where everyone was accepted no matter the size of the yarmulke or the color of the shirt. Some of the attendees were very successful in their respective yeshivos; others had one foot out the door.
Soon there were 50 people sitting around the large table every day — from Ateret, from Kol Torah, and other yeshivos, while Rebbetzin Zimmerman was in the kitchen happily preparing nourishment for these young men perpetuating her husband's legacy.
A few came early, some stayed late into the afternoon, and within a few years the word was out: "Rav Shneor Potash" was the place to go to learn, without judgments, without having to conform to a specialized box. It didn't matter who you were or what you'd been up to in the past. If you seriously wanted to learn Torah, you were welcome — and Rav Shneor, the genius who was on his way to completing Shas a second time, would be your guide.
This is a Yeshivah?
One of those bochurim was 20-year-old Yaakov Orlofsky. The yeshivah where he was learning had closed down after the summer zeman, and his plan was to go to Mir for Elul. But a knee injury while working as a camp counselor that bein hazemanim made the steps at the Mir prohibitive, so Yaakov decided to spend a month with the morning chevreh by Rav Potash while he recuperated.
"It wasn't an official yeshivah, but the learning was amazing. Rav Shneor was our leader, with the shiur at the center of it all," Reb Yaakov says.
He intended to stay for a month. It's now been 11 years. And he's on his way to completing Shas for the third time.
"I'll admit, my father [Rabbi Dovid Orlofsky, well-known mechanech and international speaker] wasn't too happy. 'What kind of a yeshivah is this?' he wanted to know. But today he's the yeshivah's biggest fan, because this is a place of emes, a place where Torah is real and accomplishments in learning are real."
As long as Rav Shneor's grandmother was alive, the "yeshivah" was in her home. "She used to take a bus to go buy food for 'her boys,'" says Reb Yaakov, "but when she passed away, we were 12 boys under Rav Shneor. He knew he had to create a permanent solution for us, continuing to nurture the seeds that took root in the Rebbetzin's home."
The father of one of the bochurim, a wealthy businessman, promised to fund a proper dorm. (The funds, however, were not enough to sustain an institution, and so Rav Shneor found himself not only a rosh yeshivah, but a "director of development" as well.)
"It just mushroomed," says Reb Yaakov. "It jumped from 12 to 30, then to 50, and now there are about 150 boys in the main yeshivah gedolah, with another 50 in the branched-off yeshivos."
More yeshivos? "Well, Rav Shneor believes in never throwing a boy out, as long as he wants to learn. But not everyone is cut out of all-day learning, so he opened another program for guys who are also working or studying. Then he opened a yeshivah ketanah. Rav Shneor doesn't make cheshbonos, doesn't think, 'Can I afford another institution?' He just does what there's a need for, and has emunah that the rest with come. As long as there's a chance to make more talmidei chachamim and baalei chesed, he just pushes forward."
For the last few years, the yeshivah used the old Chevron-Geula building on Rechov Chagai; last year, they moved to Ramat Beit Shemesh where the yeshivah will have a permanent place.
Taste of Success
Today Yeshivas Chachmei Yerushalayim draws its student body from both Israelis and Israeli-Americans, mainstream bochurim looking for a high level of learning, bochurim who for whatever reason haven't been able to succeed in the more rigid yeshivah system, or who just haven't found the right fit. Rav Potash has this knack for taking boys who might have wound up on the fringe and turns them into real talmidei chachamim by giving them a taam of success in learning and covering ground.
This isn't, however, a yeshivah for noshrim who need an amusement park and a music room and other recreation to keep them off the street. It's a serious learning place where bochurim are focused on pushing forward and making siyumim.
That said, Rav Potash — in his own humble, self-effacing manner — has been able to reach out to the spectrum of Klal Yisrael, including those who would be lost or who would be unable to reach their potential because they don't conform to the rigors of the mainstream yeshivah world.
Because according to Rav Potash, "If a person wants to learn Torah, it's not a privilege. It's a right. I've never turned down a talmid who wants to learn. That's the only criterion — it's not about his background, family, or whether he wears striped shirts."
And the yeshivah still revolves around that daily twelve o'clock shiur; although for years now, the shiurim are transcribed and summarized into booklets which come out every week and are received by hundreds of bochurim, avreichim, and maggidei shiur.
"If a boy isn't serious about learning but just want to be here to hang out, there's nothing to look for here. If he really wants to learn and has yiras Shamayim and isn't concerned with what others will say, how others will look at him, this is the place. Many bochurim couldn't take the pressure of ma yagidu, of having to look a certain way for shidduchim, of being told 'you're not frum enough.' Here everything is b'simchah, everyone is equal, there's no status based on lineage or yichus.
"Unfortunately," Rav Potash continues, "today there are bochurim who choose a yeshivah based on the name, the brand, or about how they will be viewed in shidduchim. But you know, it's impossible to grow in Torah like that. In order to really grow, the first thing he needs is to have emunas chachamim and lower his own gaavah level. I'll give you an example: Take the Birchas Shmuel on Maseches Yevamos. You know how many dapim there are in that masechta? Thirty. Do you know how many years Rav Baruch Ber spent learning Maseches Yevamos? At least five or six years. They learned it in his yeshivah every single zeman, and each time they learned it for half a year. Based on that calculation, he spent a few months learning each daf — and he was a gaon of gaonim. And what happens today? A young bochur comes, quickly scans the Reb Baruch Ber, and between one cigarette and another he says that he thinks one can say differently from Reb Baruch Ber. My zeide related that the first time he attended Reb Baruch Ber's shiur when he was just a kid, he asked a question in the Tosafos and gave a pshat for an answer. He said he thought of at least three different explanations for the words of the Tosafos, and he didn't understand what was so great about his uncle Rav Baruch Ber — if he, a mere bar mitzvah bochur, could offer three explanations and the Rosh Yeshivah could only offer one.
"That Shabbos, he ate at Reb Baruch Ber's house, and during the meal, Rav Baruch Ber explained that he had 17 peshatim in the Tosafos, and he detailed each one, and then contradicted them. All that was left was the one pshat that he had said. He wrote the sefer after all the talmidim in the yeshivah — who were tremendous gaonim — tried to refute what he said and were unable to. Only the essences of the essence remained. So how does a yeshivah bochur today have the gaavah to say that 'I have a different opinion?' How come he thinks he's on an equal footing? Because he doesn't have emunas chachamim. In our yeshivah, we explain that if you see a pshat in a sefer of an Acharon or a Rishon, you don't have to think about how to differ, but rather, you should make the effort to understand what he said. Every word that is written in the seforim comes after endless thought and deliberation.
"So after setting down those principles, we try to cover a lot of ground. We're constantly having siyumei Shas, and not necessarily by brilliant bochurim, just bochurim who've come to learn and push themselves to the goal."
One of Rav Potash's goals is to make sure the boys have an expanse of Torah knowledge. "Back in Europe, a good boy would know all of Nashim and Nezikim by heart. Rav Shach wrote many letters over the years to the effect that bochurim aren't covering enough ground."
And that's what keeps pushing him forward, tasked with his grandfather's legacy.
"It's all been siyata d'Shmaya, from our first contributor who wanted a dorm for his son. Look, today all the yeshivos have to work hard — no one has it easy — but we keep seeing miracles. The first time I had to go to America to try and raise funds, I didn't collect a single cent. I didn't know how to do it. On the last day, before my return flight, I was able to arrange a meeting with a very wealthy gvir. I went to the meeting, and when I got there, I found out that I'd made a mistake in the address and wasn't even in the right neighborhood. I was on the brink of despair — why was I here, doing this? Then I went into a shul, where I happened to meet a former talmid. I told him what happened, and before I knew it, he'd arranged meetings with several wealthy people who are our supporters until today."
Fight with Light
How does Rav Potash get bochurim, many of whom have not succeeded in the mainstream system, to not only begin to love learning, but to make real strides — goals they alone thought would be impossible to attain?
According to Yaakov Orlofsky, who never dreamed he'd be on his way to making a third siyum on Shas, it's about letting go of fighting the yetzer hara and bringing in a lot of light instead. "Some yeshivos have these scary mashgichim who give the bochurim fire-and-brimstone speeches, but you can't fight the yetzer hara with a stick. What you can do is let the sweetness of Torah change you. No matter where you've been in life, the accomplishment of learning and making progress that you can measure will automatically change you. It doesn't matter what you'll do in the future, either — if you can succeed and have a siyum of Shas in your hand, it will automatically change you."
Rav Potash says it's also a question of strengthening emunah muscles. "First of all, you need to learn about it. All the gedolei olam were busy with emunah. Just look at the works of the Chofetz Chaim and Harav Elchanan about emunah and bitachon. There are also the writings of the Alter of Kelm, where half the sefer is about emunah. A person needs to believe in HaKadosh Baruch Hu no less than he believes that the sun will rise tomorrow. That is called emunah peshutah. In our shiurim we speak a lot about emunah, and establish emunah in a tangible way for each bochur. That also takes the bochurim away from all the nonsense of the externals. They learn to live with HaKadosh Baruch Hu, and when you live with HaKadosh Baruch Hu, everything else becomes secondary and unimportant.
"Many bochurim don't have the foundations that are required to deal with the storm outside," Rav Shneor continues. "But the truth is that there are two kinds of emunah: simple emunah, emunah peshutah, and emunah that comes from asking and delving. Chazal have negated emunah that is based on philosophical research, but because of this the world makes the mistake of thinking that emunah peshutah means to believe in Hashem because you were born into a religious family. People believe that if they fulfill the mitzvos just because they saw their parents doing it, that is the best emunah, and this is a mistake. There's a joke about an old lady who was considered the 'believer of the village.' She cleaved to Hashem her whole life and didn't skip a single minhag. But when she passed away she wrote in her will that she wanted to put a cross on her grave — just to be sure. That's what happens when emunah is not based on strong foundations.
"So we talk a lot about real internal emunah, which is really a gift every Yid can have. You know, all the schnorrers who come to Beit Shemesh know that in our yeshivah they won't leave empty-handed. And it's not because the bochurim or the avreichim have money to spare. They really don't. But someone who believes with all his heart in HaKadosh Baruch Hu knows that this is what is incumbent upon him, so he gives from what he has and what he doesn't have, because that's what Hashem wants from him. Every day, talmidim here give out hundreds of shekels to the needy.
"This is where people make the mistake: You hear them saying, 'I'll daven Maariv later — Hashem will help that there should be a minyan.' But when it comes to money, even five shekels, they lose all their emunah."
That faith in the holy Jewish spark, in the idea that every Yid has a right to learn and to be changed by Torah, is perhaps Rav Potash's signature lesson. He relates the story that most inspired him: "A bochur who didn't even know Chumash-Rashi wanted to get accepted to the Chasam Sofer's high-level yeshivah. Even though he was laughed at by the other scholars, the Chasam Sofer accepted him into the yeshivah and nurtured him. In the end, he became one of the gedolim of the generation."
He tells of one serious talmid chacham in the yeshivah's beis medrash who had been a working Yid with a typical yeshivah background. After he got married, the one learning seder he maintained was Rav Potash's twelve o'clock shiur, which continued to draw scholars and laymen from the outside. That shiur, and the influence of the yeshivah — seeing all types of boys shteiging, completing masechta after masechta as if propelled by an engine, that anyone can learn if he wants, that Torah is everyone's neches — made him decide to quit working, and with much mesirus nefesh, to become a full-time avreich whose goal was to finish Shas. Nothing could stop him. He learned four dapim every single day, and finished Shas within two years.  —
(Originally featured in Mishpacha, Issue 664)
Oops! We could not locate your form.
>