| Inside Israel |
Israel Reels at Huwara Murders
| February 28, 2023
The name "Huwara" may be alien to most readers, but it's a village located on Route 60, near Nablus, and serves as a main artery for the thousands of residents of communities such as Yitzhar, Itamar, Elon Moreh, and Har Bracha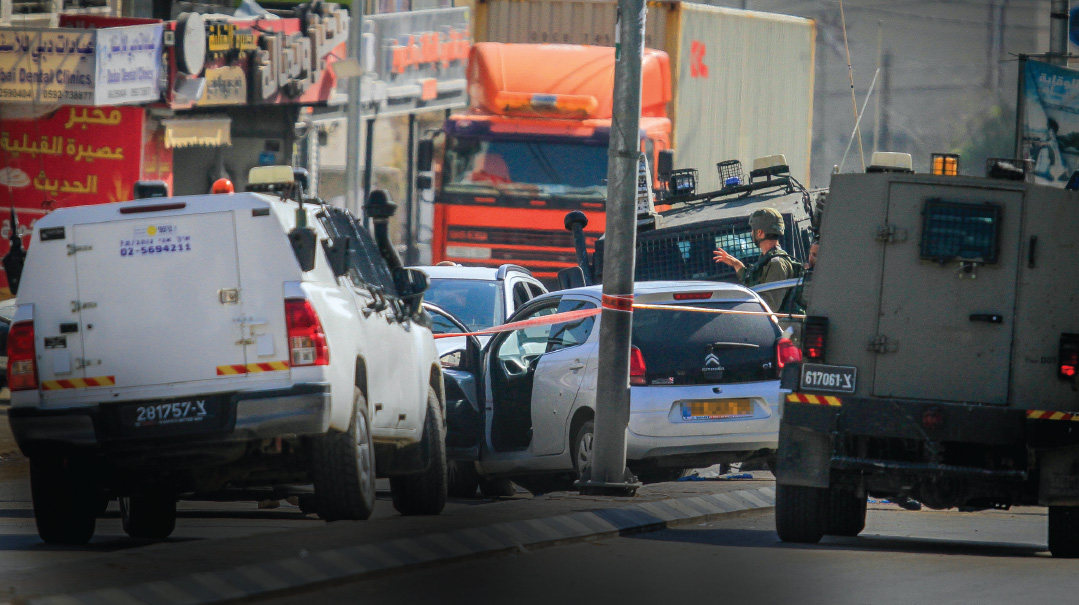 J
ust weeks after the murder of the Paley brothers in Jerusalem, another set of brothers were killed in an area of the West Bank considered relatively safe by locals, as a wave of Palestinian terror continues.
At 1:30 on Sunday afternoon Hillel and Yagel Yaniv Hy"d set out from their home in Har Bracha toward the yeshivos where they learn — Yagel at Givat Olga near Hadera, and Hillel at the Kiryat Shmona yeshivah, to which he had only recently returned, following his army service. They were taking their normal route through the village of Huwara when 12 gunshots fired at point-blank range cut through the silence. Attempts at resuscitation under IDF protection failed. G-d gives and G-d takes away.
This attack brings the death toll from Palestinian terror over the last month to 13: seven in Neve Yaakov, three in Ramot, one at the Shuafat checkpoint, and to this must be added the attack in the City of David, in which two were injured. And now, with Yagel Yaakov and Hillel Menachem, two new victims enter the statistics, pure and holy yeshivah boys murdered in Huwara as they headed out to toil in Torah.
Until now, the terrorism was largely confined to the Jerusalem sector. In Samaria, and especially in Huwara, barrages of stones and Molotov cocktails have always been a matter of course. But shootings are a completely different matter. It's important to note: never before had a Jew been murdered in Huwara. But that equation has now changed.
The first signal, though, came months ago, in mid-September 2022. Terrorists fired shots at the car of Tapuach rosh yeshivah Rabbi David Amitai, in Huwara, but he was uninjured.
"'Hapach nishbar v'anu nimlatnu [The trap broke and we were rescued],' " said Rabbi Amitai at the time. "Baruch Hashem, we merited a bit of gunfire in Huwara. Blessed be He who takes out His wrath on trees and stones."
Mishpacha's team arrived at the site immediately after that attack, and I heard warnings from local Jewish residents that if no action were taken, it would result in loss of life. Tragically, this week proved them right.
Many Warning Signs
This attack in Huwara particularly shocked me. The name "Huwara" may be alien to most readers, but it's a village located on Route 60, near Nablus, and serves as a main artery for the thousands of residents of communities such as Yitzhar, Itamar, Elon Moreh, and Har Bracha on the side of the mountain. They have to drive through Huwara to reach their homes on a daily basis, so an attack there represents an attack on the heart of the Jewish settlement in Judea and Samaria.
"Over the past two years, there has been a very sharp increase in the number of shooting attacks in Judea and Samaria, most of them directed at IDF soldiers, as they carry out arrests in Arab towns and villages," explains MK Zvi Succot. "But here's how the situation has escalated. From the time of Operation Defensive Shield until about two years ago, terrorists didn't dare walk around openly with weapons, never mind posting photos of themselves with firearms on the Internet. But the security establishment and the IDF failed to go in to carry out arrests and confiscate illegal firearms, and so weapons became a legitimate tool.
"At the same time, the arms-smuggling routes from Jordan and Egypt remain unchecked, flooding the PA with thousands of firearms every year. Ultimately, it trickled through as potshots fired at IDF soldiers during arrests. But the security establishment didn't categorize these as shooting attacks, and therefore failed to invest the resources it normally uses to hunt down shooters."
Sunday's terror didn't end with the murders in Huwara; the situation began flaring up along the entire sector. Over a dozen incidents were reported in just a few hours: stone throwing near Maaleh Levonah; near Beit El; on Route 60 near the Arab schools of the village of Lubban ash-Sharqiya; near Turmus Ayya; between the Rimonim junction and the outskirts of Jericho; near the Yitzhar junction; south of the Rechalim junction; near Beit Hagai. And for dessert, a shooting attack at IDF forces in Gush Etzion, and another shooting attack at a post in Samaria.
All these incidents took place in Judea and Samaria in the hours following the Huwara attack and give a taste of the current situation. And things aren't going to get any calmer as the month of Ramadan approaches.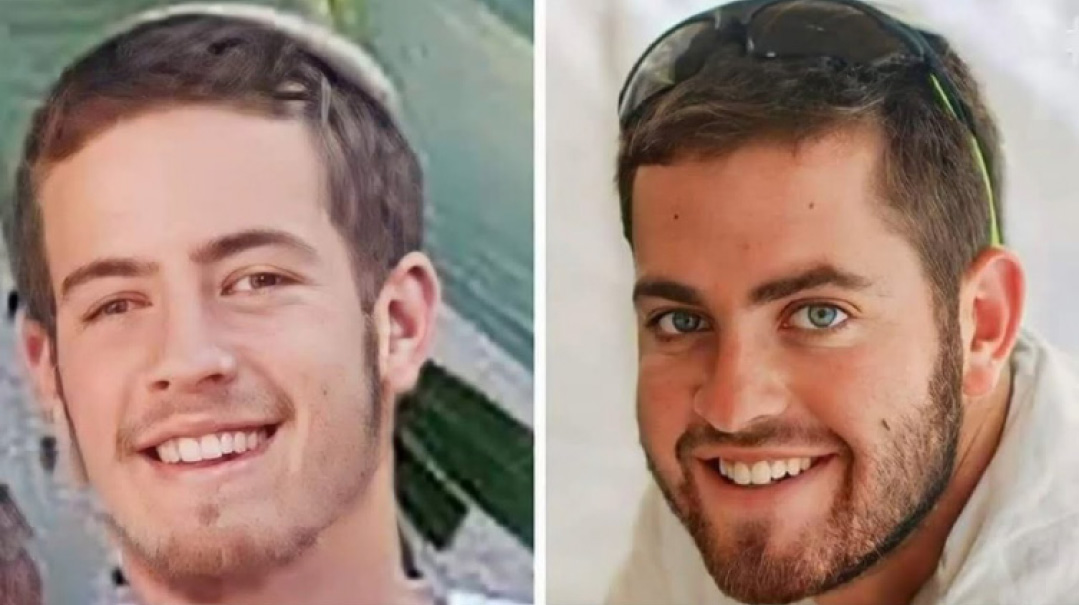 Hole in Our Hearts
Outside, the winds are raging, but inside, silence and mourning. Am Yisrael is in pain, especially the religious Zionist community, which just lost two of its finest. First of all, there's the family circle. Hillel and Yagel are the grandchildren of Rabbi Shmuel Yaniv, who served as a rav in Givat Shmuel, was a student of Rav Tzvi Yehuda Kook and a well-known rabbinical figure in the religious Zionist community. Their uncles are also well-known roshei yeshivah in the religious Zionist sector: Rabbi Yair Gizbar, head of the Jerusalem Yeshivah for Young Adults, a yeshivah that itself buried the best of its sons in the terrible attack at Merkaz Harav in Adar about 15 years ago; and Rabbi Assaf Naumburg, rosh yeshivah of the Neve Yeshivah.
Despite the public empathy and support, consolation is hard to come by.
"We have a giant hole in our hearts," cried their mother, Esti Yaniv, in her only public statement before the funeral, addressed to the youth of Har Bracha. "Nothing will close that hole. No construction, no protest, no nothing — nothing can heal this wound. The hole will remain and we will learn to live with it, and to continue to draw strength from you, our children. I have no words. I have no words."
Another locus of pain is the brothers' circle of friends. Not long after learning of the attack, Hillel's friends showed me a photo of his now-orphaned seat at the Kiryat Shmona yeshivah. The Gemara and the rest of his seforim are there, but there's no one to open them. His friends are shattered, and seek consolation in emunah. They still can't believe that their friend who missed yeshivah so much during his military service will never again return to the benches of the beis midrash. Hillel had recently told his friend Amichai Cohen, about returning to yeshivah, "No kidding, I'm excited."
At the Givat Olga Yeshivah, as well, where his brother Yagel Yaakov studied, the pain is unbearable.
"Yagel was such a sociable and well-liked guy who went through an amazing process of uniting his neshamah with the Torah," says the head of the Givat Olga Yeshivah, Rabbi Ephraim Giami. "He had a fierce love of the Torah world and of Eretz Yisrael. This is a terrible blow to all the students and rebbeim of the yeshivah, and our only solace is the inspiring emunah and mental fortitude of the parents, may they live long. Am Yisrael won this land through suffering, and with Hashem's help we'll learn to cope and use the pain to grow, to fill ourselves with the happiness of the Torah and settle the land."
Personally, I had gotten to meet Hillel Yaniv in a number of contexts. Mainly, in covering the Torah world which he was a part of — but what stands out the most to me was my encounter with him while covering the Religious Zionist Party. Hillel was a leading religious Zionist youth activist, burning with idealism, with the love of Torah and Eretz Yisrael. He was a happy, energetic, powerful but humble bochur.
When I looked back this week at the photos we had taken together, my heart ached, but one thing stood out to me: He was always happy, always smiling. I remembered our encounter at the Religious Zionist Party's headquarters, where he was working tirelessly to win over one voter after another, to follow the lead of the sector's Torah leaders. And even there he was in high spirits, despite the stress of Election Day.
"Hillel was a force, active for many years in the young leadership of the Religious Zionist Party, a young man who always gave his all for the values and the way that he believed in — with a smile, for the Torah, the people, and the land," says Yehuda Wald, the party's executive director. "Hillel and Yagel Hy"d represent everything beautiful and good in our nation. And the pain is simply intense and unimaginable."
(Originally featured in Mishpacha, Issue 951)
Oops! We could not locate your form.
>