| Washington Wrap |
Is Biden's $2.5 Trillion Enough?
| April 7, 2021
Republican opponents reject Biden's reforms out of hand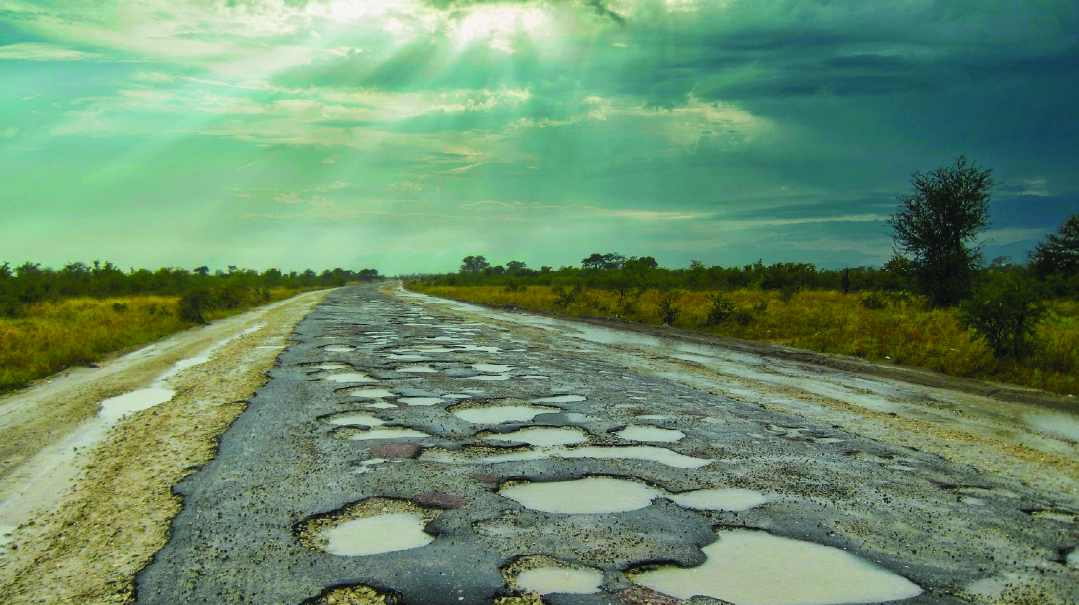 No one who's driven in the United States for more than an hour can escape the question of how the strongest nation in the world has such miserable infrastructure. Crumbling bridges and roads riddled with potholes. Above-ground power grids vulnerable during storms and entire areas without cellular phone reception or broadband Internet connection. Too few express train lines, which, even when available, are far more expensive than intercity buses. And all this is even before we come to the plumbing — lead pipes are still common in some areas in America, raising real health concerns.
Biden unveiled an ambitious infrastructure plan this week that seeks to tackle most of these areas, as well as others unrelated to infrastructure. By allocating $2.5 trillion to a series of projects, the 46th president is hoping to position himself as a modern-day FDR — a president who took over during a time of economic crisis and saved the economy with a series of drastic reforms to the economy and the national infrastructure.
At Biden's service is a Democratic majority in Congress, as well as his advanced age and the possibility that he won't run for a second term. The president wants to leave some legacy behind him and he's prepared for bold moves that a younger president who's thinking four or eight years forward in terms of the political repercussions might not be willing to risk.
But Republican opponents reject Biden's reforms out of hand. Senate Minority Leader Mitch McConnel called it a "Trojan horse," charging that it includes provisions with no direct connection — or no connection at all — to infrastructure. A large part of the money will be devoted to research and development, but also to the elderly and disabled, as well as to public schools. And in order to meet the bill's historically high cost, the president recommends raising the corporate tax rate from 21% to 28%, a move sure to meet fierce political opposition. Former president Trump warned that the result of raising taxes on companies is that they'll emigrate to countries with lower tax rates, with disastrous consequences for the American economy.
What's in the plan?
About a quarter of the money — $621 billion — will be directed to transportation infrastructure. About $115 billion to roads and bridges, $85 billion for public transit, $80 billion to upgrade railways, and $42 billion for airports. A significant share of the funding — $174 billion — will be devoted to encouraging a transition to electric vehicles by constructing thousands of charging stations across the United States, among other things.
Another significant sum, $650 billion, will be devoted to a category labeled "home infrastructure." Some $300 billion will be devoted to expanding access to broadband Internet connection, clean drinking water, and electricity. But another significant amount will be assigned for "affordable and sustainable housing," and another $137 billion will be invested in public schools and community colleges.
Some $400 billion will be spent on care for the elderly and disabled, and another $580 billion for research and development, under very generic descriptions like "workforce development" and "small businesses."
"It's good that Congress and the president are recognizing the need to address the country's physical infrastructure challenges and that the United States has some pretty serious problems with the delivery of physical infrastructure," says Professor Rick Geddes, founding director of the Cornell Program in Infrastructure Policy. "Having said that, I think that there's a number of problems associated with this bill. First of all, it combines too many very disparate sectors of infrastructure into one sort of omnibus bill.
"It also includes a lot of things that most people who study infrastructure would never consider to be infrastructure," he says. "Care for the elderly is, of course, an important policy issue, but needs to be dealt with in a very different way than the way that we deal with heavy civil and social infrastructure."
Professor Geddes also points out that this massive spending bill contains no money at all for infrastructure's biggest hidden cost — maintenance. "You build something new, and guess what? Eight years goes by pretty quickly, and then you're left with this asset on your books that you have to operate and maintain over time. It could end up being a big liability.
"A smart bill," he continues, "works to change the way infrastructure is delivered. That means combining design and construction with operations and maintenance in one contract, so you greatly reduce deferred maintenance."
Professor Ali Maher, director of the Center for Advanced Infrastructure and Transportation in the Rutgers University School of Engineering at, tells Mishpacha that overall, the administration's plan is balanced.
"The proposed infrastructure bill is ambitious, and yet it's a balanced plan to address the pressing needs to manage, maintain, improve, upgrade and preserve our enormous infrastructure assets," Maher says. "The impacts of deteriorating infrastructure, as articulated by the American Society of Civil Engineers, have a 'cascading effect on the nation's economy, negatively affecting business productivity, GDP, employment, personal income, international competitiveness, and safety of the traveling public.' "
In the face of these realities, Maher says the challenge is to do more with less in maintaining the safety and reliability of complex and aging infrastructure, while at the same time increasing its service life in an economically, environmentally, and socially sustainable manner.
"The proposed bill is remarkable in its scope and is a serious attempt to reverse an alarming trend," he says. "While addressing the state of good repair of the current assets, the bill's transportation infrastructure component also focuses on developing the necessary infrastructure for electric buses and trains and providing equity and access to mobility for the public. The bill also invests in the urgent research and development need for maintaining and in certain areas regaining our leadership in innovation and problem-solving."
(Originally featured in Mishpacha, Issue 855)
Oops! We could not locate your form.
>