| The Beat |
Is Bennett Stronger Than He Looks? Five Takeaways | September 9, 2021
The opposition might have to hunker down for a long winter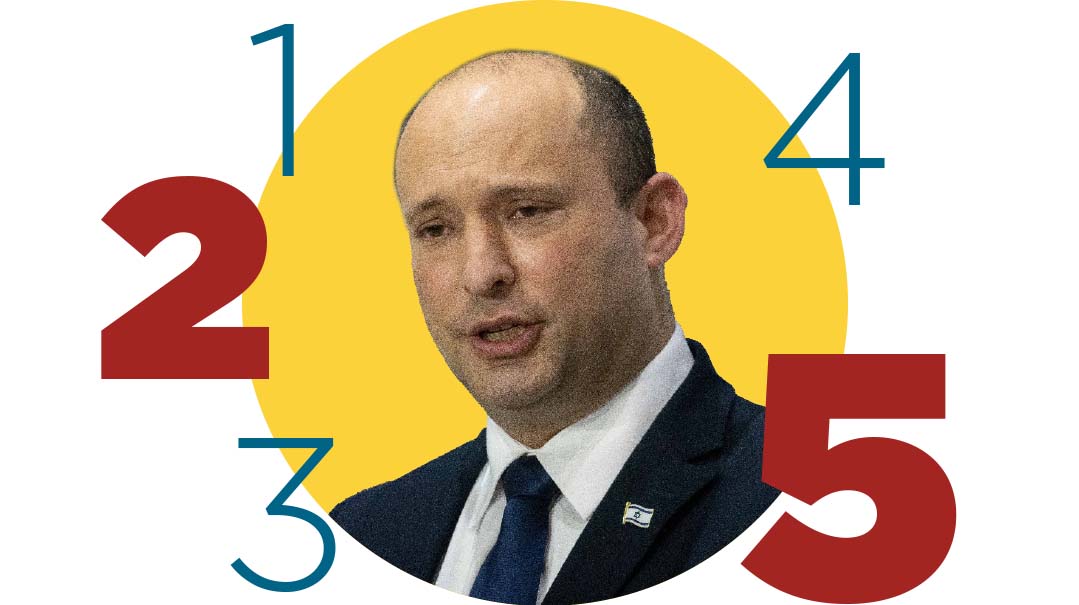 When Naftali Bennett bolted Bibi's right-wing bloc in midsummer to set up a bizarre left-right coalition, many observers assumed that his government was too ideologically incoherent to survive. But summer is about to give way to autumn and Bennett's ministers don't look like they're about to be blown from their branches. The opposition might have to hunker down for a long winter.
1. Surprisingly strong
With a 61-member, knife-edge coalition, the Knesset's summer session was a series of cliffhangers. The opposition filibustered night after night, but Bennett's agenda advanced nonetheless. The Citizenship Law limiting Palestinian immigration was re-approved, with far-left Meretz holding their noses. Pro-settlement figures in Gideon Saar's New Hope party also held their peace, even as the government reined in West Bank building and played possum to Palestinian terror. In short, the coalition proved that it's not as brittle as advertised.
2. Bibi glue
The source of this cohesion is none other than Netanyahu himself. The endurance of the right-wing-religious bloc in opposition means that the fear of Bibi's return looms large over the coalition. A recent Channel 12 poll showing that 46% of voters would prefer a Netanyahu government, versus only 33% support for one led by Bennett, will have brought that message home.
3. Testing time
That dynamic buys Bennett himself — whom the same poll hands a mere six seats — a precious tank of political oxygen. His next test is to pass the budget in November, failing which the country heads to elections again. How likely is that? As veteran commentator Shalom Yerushalmi points out, an Israeli government has never fallen over a failure to pass the state budget, and it won't happen this time either. The expected passage of the budget will strengthen the prime minister's shaky hold on power, and could trigger a leadership challenge to Netanyahu within the Likud.
4. Prime time
Bennett's coming-out party on the international stage was his recent visit to the Oval Office. The fact that an exhausted POTUS appeared to take a nap kept social media busy, but Bennett got what he came for: a photo op. Burnishing his lackluster prime ministerial image will go far in steadying Bennett's hold on power. So too will a fall in Israel's dreadful Covid numbers, both infection and mortality. Successfully keeping hospitals operating, and the economy plus shuls open over the next few weeks in the face of media calls for more lockdown, could well boost the new boy in Balfour Street.
5. Base camp
In the back of Naftali Bennett's mind is the date less than two years hence when he's due to leave the prime minister's office. With that in mind, he's in search of a new electoral base. Having betrayed much of the national-religious world, he retains appeal on the non-Bibi right, as well as the liberal end of the kippah-wearing world. It's these voters who appreciate his government's all-out assault on the country's religious status quo. So notwithstanding the touching pictures of Bennett donning tefillin in D.C., most religious voters would gladly bring back the less personally observant Bibi. But as the new government holds together, it's not clear if that will ever happen.
Pay up or put up
It's been a long time since the British political class expressed their negative opinion of American leadership in such personal terms. "Gaga" (unattributed minister) and "imbecilic" (Tony Blair) were just two of the ad hominems applied to Joe Biden in the wake of the Afghan departure. Unable to stay the course alone, Britain was forced to scramble for the exits alongside the Americans, with no say in the decision that triggered the debacle.
But however chaotic the finale, the administration would be right in responding with one number: $49 billion, the total British defense expenditure for 2020.
At 2% of GDP, the UK's outlay is high by European standards, but paltry compared to America's, and low in historic terms. As recently as 1984, Britain spent 5.5% on Cold War defense.
If that figure were to be bumped up to 3%, or another $31 billion, Britain would surely be able to sustain its own long-range missions without falling back on American air and sea power. That declaration of independence would force the US to treat Britain as an independent power, not a quasi-vassal.
Money like that, of course, doesn't grow on trees. But unless Britain's politicians learn to cough up on defense kit, they should dial down the rhetoric.
"Biden's Afghanistan Baloney"
For an idea of how even pro-Biden media have turned against the president over the Afghanistan debacle, look no further than the above headline from the New York Daily News. For much of its century-long history a Republican-leaning paper, the tabloid shifted leftward in the '90s, and has a liberal bias today. Yet the editorial board excoriated Biden's claim that, in their words, "if you find yourself criticizing the chaotic exit, you may as well be rooting for the death of more American troops." The Biden administration hopes to bury Kabul's fall in a blizzard of infrastructure spending, but with headlines like these, that may not be so easy.
1
The number of Covid cases that triggered the lockdown in Australia's capital a few weeks ago. For those readers fed up with whatever level of restrictions they're currently undergoing (or merely the whole Covid spiel), that simple stat is worth remembering. "Fortress Australia," as the zero-Covid policy has become known, is an outlier, as much of the developed world has opened up despite high infection rates.
While Australian health policy is a mixture of state and federal responsibility, Scott Morrison's center-right Liberal Party is in power at national level. That, in turn, is a reminder that outside the US, where the GOP has become the laissez-faire Covid party, conservatism is no stranger to lockdowns.
(Originally featured in Mishpacha, Issue 877)
Oops! We could not locate your form.
>