| Washington Wrap |
Iran plays nuclear hardball — is the US serious about "other options"?
| December 7, 2021
"There is a recognition that we are at a critical crossroads"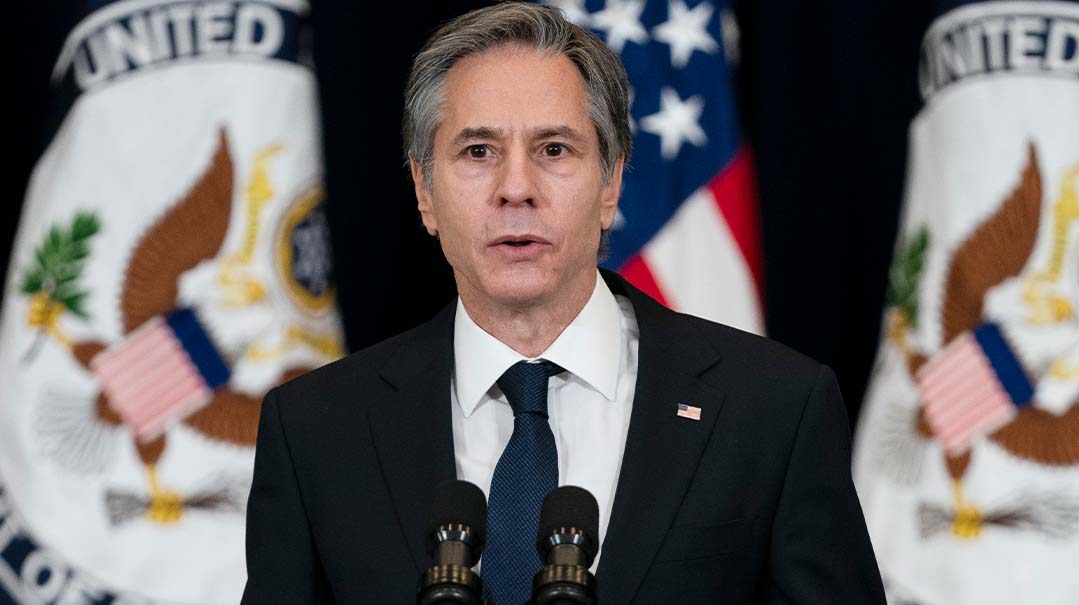 Kicking the can down the road is no longer an option, it seems. The world is finally coming to a crossroads with Tehran's nuclear program.
When Joe Biden entered the Oval Office in January this year, one of the most urgent tasks he set out was returning to the Iran nuclear deal. This goal was supposed to be an easy one to achieve. Obama administration veterans were brought on board: Rob Malley, a key figure in the original JCPOA negotiations, was made US special envoy to Iran, and Jake Sullivan was made national security advisor. Tony Blinken, Biden's former advisor, was appointed secretary of state, and said the goal was for both sides to first return to the original deal, and then negotiate "a longer and stronger agreement."
The feeling in Jerusalem was that a return to the nuclear deal was only a matter of time, that all it would take is sorting out a few technicalities. But the Iranians had different plans. Since Trump's withdrawal from the deal in 2018, they continued uranium enrichment at an accelerated pace, and this time they're coming to the negotiating table one step away from the nuclear threshold.
If Washington expected them to be desperate for a deal, they were soon disillusioned. The Iranians are not only no longer content with the 2015 terms, they want a lot more from the West in exchange for far more modest concessions on their own part. In their view, America has to not only lift all sanctions, but also commit to never impose sanctions in the future for Iran to even consider restrictions on its nuclear project.
The Iranians' arrogance led to Blinken sounding pessimistic at the end of the week.
"Iran doesn't seem serious," he said, in what could signal a dramatic change of approach on Iran. "If the path to a return to compliance with the agreement turns out to be a dead end, we will pursue other options."
"Other options" is a deliberately vague term, intended to leave the door wide open to interpretation, possibly extending as far as a military threat. But it could also mean imposition of further sanctions, something Iran will clearly find unacceptable.
Danny Danon, former Israeli ambassador to the UN, tells Mishpacha that for his part, he wasn't particularly surprised by Iran's conduct.
"We are not at all surprised at the breakdown of talks in Vienna," he said. "Iran has been deceitful in the past, and they are playing the same game now. After months of hard work and negotiations between the parties, Iran no longer accepts the agreed-upon compromises and is demanding outrageous walk-backs and changes. The diplomatic approach didn't work at the beginning, and it is clearly breaking down now.
"There is a recognition that we are at a critical crossroads," Danon continued. "Now is the time for the United States and other countries to adopt a new approach with the Iranian regime, in light of its dishonest and shameless conduct. They should speak to the Iranians in a way that they'll understand, and apply more sanctions."
Danon's call for additional sanctions would fit neatly into Blinken's threat to pursue "other options," without banging the drums for war — perhaps a stark recognition that Israel can't get too far in front of its powerful ally.
Dan Mariaschin, CEO of B'nai B'rith International, has been active and vocal in opposition to the JCPOA since 2015. During this time, he has met with numerous leaders and diplomats and tried to convince them that any agreement should include not only the nuclear aspect, but also Iran's malign regional activities and human rights abuses. His comments to Mishpacha echoed some of Danon's rhetoric.
"It comes as no surprise that Secretary Blinken has said the Iranians are not serious about a resumption of negotiations," he told Mishpacha. "For years, Tehran has done nothing but signal it is dead set on moving ahead with its nuclear weapons program.
"The first order of turning to 'other options' should be to hold fast to sanctions already imposed on Iran and adding additional measures to pressure the regime," he said. "It's long past time for the international community to stop treating Iran as a credible negotiating partner and to begin calling it out for the dangerous, rogue outlier it is."
Mariaschin, in other words, sees sanctions as only the first step in Blinken's unspoken threat; and if those don't work, stronger measures would clearly be needed to deal with a dangerous adversary.
Richard Goldberg, senior fellow at the Foundation for Defense of Democracies (FDD) in Washington, brings up another point: The US should leverage its influence in the UN to prod the International Atomic Energy Agency (IAEA), the watchdog over Iran's nuclear activities, to act as well.
"The most important issue to take up at the IAEA is Iran's failure to cooperate with a three-year probe into undeclared nuclear material, which constitutes a breach of Iran's obligations under the Nuclear Non-Proliferation Treaty [NPT]," he said. "The IAEA board should pass a formal resolution finding Iran in NPT non-compliance and refer the matter to the UN Security Council. This investigation goes to the heart of Iran's nuclear deceit and reminds the world of the folly of any nuclear agreement absent a full accounting of Iran's nuclear program."
This full accounting is something to which Iran has been implacably resistant. It was in this context that Mossad chief Dadi Barnea and Defense Minister Benny Gantz embarked on a whirlwind visit to the US. The purpose is to expose the Americans to more intelligence about Iran's intentions. But what's the goal of the visit? After all, America isn't going to take military action against Iran, so what are Barnea and Gantz hoping to achieve?
Michael Oren, former Israeli ambassador to Washington and former deputy foreign minister, told Mishpacha that Israel's security chiefs are bringing an "unequivocal message" to Washington: "Any deal that enables Iran to achieve breakout capacity — the ability to produce a nuclear weapon in weeks or even days — poses a strategic threat to Israel, which has the right and duty to defend itself by all possible means."
Like Oren, Danny Ayalon served as Israel's ambassador to Washington and then as former deputy foreign minister. He told Mishpacha that we are in an "extremely sensitive time period," and that in the upcoming week we will know the faith of the Vienna negotiations — whether the sides are headed for a crisis and the end of the negotiations, or for another attempt to save the 2015 deal.
"Israel should be reasonable and rely on previous experience," he said. "We should have a detailed discussion with the Americans about the different scenarios ahead of us."
In the past week, we also witnessed tension brewing between Jerusalem and Washington. Thus, on Thursday Israeli media reported that Bennett had a "tough" phone call with Blinken, in which he warned the secretary of state that the US should not trust the Iranians. And Mossad chief Dadi Barnea said publicly that he "will not let Iran acquire nuclear weapons."
Ayalon believes that a public feud with the US will not benefit Israel. "We shouldn't fight with the US publicly. Gantz and Barnea's visit is an opportunity to act wisely, and to try and convince the administration behind closed doors."
(Originally featured in Mishpacha, Issue 889)
Oops! We could not locate your form.
>