| Magazine Feature |
Into the Lion's Den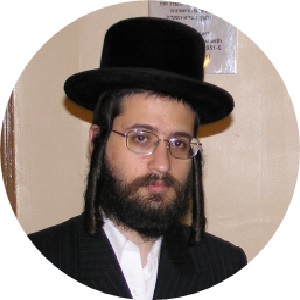 | June 5, 2019
Neo-Nazi ideology is thriving in the tiny German village of Jamel. So seeing us — two obviously Jewish fellows — poking around town was quite a sight… especially when the police showed up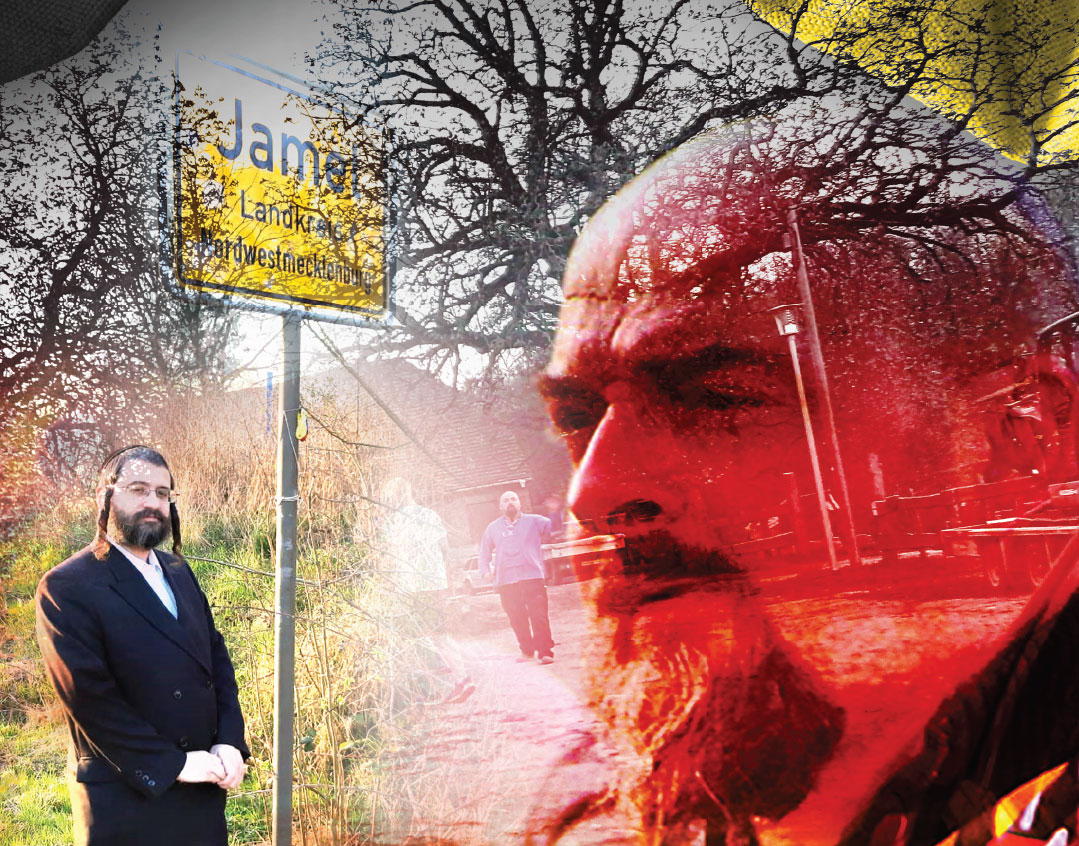 W
hen Sven Krueger strode toward me swiftly and threateningly, I recognized him immediately. It was the face I'd seen — shaven head, flashing eyes, trademark rolled-up beard — in the many photos I had studied in preparation for our visit to this German village.
"Raus! Raus!" he shouted without preamble.
"Warum?" I asked, mustering up my best German. "Why do we have to leave?"
"Because you're a Jew," he said. He advanced toward us, waving his hands menacingly. "And this is our town."
That was our welcome to Jamel, a remote hamlet in northern Germany, a short drive away from the Baltic Sea. The village is in the Nordwestmecklenburg district, an area that identifies deeply with the National Democratic Party (NPD), Germany's far right-wing faction, and has put several neo-Nazis into the parliament. (The extreme right is thought to be behind dozens of violent attacks and instances of vandalism over the past decade.) And Jamel, with its few dozen residents, is perhaps the most extreme manifestation of a chilling phenomenon in the former Communist East Germany: encroaching neo-Nazism.
This tiny town has a distinct neo-Nazi feel. An illuminated mural depicting a blond man with his wife and children, bearing the neo-Nazi slogan "frei-sozial-national," dominates the middle of the village. A few meters away stands a multidirectional signpost: One sign points toward "Wien, Ostmark" — Vienna, Austria, as it was termed under Nazi rule. Another sign points to Braunau am Inn, the birthplace of Adolf Hitler, some 855 kilometers away, which has become a pilgrimage venue for neo-Nazis. And townsfolk regularly host outdoor parties where guests sing "Hitler Is My Fuehrer" and chant "Heil" around a massive bonfire.
Sven Krueger, who fittingly owns a demolition company, is the undisputed boss of this little enclave. He was born in Jamel, and was known for years to authorities for small-time criminal activity, but he'd stayed off the radar after turning to extreme right-wing politics — until he was arrested in 2011 on charges of harboring stolen property and illegally possessing a submachine gun with 200 rounds of ammunition.
After Krueger's release from prison in 2016, the NPD distanced itself from him (even though their regional headquarters were housed in the building of his company). Unperturbed, Krueger set up his own party and is now running in the upcoming local German elections.
A decade ago, Krueger was the only neo-Nazi in the village, but with calculated determination, he encouraged some likeminded friends to move in as well. They purchased and rented homes in quick succession, so that one fine day the authorities, and subsequently the media, discovered that Jamel was essentially occupied territory. Or a "nationally liberated zone," as Mr. Krueger likes to call it.
And the logo on his demolition company? A man smashing a Star of David with a sledgehammer.
Little can be done legally to expel the neo-Nazis. They carefully skirt German laws against displaying Nazi symbols, such as the swastika or the SS runes, and the banned songs people hear in the night cannot be pinned on any individual.
Still, provocations toeing the fine line between legal and illegal haven't gone unnoticed. Once it was a barbecue grill with the words "Happy Holocaust" emblazoned across it. Then there's the Aryan family mural, and of course the signpost directing visitors to the mysterious Northwestern Austrian town of Braunau am Inn. Putting up such a signpost in public is illegal, but the neo-Nazis of Jamel found a way around that, by installing the sign on private property.
No Fear
Many journalists have visited Jamel over the last few years — hundreds of reporters travel to Jamel every year in order to cover a neo-Nazi festival that Sven Krueger runs in his yard, but most are not allowed in, and residents rarely speak to them. The police don't appreciate the influx of reporters either —between patrolling the house, guarding the visitors, and manning the small booths selling Nazi symbols and propaganda, the police have their hands full trying to enforce the law within a hotbed of hatred.
One reporter who remained in Jamel for an entire month is Tehran-born Michel Abdollahi. Abdollahi is a German-Muslim journalist, writer, and cultural hero who received a municipal permit allowing him to set up a temporary structure for a month while putting together a documentary for "Panorama," a German television show.
During his stay in Jamel, Abdollahi managed to speak to some of the usually reticent locals, and even Sven Krueger treated him to a measure of levelheadedness. The documentary Abdollahi put together is testimony to the dark ideologies that lie behind Jamel's façade of neutrality.
When I decided to take my own trip to Jamel, Abdollahi was the first person I contacted. I asked him if he could accompany me, but he said that there was no need. "It's a small village of only 30 people," he told me. "There's no reason to be afraid."
And so it was that my driver (an old friend who speaks a fluent German) and I hit the road. A distance of seven hundred kilometers separates our hometown of Antwerp, Belgium, from Jamel. On a regular weekday, the drive can take between seven and eight hours, but since it was Sunday, when Germany's famous Autobahn is traffic-free, we made it in less than six.
We sped northward, and upon reaching the town of Lübeck, I admit my heart began to pound. Lübeck and Wismar are the two largest cities near Jamel, and the road between Lübeck and Jamel offers travelers a spectacular view. Picturesque villages, solitary homes, and wooden shacks dot the green landscape, which feels a bit like the end of the world.
Two kilometers to Jamel, a sign reads. One kilometer. Five hundred meters.
And there it was. "Jamel" appears on a yellow metal plate that's seen better days. So this is the tiny town that has become larger than life. We slowed down and rolled into the town, which isn't more than a narrow, unpaved road with low-roofed homes on either side that look like they could use some renovations.
Our plan was to speak to the locals, and the first door we knocked on belonged to the Schonberger family. When they didn't open, we moved on to the house across the way. Before we managed to read the last name on the mailbox, the door was flung open and three men appeared in the doorway. They looked us up and down with wide eyes and incredulous expressions on their faces as they wondered how it was that two chassidic-looking Jews had landed on their doorstep.
"Is there a hotel around here?" we asked, thinking of a polite way to break the ice.
"No. There's no hotel here. Go to nearby Wismar."
I decided to be a little more direct. "Is this the famous Nazi village?" I asked.
The trio remained calm. "Nazis? Do we look like Nazis to you?"
We made our way over to the famous sign post to pose for a picture, and then tried our luck with the Schonbergers again. This time, a tall man with a dark red beard and short pants stepped outside. He immediately waved us away and instructed us to leave him alone.
We tried getting a young man with a shaven head and a terrifying-looking dog to speak to us, but he wasn't shy about saying that he had no desire to speak to a pair of Jews who were worthless in his eyes, and certainly not in English. It wasn't long before the rumor spread around the town though: There are Jews in our village. Real Jews, "Echte Juden."
Slowly, the villagers came out of their houses and headed toward us, shouting: "Get out of here!"
Mr. Schonberger approached our car threateningly and the young man with the shaven head brought his dog menacingly close. We weren't planning on being chased out so quickly, and tried to hold our own. "This is public territory," we said, but the opposition couldn't care less. Schonberger tried attacking my driver and stealing his camera and another villager stood in front of our car, trying to figure out what to do with us.
Suddenly, Sven Krueger's huge figure appeared. Striding quickly toward us, he called out: "Fahren sie ab. Raus! Raus! (Drive from here. Out! Out!)"
I might have been back in Germany of 1938, but I tried to keep my cool. "Can we please speak to you for a few minutes, Herr Krueger?" I asked, as my driver began taking pictures.
"No!" he shouted. "I don't speak to Jews. And furthermore, it's illegal to photograph me without permission!"
True, we were standing on public property, although Krueger motioned that the tip of my shoe was touching a private lawn.
Another villager wearing a baseball cap on top of his shaven head approached and attempted to diffuse the atmosphere. Amazingly enough, he addressed us in English.
"What are you looking for here in our village?" he asked, with proper German manners.
"We just wanted an up close look of the town that some people call the 'Nazi village,'"we said.
"What's there to see here? There's really nothing. Please leave." His voice was firm, but not hostile, which invited an opening for another question:
"What do you think of Adolf Hitler?"
The man with the cap didn't bat an eyelash. He'd surely been asked that before by other prying reporters. He waved his hands, smiled cynically, and said: "Who cares? The man's been dead for 70 years. Why bring him up? Anyway, the people you want to speak to are the Lohmeyers. They live there." The man generously pointed toward a white house down the road. "Go and visit them, they'll welcome you graciously."
We Never Expected This
Even if the man with the cap hadn't pointed out the Lohmeyers' home, we'd have made our way there anyway. We'd made contact with them back in Antwerp, and in fact, they were expecting us.
Horst and Birgit Lohmeyer never expected to be thrust into the limelight when they moved from Hamburg to Jamel in 2004, having purchased a 150-year-old farmhouse which they restored. At the time, Sven Krueger was the only known far-right extremist in the village, but that started to change when his presence began attracting more extremists; as they moved in, others moved out.
Eventually the Lohmeyers found themselves alone in a sea of ​​neo-Nazi sympathy. But instead of leaving the town, the couple has stayed on and do their part to fight back: Every summer since 2007, they hold their own music festival which draws a huge crowd of reporters and participants: teenagers, senior citizens, businessmen, punks, and even politicians. It's become a counter-festival to the one Sven Krueger holds in his yard every year, attended by his own few hundred people. The massive crowd of Lohmeyer guests come here to party for two days, and to send a message against right-wing extremism and racist violence. The police are there as well — not so much to protect the villagers from the visitors, but to protect the visitors from the villagers.
We made our way toward the big white house and saw that Horst Lohmeyer was standing in his yard, waiting for us. When he heard his neighbors shouting, he figured we were there. The couple graciously invited us into their home and seated us at wooden table, offering us glasses of cold water.
Outside their house is a large tent, a temporary replacement for the huge wooden shack that their neighbors burned down a few years ago, in protest of the music festival. Today the festival is hosted in the tent and the sprawling lawn alongside it.
"When we moved here, all we wanted was to buy a house in a quiet village to live out our golden years," Mrs. Lohmeyer says. "We never expected to be living in a neo-Nazi village facing these challenges."
Yet the Lohmeyers didn't consider leaving. "First of all," Mrs. Lohmeyer explains, "even if we wanted to leave, no one would agree to pay full price for our house. And even if we could somehow find a good buyer, today we're determined to stay on in order to fight these people and show the world that there's another side to this town's ideology of hate."
Under Arrest?
As we were chatting, we suddenly heard loud knocks on the front door. Mrs. Lohmeyer opened the door, and there stood a group of tough-looking policemen who demanded that the Lohmeyer's Belgian guests — that would be us — step outside.
I felt myself breaking out in a cold sweat. If I'd thought that the drama had come to an end once we entered the Lohmeyers' warm home, I saw how wrong I was. For a fleeting moment, I flashed back to early morning, when I said goodbye to my children. I didn't exactly tell them where I was headed, but they'd heard some talk about Nazis and anti-Semites. "Tatty, don't go," little Chaim had pleaded. "Bad people will hurt you." I very much hoped he was wrong.
With no choice, we made our way outside. The senior officer of the group asked to see the photos we'd taken. We handed over our equipment and he scrutinized the photos one by one. "It's a big problem," he said, looking at his friends meaningfully, so they too would understand the gravity of the situation. "It's illegal to take close-up shots of people's faces in a public area in Germany," he said. "This is a criminal offense."
Apparently, the angry villagers had quickly summoned the police to their village after their encounter with us. As more police cars arrived on the scene in order to deal with the incident, we realized that we were in big trouble.
What a fashla. We came out of the neo-Nazi lair unscathed, and now we were liable to be arrested and tried by the Germans for a criminal offense. In my mind's eye I could already envision my children visiting me in Lübeck prison and Jewish askanim sending us matzos in jail, while in the courtroom Krueger rubbed his thick hands together with glee.
In the meantime, the police continued to examine the pictures. The officer in charge instructed us to erase some of our shots — he told us to delete any picture featuring an unauthorized close-up of a person. But then Mrs. Lohmeyer intervened — it seemed she knew a bit about journalists' rights. "He's a journalist," she told the officers. "The restrictions that you just mentioned don't apply."
The police officers were taken aback — they requested to see my journalist license. I pulled out an expired press card from 2017, and promised to send them the magazine's confirmation that I'd come to the village as part of my job. Meanwhile, I called the editor, who was admittedly alarmed but promised to help. Some of the officers went off to the side with my papers and consulted with their legal department, while the rest of them remained on guard to make sure we wouldn't escape.
Their phone consultation lasted a while; eventually they came over to tell us that they'd received legal instructions for our release, but not without deleting some pictures and clips. Together we went over the pictures (which had already been "sent" to a safe place) and we let the police officers delete to their hearts' content.
In the end, the senior official apologized, admitting that the Jamel saga was no simple matter, and that the police were doing their best to maintain the fragile political balance. They charged us never to return to the village and we gave them our word that we wouldn't. I don't think we're going to have any reason to come back in the next hundred years.
We went back inside, trying to recover from this latest close call. Meanwhile, Mr. Lohmeyer gave us a tour of his home, an old and partially renovated house. He showed us various trophies and prizes that they'd received from different organizations in Germany, including a Jewish umbrella organization, in recognition of the couple's special activities.
"You have to understand," explains Mrs. Lohmeyer, "the mayor is not a Nazi, but he's very forgiving toward them. He leased their houses to them at ridiculously low prices and he sold them land below the going rate, so he's lending an indirect hand to this dangerous organization."
The Lohmeyers say that, all the years notwithstanding, they have no regrets. "The truth is that had we known what awaited us, we wouldn't have moved. But now that we're here, we need to show these people that we're not afraid. The minute we begin to fear them, they've won the battle."
We parted from the Lohmeyers, thanking them and promising to keep in touch. Before getting into the car, I snapped a picture of Jamel at night from the peak of the hill. The all-encompassing darkness seemed like the perfect backdrop for the dark villagers and their dark ideology and morbid beliefs.
Jamel is beautiful in the dark.
On the drive back, my driver and I reconstructed our crazy experience, and together we agreed on the following description for any of our curious friends: If you have no desire to feel just a hint of what our grandparents felt in the time leading up to the war, you have no need to visit Jamel. It's a village of unpaved roads, for indeed, the village's pathways lead nowhere. And if you try to deny the venom and hatred that hangs openly in the air, just walk down the street and someone will proudly remind you that it's really there.
(Originally featured in Mishpacha, Issue 763)
Oops! We could not locate your form.
>