| Inbox |
Inbox: Issue 873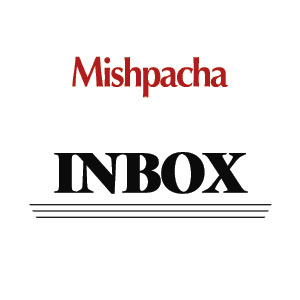 | August 10, 2021
"They aren't all 'going off' the derech. Some of them were never on it to begin with"
Why They Aren't Coming? [Inbox / Issue 872]
Last week, a reader asked why the yeshivish community in America doesn't prioritize aliyah on a large-scale, community level. There are really two components to this question: the hashkafic/ halachic component and the practical one.
On the hashkafic/halachic level, we know that one is obligated to anticipate the Geulah. This refers to the final Geulah. I'm not sure that one is obligated to desire to live in "Israel" as is currently constituted. As Reb Moshe Feinstein paskened in Igros Moshe: Do you fulfill a mitzvah by living in Eretz Yisrael? Yes. Are you obligated to live there? No.
However, there is a flip side: We should not become too comfortable living in galus lest we come to say, as the Meshech Chochma stated: "Berlin [Lakewood] is Yerushalayim." So there is a dialectic here that needs to be understood.
But I believe that the main reason why the American yeshivish community is hesitant to make aliyah en masse is due to practical concerns.
Firstly, many work at jobs that either do not exist in Israel or do not pay on a similar financial scale as in the US: finance, healthcare, real estate, law, medicine, the therapies, etc.
Additionally, the Israeli economy seems to be built for employees, not  employers. The US economy, in contrast, is built to encourage people to be employers and create wealth. A look at the tax code in the two countries make this clear.
And immigrants to a new country face the discomfort of not speaking the language, not necessarily sharing the same values as their Israeli brethren, and lacking a knowledge of the system which can translate into a vacuum between adults and their children.
The American model of frumkeit also offers a certain balance that is less available in Israel. The yeshivish community in the US has and continues to produce some of the finest balebatim, gvirim, askanim, and builders of Yiddishkeit in the world. The Israeli chareidi chinuch system isn't built for that ideal.
Lastly, Israel still possesses a Soviet socialist mindset. Throughout Covid, the US government, a medinah shel chesed, has paid for thousands of food boxes for the Jewish community, providing untold tens of thousands of dollars in food. The Israeli government also provided monetary stipends for individuals and businesses... unfortunately, they are now asking many recipients to return the money in 18 small monthly payments.
With all that being said, the real question is, why aren't more members of the US yeshivish community spending their retirement years living, learning, and enjoying Eretz Yisrael?
A 20+ year citizen of Yerushalayim
Before You Leap [Inbox / Issue 872]
What a great idea! Yes, Mishpacha should totally do a series about making aliyah/communities in Israel for olim!
But I beg to differ when it comes to your opinion that Israel is for everyone.
I've been living here about 15 years. My kids speak mostly Hebrew with a dash of English. Yes, we are settled and would never want to live anywhere else.
But I don't recommend aliyah to just anyone. There are too many off-the-derech kids and too many divorces as a result of poorly planned aliyah.
Please, everyone, don't make aliyah without a strong chinuch system in place. And definitely don't make aliyah without a strong marriage or plans of marriage counseling in place. It's hard enough dealing with everything that comes along with making aliyah.
But remember as well, the rewards and sechar of living here. We'll be so happy to have you join us!
An Israeli American
It's Among Us, Too [Outlook / Issue 872]
In his article titled "Anti-Semitism Is Getting Me Down," Yonoson Rosenblum understandably feels frustration and anguish over the fact that anti-Semitism is gaining traction throughout the country and especially on the college campus. The fact that it is being couched in anti-Zionist terms makes this hatred acceptable in polite and otherwise liberal crowds.
Adding to the frustration is that the major Jewish organizations are doing nothing about it. The ADL, under Jonathan Greenblatt, only very recently began waking up to hatred from the left. And they are doing very little about it.
Even more upsetting is the total avoidance of leftist hatred by our Orthodox establishment. None of the supposed "religious Zionist" organizations were willing to take a meaningful stand against the Ben and Jerry's boycott of Judea and Samaria. If you don't believe me, check out their websites and see if you can find a word on the topic. At least Agudath Israel issued its own press release.
Yonoson Rosenblum is of course correct. But I suggest his next topic be "Jewish Complacency Is Getting Me Down." It certainly is getting me down.
Rabbi Yoel Schonfeld
Kew Gardens Hills, NY
Veiled Witticism [For the Record / Issue 872]
I always find the articles of Dovi Safier and Yehuda Geberer fascinating and inspirational (and the in-depth article on Reb Elchonon was truly a masterpiece).
I think that the Brisker Rebbetzin's comment to her chassan, "Mazel tov! Don't take your kallah's blessing lightly," was a veiled witticism fitting for this woman well versed in Torah.
The Gemara (Megillah 15a) says, "Al tehi birkas hedyot kallah b'einecha — One should never regard the blessing of an ordinary person [hedyot] as light [kallah] in their eyes." She cleverly paraphrased this expression thus, "Al tehi birkas kallah hedyot b'einecha — Your kallah's blessing should not be viewed as something ordinary in your eyes."
Wishing you both much continued hatzlachah and brachah,
A faithful reader
Israel Has Moved Ahead [The Current / Issue 872]
I was very surprised to read Gedalia Guttentag's complaints about the Israeli bureaucracy. I have lived in Israel over 20 years, and things have gotten much better.
I can't remember the last time I had to send a fax. Everything is either online, email, or by WhatsApp. He complained about the process of applying for visas for relatives. That problem has already been solved. The application process is now completely online.
Recently I had dealings with both the Israeli equivalent of the IRS (mas hachnasah) and the IRS. I got much better service in Israel. I submitted both Israeli and US tax returns in May of this year, expecting a refund from both. Less than a week after submitting my Israeli return electronically, the refund money was in my bank account. Contrast that to the IRS where they don't answer the phone, and the only answer I get online is your tax return is being processed. Three months later I am still waiting for my refund.
The same goes for passports. In Israel the process is completely online including payment. On the other hand, when renewing a US passport by mail in Israel, the only way to pay for a renewal is to go to the bank and get a bank check in US dollars. You would think that the US State Department could figure out how to do online payments.
So in short, Israel has made great strides in cutting the bureaucracy and in many ways has moved ahead of the US.
Ari Shapiro
Stars, Not Rain [The Hills Are Alive / Issue 872]
Rabbi Schwartz brings to life the many places he visits in Eretz Yisrael and describes them wonderfully in tandem with the relevant passages in Nach, making you feel right there with him. However, in his discussion of the famous battle of Sisra against Devorah and Barack, he says that "Torrents of pelting rain came down, turning the entire valley in to a muddy swamp that incapacitated the chariots and swept their riders into the river and drowning them, etc."
Yet he omits the broader explanation of the battle from Shoftim perek 4 and then mentioned again in Shiras Devorah, in perek 5. The Gemara in Pesachim (daf 118b) as well as the Midrash Tanchuma on the Torah in a number of places (see for example Bereishis 5 and Beshalach 16) explains how Hashem performed a miracle during this nighttime battle; not only did He give these stars an extra amount of light, but He miraculously caused those stars to heat up the metal weapons and suits of armor of the many soldiers of Sisra's army. To cool themselves down, they dipped into the innocent and harmless looking River Kishon (also called by the name Nachal Kedumim), which was a small brook near the battlefront — but Hashem turned it into a roaring sea, drowning Sisra's men. As an aside, the Gemara explains that it was given that name since Hashem was, as it were, "paying back" the debt from previous years (Kedumim) to the fish in the Yam Suf who at the time, were denied the chance to feed on the dead Egyptians but now allowed them instead to feed on Sisra's men.
Boruch Kahan
Rabbi Ephraim Schwartz responds:
Thank you so much for your correction. There are so many midrashim about the sites I visit. Although on my in-person tours I generally enjoy sharing the added harmony of Chazal's varied opinions and accounts, I try to stick to the literal meaning of the text when I write for Mishpacha. (Because you never know which Navi teacher might be reading…)
Regarding the deluge at Har Tavor, this approach is actually mentioned in a fascinating Baal Shem Tov al HaTorah on parshas Beshalach, discussing how Hashem works within the rules of nature to have those miracles perfectly timed. The same midrash you mentioned notes that Hashem paid the water back 50 percent dividends: In place of Pharaoh's 600 chariots deposited on the shore, it now received 900 of Sisra's chariots. May we soon merit to visit these sites, guided by the shoftim and neviim themselves, who will share their firsthand experience at the receiving end of so many nissim and yeshuos.
Not By Choice [Open Mic / Issue 872]
It was painful for me to read Gedalia Guttentag's Open Mic piece.  I wish that he was right and that the thousands of young teens who are "rebelling" would be doing so as a purposeful choice for an easier way of life filled with pleasure. If that were the case, these young 14 to 15-year-olds would be able to engage in meaningful conversation and lively hashkafic discussions about their misgivings about Yiddishkeit. Perhaps we can place them in more appropriate schools that are less restrictive yet still halachically sound.
Don't you think that all us suffering parents of suffering children wish with all our hearts and daven endlessly that this would be the answer? Do you think we haven't first tried sending these kids to camps or schools that are more accepting, more open, more anything just to keep them in the fold? Do you think the young teens between the ages of 13 to 17 are making conscious choices to leave their family's traditions behind and live miserably behind facades of strange hair and inappropriate dress?
Most of these children have been too broken by the school system or have suffered trauma and cannot process their pain. They have no way to cope and just shirk whatever responsibility they can just to survive.
They are not happy with their choices. They're not living relaxed lives free of rules and halachah. They are living unhappy, miserable, and suffering lives that are only cloaked with what you see.
An emotionally healthy child/teen does not look at his entire family and culture of Shabbos meals with delicious food, singing, and family time and decide, "nah, not for me." Only a child with deeper emotional issues does that. These "off the derech" teens are not adults who make a conscious decision to leave Torah and halachah because their smartphone and the allures of the outside world have magnetically pulled them away.  They experience anxiety, depression, trauma, learning difficulties and more. The pain they experience is too much for them.  They themselves don't understand their own pain.
When Mishpacha prints letters that give advice about setting boundaries and giving our kids a hashkafic reason to stay on the derech, it is extremely painful for us parents. We've set boundaries, spoken to experts, gotten mentors and help for our kids, and done absolutely everything within the realms of normal chinuch. When that doesn't work and our children are clearly not choosing to be this way, another type of chinuch plan has to take root.
We are doing the best we can, following our daas Torah and the professionals.  We need the community's rachmanus and acceptance. Please don't judge our parenting. Our suffering children need all the emotional support they can get, from their families, neighbors, and strangers.
A parent in pain
Only From Trauma [Open Mic / Issue 872]
With heartbreak and tears I write to you after having read last week's "Open Mic." As a mother of an off-the-derech child from the age of 12, I can attest that this happens only out of pain and past trauma. Why in the world would a child / teen / adult want to be different, a misfit from his family and community? Do you know how these kids suffer at family simchas and Yamim Tovim during their summers in our bungalow colonies — being so different, not belonging? They don't have a place in society. Not with us and not with the outside world.
It may seem to the human eye that this is the path they chose by their own choice, but we know very clearly that they are in so much pain from their past trauma that they can't find happiness or peace in their life.
No person would choose this by their own free will. I have personally witnessed my child crying to me at his brother's chasunah, "Will I ever merit to go under my own chuppah?"
Please do your research before you print ideas and opinions that have no basis of truth and can further deepen the hurt and pain of these children and their parents.
A mother in pain with her child
Relationships Tilt the Scale of Choice [Open Mic / Issue 872]
The article on how we must consider the fact that children go off the derech not only from pain but also due to bechirah caught my interest.
The writer suggested that unconditional love won't solve the problem of affecting our children's bechirah, but I want to argue that the biggest way to increase our children's bechirah is actually through unconditional love — which includes having a close relationship with our children.
Rabbi Dessler has a famous discourse on nekudas habechirah — the point of bechirah. This means that we do have free choice, but in order for a choice to truly be free, the pleasure needs to be equal on both sides: The pleasure of the physical world must be matched by the pleasure of the relationship.
Therefore, the more a child feels the pleasure of a relationship, the higher their nekudas habechirah will rise. They will be arriving into adolescence with the feeling that meaningful relationships — and in turn, a relationship with Hashem — are more attractive than the pleasures the secular world has to offer.
Therefore, while we can try other methods as well, I want to argue that unconditional love is the best way to up our children's bechirah, not only to heal a child in pain.
Thank you for a wonderful magazine,
Elisheva Halle
The Kids Who Wander Off Without the Drama [Open Mic / Issue 872]
When I was about 13, the Jewish Observer "broke the story" about kids at risk. I remember several reactions: Some people were scandalized that it was addressed so publicly, some people were horrified to learn of the problem, and some people were self-congratulatory that the community had matured to the point that we could be self-critical. My personal (typical teen) reaction was to roll my eyes and think, duh, now you wake up.
I guess I haven't grown up that much because my reaction to Gedalia Guttentag's piece about kids who have not experienced trauma actually exercising their free will and making the choice to leave Yiddishkeit is the same (without the eye roll): Finally.
Like Gedalia, I recognize that many or maybe even most of the kids who leave Yiddishkeit are "kids in pain." But the hard truth is that not all of them are. Like he explained so eloquently, kids make choices. Just like they might smoke or vape, choosing short-term benefit over long-term gain, they also might choose to leave Yiddishkeit.
What I would like to add is this: They aren't all "going off" the derech. Some of them were never on it to begin with.
Let's term it "social frumkeit" for lack of a better word — it's when the environment makes it easy to be frum, it's the default; and you keep Shabbos and kashrus and everything while you pursue materialism (or professional success, or Instagram followers, or whatever) with all your resources. It's not hard to stay technically frum while you trade up to an Infiniti SUV and dress with casual glamour. But wherever the emphasis is — that's where the kids are going to go. It's much more exciting to dress like a million dollars and have a lot of cool stuff than to work hard in the beis medrash for hours every day. Especially when you're a teenager. Especially when the adults in your life are choosing the former.
These kids don't leave with a lot of drama. They wander off the derech more than actually going off it. Sometimes they're not even kids anymore by the time the process becomes obvious.
Sometimes it never becomes obvious, and they go on living an uninspired, disconnected, basically kind-of-frum lifestyle while totally focused on pursuing Olam Hazeh. Although there's a lot of distraction in the day-to-day and a social motivation to stay frum, they are disconnected. Their kids will probably be even more so.
That's one subset of the kids who opt out, and it's time we acknowledge them.
When "kids in pain" leave, it's indicative of a need for help. When kids make the choice to leave, it's indicative of a certain indifference.
So, circling back to Gedalia's essay, how can we prevent that indifference?
Chaim Rabinowitz
Anthem of My Return [Shir, Shir to Hashem / Issue 870]
Thank you for your project celebrating the music of Yigal Calek. "Kol Beramah" has accompanied me since childhood, with a break of ten years when I went off the derech in my early twenties.
In the summer of 2014, right after the kidnapping of the three boys, sparks of Judaism were reignited in me. I kept on listening to "Kol Beramah" because the words of the song awakened in me the knowledge that a mother doesn't ever give up hope for her children and that every Yid can always "come home."
That summer I started my journey back to frumkeit, and three years later I got married, and in the summer of 2018, my wife gave birth to a baby girl. We named the baby Rachel, as I felt that she actualized the message of the nevuah, "V'shavu banim l'gvulam," that I was zocheh to return to living a Torah life.
David B.
Liaising for Garcia [Vote of Confidence / Issue 870]
Your piece on Orthodox liaisons was of particular interest to me following the recent NYC mayoral primary election. It was quite evident that Eric Adams already had a connection with the Orthodox community from his years as Boro President of Brooklyn. However, there was one other viable candidate who had to start from scratch to be acknowledged by the many NYC Orthodox communities: Kathryn Garcia.
While volunteering with her campaign, I was inadvertently thrust into that role as her sole Orthodox volunteer. As a female candidate, the social norms had to be reviewed, such as how to dress and what to do about shaking hands. In Queens, with the assistance of several community activists, I was able to assist in coordinating a meeting with some of the community's askanim, which proved to be quite informative and beneficial.
It was quite interesting to me, as I hadn't worked on a campaign in many years.  This was a new role for me, and I hope it was fruitful to Kathryn, who would have been a superb mayor and came this close to winning, despite this magazine's ignoring her even after it was clear that she was polling near the top.
Charnie Feldman, Queens NY
Protect All Your Children [Still Our Children / Issue 869]
Your article talked about the importance of keeping struggling children home, and how traumatic it can be for the siblings to watch their sister or brother being sent away from home. Yet a very important point is missing. How many of these boys are turning their younger siblings into victims of abuse?
Parents, I'm begging you! Don't sacrifice one child or perhaps multiple children for another. If you have a struggling child, please discuss the details of your specific case with a rav or rebbe who is familiar with your particular family dynamics. Don't assume that all your other children are fine.
My parents have no idea what my brother subjected me to. They also have no idea how many thousands of dollars I already spent and am currently spending on therapy to be able to lead a normal married life. I had a friend in yeshivah who had such a sibling at home, and… he didn't have such a happy ending.
A survivor
Our Out-of-Town Solution [Make Your Move / Issue 870]
I read the recent article featuring different out-of-town communities with great interest.
My husband and I both grew up out of town, and so much of who we are came from the unique communities in which we grew up. When choosing a community in which to raise our own family, we knew we wanted to live somewhere with a more laid-back, out-of-town lifestyle, yet at the same time, a place with Torah values and opportunities for growth. We were hesitant to go too far from the Tristate area, as we both have good jobs in New York and feel the chinuch opportunities for our children here are optimal for us.
When one of my husband's rebbeim, Rabbi Moshe Winter, moved with his family to become the rav of East Meadow, Long Island, we began to discuss the option of moving there, as well. About six months ago, we moved into our home in East Meadow, and we could not be happier here.
The community here is warm and welcoming with a small-town vibe where everyone looks out for each other. The shul is the center of the community, and we feel blessed to be somewhere with such a focus on Torah learning and growth. We love having space here, the air is fresh and clean, and we have a beautiful backyard where our kids can run around. There is busing to any school in Queens and the Five Towns, kosher grocery stores deliver here directly, and there are multiple kosher eateries within 15 minutes driving distance.
We have all the benefits of out-of-town living without having to give up any of the major benefits of in-town living. Our community continues to grow each year and our website, kehillaofeastmeadow.com has a contact page for anyone interested in learning more about our kehillah.
A happy resident of East Meadow
(Originally featured in Mishpacha, Issue 873)
Oops! We could not locate your form.
>