| Washington Wrap |
Impeachment, Round Two
| December 4, 2019
How Dems and GOP could end impeachment battle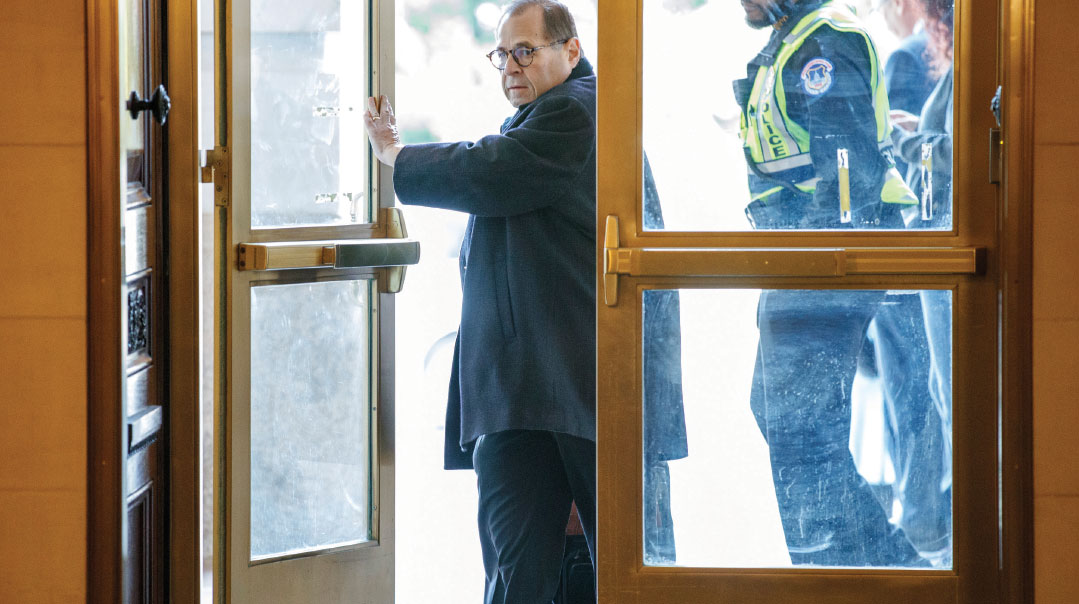 This week, the House Judiciary Committee is scheduled to embark on the second stage of impeachment proceedings against President Trump. How the process ends may not be as obvious as once thought.
After weeks of hearings in the House Intelligence Committee, Judiciary Committee chairman Rep. Jerrold Nadler (D-NY) will have the chance to further make the case that the president is guilty of high crimes and misdemeanors and should be removed from office.
It is unclear how the Judiciary Committee hearings will differ from those in the Intelligence Committee, but one Democratic source told Politico that "Intel will handle the facts, Judiciary will handle the law." In other words, Judiciary will lay out how exactly Trump might be removed from office. Republicans are already raising objections over the Democrats' list of witnesses, reported to include several constitutional scholars. The White House may also be allowed to call witnesses and offer exculpatory evidence.
The exact definition of an impeachable offense is left somewhat vague in the Constitution. Further, Congress, which is a political and not a legal body, is left to determine what constitutes "high crimes and misdemeanors." Given that the Democrats command a majority in Congress, the impeachment vote is a foregone conclusion. That is why Trump and his associates are so far refusing to cooperate in the process.

If the Democrats decide to pursue a vote on impeachment, it could be held within weeks. The Senate would then take the impeachment baton by January, holding a "trial" to decide Trump's fate. According to the current consensus, the Republican-controlled Senate will vote against removing the president, ending the monthslong affair and leaving voters to decide who won this latest round of partisan bickering.
Unless there's a different path.
The stormiest debates on Capitol Hill this past week centered on a possible compromise between Democrats and Republicans. Some have proposed abandoning the impeachment proceedings altogether in favor of expressing strong disapproval of the president in the form of a censure. Congressional censure is largely a symbolic affair, entailing no legal sanctions or practical repercussions, unlike impeachment. In general, Congress employs the censure against senators or House members who are believed to have behaved improperly — for instance, Sen. Joe McCarthy in 1954.
A censure could serve the political interests of both Democrats and Republicans. For Democrats, it would spare the embarrassment attendant on the inevitable failure to bring the process to fruition in the Senate and remove Trump from office. Censure would also prevent Trump from being able to run in 2020 with the claim that Democrats attempted to set aside the will of the people and evict him from office through legal shenanigans. A vote to censure would also benefit Republicans running in purple districts by appeasing moderates without alienating their Republican base.
Censure is being debated among Democrats, mostly behind closed doors. Earlier this week, Congresswoman Brenda Lawrence (D-MI) openly proposed censure as an alternative to impeachment, but then changed course after widespread condemnation from her own party. Her quick flip-flop reflects the Democrats' dilemma: Is a vote of censure a meaningless technicality? Or a strategic master stroke?
For Democrats, the benefit of an impeachment vote is minimal at best. At worst, it could rebound on them like a boomerang. One poll shows 48% of the American public currently supports impeachment, while 43% oppose it. But support among independents has declined from 47.7% to 41% since the hearings began. If Democrats decide to move forward with the process, the political repercussions could hit them hard in 2020.
(Originally featured in Mishpacha, Issue 788)
Oops! We could not locate your form.
>