| On Site |
If the Suit Fits | October 23, 2019
"Fashion designer" is not exactly a profession most people would associate with a chassid, but that didn't stop Yosel Tiefenbrun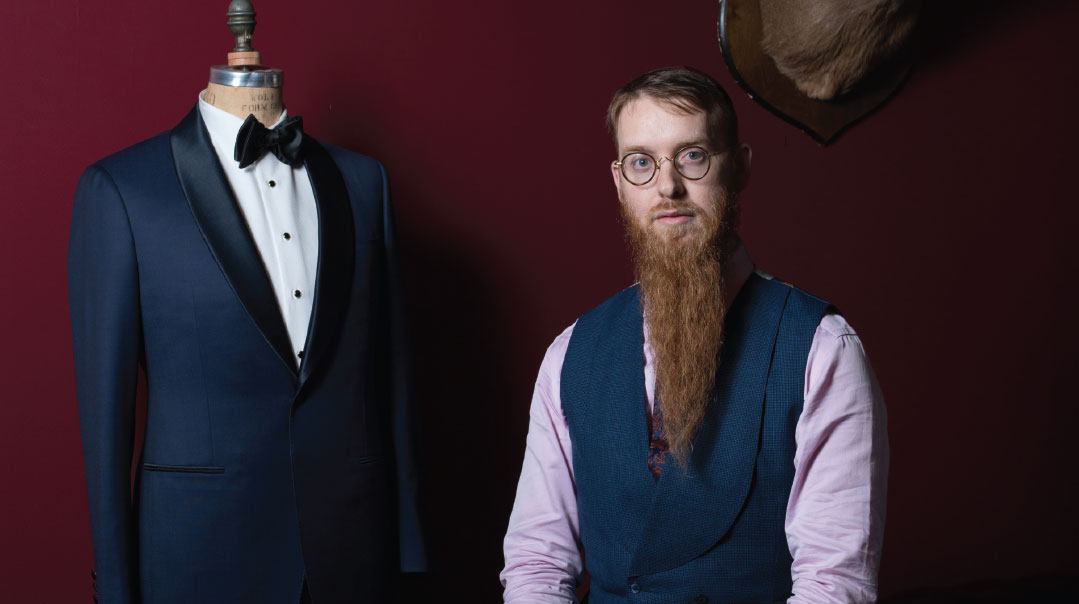 (Photos: Jeff Zorabedian)
The bright red metal door at 188 Scott Street in East Williamsburg, Brooklyn, gives no indication of the major paradigm shift waiting on the other side.
The atelier of Rabbi Yosel Tiefenbrun — a Chabad chassid, ordained rabbi, and bespoke tailor — is located along a street full of graffitied commercial warehouses, teeming with beefy trucks that weave up and down a rutted road. Once through that red door, a visitor is faced with a steep metal staircase suspended over a storage room of boxes stacked haphazardly to the rafters. This leads you to the door of Rabbi Tiefenbrun's tailoring shop — and here's where everything shifts from urban grit to timeless elegance.
With deep burgundy walls and dark wood slatted floors as a backdrop, the visitor enters into a graceful and masculine room whose decor evokes the scents of leather, whiskey, and cigars. Muted jazz music sets the tone, and deep, tufted leather couches invite you in, while an unlucky elk, his head mounted high on the wall, peers balefully at the fabric swatches, dress forms, and canvas patterns.
"Bespoke" is a term used to denote something exclusive or custom-made, and is derived from the word "bespoken," meaning "ordered, commissioned or arranged for. Historically, "bespoke" referred to finely tailored men's suits found on England's iconic Savile Row.
In this elegant and relaxed atmosphere, Yosel Tiefenbrun and his small staff of skilled assistants make hand-cut men's suits, with full-floating chest canvases, hand padded lapels, and hand stitched buttonholes. His garments are finished with beautiful hand-made details including Milanese buttonholes, pick stitching, and horn buttons.  A Tiefenbrun suit is created from cloth sourced from the finest British and Italian mills and takes approximately 80 hours to create. The final cost to the customer is anywhere between $2500 to $4,500.
Yosel Tiefenbrun's passion for fine tailoring may be unusual for a yeshivah-educated Lubavitcher, but it wasn't a surprise. If it's a question of nature versus nurture, Yosel Tiefenbrun makes the case for nature. His passion for crafting superior clothing is something that is, and always was, a part of him. Tiefenbrun reports that from a very young age, he was drawn to quality clothing and yearned to be a designer. "I've matured it and worked on it. While you can't do what I do without skill, you need the natural passion to develop that skill. Back then, before I had staff, I sat and stitched for ten to twelve hours a day. You won't do that without having the passion."
Tiefenbrun grew up in London and learned in Israel, eventually ending up on shlichus in Singapore, where he received semichah. Providentially, he met the editor of Harper's Bazaar, an American fashion magazine, at a bat mitzvah, which led to an internship at the Singapore branch of the publication.  Because the female fashion industry is not a viable option for a frum young man, Tiefenbrun turned to men's tailoring and chose to move back to London to pursue a formal education. He landed an apprenticeship at Maurice Sedwell, one of the shops on iconic Savile Row, where he was chosen to work under master tailor and head cutter Andrew Ramroop. After several years of this apprenticeship, Yosel moved back to Singapore to work as both a rabbi for the Jewish community and a tailor at Kevin Seah Bespoke. This exposed him to many Asian and international clients and gave him a new perspective on international tastes and styles.
That wasn't the only perspective that broadened for Tiefenbrun. During his years in Singapore, both as a single, pre-married, and later on with his wife, he had the opportunity to meet an unusual array of people from all over the world. The Tiefenbrun address was not yet known for men's tailoring. Instead, guests flocked to his door to share some Yiddishkeit. Tourists and business visitors, as many as 100 to 200 at once, joined the Tiefenbrun Shabbos table every week. Says Tiefenbrun, "It was always inspiring and uplifting to have different types of Jews from all over the world come together." Two years ago, the Tiefenbruns, with a new baby daughter in tow, decided to move back to family and friends in New York and to open their own bespoke tailoring business, showcasing Yosel Tiefenbrun's unique style and flair.
Throughout his journey, Yosel Tiefenbrun's grandfather, the well-known portrait artist Elazar Kalman (E.K.) Tiefenbrun, stood by his side as his primary mentor. E.K. Tiefenbrun's paintings of famous rabbis are renowned for their warmth and vibrancy, and grace Jewish homes and yeshivos throughout the world. Yosel Tiefenbrun says that, as a young man, his grandfather never knew he had any talent, but his young wife painted and showed him the basics. Those lessons introduced the elder Tiefenbrun to a career he had never anticipated, and his grandson seems to have inherited his artistic genes. A portrait of the Lubavitcher Rebbe, painted by his grandfather, hangs over Yosel Tiefenbrun's desk. It is doubly precious to him as a reminder of both his special grandparent and his chassidus. The artist's signature feature, a fiery orange-red background, is beautifully offset by the burgundy walls of the workshop and fits right in to the decor and spirit of the room.
When a customer comes to the Tiefenbrun shop, the first order of business is to create a client/tailor relationship. What is the customer's lifestyle and what does he envision for his suit? Is he ordering a suit for a special occasion or for everyday use? Tiefenbrun explains that when a customer is commissioning a custom suit, it is because he values the quality and craftsmanship of a hand-sewn, classically styled garment. "When you spend this kind of money, you become conscious and aware. You develop a personal relationship with the tailor. You come for fittings and invest time and effort. Ultimately, the suit becomes something unique and special, a shared vision of both the customer and the tailor."
One corner of the shop is taken up by a rack full of hanging patterns made of stiff canvas paper. After a client decides on the style and fabric of a suit, he is measured, and Tiefenbrun draws and cuts a personal pattern to his exact size and specifications. To show me how the process works, Tiefenbrun takes a beautiful baby blue wool fabric that was provided by a client, and an assistant finds the client's pattern. He rolls the fabric out on a large wooden table — the central feature of the work area and where all the magic happens. After setting down the pattern, he begins skillfully chalking up the fabric in preparation for cutting, pointing out how this particular client's arms are not symmetrical, with one arm slightly shorter than the other. "None of us are completely symmetrical," he says.
Pulling out a sample lining, Tiefenbrun shows me how a high-end suit's lining, which adds structure and weight to the suit, is made up of three layers: a canvas lining, a layer of horsehair, and a lighter cover layer. While you will be able to see the lining of the suit, the canvas is hidden, and it helps the suit hang naturally and conform more easily to the body. Tiefenbrun suits are fully canvassed; that means that a canvas backing covers both front panels of the suit and its lapels. In a cheaper garment, the lining is only made up of a fused interlining that is glued in between the suit fabric and lining. All parts of a Tiefenbrun suit are stitched by hand. In fact, when I came into the work area I was surprised to see there were no sewing machines (only one was tucked away in a corner!). Instead, five assistants sat at the worktable calmly and steadily stitching various fabrics in assorted stages of production.
What kind of customer orders a custom-made baby blue wool jacket — and for a bespoke price? Tiefenbrun tells me a little more about this customer. "This client has a passion for fabrics and travels around the world collecting them. He has had clothing made by many bespoke tailors all across the world. For him it's a hobby."
Tiefenbrun's clients hail from cities all across the United States, from Hong Kong, Holland, Singapore, Israel, and London. Most are professionals — businessmen, attorneys, CEOs, or those in finance, as well as some in the entertainment industry. Tiefenbrun describes most of his clients as well-traveled and mature in style. Most are Type As, driven and ambitious. "I've learned a lot from my clients," he shares. "As a young entrepreneur, they inspire me. I love being around people who have made it, who are achievers. Some have been connected to this business for longer than I have — having had their clothing made for years — and are educated about fabrics. They have interesting ideas and input." All are men that share an appreciation for fine clothing and value the quality of a handcrafted, exclusively-made garment. And for many, investing in a bespoke quality suit is not a one-time purchase. "I picked up a new customer in January and have already made him six suits and am presently working on his third jacket."
Tiefenbrun creates many business and formal suits, but no two customers are the same, and he has made some more unusual pieces. On a nearby mannequin sits a green canvas shirt, finished and waiting to be delivered. It is a sport shirt whose chest pockets are sewn into cigar-shaped compartments, three on each side. And they are fully loaded — with six fat cigars tucked into place! "This customer holds cigar parties on his yacht," Tiefenbrun explains. Also hanging and waiting for delivery is a silk floral dinner jacket in joyous shades of pinks, purples, and blues, ordered by a professional saxophone player for stage performances.
Tiefenbrun also has frum clientele, hailing from Lakewood, the Five Towns, and Flatbush, who primarily order business suits. In terms of religious garb, he explains that a kapote, known in the secular world as a frock coat or Prince Albert, is more difficult to make than a beketshe. "It's cut in more pieces. The back has more lines and parts." Whereas a beketshe is more like a long jacket with a belted back. He has made a few tish beketshes for the chassidish crowd, and would like to make more, but says the cost is prohibitive. " My fabric alone would probably cost more than a standard made-to-order beketshe." Still, speaking about it obviously arouses Tiefenbrun's artistic interest. "I'd love the opportunity to do it. I'd use fabrics that one uses for tuxedoes. Or maybe a highly patterned silk. Paisley or geometric patterns.  So far, though, no takers."
Stacked on shelving that divides his workspace from his fitting area are books of bound fabric samples including linens, mohair, worsted wools, flannels, and tweeds. Only one of the books holds fabrics that are shatnez, a mixture of wool and linen. As a Jewish designer and tailor, Tiefenbrun is allowed to make shatnez suits for non-Jewish clients, but Jews may not wear shatnez. He takes me over to a mannequin bearing a pea-green, wooly winter coat, with an unfinished collar. "This is completely shatnez." Tiefenbrun shows me how its linen collar stands firm and allows for a natural roll. That's fine for a non-Jew's suit, but for a Jewish-worn suit he often substitutes thinner, yet adequately stiff, cotton lining that does the job just as well. On the underside of the unfinished collars I marvel at the remarkably precise stitching, applied in a herringbone design and perfectly aligned. I couldn't do that with a pencil, much less a needle and thread.
With today's technology, why go back to sewing by hand? Tiefenbrun argues that his craft is nothing new, but rather a return to tradition. "In the old days you only owned a few garments. They were pricey, you had to save up for them, but in return, you got a beautiful, durable product." These garments would be worn for years and years and were classically styled; they never went out of fashion. "I make the clothing the same way that tailors have sewn clothing for generations."
The current era is one of disposability. We have a throw-away mentality and move quickly from one product to the next. Tiefenbrun eschews this mindset. "We don't know where our garments were made, who made them, or their conditions of labor," he says. "Were the workers paid decent wages? What happened to all the waste from the process?" He feels the trend is turning, and consumers are becoming more mindful. "People are going back to having less but having better. They are willing to buy less, but spend more."  In fact, when a new customer arrives in his shop and is drawn towards a more daring style, Tiefenbrun often advises that he rein himself in and order something that will stand the test of time. "Buy pieces that reflect your personal style," Tiefenbrun advises. "That you will always love. It will never go out of style and will always be special to you."
Sometimes Tiefenbrun's customers will provide their own fabric of choice, but if not, he sources his fabrics from famous European mills including Scabal, Dormeuil, Caccioppoli, and Holland & Sherry, among others.
A Stitch in Time
There are not many New York dry cleaners that Tiefenbrun would recommend, claiming that their use of harsh chemicals and uncalibrated heat in the washing and ironing process can ruin the fabric. "A good suit shouldn't be cleaned often; to better keep its shape and form it has to be handled with care." Tiefenbrun recommends that suits be aired out and hung in order to stay fresh. Avoid wire hangers and use a proper hanger that supports the shoulders and doesn't let the suit sag.
When traveling by plane or car, he recommends using a suit bag to avoid crumpling. Tiefenbrun refers to Berachos (62b) where it says that a person should treat his clothes with great respect. Because I have several suit-wearing adult sons who have been known to work up a sweat on a wedding dance floor, I challenged his premise of avoiding dry cleaning. He conceded reluctantly it is sometimes appropriate — "for off-the-rack suits… and in those cases…"
What happens when a customer comes in with a less-than-perfect build? Can a good suit save the day? Tiefenbrun responds with an emphatic "Yes!" Looking good in a suit is all about the cut and the fabric. He insists that an expertly tailored suit can make anybody look good, no matter how well or poorly he is built. "It's all about balance. I look at the person's form, shape, and configuration. After the first fitting, I see how the fabric drapes on his body. Everyone is built differently, and no one's body is equally proportioned. A man's shoulders could drop differently or slope unevenly. His back could be round, flat, or hollow. His posture could be leaning forward or otherwise." Tiefenbrun takes everything into account with the goal of achieving balance. "You are trying to mold a two-dimensional item, the fabric, onto a three-dimensional entity, the body. Ultimately, you want the garment to flow in harmony with the body." In an ill-cut suit, the body's flaws are enhanced, but a well-cut suit flows and fits and looks natural. Ready-to-wear may look good at a glance, Tiefenbrun asserts, "but the balance is off."
It seems that the concept of balance has even more complex associations with men's clothing than one would think. Tiefenbrun explains that traditionally, a gentleman's sword was always worn on the left side, so that it could be drawn with the right hand. If a jacket was buttoned right over left, the handle of the sword would be likely to catch in the jacket opening when drawn. So wearing right over left came to symbolize that a man was bearing no weapons. On a loftier note, Chazal explain that the right side should always take precedence over the left, because the right signifies chesed, while the left signifies gevurah.
Despite the fact that this craft demands skill and an artistic eye, is it justified to spend such princely sums for a jacket, shirt, or suit? Tiefenbrun quotes Shabbos (113a) where the Amora, Rabi Yochanan, calls his clothing "my honor." He strongly believes that clothing has inherent value. "In proper clothing a person feels better, is comfortable, and feels empowered and confident. It helps a person do what he has to do. Clothing can take you a long way." When Tiefenbrun creates a one-of-a-kind piece for a client, he has a vision in mind. When that customer wears a Tiefenbrun suit, he wants them to feel confident, in control, and unstoppable.
"It all comes down to what a person values."
Tiefenbrun acknowledges that the fashion industry is notoriously challenging for a frum person. In response to that challenge, he focuses on craftsmanship rather than fashion. "My business is not about what's in fashion. It is about creating a quality product that is unique, beautiful, and timeless."  Still, he feels that there is an important takeaway from his success in this unusual field. "I work in a very physical industry. Yet I am a religious chassid. I think that one's passion and one's Yiddishkeit can work hand in hand."
Having weathered an atypical journey to reach success, Tiefenbrun cites his pride in his Yiddishkeit as the factor that made the difference. "I worked in Savile Row and in Singapore with my kippah and my beard, taking off for Yamim Tovim and fasting on Tisha B'Av — always explaining and not apologizing. I never felt I had to give in or fit in, and I have always been proud of my Yiddishkeit. When others see that you respect yourself, then you earn their respect. You can be great at anything, just keep you personal intergity."
(Originally featured in Mishpacha, Issue 782)
Oops! We could not locate your form.
>