| Family First Feature |
If Need Be  
| April 5, 2022
      

Decades ago, their grandparents looked death in the eye, survived, and built families. Today, these women are doing all they can to help Ukrainian refugees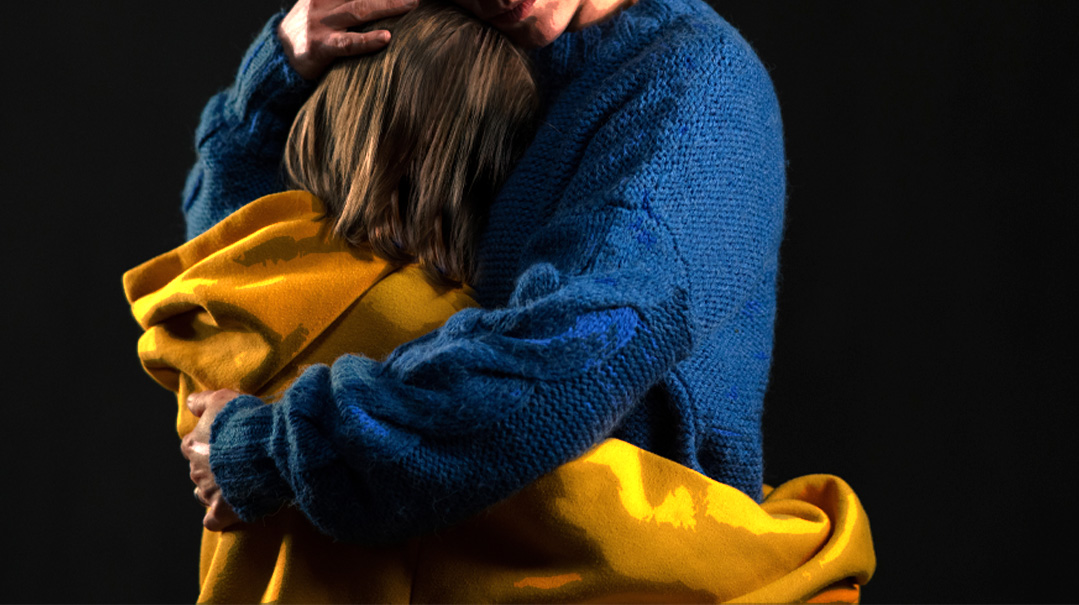 Royal Welcome
Elisheva Luger
W
alking into Keter, a new "shop" in central Jerusalem, I see it's buzzing. Women are inspecting the wares and selecting items from well-stocked racks and bins, while polite and helpful saleswomen hover nearby. There's no cash register, because everything in the store is free, and the saleswomen are all volunteers, eager to help the "shoppers"— all refugees who have recently escaped war-torn Ukraine — get whatever they need to rebuild their lives and start anew.
This one-of-a-kind pop-up shop is stocked with anything the recent refugees might need: clothing, shoes, toiletries, medication, toys. Over 400 people have volunteered so far, helping  to locate items for donations, transporting them to the pop-up shop or directly to hotels, where the refugees are staying. Keter has also received numerous humanitarian requests for dental emergencies, medical care, and even bashful requests to help throw a birthday party for a small child.
In the shop, I see men and women enter hesitantly, and leave with full arms and visibly lighter emotional loads; I see children's faces light up, delighted to receive new toys of their own.
The refugees can come to the pop-up store and "shop" in a dignified manner, or even have a volunteer act as a personal shopper for them and then bring the items to their hotel room.
"We're very determined that the help is given in a dignified way, which is why we called our initiative Keter — crown. We want the refugees to receive what they need with their dignity intact," says Kelly Brin, the organization's founder. "Local store owners have approached me and said they can't believe the difference on the faces of the refugees when they first walk in and when they see them on the way out. They come full of despair and broken-hearted, but they leave with a lighter step, some hope, and a smile."
The initiative, staffed entirely by volunteers, does its best to maintain normalcy for its "customers." The pop-up shop even stocks makeup for the new refugees. "We've had several women ask if we by any chance had any mascara —after their intense and grueling journey, they feel inhumane," Kelly shares. "They just want to feel like women."
Melissa Sussman, an olah from Efrat who helped Kelly launch the shop, recalls seeing a woman browsing the shop, tears in her eyes. Melissa tried helping her find what she needed, and then, as the two women communicated with broken English and some hand gestures, Melissa asked the woman if she could hug her. The two women embraced, and Melissa — herself the descendant of Holocaust survivors — felt the powerful connection of a shared history of persecution and refuge.

Survival at the Root
The impetus to found Keter was deeply rooted in this shared history. Embedded in Kelly's upbringing are tales of the strong women she hails from. Her maternal grandmother was a Holocaust survivor who sang to the other women in her barracks in Auschwitz in order to cheer them up. She had a job in the kitchen, and would try to steal food for others, hiding jelly under her arms to sneak to the women who so desperately needed it. When she was caught, she was publicly whipped, her clothing taken, and she was then forced to walk around the camps wearing a sign that read, "This is what happens when you steal from a German."
After liberation, she met the man who would become her husband in a DP camp. The couple traveled to Ukraine, where they found themselves trapped behind the Iron Curtain, unable to get permits to leave. After 20 years, they received a letter informing them that they could leave the country: they had one week and one suitcase. A week later, they were on the shores of Tel Aviv, suitcase in tow.
Kelly's father is a ger tzedek. Her paternal grandmother, a righteous Polish gentile,  hid numerous Jews during the war, risking her life to save them.
Kelly grew up with a strong awareness of her family history — which planted the seeds for her decision to launch Keter. She volunteered to drive supplies to Ukrainian refugees, then realized that with so many refugees in Jerusalem hotels, there was a need for a local source of supplies and aid. She was determined to provide all that and more.
Kelly's husband Chanan is also an enthusiastic supporter of Keter. "The more I got involved, the more I couldn't not get involved," he says. "When you see the people come into the shop, and you see how desperate they are, for some clothes, for a smile, just some help, and you see what a difference this place is making… How could anyone not want to be a part of this?"
Melissa also felt impelled by her family background. A few nights after Russia invaded Ukraine, Melissa's grandmother, Emma Rubin, who had been in Auschwitz, appeared to her in a dream. She looked her dead in the eye: "You must help the refugees from Ukraine."
That was when her friend Kelly called, and asked Melissa to help her get the word out about the initiative. Within days, three more women had joined the team:  Rachel Waldman, Pessie Wieder, and Talia Kaplan. The women, all third-generation survivors, feel connected due to their own refugee backgrounds, and feel privileged be in the position to help other refugees.
"How could I not help?" asks Rachel. "Having family who escaped from war-torn countries and recognizing the trauma that refugees are experiencing… I had to get involved."
Pessie agrees. "I'm a third-generation survivor of refugees, and it's my duty to use the gift of my country for the purpose it was gifted to me."
The group reached out to Rabbi Yossi Friedman, the Chabad Rabbi of Kiryat Haleum, who offered them the use of an empty storefront, and so Keter was born. The women learned that the most pressing need was basic humanitarian supplies, but they were determined to provide a lot more.
While most of the refugees were financially comfortable — many still have equity in Ukraine — they cannot access any of their resources, so Keter must constantly resupply and restock everything they have. A bottle of shampoo or antacid medication only lasts for so long. The women hope to provide aid for six months to a year — enough time to ensure the refugees get settled in and are truly on their feet.
With Pesach quickly approaching, Keter is focused on "Operation Suitcase," in which they urge families coming to Israel to bring a suitcase of supplies for the pop-up shop. "Jews in Israel will soon exhaust themselves as to how much they can donate, so we're turning to American Jewry to get involved and pitch in," says Pessie.
As I exited the store, an older woman with perfectly coiffed sheitel and pearls was walking towards the shop, clutching a bag of clothing. "Are you donating that?" I asked. When she confirmed that she was, I asked her what made her decide to get involved.
"Mameleh," she said in a thick Hungarian accent, "we just finished reading the Megillah where we heard Mordechai ask Esther, 'U'mi yodaiya im l'eis kazos — who knows if it is not for this that you became queen?'" The woman picked a piece of lint off my sweater (because, well, Hungarian). "Who knows why I survived and was zocheh to live here? Maybe this is my moment."
To Life!
Joelle Spinner
ON
my lap is a list, pages and pages long, of people hunkered down in Lviv —and the vital medicines they need to survive:
P.R.: Chronic obstructive pulmonary disease (Anoro Ellipta and 4 inhalers)
A.N.: Cancer (Avastin, 600 mg, 100 tablets)
S.V.: Brain aneurysm (Keppra, 6 packages)
T.M.: Migraines (Sumatriptan)
I'm driving a Renault Kangoo as fast as I can to the Polish town of Narol, near the border of Ukraine. Plugged into the cigarette lighter and squeezed in between the two seats, a fridge hums loudly and makes switching gears difficult, but it's keeping the vital medicine cold.
In the trunk there are hundreds of cans of tuna, pasta, infusions, and syringes. The supplies were paid for by donations from all over the world, but they were gathered in Berlin. It was in Berlin, 80 years ago, where war erupted and spread all over Europe, inflicting death from the West to the East.
And it's in Berlin where I've been living for the past 22 years with my family, rebuilding a Jewish life. The irony is not lost on me; it makes my head spin.
I'm a Swiss Jew, who grew up in peace and safety, whose grandfather was in Auschwitz, whose grandmother was a hidden child in Budapest, whose great-grandfather was from Lviv, and whose father-in-law was liberated by the Russians in the Czernowitz Ghetto in March of 1944.
And here I am, in March of 2022, exactly 78 years later, with this suitcase of history jammed in my head, trying to bring life from the West to the East, from Berlin to the people in Lviv. From where death came to where death is found today.
As my friend and I pass Krakow and enter what was once called Galicia, it's my turn to take the passenger seat. I look out the window and see one town after another passing by. I look them up online.
There's Tarnów, once home to 25,000 Jews until World War II, a population with roots back to the 15th century. We pass Debiça, where the Jews first arrived in 1293. During World War II, the Germans created a ghetto there before eventually killing most of the Jews, either on the spot or in Auschwitz. In the forested hills south of the town, strong Polish underground forces operated. As we drive past the forest, I wonder what these trees have seen.
It's nearing midnight, and we miss our exit for the town of Narol. We end up in Jaroslaw. We stop and snap some pictures of the synagogue. It was here that Jews first arrived in the 15th century, and it was here they established a self-governing body, the Vaad Arba Aratzos, the Council of Four Lands. It's too much, too much history, so much life, so much death.
We go on to Narol and meet our contact, Tadeusz. We park the car, plug in the fridge with the medicine, and fall into an exhausted sleep in the home of Tadeusz's friends. Tomorrow, Tadeusz will pass the supplies to a courier who will cross the border and, we hope, manage to deliver it to the Jewish community in Lviv.
Before we drive back to Berlin, I look at the map again. Belzec, the third-deadliest extermination camp built by the Germans, is a ten-minute drive away. More than 400,000 Jews were killed, maybe as many as 500,000. Only seven survived.
Again, it's too much to grasp. For hundreds of years, these towns were teeming with Jewish life. But these are no longer hometowns to Jews. And here we are again, in the midst of a devastating war. The people in Lviv wait for their medicine, many of them refugees from Kyiv, Kharkiv, Odessa. Four weeks ago, they had a home, and now they do not.
This trip to the border and back only took 34 hours, but it feels like it's been a lifetime. On the road back to Berlin, I'm lost in thought. Here is what I know:
We Jews can't hold on to much. We're often forced to let go of our homes and birthplaces. We must be willing to live in places that were off-limits yesterday. But one thing we hold on to and bring with us wherever we go: our great appreciation for life. No matter how difficult the journey through yesterday's landscapes of death, and the irony of delivering life to Jews in Galicia from Berlin, that is what we do, traveling through lifetimes to save one life at a time.
Joelle Spinner lives with her husband and three daughters in Berlin. With the support of the Ronald S. Lauder Foundation, the Spinners have been part of a group of activists and educators who have built a Torah community in Berlin with over 450 members, many from the former Soviet Union and Ukraine.
This article originally appeared on March 25 in The Scroll.
(Originally featured in Family First, Issue 788)
Oops! We could not locate your form.
>