| FamilyTable Feature |
How to Make Vinegar and Brown Sugar
| March 10, 2021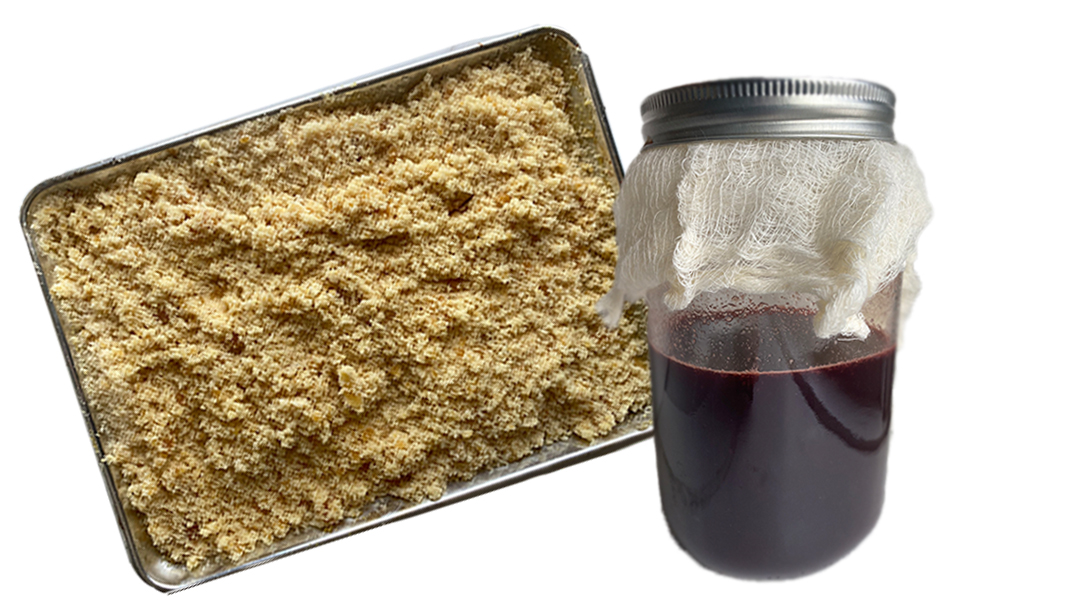 Alternatively, we can jokingly call this article "More Work for You, But Really It Takes Just a Few Minutes" — and the result opens options for you if you're working with a very limited arsenal. I am guilty of making mountains outof molehills when it comes to Pesach prep. Let me put this in a public forum: I am more than okay with roast chicken with salt and pepper, simple potatoes with the same S and P, and a simple salad on the side. Yes, for every meal; yes, for eight days straight. (Ma, that was for you.) But sometimes I want to pretend my Pesach kitchen is a science lab, and I experiment with all the things I can make using the limited ingredients that my family eats on Pesach. Last year it was homemade spices, the year before it was beef jerky and sundried tomatoes, and before that it was homemade ketchup and jams. This year's experiment is homemade vinegar to use in dressings and to season chicken, along with homemade brown sugar, so that we have more ways to get that beloved Ashkenazi flavor profile in.
Brown Sugar
Unless you can use molasses or maple syrup, you can't really mimic the flavor of brown sugar, but you can try to get close. Essentially what we're doing here is toasting sugar to get some of the caramel flavor and nuttiness of brown sugar.
YOU WILL NEED:
4 lb (1.8 kg) sugar
9x13-inch (20x30-cm) glass or ceramic dish (see note), or a metal baking sheet
You have two toasting options:
Pour the sugar into a glass or ceramic dish and bake it at 300°F(150°C) for 5–6 hours, tossing it every hour, making sure to get the sugar from the edges into the center. You want to make sure to release the steam so it doesn't start to caramelize. You can toast the sugar for a shorter amount of time, but the result won't be as golden.
Pour the sugar onto a metal baking sheet and bake it at 350°F(175°C) for one hour, tossing periodically, especially looking out for the edges.
Note: Do not use an aluminum foil pan. This will cause the sugar to caramelize too quickly.
Red Wine Vinegar
In order to make vinegar, you need to create a "mother." For sour dough bakers out there, this can be closely compared to a starter. It's basically the source of bacteria that gives life to a food in order to ferment it. The mother is a gelatinous substance that appears as a film on top of the vinegar.
YOU WILL NEED:
6 lemons
½ 750-ml bottle red wine
glass jar
cheesecloth, muslin, or other highly breathable cloth
Squeeze 6 lemons for a total of 1 cup lemon juice. Pour into a sauce pan and bring to a low simmer. Simmer for 10–15 minutes, then add the wine. Remove from heat. Run the mixture through a fine sieve. Transfer the liquid to the jar. Replace the metal cover with a cloth cover (so that as much oxygen enters the jar as possible), and let it sit for 2–4 weeks. Once the mother is fully established, you can refill the vinegar in the jar forever, by adding more wine as it runs low
Note: Fermenting does not like metal at all. Try to avoid using any metal bowls or spoons (aside from the pot itself) throughout this process.
(Originally featured in Family Table, Issue 734)
Oops! We could not locate your form.
>