| 2.0 |
How Technology is Revolutionizing the Dental Industry
| August 6, 2019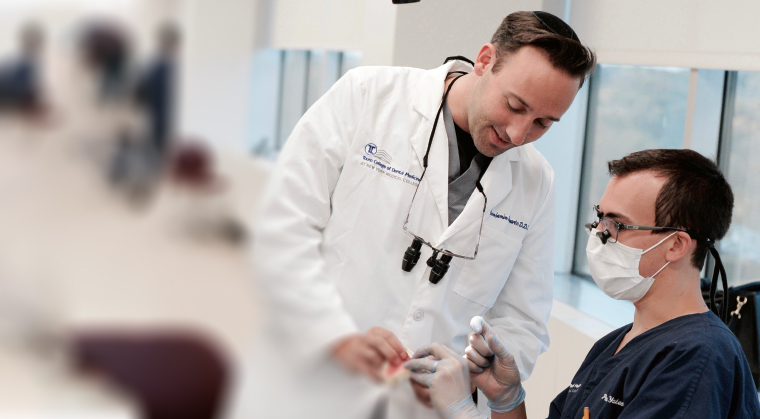 Yael Dorfman with TOURO COLLEGE OF DENTAL MEDICINE
A
visit to the dentist is a chore at best, a nightmare at worst. The scraping, the drilling, the discomfort of keeping your jaw wide open while attempting to answer the hygienist's small talk — all these make things unpleasant… and the irritation level skyrockets with the need for any additional work. It's no wonder that approximately 15 percent of Americans avoid going to the dentist at all. But don't cancel that next appointment just yet — like countless industries today, dentistry has received a digital facelift that's modernized the conventional visit.
Thanks to innovations in software and equipment, dental work is more accurate, more streamlined, and, most importantly, more comfortable. "In the last decade, technology has dramatically improved dental practice," states Dr. Edward Farkas, vice dean and chairman of dentistry at the recently established Touro College of Dental Medicine. "Digital dentistry equipment has revolutionized standard procedures including implants, orthodontia, and crowns. With a simple scan, we are able to treat patients with a virtually nonexistent margin of error, in a shorter amount of time, and with greater comfort and precision."
TECHNOLOGICAL ADVANCEMENT
The capabilities of new and emerging dental technology are staggering, and they're equally helping patients and dentists when it comes to implants, crowns, and dentures. What once was a gag-inducing and often painful affair is now completely transformed. "Even the most skilled dentists and lab technicians are naturally not infallible, and even tiny distortions in the impression can lead to improper fit and discomfort," says Dr. Farkas.

With digital dentistry — and specifically the usage of computer-aided design and computer-aided manufacture (CAD and CAM) — the experience is entirely transformed. The patient's mouth is scanned using an intraoral scanner or camera (no need to open wide), the apparatus is 3-D printed and inserted, and the satisfied customer leaves the office with an intact (and genuine) smile.
These tools are designed to improve the efficiency and workflow of dental offices while providing patients with minimally invasive, precise, and even pleasant treatment. More importantly, dental innovation includes highly sensitive screening devices for early detection of cavities and oral cancer, and other futuristic developments in biomaterials (such as organic prostheses that can be completely accepted by the body) and robotics (the first robot for oral implant surgery was approved by the FDA in 2017).
TECH-SAVVY DENTISTS
Even virtual reality has a place in dentistry — it's used to train dental students with realistic, hands-on software and equipment. "Students today are digital natives who are extremely comfortable with technology," explains Dr. Alan Jurim, director of digital dentistry at Touro. "We've developed a digital ecosystem so that students and faculty have access to these tools anywhere on campus." Due to the rapid pace of progress in the tech world, established dentists — and dental schools — struggle to keep up.
"Many schools are scrambling to update their technology, and they need to train their instructors first," Dr. Farkas adds. "Our students have access to the latest tech, as well as a curriculum designed and delivered by professors who are experts in digital dentistry." Touro's brand-new, 100,000- square-foot (9,290-sq-m) dental school is fully equipped with sophisticated dental and informational technology; it's the first institution to utilize the available technology in a large-scale classroom setting rather than dentists' offices. The state-of-the-art simulation lab is furnished with 113 seats, each of which features a lifelike, high-tech "patient" mannequin in a chair, with all the lighting, drills, and other equipment, as well as a computer station with dynamic software.
Once the students progress to the clinical years of dental school, they will begin to practice on live patients in the integrated Touro Dental Health, a fully operational 81-chair practice, with expansion plans slated for completion this summer. Beginning in June, thirdand fourth-year dental students will provide excellent dental care in teams of two, using the latest techniques and technology under the attentive supervision of veteran dentists. Every dental specialty, from orthodontics to oral surgery, is available to patients at significantly reduced prices.
A FRUM-FRIENDLY CAREER PATH
For several consecutive years, dentistry and orthodontics were named "best job in America" in U.S. News & World Report's annual rankings; in 2018, they were edged out only by software developers. Both industries continue to rank in the top 10 of the country's best healthcare, best STEM, and best-paying careers, determined by several factors such as salary, stress level, work/life balance, employment rate, upward mobility, and job satisfaction. The Bureau of Labor Statistics projects 19.4 percent employment growth for dentists between 2016 and 2026, with an estimated 25,700 jobs to be added in that time period.
To the average student, dentistry is an excellent career choice; to those living a Torah lifestyle, it becomes even more enticing.
Dentists typically enjoy the benefits of a career in healthcare — satisfaction derived from helping others, intellectual stimulation, sufficient income to support a family in a Jewish environment — with the added advantages of a family-friendly predictable schedule, abundant job opportunities, and fewer years of schooling. It's even an aliyah-friendly career path for those inclined; English-speaking dentists are in high demand by Anglo populations in Israel (though they are required to take licensing exams in Israel). "The faculty at Touro includes young, shomer Shabbos dentists — male and female — who serve as both teachers and mentors to us," says Betzalel Krasnow, a first-year student at Touro College of Dental Medicine. "With daily minyanim, weekly shiurim, and an eiruv, the faculty goes above and beyond to ensure that we have everything we need — both scholastically and spiritually.
(Originally featured in 2.0 Issue 3)
>