| Kitchen Encounters |
How does your garden grow?
| December 16, 2020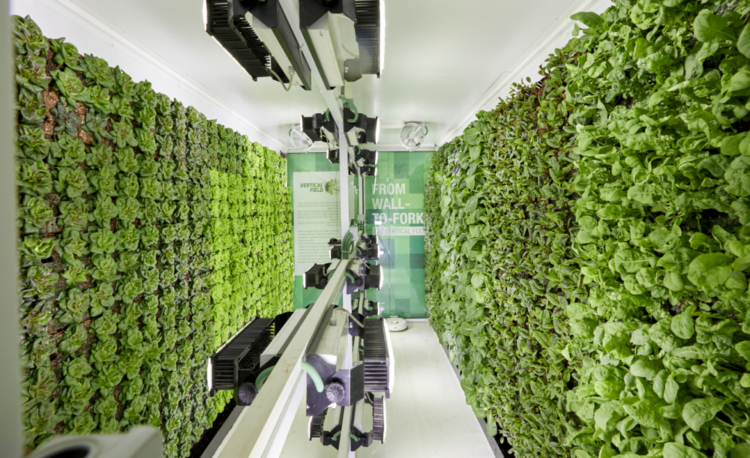 What if you could take a tried-and-true concept, one that's been practiced for centuries and kept civilizations alive, and turn it around completely, so that nothing is as it was, and a complete paradigm shift is required to adjust to the new reality?
The brilliant minds behind the VerticalField concept, which originated in Raanana, Israel, have done just that. They've taken the concept of field farming and literally flipped it on its head. You no longer need to own a large — or even small — plot of land to be able to plant and grow crops. All it takes is a wall, or space for a pod — a 20- or 40-foot self-enclosed farm that has all the technology built into it to grow hundreds of crop varieties.
A Vertical Farm was installed at Evergreen Kosher Market in Monsey, New York, this past summer, delighting customers with the stunning visual of walls of herbs and greens. Glass walls enable shoppers to peer into the sterile environment and watch their greens grow, aided by precise LED lights that provide the perfect blend of intensity and color to yield the best output using minimum electricity. Irrigation, fertilization, and temperature systems are controlled via a sophisticated app, enabling the garden to continue to yield crops even through the brutally cold days of a northern winter, and without the need for a trained horticulturist on staff. And happy customers walk out with freshly picked herbs and greens that are about to take the first road trip of their lives.
Why Go Vertical?
The benefits of vertical gardening are numerous. In crowded cities amongst the urban sprawl, these green walls are a breath of fresh air when you need it most. In neighborhood grocery stores, the self-contained gardens give new meaning to "locally sourced," grown within a few hundred feet of your supermarket's cash register — and picked and placed in your shopping cart hours, or minutes, later!
The irrigation technology utilized in VerticalField uses 90 percent less water than traditional gardening, and plants have a shorter growing cycle and a longer shelf life. The quality is consistent, since the environment is carefully controlled, and plants are in season whenever you want them to be — regardless of climate or geography. And here's the clincher — all the company's greens are Star-K certified, so no checking is required.
As VerticalField expands to more retailers, restaurants, and other facilities, there will be less of a need to truck produce hundreds or thousands of miles across the country, eliminating the emissions that come from the vehicles doing that transporting, as well as the exposure to more handlers. The produce grown in Vertical Farms is pesticide free, eliminating chemical exposure for the garden workers and those who consume the fresh produce.
Bringing the Farm to the City
VerticalField has delivered their incredible technology to Fortune 500 companies around the globe — including Facebook, Intel, Apple, Isrotel, Microsoft, and others. This demonstrates a solid trend in recent years of businesses and institutions investing in tangible projects that "give back," promote sustainability, and — if we're being totally honest — reflect well on their founders.
VerticalField and Vertical Farms check off all those goals and then some. In the 14 years since it began installing active living walls, VerticalField has worked on over 500 projects that enhance human well-being and environmental conditions. The company has collaborated in urban planning, smart cities, building preservation, construction, interior design, and more recently, bringing the Vertical Farms to grocery stores to provide smart solutions to age-old problems.
The technology behind container gardening isn't new, and hydroponic (water-based) gardening systems have been around for a while. VerticalField improves on that model by using a geoponic growing method, which is 100-percent soil-based. Advantages of growing geoponically are lower costs, less maintenance, longer shelf life, and a more diverse crop range. Most importantly, it keeps plants in their original environment — soil — utilizing nutrients and minerals in their natural form.
The dichotomy created by dropping down a thriving, healthy soil-based farm in the middle of a concrete parking lot is something anyone can appreciate. City living has its benefits, to be sure, but bringing the farm to the city is a reminder that there's a different way of life, where you wait patiently for your crops to grow and then you take the time to turn those fresh, locally grown greens and herbs into mouth-watering, comforting, and nutritious home-cooked meals.
No Farmers Needed Here
VerticalField can be operated by anyone, regardless of farming or gardening experience. An intuitive app monitors all the plants' vital signs, and sensors and complex algorithms take care of the rest. The fields currently grow up to two hundred different crops, including leafy greens, herbs, and a variety of lettuces.
The Vertical Farm at Evergreen is growing the wildly popular kale, along with several varieties of basil and sage, dill, parsley, and cilantro, with plans to add mushrooms and berries in the near future.
While this crop list may seem small, it includes some of the world's superfoods — the most nutrient-dense foods available to man — namely, leafy greens, mushrooms, and berries, which were chosen as Evergreen's first crops.
The Faces Behind the Walls
VerticalField is managed and operated by some of the most brilliant minds in the fields of agriculture, technology, and the kosher industry — and we'll introduce you to a few of them. Guy Elitzur, CEO, previously served as CEO of STK Bio-ag Technologies, leading an expansion and the fundraising of $90 million. Eli Segal, the director of technology, held leading developmental positions in the Israeli defense industry, as well as at startups like Seedo, an agro-tech company. Tamar Brener, director of operations, built and managed the operations of Nespresso Israel as VP of Supply Chain and Procurement. Meggie Abecasis established a business community for the landscape design industry, and developed events and exhibitions in the lifestyle and design industries.
But the most intriguing by far is Hila Bar, research manager, who has 15 years' experience in management, ethics, and overseeing studies from a phenomenological perspective. Look that up in the dictionary, and you'll learn that it "relates to the science of phenomena as distinct from that of the nature of being." Fits perfectly when you think about the phenomenon of a vertical garden — it counters everything we know to be true in nature and science.
Marketing in the US is handled by Menachem Lubinsky and his team at Lubicom Marketing. As the founder of Kosherfest and publishing founder of Kosher Today, Menachem is perfectly suited to bring this exciting concept to kosher establishments around the country.
A Peek into the Future
If you're as intrigued as I am and wondering when these Vertical Farms will be ready for installation in a home near you, you'll have to be patient. The model created by VerticalFields is designed for businesses, and it may be years before a home-based model hits the market. When you delve into the incredible technology and research that went into the planning of these flipped fields and farms, it's no surprise that you can't order your own version on Amazon yet.
But good things come to those who wait, and with the sharpest agricultural and technological minds working constantly on creating solutions — it's anyone's guess what they'll think of next.
(Originally featured in Family Table, Issue 722)
Oops! We could not locate your form.
>