| True Account |
Healing Heart  
| October 18, 2022
 

 From where does a man fighting for his life muster up the will to help another cling to life?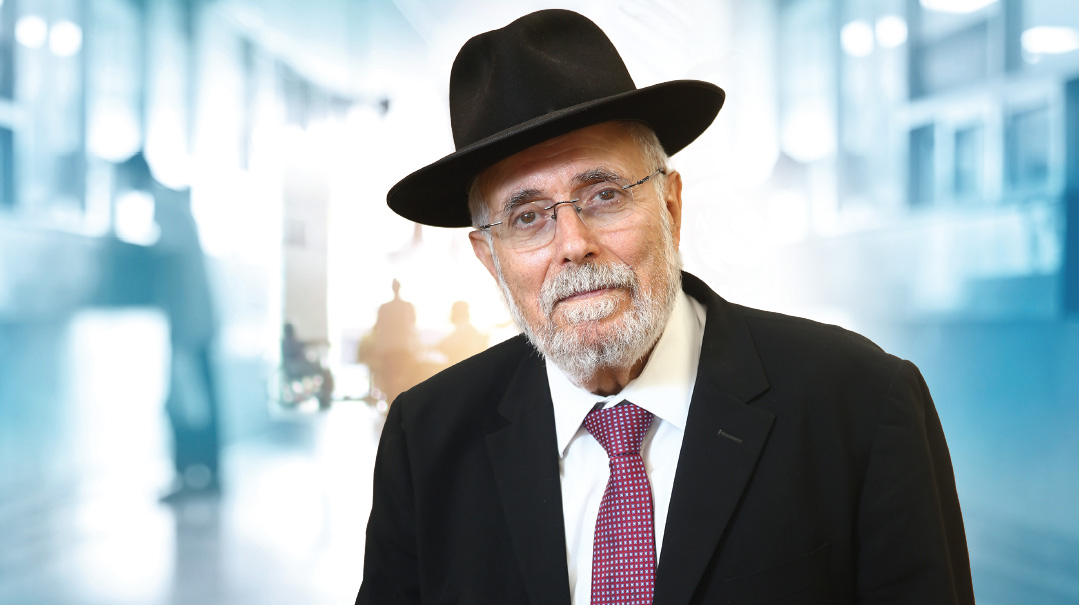 Photos: Elchanan Kotler
IT was March 2020, just weeks before Pesach, when Rabbi Shlomo Ellituv started feeling under the weather. He had retired recently from the Manchester rabbinate and returned to his native Israel only two months prior when he was struck ill.
"No one could tell us what it was, so we treated it like a flu," Rebbetzin Rivka Ellituv recalls. "We assumed we could treat it at home. We gave him antibiotics. They didn't help. His breathing worsened, and we brought in an oxygen concentrator from Yad Sarah. Finally, his lips turned blue, and I got scared.
" 'Shlomo, this isn't okay!' I told him. 'We're getting you to the hospital!' "
At Shaare Zedek, Rabbi Ellituv joined approximately 120 others fighting for their lives in the hospital's three coronavirus wards, victims of the virus's first and deadliest wave.
A CT scan revealed clotting in his lungs, and the doctors administered blood thinners. He was placed in a four-person room, feeble and immobile, a transparent reservoir face mask directing a high-oxygen flow to his desperate lungs.
Within 24 hours, Rabbi Ellituv's oxygen levels had improved, and a nasal cannula replaced the mask. After three days, he was strong enough to use his cellphone, and after three more, he could leave his bed.
One morning, a nurse's voice jarred him awake. "Mr. Klein, you must drink," she urged another patient in the room. "Take some water, please!"
"No! No!" the man rasped, moving his head from side to side to evade the cup and straw in her hand.
Mr. Klein was putting up a persistent fight because he had lost the will to live. He had surrendered to the virus, refusing all food, hydration, and bloodwork to embrace what he perceived as the inevitable, fast-approaching end. Here, severed from family in this guarded ward, surrounded by staff in ghoulish white bodysuits and face shields, he'd decided he would die. His 74 years had been enough. He had reached the end. Why wouldn't they let him leave?
"Excuse me," Rabbi Ellituv called softly to the nurse. "I'll take care of Mr. Klein."
The woman turned on her heels in surprise and stared through her sterile gear at the patient speaking from across the room.
"What did you say?"
"I said I will be happy to take care of Mr. Klein. But I'll require a longer tube for my oxygen if I'm to reach him. I'm feeling stronger now."
"You'll require a longer tube," she mouthed, incredulous.
He nodded.
Cup and straw still in hand, she turned to consider Mr. Klein, who was staring blankly at the wall, content that another battle had been won. She gave a "first time for everything" shrug and left.
An extra-long oxygen tube was procured, and Rabbi Ellituv crossed the room to make a friend. Though initially resistant, Mr. Klein welcomed the companionship of this stranger who hardly seemed willing to die, who even dared laugh despite the pain to his lungs and ribs. When Mr. Klein mentioned offhandedly the desserts and drinks he missed, Rabbi Ellituv's daughter Michal was outside the hospital the next day with pastry and juice, and a nurse brought them to the room.
"The staff quickly understood that I could give Mr. Klein what they, of necessity, could not," Rabbi Ellituv relates. "A touch. An embrace. A measure of human grace. And most importantly, the assurance that he and I, together, would pull through."
From where does a man fighting for his life muster up the will to help another cling to life?
Rabbi Ellituv will tell you that the drive to surpass one's challenges and help others grapple with pain of their own comes from his mother, who raised seven children in Jerusalem's Old City and Katamon during the 1930s and '40s — and took in six polio-stricken children from the ALYN rehab hospital, to boot. He'll tell you that it also comes from his father, who, blind since he was child, required of his family a heightened sensitivity to another's unique needs. Whatever its origins, the desire to help and heal has compelled Rabbi Ellituv since youth.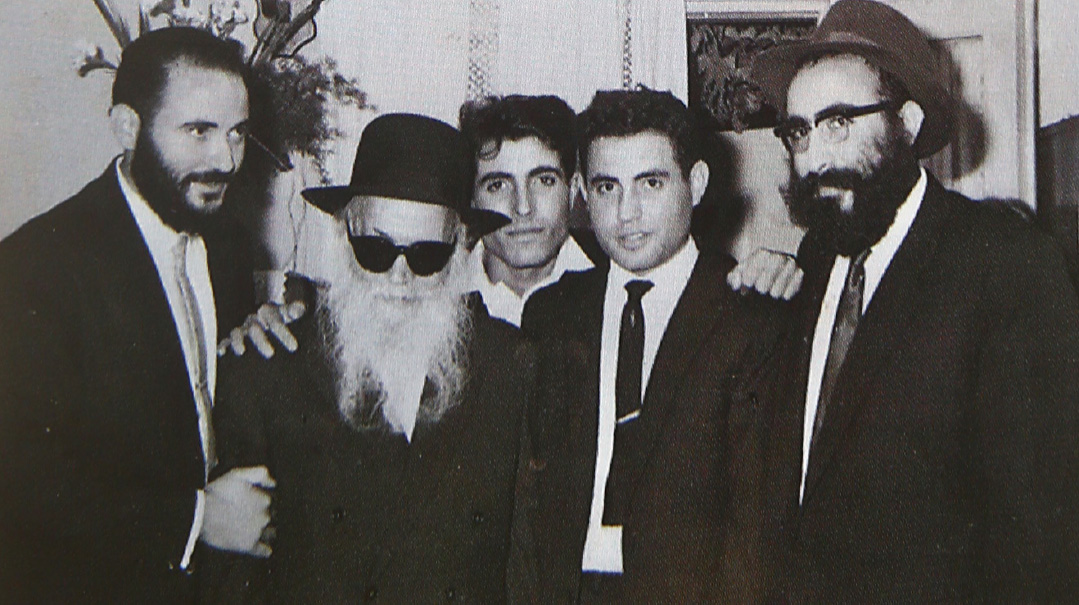 In 1975, at the age of 32, Shlomo Ellituv was finally engaged. Driving down Yerushalayim's Malchei Yisrael Street toward Kikar Shabbat, he felt a new and spirited focus on life. Wedding plans were unfolding. He and his long-sought kallah would settle in Rechavia, and he would continue in business. Everything was coming together.
As Shlomo neared the old Schneller military barracks, he saw that many cars had double-parked as new recruits were dropped off and wished well. However, he did not see the police bus heading toward the barracks from the opposite direction and crossing into his lane around a double-parked car. Before he could react, its great mass was already upon him, and the crash catapulted his tiny Volkswagen Golf past the guard post and into the military compound itself. He landed, and all was still.
Chaotic voices penetrated his metallic tomb. Instruments pried and tore. Hands, gentle and probing, were everywhere. He was extricated, taken by ambulance to Shaare Zedek, and then transferred to Hadassah Ein Kerem.
The bones of Shlomo's left leg were crushed from foot to hip, and his right leg was paralyzed. His damaged spleen required removal.
The first several months were painful and sleepless. One leg, full of metal rods and bone grafts, ached and throbbed as the many fractures healed. The other constantly prickled and stung as paralysis gradually ceded to regenerating nerves. Slowly, Shlomo regained mobility and could cover short distances on crutches. After eight months, he was transferred to a rehabilitation ward at Hadassah Har Hatzofim.
His rehab roommates were always young soldiers, 19- and 20-year-olds who had sustained injuries that upended their lives. Some couldn't handle their misfortune and sank into depression — and Shlomo couldn't bear it. Finding a private moment, he would counsel each one, and even others throughout the ward, in his mission to inspire dignity and ignite hope.
"I was about to get married before the accident," he would say. "She's waiting for me. That's what keeps me going. We all have initiatives and dreams, sometimes buried within. Discover yours, and don't let go!"
In his forays around the ward, Shlomo met the children of an elderly man who had suffered a stroke and now, though recovering, was beset with nighttime incontinence. Of all his post-stroke symptoms, this seemed the most persistent.
"Live with it," doctors seemed to communicate with their sympathetic nods and shrugs. "He's lucky to have regained as much as he has," they would assert.
"May I try and help?" Shlomo asked the man's children.
The suggestion seemed to them curious at first. Who was this patient, hobbling about in his hospital gown and leg braces, to propose aid? Yet offer he did, unabashed, as though such solicitation was a sickroom norm.
"I think I can help," Shlomo reiterated. "With your permission, may I try?"
"Of course," one of the sons said, his bemusement giving way to gratitude. "That would be wonderful."
Shlomo mentioned Mr. Levi's predicament to his roommates. "Let's bring him in with us," he suggested. "We do have an empty bed."
"No way, Shlomo," the soldiers protested. "That's disgusting. And anyway, we wouldn't have anything to say to such an old man."
"But I think I can do something. I have a plan. And you'll all share in the zechut."
They wanted no such zechut.
"Guys, this is an opportunity," he persisted. "Please help me help him."
Outmatched, they shrugged and acquiesced.
Mr. Levi moved in, and the first night, Shlomo woke him and took him to the bathroom. Every half hour, he got Mr. Levi out of bed and into the bathroom. After two weeks of toil, night after night, Mr. Levi could stay dry on his own.
"It's the same with babies," Rabbi Ellituv explains. "Why do they lie in their own diapered wetness? Because it's warm and comforting — until, of course, some irritation develops. I broke Mr. Levi's comfort."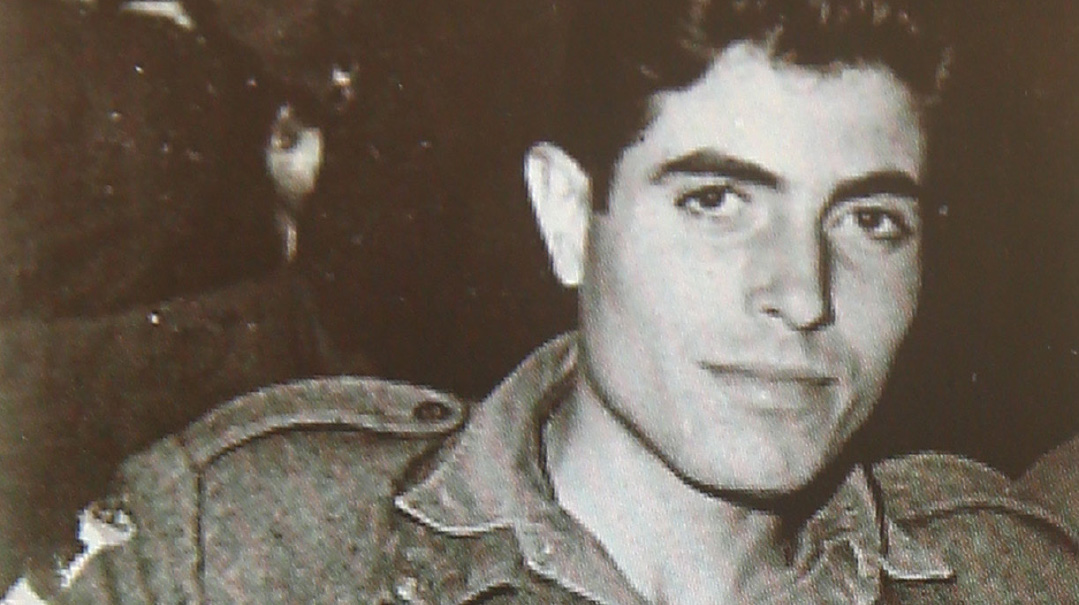 Shlomo Ellituv in younger years. At that point, he never dreamed he'd become a rabbi who would transform people's lives
After an 11-month hospitalization, Shlomo and his bride finally stood beneath the chuppah, with many in attendance whom family and friends didn't know — former patients he had pulled from despair, medical staff who had marveled at his resourcefulness, Mr. Levi's grateful family, and even the old man himself. Yet the life he and his new bride had envisioned — a business career and a home in Rechavia — did not unfold as planned.
A friend's sibling from England visited Israel in the hopes that Shlomo could help him find someone to serve as rabbi for his community in Manchester. Yet upon meeting Shlomo and sitting with him on a Motzaei Shabbos, the man felt his search was over.
"You know, you'd be perfect," he said. "You yourself should come."
A sense of mission quickly filled Shlomo, but his wife sensed mostly dread.
"My family has been in Israel for eight generations," she told her husband. "Now, I should leave?"
"This is our calling," he said. "Eit laasot laShem — It is a time to act for Hashem. We must go. We can go."
They soon found themselves rabbi and rebbetzin of Shaare Zedek Congregation in Manchester. Shlomo studied for semichah while officiating, but having been taught to lein and lead all the davening from a young age gave him solid footing from the start. A natural teacher, he trained boys for their bar mitzvah and tutored in cheder. A natural motivator, he took to the pulpit like a bird to the sky. As his English improved, the complexity of his derashot increased, but the stirring message in his eyes and tone were palpable from day one.
The United Kingdom's National Health Service assigns clerics from all religions to serve as chaplains in hospitals where they counsel members of their respective faiths. Understandably, some find this duty tangential to their primary congregational roles, perhaps even burdensome. Yet this is where Rabbi Shlomo Ellituv truly thrived. Here, Jewish souls needed nurturing, souls hidden among the gentile masses, and even from themselves.
"Rabbi Ellituv," a voice called out as he passed the nurses' station. "There's a woman in 272 who didn't specify religion on her admission form, but her name certainly seems Jewish. She's having a difficult time."
"I'll look in on her," Rabbi Ellituv said, and he headed for the room.
He knocked and entered. An old woman regarded him cautiously from the bed.
"Mrs. Cohen, I'm Rabbi Ellituv. I wonder if—"
"Stop right there!" she announced, holding up a frail hand. "I've no need of rabbis. I left that line blank for a reason. I'm a staunch atheist!"
"Terribly sorry," he said, backing out of the room. "I've made a mistake."
"You certainly have," she scoffed as the door shut.
Minutes passed, and there came another knock. Reb Shlomo poked in his head.
"Mrs. Cohen, I'm Mr. Ellituv. May I have a word?"
"Oh, thank G-d," the woman said. "Please come in."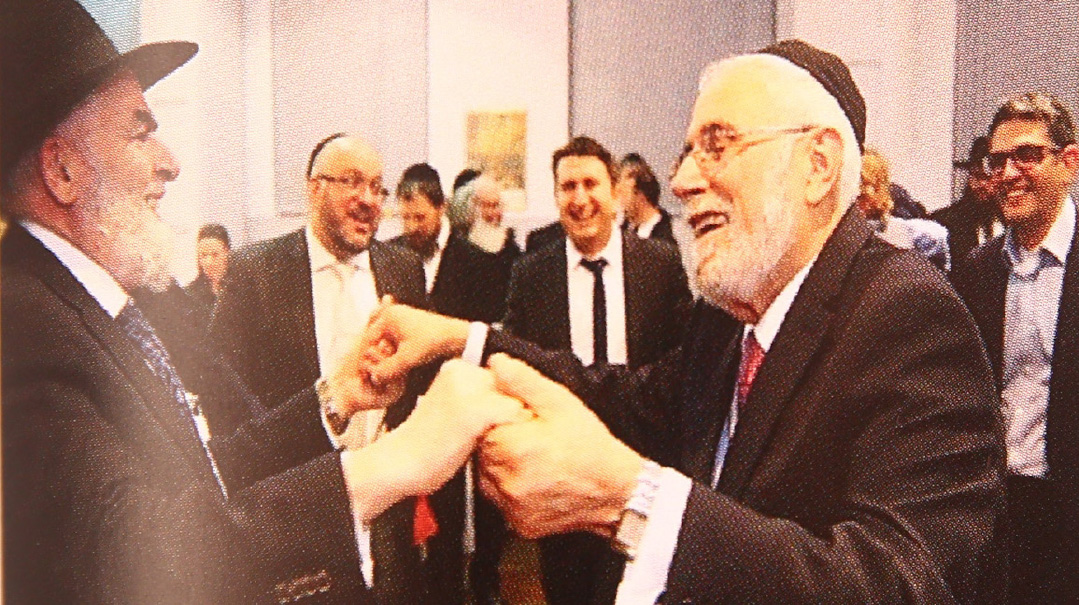 A formidable and persistent adversary throughout Rabbi Ellituv's four decades in Manchester was the medical community's zeal for postmortem examinations. In the mind of medicine, autopsies are essential to education: students dissect, explore, and practice on cadavers, and the more at their disposal, the better. In the mind of the Jew, autopsies are anathema. Generally, one must submit to the coroner's will when death is sudden or suspicious. Yet the UK medical system insists on postmortems in every scenario, even in cases of natural cause, and, as such, comes to blows with the Jew's inviolate sense of the body's enduring sanctity.
It was Sunday morning, and Rabbi Ellituv was teaching in cheder when he got the call that a Jewish patient had died. Failure to notify or locate certain personnel could lead to a postmortem. A strong, uncharitable fight — and it was the weekend, besides.
He drove to the hospital and located the deceased's general practitioner, who alone could issue a signed certificate of death. Had it been a weekday, Rabbi Ellituv would take the death certificate to the Town Hall Registrar's office to receive a certificate of burial; it being Sunday, however, he would have to travel to the registrar's home in North Manchester. Finally, he would return to the hospital, hearse in tow, and have the body released and transferred to a Jewish mortuary for taharah.
"Very well, then, Rabbi Ellituv," the doctor said, glancing at the cause of death on the patient's chart. "The secretary will call you once I've signed the death certificate."
That wasn't good, Rabbi Ellituv thought. It was Sunday, and this doctor was just a resident covering for the senior GP, who was off for the weekend. Anything could happen in the next several hours to result in that certificate still sitting in the office come Monday morning. The secretary might forget and never call. He himself, immersed in something else, might forget. And when the senior physician returned the next day to find that someone had died, he might glance at the signed certificate, question his underling's presumption, and send the body to postmortem on principle, the rabbi's precious document now rescinded.
I can't leave, he realized. I'll stay until I get what I came for.
"Wonderful! I'll wait right here," he said, smiling broadly.
"Now?" asked the doctor, allowing himself an incredulous chuckle.
"Yes, of course. I don't mind at all."
"But it's not ready, and I've patients to see. I thought that was abundantly clear. Pity on your time, Rabbi."
"I'll use my time well, Doctor," Reb Shlomo said, holding up a sefer. "I have a book with me, so I don't mind in the least. You finish your rounds, and I'll be here."
"Why, Rabbi Ellituv," the doctor crooned, suppressing disdain at being told what to do, "I simply won't have a man of your station waiting around for paperwork. I mean, really. It's just not how things are done. I'll make certain someone calls once I've signed the certificate."
Rabbi Ellituv gently touched the sleeve of the man's white coat and, breaking the flow of politesse, said, "Your being a good doctor does not compel me to be a bad rabbi. You do your job, and I'll do mine. Finish your rounds, and I'll sit here until I get my death certificate."
The doctor was taken aback, but then smiled in admission of defeat. Without a word, he slipped inside the nurse's station, filled out the form, and signed it.
"Here you are, Rabbi," he said, their dance of decorum now resumed.
"Why, thank you, Doctor."
And here, bold Jewish ingenuity saved lives.
Mr. Fine, well into his eighties, needed a pacemaker. And he needed it now. The problem was, however, that he wouldn't hear of it. His heart pitifully weak, he would constantly faint, dropping off midsentence into a fleeting oblivion.
His doctor implored him. Rabbi Ellituv pleaded with him. Soon, his heart would fail. Yet Mr. Fine refused. He had survived the Holocaust, he asserted, and had lost his parents and entire family. He would survive now, without a gadget implanted in his chest.
"May I borrow an ambulance?" Rabbi Ellituv asked the doctor outside Mr. Fine's room.
"May you what?"
"Borrow an ambulance. I'm taking Mr. Fine home."
"You're doing what?" the doctor asked, nearly shouting.
"Taking him home. This place is giving him a false sense of security."
"What place?" the doctor demanded.
"This place," Rabbi Ellituv said, gesturing around the ward. "You. The staff. All the machines. He feels safe here and assumes you'll always be able to save him. But you won't, and he hasn't much time left."
"Are you mad? You can't take Mr. Fine home. He'll die!"
"He'll die here in any event," Rabbi Ellituv said, holding the doctor's gaze in his own. "You know it."
He did know it. He'd seen it before. But that knowledge hardly helped him grasp the rabbi's reasoning.
"So you want to take him home… to accomplish what, exactly?"
"His wife is gone," Rabbi Ellituv said. "Once he's sitting in his quiet flat, all alone, he'll feel his weakness, and it will be overwhelming. I guarantee you he'll be back within the hour, begging for a pacemaker."
The doctor looked away, struggling within. Perhaps the British mind was uncomfortable thinking out of the box, but the rabbi seemed to shred the box altogether. How could he send a sick man home?
"Okay, I'll do it," he heard himself say.
The ambulance ride was short, and Mr. Fine was wheeled into his apartment. He and Rabbi Ellituv sat opposite one another in the cold, stale living room, the paramedics lingering nearby. Mr. Fine looked around his home. It all seemed so desolate and… unsafe. He was suddenly very afraid. He felt his chest, and a sense of dread washed over him.
"Rabbi Ellituv," he said. "I think I'm in need of a pacemaker."
"Do you really? When, would you say?"
"Immediately, I'm afraid."
The paramedics took their cue.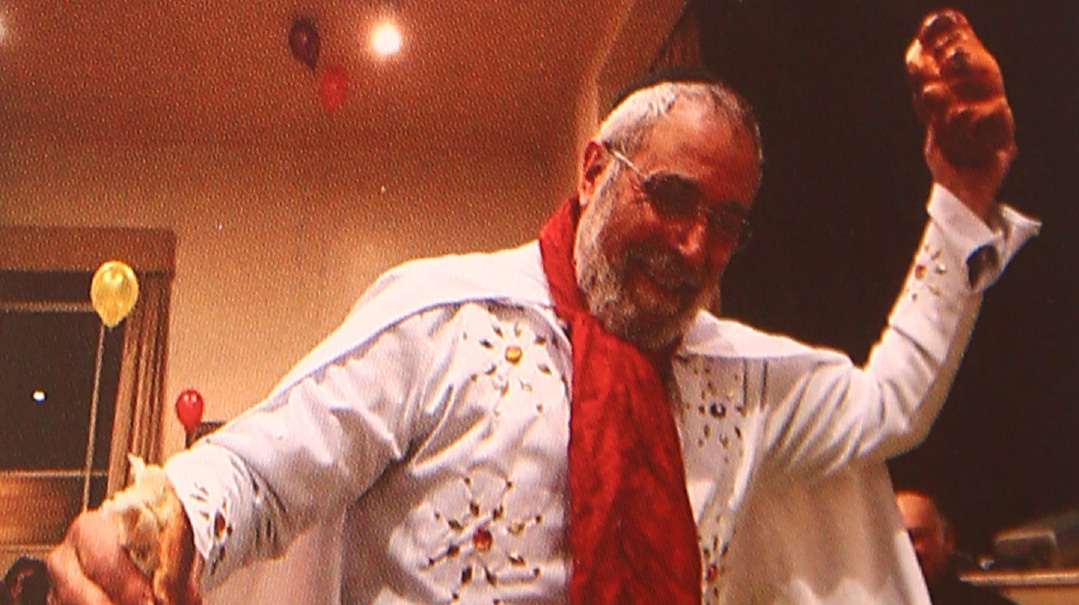 Rabbi Ellituv brought more that rabbinics to his kehillah. They knew they could rely on him for out-of-the-box solutions to the stickiest predicaments
It was three o'clock in the morning in Shaare Zedek's coronavirus ward. Rabbi Ellituv's door cracked open, and a bonneted, shielded head peered in to see if he was awake. He was, and the nurse entered, relieved.
"Rabbi Ellituv, a new patient is extraordinarily difficult. He won't allow anyone near him, especially female staff. He won't let us shift his position on the bed to avoid sores — he's quite large. He won't drink. He won't eat because of Pesach and hechsherim. He won't allow any bloodwork. We're at our wit's end."
"Of course I'll go," Rabbi Ellituv said, removing his oxygen and sliding his legs off the bed. "Where is he?"
She showed him to the door, and he walked in. Before him lay a large chassid, his graying beard flowing over neck and chest, his massive girth mountainous atop the bed. The sound of his labored breathing filled the room. Rabbi Ellituv approached the man's side.
"Tishma, adoni," he said through his surgical mask, his face close to the man's, his voice low and threatening. "Ten days ago, I was brought in here and plopped on a bed, just as helpless as you are now, but baruch Hashem, I know I'll soon be leaving on my own two feet. If you don't let them do what needs to be done, if you don't eat and drink whatever you're given, I'm sure you'll also be leaving soon, but you won't be walking."
Their eyes locked, the man's full of fight and fear. Rabbi Ellituv turned his back and left, confident he had succeeded in his mission.
For in his three weeks in the coronavirus ward, Rabbi Ellituv had become the address not only for trouble, but for a kind word, an embrace, a source of hope for the hopeless. He would go from room to room, pausing in between to return to his own for oxygen and rest.
"You just worry about yourself," one doctor said, horrified to hear of his exploits. "You need to get better!"
"You don't understand, sir," Rabbi Ellituv challenged. "This is how I'll get better."
And so it was. Twenty-one days after he had been admitted, Rabbi Ellituv was well enough to leave. Still weak but purged of the virus, he was discharged at 10 p.m. on a Motzaei Shabbos. As Rabbi Ellituv headed toward the doors leading out to where his disinfected clothes were wrapped and ready, he felt a tap on his shoulder. He turned, and there was the large chassid towering over him, round face beaming behind the mask awkwardly covering his great beard.
"Harav Ellituv," he said, his voice full of emotion, "thank you for what you told me that night. It got me thinking and set me straight." He gestured toward the exit. "Now I know that I will also soon be walking through those doors, not carried out in a bag."
In the corridor outside the unit, doctors and nurses who had finished their shifts formed an impromptu honor guard. Rabbi Ellituv had never seen them shorn of face shields and bodysuits.
"I was moved to behold, for the first time, the people behind the gear," he says.
Their eyes were moist and smiling over their surgical masks, and they bowed respectfully and thanked Rabbi Ellituv as he passed, savoring this pause from the battle-weary ward, where scores still fought for life yet where a healing heart had left its mark.
Patient names have been changed to protect privacy
(Originally featured in Mishpacha, Issue 932)
Oops! We could not locate your form.
>