| Magazine Feature |
He Saw What I Can Be   
| August 17, 2021
It was chassidic music expert Yossi Gil who had the vision to see what no one else could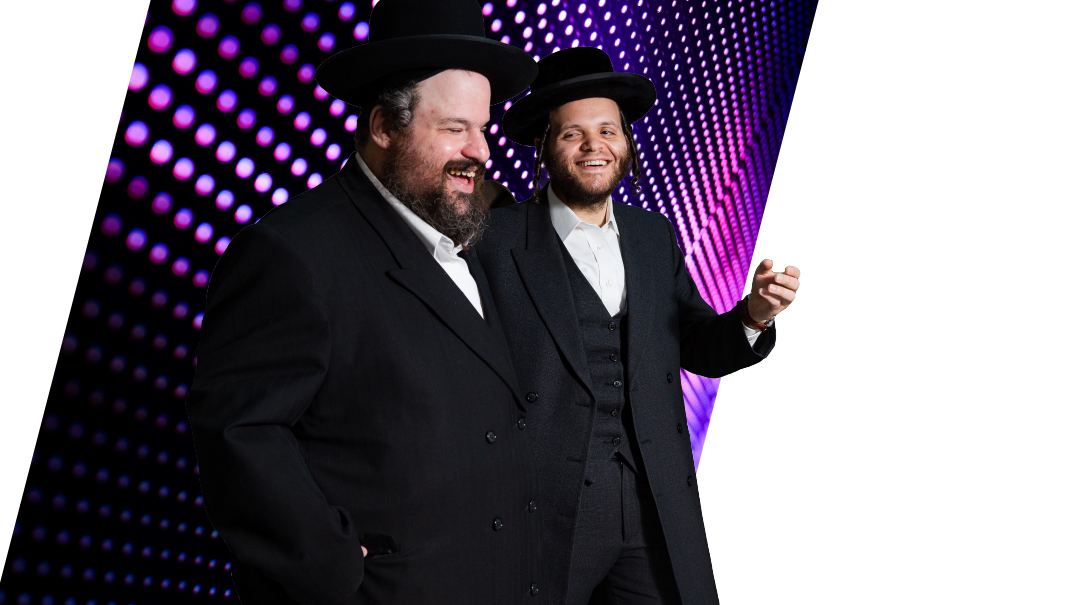 Photos: Elchanan Kotler, Shloimi Cohen, Shia Freuchter, Daniel Nafusi
Silence reigned in the heichal of the Dushinsky chassidus as hundreds of chassidim packed the parenches to watch the Rebbe's Chanukah hadlakah. And then, all eyes turned to the young boy who stood up to sing. His name was Zanvil Weinberger, and he looked pretty nervous with all those eyes on him. With his heart pounding wildly, he began a soulful rendition of a complex Modzhitz composition for Maoz Tzur. But suddenly, in the middle of the hartzige niggun, something went wrong. The pressure was too much, and the notes trailed off into agonizing silence. He couldn't go on.
Years later, that incident still haunts him. It would take years before he'd bring his captivating, heartwarming voice back to center stage.
"After that mortifying incident in front of the Rebbe and the entire chassidus, it was clear to me that I would never sing again," Zanvil reveals. "I was traumatized. I couldn't even look at a microphone."
That should have spelled the end of a budding music career for the chassidishe bochur with the golden voice. Indeed, for years his talent languished. How, then, did it happen that today, Zanvil Weinberger's reputation precedes him as a highly-talented and sought-after authentic chassidic vocalist? It literally happened against his will, thanks to well-known chassidic music personality Yossi Gil, whose instincts are always on target.
"It was at a bar mitzvah for Yossi's nephew at the Beis Yisrael hall in Jerusalem," Zanvil recalls as we sit together in a joint conversation together with Yossi Gil, an expert on the music of the chassidic courts and considered one of the original conservators of chassidic music, his achievements all the more remarkable because he's vision-impaired.
With his acute sense of sound and instincts for untapped talent, Yossi Gil, a family friend, had the vision to see what others couldn't — he was the first to recognize Zanvil's skill, even as a young boy. His nephew's bar mitzvah, he planned, would be the perfect foil to finally "bring Zanvil out" after years of silence.
Zanvil, who was 19 at the time, pushed himself to join the Malchus choir together with one of his older brothers, but on one condition: He would never stand in front of the mic and take a solo.
"We were at the bar mitzvah, and the choir started singing the Moshe Goldman tune for 'Zochrenu L'Chaim.' Little did I know that Yossi had been in cahoots with Pinchas Bichler, the choir director. In the middle of the song, Pinchas told me, 'Take a microphone and sing solo.' I refused. I had no intention of giving in and bending my condition. But then, he ordered the rest of the choir to stop singing and then signaled me to start the solo, in front of everyone. This was a trick that didn't leave me many options. In retrospect, I owe my success to that. If not for that prank, it's safe to assume that we wouldn't be sitting here discussing my career."
Gil nods in agreement. "I had the zechus to lay the foundations of Zanvil's musical career. When the world came to know him through his stirring renditions of the chassidic classics, I knew that my gamble had paid off. Today I believe that he'll go even further. His ability to render authentic Jewish music while introducing a modern touch to adapt it to current musical taste involves a rare blend of talents, a certain artistic wholeness. In Zanvil, I sensed this quality from the very first time I met him."
He Believed in Me
Yossi Gil (Krishevksy) has been working in music production and radio for over two decades and is still considered one of the most influential personalities in the world of chassidic music. Visually-impaired from infancy, his work goes hand-in-hand with his incredible memory. Within the industry, he's considered a walking encyclopedia of niggunim, composers, producers, and the smallest details that go into the making of an album, and it's well-known that any niggun, album, or intro composition is filed away in neat compartments of his brain. Many artists send their own projects to him for his appraisal before they're released.
While growing up, Yossi learned in a regular cheder and yeshivah ketanah. But all those years, what really kept him going was chassidic music. "It became my entire life, filling me like nothing else."
And Yossi was the first to provide Zanvil — who in the small Dushinsky chassidus was recognized as the child with the beautiful voice — with a real outlet for his talents.
"I was just 12 when I first met Yossi, who was a friend of my older brother Michoel," Zanvil recalls. "He was putting out an album and asked Michoel if I could come down and sing a bit for it. I agreed — why not? Yossi told me, 'You'll go far in the music world,' but I didn't understand what he wanted from me. I just said, 'fine.' But I was very shy. After the first studio session, Yossi came over to thank me and I just ran away. Truthfully, I'm still shy, but I've learned to control it so you don't see it on the stage."
Gil remembers that time from the perspective of a producer. "One of the leading studios then was Ulpanei Rimon in Jerusalem, and eventually a sort of clique formed there of people from the Jewish music industry. That's where I'd meet Meshulem Greenberger and many other producers and arrangers, as well as Zanvil's brother, who was a personal friend.
"In 2007, I took on the production of a project to remake a series of old-time niggunim, and I knew Zanvil would be perfect for the album. I'd heard him before in unofficial recordings from Dushinksy events, and I asked his brother Michoel to bring him along to the studio. That's how it all started. After that, I realized he had a talent I'd rarely heard. Even later, when he was around 14, and his voice started to change, his modulation and the notes he could bring out were still amazing."
From Zanvil's perspective, "Yossi is my rebbi in music. He introduced me to myself. He taught me what music is, and he believed in me from day one." On the technical level, the one who paved Zanvil's path to success and continues to be a support is Pinchas Bichler, the trailblazing founder and conductor of Malchus choir.
This is Me
While it's been seven years since Zanvil Weinberger took back the microphone, performing at events, concerts, and simchahs around the world — he also put out two singles and is the featured vocalist on several albums of chassidic niggunim — this past July, Weinberger released his own original debut album, Min Hashamayim.
"It's an album that's as Jewish as can be, yet with a touch that makes it relevant in 2021," he says. "I sense a tremendous yearning for this type of music. With music, it's very easy to get carried away. Too much modernism can destroy the authenticity of the music, and I thank Hashem for being able to stick to traditional Jewish and chassidic sound. I have no doubt that it's thanks to my parents' tefillos."
The album was in the works for five years and was still in progress when Zanvil lost his father, noted mechanech Rabbi Nota Shlomo Weinberger, to COVID-19. Despite belonging to an insulated and conservative chassidus, his father supported his son's musical career, grateful for Zanvil's scrupulous preservation of the authentic chassidish spirit.
"My father deserves a lot of credit for how he treated me from the beginning of this journey," he says. "He always told me: 'Don't veer to the left.' On my wedding day he blessed me and said: 'You're at a crossroads where it would be the easiest thing to veer just a little off the track. I'm asking you, my son, don't go after the glitter. Look after yourself.' My father would often tell me that he was getting regards from people who told him how my singing touched their hearts and brought them simchah. For me, it's devastating that he's no longer in This World. I owe him great hakaras hatov for the chinuch he gave me and the resolutions he made me take."
Zanvil, the youngest in the family, pauses for a moment. He talks about one of the songs on the album, "Yesomim Hayinu," which he sings in his father's memory. "The passing of my father had a big impact on my singing," he says. "When we recorded the song in his memory, I couldn't hold the tears back. I just cried as I sang. There was something so pure in real tears.
"Just recently I met a young fellow who lives near me, who lost his father a month later," Zanvil continues. "He told me that at the time, he was engaged and was traveling to the United States for the wedding, and he was so caught up in all his concerns that he didn't have time to really digest the loss. After listening to the song 'Yesomim Hayinu,' he sat and cried — it tore his heart open. I told him that I was with him, that we were in the same boat, and that song was my way of dealing with the pain of losing my father too."
But according to Yossi Gil, it doesn't have to be a tragic event in order for Zanvil's voice to pull at the heartstrings. He tells us how he heard from Michoel that when Zanvil was still a bochur, after davening Hallel from the amud in the Dushinsky beis medrash one Chanukah, the Rebbe told his brother how much he enjoyed the davening.
Zanvil's eyebrows shoot up. "That's the first time I'm hearing this," he says. "You know, they still ask me to come sing at events, despite the fact that no chassidus appreciates it when a 'star' emerges from it in areas of chullin. But I don't feel any conflict with the life of the kehillah — I love the kehillah. I think that if I went in the direction of modern music, I wouldn't feel at peace with myself. It would weigh on me in so many ways. But preserving the authentic chassidic sound actually strengthens me."
Yossi Gil adds his own perspective about the importance of sticking with the classic  brand. "In recent years we've seen that it's a very small step from modernization to crossing boundaries," he says. "Today, it isn't so easy to get good music material." He lauds producers Yossi Honig (son of chassidic singer Eizik Honig) and Rabbi Yosef Moshe Kahane of LeChaim Music (on some of whose more recent albums Zanvil is a featured vocalist).
"Kahane," notes Gil, "is probably the greatest chassidic music producer today, the one who shaped the industry more than anyone. He brought his knowledge to the project, invested in it, and now he tells me that he's never before seen such public receptiveness to a chassidish album. There's a certain longing in the chassidish community for the type of music that Zanvil creates."
Gil admits that after Zanvil's breakthrough, he harbored a fear that the young star would be caught up in the whirlpool of modern music. "I have no doubt that had he chosen the more modern path, he would have had enormous success from a commercial standpoint," says Gil. "He has the skills and the talent to take up any genre and succeed. But Zanvil has charted his own path with a traditional style that, with help, defines chassidic music for the foreseeable future. At the end of the day, even those who see the appeal of modern music and want 'Israeli' singing understand that for spiritual elevation, there's nothing like the old, authentic style. No one sings Israeli songs on Yom Kippur. That's why it's exciting that Zanvil has stayed loyal to this brand."
But Gil didn't have to worry. After doing Zanvil the favor of his life by forcing him to get over his solo fright, a video clip of Malchus choir's Zanvil and Motti Wiesel singing Reb Moshe Goldman's "Zechor Shanim Eser Shevatim" — from a performance that was ironically part of a tribute to Yossi Gil himself, honoring his 15 years in the industry — went viral.
"It was that video that first brought him to the public consciousness," says Gil. "And it essentially branded him."
"True," admits Zanvil. "My first exposure to the wider public happened with the most chassidish song ever. And I'm really happy about that, because they know that's me, and if they want me, they'll get more of that. They want to go back to the kind of music that speaks to them from a deep place."
Full Range
One of the main things that stands out in Zanvil's singing is his vocal range. Like an experienced acrobat who can play with the laws of gravity, Zanvil manages to manipulate his voice with unusual skill.
"It's really a gift from Shamayim," Zanvil says. "It's not something I went after. I did have some vocal training, but when I arrived for my first lesson my teacher said that my voice was almost entirely ready."
In his debut album, he makes extensive use of his vocal abilities and powerful emotion. One song that captures both is "Ana Hashem," written for him by Yossi Green, one of Jewish music's most prolific composers, and it's hard to catch Yossi Green off guard.
"When I approached Yossi Green to compose a song for the album, he said that he couldn't compose for me before he knew me," Zanvil relates. "While I was in the US, I went to him with musician Zevi Fried, who introduced us. Green asked me to sing one of his songs — he wanted to see how I interpreted his niggunim. I decided on the vintage 'Ki Lo Tachpotz B'mos Hames' ('Emes') from Avraham Fried's We Are Ready. After hearing me, he agreed to compose something. That was 'Ana Hashem.' "
Freed would later tell Gil that Green had been amazed by Zanvil's singing and even expressed his desire to collaborate with him on more projects in the future.
That said, Zanvil admits that he didn't grow up on Yossi Green compositions. "Mostly at home, we listened to Yosef Moshe Kahane's Lechaim series and the albums of Reb Moshe Goldman. When I started singing at events, I had a lot of work to do — I had to master all the songs that everyone else grew up with. I remember an even in Sanz one Leil Shishi and they asked me to perform Avraham Fried's 'Meshoch,' composed way back by Yossi Green from one of Fried's first albums, which we never had in the house. So I had to learn it from scratch."
It Speaks to Them
With music consumers able to get new compositions with the push of a button and always looking for something fresh and new, is there still a demand for more traditional music with meaning and message?
"People who want to connect to Hashem through music know where to look," says Yossi Gil. "But you know, a niggun can bring you closer to Hashem, but a song with a different energy can reduce you to the lowest depths. The way I see it, these two groups will continue gravitating toward the music that speaks to them."
Weinberger relates that Malchus was recently invited to sing at a more "modern" wedding in the New York area. "I was sure they would want one of the popular emunah-based Israeli songs for the chuppah, which has become very 'in' in certain circles. But guess what? They wanted us to sing 'V'yhiyu Rachamecha.' They understood that at the chuppah — an elevated and exalted moment that has an impact for generations ahead — the music has to be another level.
"For myself today," he continues, "I can say that anything I decide to release in the future won't be any less chassidish that my first project. I certainly have no intention of developing an openness to a more modern style. In fact, I think that there's a growing demand for authentic, throwback chassidish music — a growing audience is asking for old-style content. For me, those are the real songs, and I believe it's the most beautiful music there is."
(Originally featured in Mishpacha, Issue 874)
Oops! We could not locate your form.
>