| Fiction |
Go for a Spin | July 17, 2019
They're going to solve the shidduch crisis with a spinner?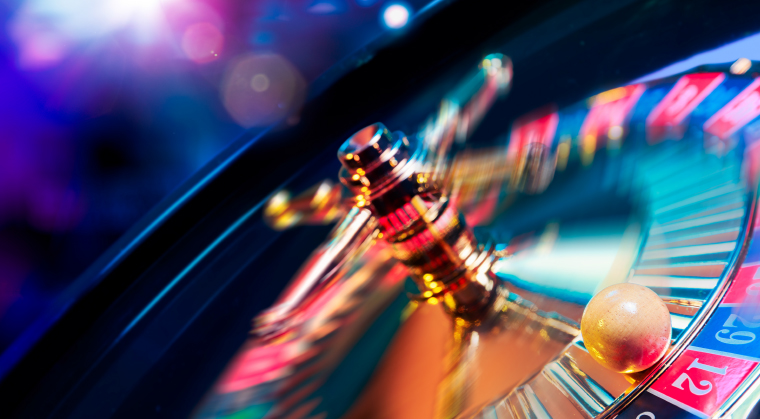 L
ibby clutched the engraved invitation a bit tighter and looked around the lobby. It had said 19 Brookside, hadn't it? So it must be here.
There was no one at the reception desk. Her heels echoed in the cavernous, marble-lined room.
She was about to go home when a thin, petite woman in a black pencil skirt and black cashmere sweater (so classy, Libby noted, fingering the collar of her cotton top ruefully) rushed over to her. "Liba Mayor?" she asked, one eyebrow raised. At Libby's hesitant nod, the woman led her to the bank of elevators, where she confidently jabbed at the button, then ushered her into an elevator and pressed -10.

The doors opened into a large windowless (well, it was underground, Libby reminded herself) room, bustling with activity. At one desk, a group of women argued vigorously; at another, three women riffled importantly through filing cabinets, pulling out papers and gesturing. But it was the back left corner of the room that got Libby's attention.
Two women stood manning an enormous game spinner. Every few seconds, a woman would come over to them, watch the spinner, see where it landed, then walk away, sometimes with a slump in her shoulders, other times, buoyant. Was this some sort of game show? But hadn't they—
"Over here," Cashmere Sweater nudged her along. "You haven't done intake yet." She shepherded Libby to a large mahogany desk in the center of the room. A woman with a neatly bobbed sheitel, oversized glasses, and a tailored black dress looked up with a hostile expression.
"Invitation, please?"
Libby was puzzled, but presented the invitation she'd been holding.
The woman's face relaxed. "Ah, yes, Liba Mayor. One shidduch to your name, not all that many but then again, not many people get it right the first time. Welcome to—"
"Right. It was just my cousin and my husband's roommate," Libby burbled, glad at last to know where she was and what was going on, "but Moshe Chaim thought of it one night, and I called my aunt, and she sounded skeptical, but when she called me the next night, she was all excited, so Moshe Chaim called him to—"
The woman held up her hand, her face impassive. "—the big leagues, as I was saying. We admire your dedication to the cause. It's all very well and good to redt a shidduch here or there, but if you really want to keep the crisis at bay, well, here's how it happens."
Libby fell silent, awed. In the back corner, a woman with an auburn sheitel winced. "He has to forget his credit card? Really? Oh, but I thought this one had real potential, and she's from Flatbush, she'll never go for—"
Libby watched as another woman put her arm around Auburn's shoulder. "It's what, a third date? Don't ask, just last week, I had a couple going on their eighth date but when I spun, it landed on 'Girl's father asks about gebrochts,' and kaput! The tears I had to deal with, don't ask."
Libby looked around, bewildered. "Is this— but— "
"In due time, meideleh, in due time," Cashmere said. "That's the Spinner of Dating Occurrences. But you can't even touch that before you get to the Deck of Shidduch Information calls, the Instruction Booklet for Redting Protocol, and of course there's the Racko Caste List of Suitable Suggestions. It'll take you some time to learn the ranking systems, but they're pretty straightforward, really. Here''— she handed her a neatly bound notebook— "take a look at the rules. Once you have them down pat, it'll be much easier."
Libby flipped through the book dubiously — 281 pages?!
Cashmere laughed at her look of bafflement. "Don't worry, sheifeleh, you'll see, you already know most of these! We've succeeded in making these the standard, baruch Hashem. But I'm getting ahead of myself. We haven't been properly introduced yet. I'm Shani Spiegel, and you are?"
Shani Spiegel? This was the Shani Spiegel, who redt dozens of shidduchim a year and purportedly had at least ten couples out on dates each night? Libby straightened up as best as she could.
"I'm Libby, uh, Liba Mayor. But, uh, I guess you already knew that."
Shani flashed her a smile. "Nice to meet you, Libby. Looking forward to working with you! Here's your desk, here's your computer, your playing cards are in the top left drawer, call me when you're familiar with the protocol, and we'll get started."
The Shadchan is responsible for establishing an appropriate time for The Meeting, taking into account The Girl's work schedule, whether or not The Boy is clean-shaven, and the type and duration of expected traffic en route from The Boy's yeshivah to The Girl's parents' home. The Boy must arrive at The Girl's parents' driveway no earlier than four minutes before or 11 minutes after the established time of meeting….
…The Parents of The Girl must prepare a suitable repast for The Boy, consisting of either chocolates OR a baked good (but not both) as well as water or seltzer. Parents who purport to be in a position to offer Full Support should offer Perrier or Voss only. Under no circumstance is The Boy to partake of the refreshments, under penalty of voiding The Shidduch….
…Under no circumstances whatsoever may The Girl bring a purse, handbag, or wallet along for The Meeting. Implements deemed absolutely crucial to survival, such as cash, a cell phone, or (when necessary) pepper spray, must be stored in The Girl's shoe, or her coat pocket....
Glancing to the side to be sure no one was looking, Libby flipped to the end of the book — 281 pages of close type stared back at her.
Was all this for real? Libby eyed Shani skeptically from across the room, but the thin woman was busy on the phone, displaying far more animation than she'd seen from her thus far.
"I'm telling you, Mrs. Lipschitz, this girl is a real catch! Top of her class from preschool through BJJ, heart of gold, does chesed 24/7, and let me tell you, she is raking it in at work, not to mention that, of course, her father is in a position to—"
With a shudder, Libby turned back to her notebook.
There was more noise over by the spinner as a red-haired women threw her hands up in disgust. "Every time! It's not fair!" One or two women clucked empathetically, but Libby noticed quite a few of them rolling their eyes or looking decidedly unsympathetic.
She turned back to her notebook and was paging through it rather half-heartedly when she sensed someone staring at her. She looked up.
"Hi?" It was the redhead, hand half outstretched. "I'm Chaykie Lieber, and you're…"
Libby shook her hand, bemused. "Liba Mayor, I'm new here." She shrugged and gestured to her notebook. "Just trying to learn the ropes."
Chaykie scowled. "Me too! I mean, I'm not new, I've been here almost three years, but I haven't closed a single shidduch yet. I made one before joining, but maybe that was a fluke. I'm afraid I'll get kicked out, and my husband was really hoping… I mean, redting shidduchim is a huge zechus, of course, that's why I'm here, but secretarial work barely covers babysitting, to say nothing of groceries or rent, and we were hoping it could… but every time I get close, every time, the spinner gets stuck on the same thing and I'm out, and it's so unfair I could cry!"
"What do you mean?" Libby closed the book. "The spinner?"
Chaykie lifted an eyebrow. "You are new here, aren't you? Okay, well, so first I—" she leaned over, opened a drawer in Libby's desk, and pulled out a cardboard box overflowing with neatly typed cards —  "I pull out names, redt the shidduch, make sure they do everything in accordance with protocol, and then I spin The Wheel of Chance. And at first, everything seems to go smoothly — the guy gets to go to a normal place, Staten Island Hilton or the Brooklyn Marriot, they buy their drinks, compare seminary and yeshivah experience, the father is impressed with the boy, the prospective mother-in-law approves of the girl's dress and heels… you know, everything on schedule.
"Then everyone meets, it's right before the vort, the boy's busy planning which roses to buy for the proposal, and boom, the wheel lands on 'Parents meet, discuss finances/support, disagree,' and the whole thing is over. Just like that! After I've put in hours and hours and hours."
Libby was trying to follow. "It was… you mean they… so you spin that wheel over there? And based on where the spinner ends up, that's what happens with the shidduch? The whole thing is over? Every time? There's nothing to do? Even if they like each other?"
Chaykie nodded glumly. "Every. Single. Time. I've tried everything! I've requested a new Box of Names so that I can work with different neighborhoods, I make sure both sides are clear on support before they go out, I even make the girl's mother run her outfit by me before every date, but nothing. That stupid spinner gets me every time."
"A… a spinner?" Libby was trying to make sense of it all.
Chaykie nodded, clearly summoning all her patience. "Right. First you have your Box of Names, that's what I put over here. So you pull out your names — you see, the boys are in blue, the girls are pink, cute, right? And you set them up. You have to make sure they follow all the rules, that's why you need to learn them. Then the usual shadchan rigmarole, back and forth and convincing, you know how that goes. And then, before every date, you spin the Wheel of Chance to see what happens, and that's how it goes."
"That's it?!"
Chaykie shrugged. "That's it." By now, a small crowd of women had gathered around them.
"But — but — a wheel?! There's nothing else to do? And have you seen some of these rules? I mean, is it so bad if the girl's mother puts out homemade chocolate chip cookies instead of rugelach? Or what if the girl doesn't like sending out a headshot to complete strangers?"
Libby heard a sharp intake of breath. Then one woman spoke up.
"Oh, but of course we need a system. I mean, sure, maybe in the goyish world, people can do whatever they want, and look where they end up! Divorce is only the best of it! But in our world, where we meet with purpose, and a goal in mind, and tzniyus… we need this system."
A thin blond woman in a tailored black dress nodded gravely. "It's the only way to do it," she said. "The Torah-true way."
Shani bustled over to them, heels clicking sharply. "Ladies!" she tsk'ed. "Ladies! I'm sure you're all excited to meet Liba, but the coffee will come later. Klal Yisrael is waiting for you! There are bayis ne'emans to build!"
The women smiled guiltily and drifted off to their desks.
Chaykie shrugged and kicked at the leg of Libby's desk. Her shoe was scuffed, Libby noticed. "They're right, you know… it is the best way, and of course we need a system and rules if we want to do this right, al taharas hakodesh and all. It's just… you know… it's just that it's frustrating when I get stuck on the same thing every time, especially when we're so desperate." She looked up. "But if it's the right thing, it's the right thing. We gotta do what's right."
Libby swallowed, hard. Then she took out a piece of paper, scribbled her phone number, and shoved it into Chaykie's hand. "Text me later, okay?" she hissed.
The Girl may wear an outfit of her preference from the third date and on, provided it conforms to the guidelines listed in Appendix D, but she must wear a black dress on either the first or second date. Dress must cover knees at all times, length depending on her hashkafic alignment and/or seminary association, as delineated in Appendix F. (For cases where current hashkafah does not align with past seminary attendance, please see Index C for girls 23 and under, and Index D for girls 24 and up.)
…The Boy must prepare a suitable activity and/or venue for The Date in advance of Date. It is completely unacceptable for The Boy to select an activity/and or venue at which one of his friends or roommates will be present at time of Date. The Boy may not repeat a Date Site with the same girl, although he may ask the girl for venue preferences from the fifth date onward….
Moshe Chaim's cough — which sounded a bit forced — broke into her thoughts. Libby looked up from the notebook and smiled guiltily.
"Sorry, there's just so much to learn so quickly, you know? But the organization… it's just… they're just… wow. It's hard to describe it, exactly." Libby poked at the carrot floating near the top of her soup. "They mean well, and they certainly redt a crazy huge number of shidduchim, they say they're close to eradicating the shidduch crisis completely, they're already down to 6% in the doomsday ads of girls who'll never get married, but it's just… there are so many rules!"
Moshe Chaim raised an eyebrow. "Oh? Like what?"
"Well, a lot you know, and we probably did them too," Libby admitted. "Like the shadchan as a go between for at least the first three dates, and only hotel lobbies for the first four, and of course my parents were happy to support your learning and be open about that, but… but did you know that the girl has to wear heels for the first date? Even if she doesn't want to?"
"She does?" Moshe Chaim spooned up some barley. "Did you? I don't even remember."
"Well, yeah, of course, I mean I'd have never gone on a date in flats, I'm just not the type, but still. You can get an exception if the boy is within an inch of your height, or if he's bald, but if you don't have that, the other side is entitled to drop the shidduch completely, no penalty, it says so on page 43 over here."
Moshe Chaim looked up. "Look, Libby, I hear that this sounds like a lot, but is it really such a big deal? You see, eight months later and you don't even remember which shoes you wore, and we're still living happily ever after. In the scheme of things, if that's what the rules say, why not?"
"I guess…" Libby let her voice trail off. Should she tell Moshe Chaim about her conversation with Chaykie earlier?
"Can I take some more soup?" His voice broke into her thoughts. "It's really good."
"You're really redting off-the-record shidduchim? Are you sure this is a good idea?" Chaykie asked hesitantly, her hand wrapped around a cup of coffee. It was late, but the room was still bustling. For a shidduch, Shani liked to remind them, you could work the phones till 11:30 p.m., easy, especially if you were calling the girls' families. No one minded the shadchan calling late.
"Yes, of course," Libby replied impatiently. It was work, hard work, but all worth it for the end goal, wasn't it? She'd been putting in a good two hours a night studying for her Shadchan Certification Exams, which she'd be taking next week, but all that paled when compared to the amount of effort she was putting into what she'd taken to calling her underground shidduchim.
Milly Tabakfeld, for one. Libby had met her at a vort, fallen in love, and taken her under her wing. She wasn't an easy sell, that was for sure, not with her family background, and you go try explaining to a boy's mother what statistical engineering was, but there was something about her that was just so real.
True, the Kleinfelds had said no, so had the Strichtmans, but Libby was pretty sure that Mrs. Feldman was at least thinking about looking into her seriously. Her son was being redt all the top girls from all over, but they just didn't have the depth he needed, Libby had explained, and she was pretty sure her words had struck a chord. Maybe.
Chaykie sighed. "I just hope it pays off soon. Did I tell you that Shani said something to me about probation?"
Libby wheeled. "What? No, you totally didn't. Oy, what happened?"
"You were there, I spun the wheel yesterday, and of course it bombed again. Of course! Six dates, everything's going smoothly, the girl's giggling in the background, but nope, I have to ruin it, it's going to end tomorrow night after the boy's parents find out that the girl's family stays in Brooklyn the whole summer and only go up to the country when a wealthy aunt invites them to her bungalow for Shabbos Nachamu.
"So anyway, Shani took me aside, all formal, told me that she'd never had any shadchan make it to the three-year mark without at least one shidduch under her belt, gave me two weeks." She shrugged. "It's been nice knowing you, as they say!"
"She wouldn't — you aren't — it's not." Libby stopped. "Look, Chaykie, your situation is the least of the problems with this system. But it's a problem, I'm not denying it. What about trying to redt shidduchim at home, without going through the official systems and protocols. Won't you see success there?"
"You kidding?" Chaykie groused. "If I can't get a shidduch to drink l'chayim in a system that's custom built for success, how can I even think I'll have any mazel any other way? I can't even get the boys' mothers to open the resumes I send them, it's all, 'He's busy but thanks for thinking of me,' and 'Well, I promised my sister-in-law that we'd look into her niece after this shidduch ends, but maybe after that I can try to look into this name."
"Yes!" a voice trilled. "Got the 'Find parking and hotel lobby seats easily' results — that makes all the difference."
"Yeah, for some people," Chaykie muttered.
Libby tightened her lips but didn't say anything. Soon they'd all see.
"Thirty-two shidduchim this week, ladies!" That was Shani, of course. She'd made her way to the front of the room. No mic, that would never do, but something about her trim figure just commanded respect. Or was it fear? Either way, the room was completely quiet. Shani shuffled her files, smiling.
"Like I said, 32 shidduchim. Not bad for a week in May. Stats look as to be expected: Twenty of those shidduchim for girls in their first or second year back, eight more for girls in the 21–23 range, 35 percent involving boys within a year of or younger than their new kallahs, which means we'll hit our target goals for the month, again.
"Now, I know it sounds crass to make it sound like a game of numbers, so let's remember what we're really talking about, ladies, and that's neshamos. To that end, I'd like to call upon Mrs. Hindy Green to tell us how she tackled the challenging shidduch she closed this week for her 27-year-old neighbor. Hindy?"
A woman in a black cardigan stumbled to the front of the room. Blushing furiously, she waited for the applause to die down before launching into what was clearly a rehearsed speech.
"Well, when I drew my neighbor Zahava's card, I was both excited and terrified. I'd wanted to help her since the day she came home from seminary, but could I really hope to succeed where so many before me had failed?
"Things were looking good; the boy had only started dating two years before. Well, he had an older brother, so it wasn't like he was crazy, and his mother was actually partial to speech therapists since she'd been one since before the trend started, and baruch Hashem the card I drew said they could wait till after Sefirah to start dating so he wouldn't look like a scruffy, overgrown bear when they started going out.
"I knew I had to make this work… and I realized that it was time to go back to the basics. Yes, by all accounts Zahava was an accomplished, pretty girl, but it had been so many years since seminary that she had begun to slip. It's never fun to remind a girl about blow-drying her hair whenever she leaves the house, or to point out that she's no longer as trim as she once was, but I could tell from the glazed look in Zahava's eyes whenever she spoke that my words were really hitting home. And sure enough, after the second date, I…"
Libby surreptitiously peeked at the cards in her hand. This speech was starting to sound a whole lot like the one she'd heard last week — and the week before, for that matter. Shouldn't she be studying now?
Something in Libby's stomach knotted. She was sure it would only be temporary, but still. Redting a shidduch was a big responsibility. And nothing ever seemed to work. Mrs. Feldman had given her a definite no yesterday, and she'd heard from the grapevine that her next target, Dovid Reuven Schwartz, was about to get engaged. No doubt thanks to someone in this room and her dutiful allegiance to protocol.
She plunged her hand into the box and pulled out two cards. Her first Official Shidduch Attempt. Here goes nothing.
Tzila Gordon — beautiful 19-year-old daughter of generous gvir, just back from seminary, in school for OT
Shua Blech — son of Rav Avraham Blech, rosh yeshivah of Yeshivas Ohr Eliyahu, 23, illui and masmid
She shrugged. This was all stupid anyway, wasn't it? Sighing, she headed for the spinner. She pulled the wheel down, then released it. It was heavier than it looked. She barely paused to look at it when all of a sudden a bell rang. The spinner had stopped by a gold-glitter-painted pie-shaped segment of wheel labeled "L'chayim after fourth date!"
Instantly, Libby was mobbed by well-wishers.
"The golden ticket! You got the golden ticket!"
"Whoa, you're lucky," Chaykie tried to smile.
"I can't believe it!" A slim woman, Libby was pretty sure her name was Malka, ran over and hugged her. "On your very first try? Now that's what I call mazel."
"Or skill." Shani smiled smugly. "I knew you had it in you."
"Who is it? Who?" The woman from the table next to hers, Devorah, pulled at her hand. When she saw the card, her hand flew to her mouth. "Tzila? You got the youngest Gordon girl? I don't believe it, I've been trying to pull her name for  forever."
"Gordon?" Another woman chimed in. "Isn't he the guy who gives 10K for a kid's shidduch?"
"Yes, and I'm sure it'll be more for his bas zekunim," Devorah breathed. "Wow."
Ten thousand dollars? Wow. Libby looked down at the cards in her hands and shrugged. Sure, some of the rules seemed a little antiquated, and maybe they could use some updating, but still, it was a system that worked, wasn't it?
(Originally featured in Family First, Issue 651)
Oops! We could not locate your form.
>