| Recipes |
Fruit Kuchen | November 9, 2021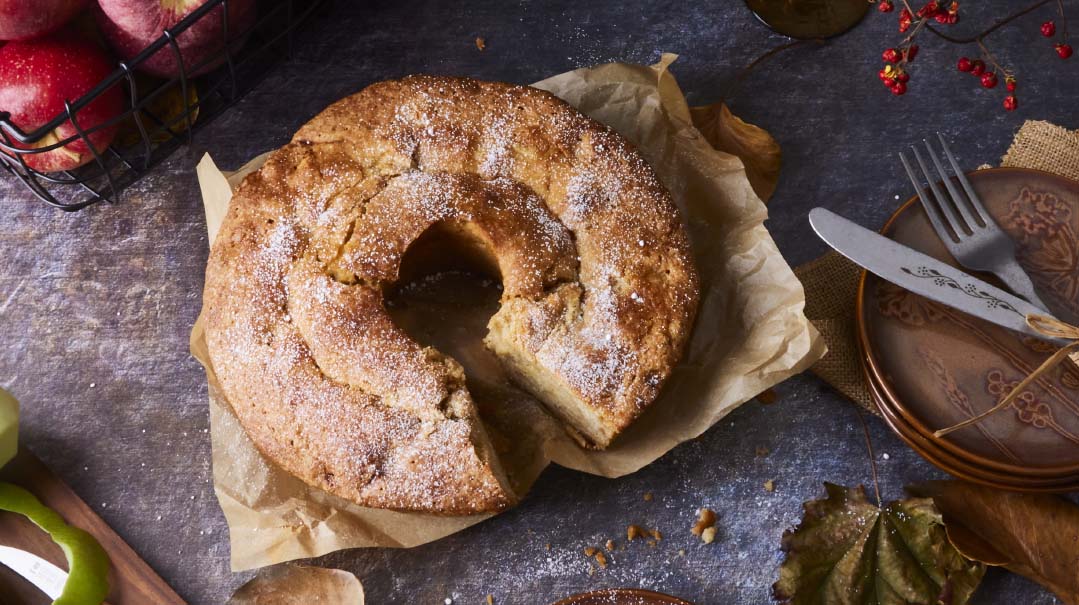 Props and styling by Goldie Stern
Photography by Felicia Perretti
My sister Esther shared this classic with me many years ago. It's a moist, delicious cake that can be made with apples, peaches, plums, apricots, or a combo of all. I've updated it and present it here with two ways to make it.
YIELDS 1 TUBE PAN
3 cups flour (I use white spelt or whole wheat pastry)
3 tsp baking powder
1½ cups sugar
½ tsp salt
1 cup oil
4 eggs
¼ cup orange juice or soy milk
2 tsp vanilla extract
½ tsp almond extract
Fruit Mixture
1 Granny Smith apple, peeled and cubed
1 Yellow Delicious apple, peeled and cubed
3 Tbsp sugar
1 heaping tsp cinnamon
sliced almonds, for topping (optional)
Preheat oven to 350°F (175°C). Grease a tube pan and set aside.
In the large bowl of a mixer, combine flour, baking powder, sugar, and salt. Make a well in the center and add the oil, eggs, juice or soy milk, and extracts. Mix together well.
Mix the apples, sugar, and cinnamon in a small bowl. Fold the apples into the batter until well distributed throughout. Pour the batter into tube pan. Top with sliced almonds, if desired. Bake for 50 minutes, or until ready.
Alternatively, pour half the batter into the pan. Sprinkle the apples on top and cover with the remaining batter. If you'd like, you can combine another diced apple with 1½ Tbsp sugar and ½ tsp cinnamon and sprinkle evenly over the top. Bake as above.
Note: This can also be made in a 9x13-inch (23x33-cm) baking pan. Check for doneness after 45 minutes. If making a combination of fruit, you should have about 2 cups of fruit in total.
(Originally featured in Family Table, Issue 767)
Oops! We could not locate your form.
>