| From My Table |
From my Table: Quick-Candied Lemons
| March 21, 2023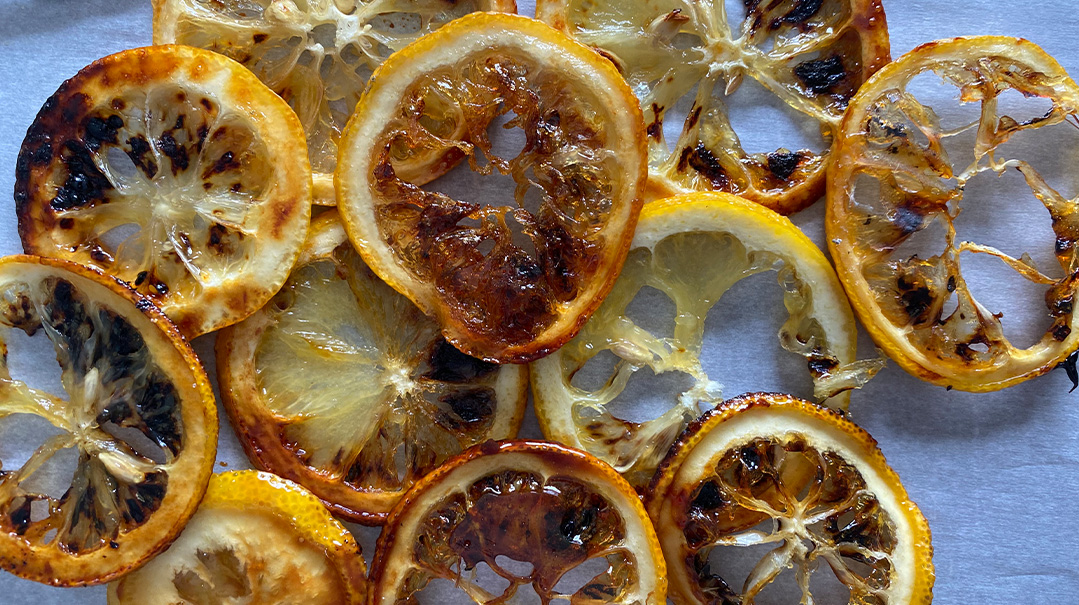 One of my kids once got a very cute baking set of utensils that came on a little metal stand. It wasn't one of those baking sets meant for kids to use; it was purely make believe. Included in the set was a tiny whisk, about three inches high.
I'm not amazing at making pretend supper with my kids at the kitchen set, so it's not something I ever really saw around. But one Friday I was making a glaze for a Bundt cake and I was looking for my whisk to get the lumps out, and there was the toy metal whisk in my utensils drawer — exactly where it was not supposed to be, but exactly where I needed it. (Don't ask why, but it had actually been toiveled.) And so, we had a great glaze, and the irony of the little whisk switch was not lost on me.
We all know that creativity can come from the most unexpected places, and I try to apply that to Pesach cooking too. Because we're more limited these days, I'm not necessarily looking for new food inspiration from a random source. Instead, I've been trying to find different gadgets to add to my Pesach collection each year to expand our options.
One year I found a small dehydrator for a really good price, so I decided to try it and see if I would ever even use it. Now it's become a workhorse, making all kinds of dried fruit, which we eat and enjoy all Pesach long. Not only that, but it also opens up options of throwing dried fruit onto a tray of roasted chicken or into an interesting salad. Another year I added a blowtorch, a cool little gadget that I use to brûlée the top of lemons to serve as a sorbet garnish or other little dessert addition.
While our ingredients options might not be endless, there are definitely more applications out there that we haven't tapped into yet — and they might just be sitting in your utensil drawer.
CHANIE NAYMAN
Food Editor, Family Table
Editor in Chief, Kosher.com
Quick-Candied Lemons
I use these lemons on chicken, sorbet, or fruit salad. They won't last forever, so I usually only make them if I'll be using them the same day. In addition to being used as a garnish, they're also a nice way to add a little flavor.
1 lemon, sliced into ¼-inch (½-cm) slices
¼ cup sugar
Lay the lemon slices on a baking sheet. Don't use parchment, since it can burn. Sprinkle approximately 1 tsp of sugar over each lemon slice. Use the broil function on your oven for this if the top rack can get high enough. Broil on high for 3 minutes Alternatively, blow-torch each lemon for approximately 60 seconds.
Check our Shoppable column for more big and little gadgets to use this Pesach!
Feel the Squeeze
Lemons are a heavy hitter this Yom Tov. Here's a way to avoid seeds if you only need one lemon's worth at a time. Cut it vertically (from north to south pole), and you can easily poke out all the seeds before you squeeze. Also, don't forget to roll it well before squeezing to make it easier to juice!
(Originally featured in Family Table, Issue 836)
Oops! We could not locate your form.
>