| From My Table |
From my Table: Caramelized Toffee Kichel
| March 28, 2023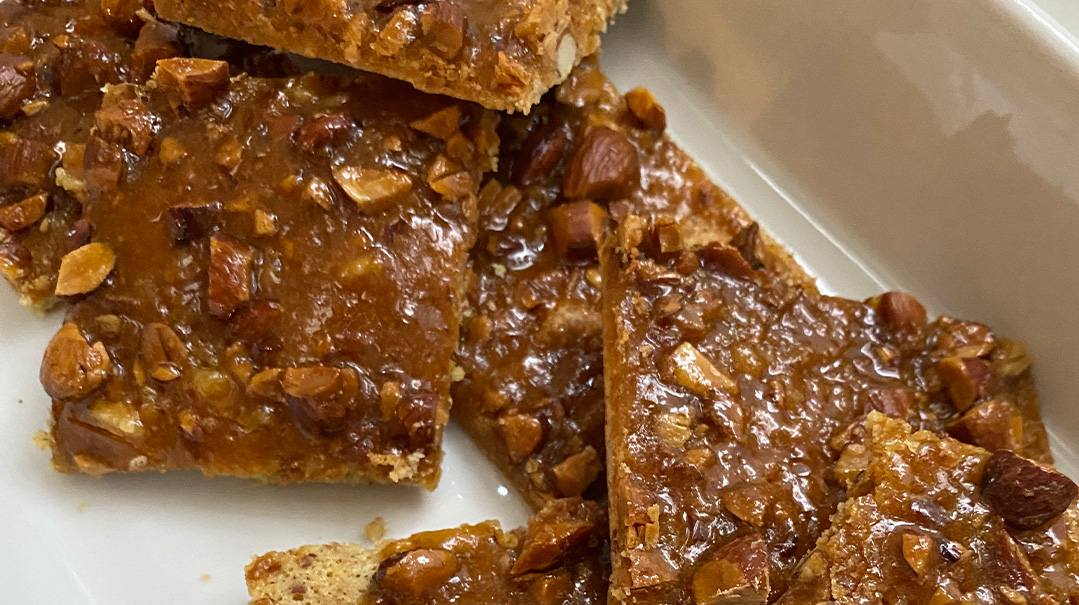 I try to make my kids' birthdays exciting in a way that I've been able to pull off relatively easily despite busy schedules. It's simple, but it's special, and the guilty mother in me says it's the least I can do. My very sweet and easygoing son's birthday was the Monday morning after we changed the clocks. It was a super-busy Sunday with Pesach cleaning, and thanks to losing an hour, I didn't make it to bed until well after I would've liked to. And then…an hour later, I suddenly remembered my son's birthday.
I'm not the kind of mother who functions well on no sleep, so when I'm up late, all I can think of is the kind of self-restraint I'll need in the morning. But at the same time, it was important to me to take a few minutes for my son to have something special to wake up to in the morning. He's only been talking about his birthday for the past six months.
I peeled out of bed and pulled something together, and all I could think about was the challenge of weighing two things of relatively equal importance at the same time.
This challenge presents itself often around Yom Tov time. We want things to look a certain way, to be a certain way, to be ready by a certain time, yet we also have to function in other ways, and sometimes our two wants contradict each other. While I don't have an answer to this game of tug-of-war, what has helped me is to try to lower the bar. To make the "want" easier to fulfill. The conflict doesn't go away, but at least I can try to control it.
This cooking and cleaning season will have lots of wants that we hold at the same time, but if we take out the guilt and consider the scaled-down version of what's important, we can rise to the challenge.
CHANIE NAYMAN
Food Editor, Family Table
Editor in Chief, Kosher.com
Caramelized Toffee Kichel
A few years ago, I contributed "Pesach Grahams" to the magazine — my sweet twist on the classic egg kichel. This year, I decided to add a layer of caramelized sugar to the top. It's a great addition!
4 eggs
1¾ cups ground almonds
1/2 cup sugar
½ tsp salt
1 tsp cinnamon
¼ cup oil
Toffee Topping
1 cup sugar
¼ cup oil
chopped nuts (I used almonds)
Preheat oven to 350°F (175°C).
With a fork, mix eggs, ground almonds, sugar, salt, cinnamon, and oil in a bowl until creamy. Spread batter onto an 8x10-inch (20x26-cm) parchment-lined baking sheet. Bake for 20 minutes. Remove from oven.
Combine topping ingredients in a saucepan and bring to a simmer over low heat until sugar is fully dissolved. Pour over kichel and return to oven for 10 minutes.
When done, cut into squares.
Spray Your Grater
Your grater is probably a heavy lifter this time of year! Spray a box grater with a little oil before you start for easier clean up.
Three Things You Might Not Be Grating But You Should
Eggs for egg salad
Tomatoes for a quick tomato sauce or tomato dip
Garlic for any recipe that calls for minced garlic
(Originally featured in Family Table, Issue 837)
Oops! We could not locate your form.
>