| From My Table |
From my Table
| November 9, 2021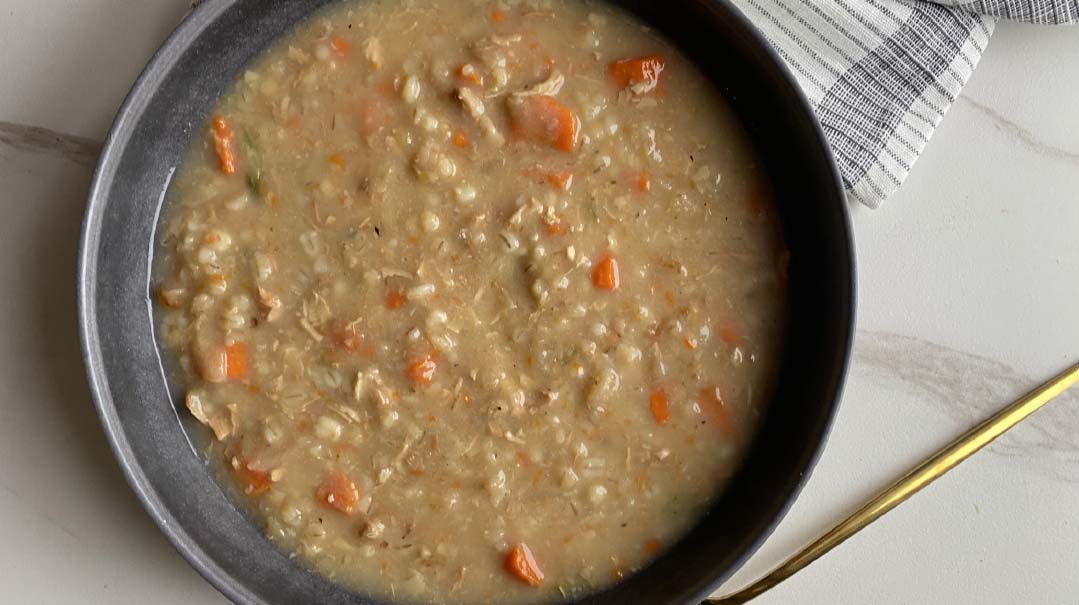 You know the saying "Friends that cook together stay together"? (I hope it's okay that I used my creative license there!) When I first got married and was living in Israel, my good friend, Esty, had a particularly strong influence on my suppers. She had this great big red leather cookbook full of recipes for everyday meals, and that cookbook was everything.
(Tangent — some people are amazing at selecting the right recipes, or just having the right recipe ready for the right time. It's a superpower that has nothing to do with creativity in the kitchen, or knowhow with developing recipes. Have a few friends like that in your life; they're an asset.)
Another great thing about Esty was that she made supper at three, and I barely started a minute before six, so The Book was always available when I needed it.
One night, pretty early on in my meals career, Esty gave me a cream of chicken soup recipe that went over really well. I made it over and over again, and since then, I make it at the first nip of chill every fall.
I've worked on so many recipes over the years, and each one serves its own purpose. The purpose of cream of chicken soup is to remove the chill from your bones in a way that no amount of sweaters can do.
I recommend not making such a strong "main course" to follow it, but rather to keep going back to the pot for another ladleful. It ensures a lot of lingering in the kitchen. It's a supper that's not designed for a hit-and-run, but offers a mood of its own. Tall order for such a simple recipe, but it works. Try it.
CHANIE NAYMAN
Food Editor, Family Table
Editor in Chief, Kosher.com
My Favorite Cream of Chicken Soup
YIELDS 4 32-OZ (910-G) CONTAINERS
3 onions, chopped
1–2 carrots, chopped
2 chicken cutlets
1 cup barley
2 Tbsp salt
water, to cover (add more as needed)
Sauté onions until translucent. (Don't sauté them for too long, since it will result in a soup with a brown hue. We like it white.) Add the remaining ingredients and cook for 2 hours. Remove the chicken cutlets from the pot, shred, and return to the pot to cook for another 5 hours (or as long as you have).
Tip: Short on time? Add everything into the pot at the same time, once the onions are sautéed, and let the soup simmer for about an hour. After an hour, remove the chicken cutlets and shred, then return to the pot and cook for another 30 minutes. The longer it sits the better, but the soup is delicious at this point as well.
Peel On
Don't peel your apples!
Okay, if it's for a baking purposes we'll look the other way, but the peel has more than half of the fruit's nutrients, including fiber, potassium, and vitamin A. If your kids have a hard time with the peel, I find that slicing the apple very thinly mitigates that a lot.
(Originally featured in Family Table, Issue 767)
Oops! We could not locate your form.
>