| Kitchen Encounters |
FROM GRANDMA, with LOVE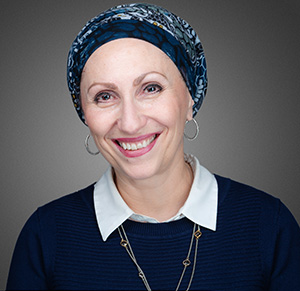 | October 10, 2019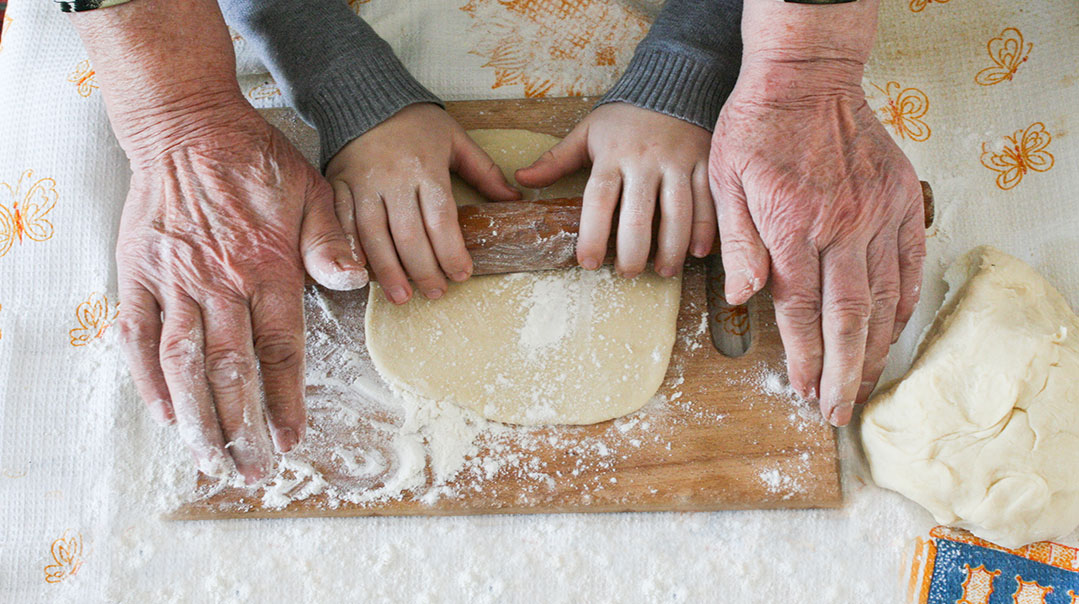 Open any Yom Tov recipe supplement, and you'd think the Jewish community feasts only on the trendiest, most upscale dishes the culinary world has to offer.
The truth, however, is that when it comes to Yom Tov, many families prefer to follow family traditions and enjoy the comfort foods passed down through the generations. How does this culinary mesorah get passed down? Our mothers, of course, learned from their mothers.
Sometimes the cooking skips a generation: Granddaughters who spent time in their grandmothers' kitchens were privileged to learn recipes their mothers didn't have the time for,  recipes that may have originated in different countries and/or centuries. We asked a few granddaughters from various backgrounds what they learned in their grandmothers' kitchens. While the dishes may vary, one theme ties them together: Each and every one remembers those dishes as being heavily seasoned with love.
Pletzel, Kugel and Sugar Cookies 
Riki Besser's great-grandparents arrived in the U.S. from Poland in the early 20th century, and her grandmother, Faigie Morgenstern, learned to cook from her mother. "When my Bubby cooks her mother's recipes, she feels it keeps her mother close to her," Riki says. "My great-grandmother was quite a cook. She passed away suddenly, and when the family came to the house they found an apple cake cooling on the windowsill and a fridge full of food she'd prepared.
They were so sad when they finished eating the food, realizing that now she had really left and there wouldn't be any more." As a child, Riki grew up next door to her doting grandparents, whose door was always open. She spent a lot of time in their kitchen, watching Bubby pull trays out of the oven and prepare food. On Friday, Bubby would send Riki's mother kugel and potato salad for Shabbos. "My grandfather loves a crispy kugel, so Bubby would bake him a flat one in a pan," she recalls. "He'd eat it for lunch with a salad. Those salads are always delicious and fresh. Nobody can make dressing like my Bubby!"
Bubby also treated her husband to his own special roll, a pletzel, on Thursdays, when she baked challah. She'd take a piece of dough, brush it with egg, and sprinkle it with sugar. "All the women in the family make my Bubby's challah recipe," Riki says.

"But somehow it comes out differently in each person's house!" The children still love her "ravioli" — leftover homemade kreplach smothered in tomato sauce — and her baked goods. Bubby makes a signature chocolate cake, moist with a crunchy top, and her cookies, a crisp sugar cookie with cinnamon. Most of all, they enjoy the love and warmth that comes with the food. "I spent so much time in my Bubby's house that she could just look at my face and know if something was wrong," Riki says. "Every child has moments where school didn't go well or friends let you down. I was lucky to have my Bubby right next door to talk to. Today it's a zechus and joy that my own children, her great-grandchildren, still experience that when we visit Monsey — the treats, the great conversation." Those warm, comforting moments are accompanied by comfort food, and the memories never get cold. While many granddaughters cook with their grandmothers, Bina (not her real name) had the privilege of cooking regularly with her husband's grandmother, Mrs. Millie (Mazal) Nahem, a"h.
Every Monday, Bina would go to Grandma Millie's apartment in Deal overlooking the ocean, and bake cakes and pastries to freeze for the coming Shabbos or Yom Tov table. (Millie's grandchildren referred to her as "Grandma-by-the-ocean.") Afterward, they'd share a pleasant lunch together. While Bina's own grandmother was also of Syrian descent, she had been raised in Texas, where the old recipes had gone by the wayside. Millie, on the other hand, had moved as a girl from Aleppo to Eretz Yisrael, then came to the U.S. as a 16-year-old. When she married in her early twenties, she and her husband moved in with her motherin- law, where they remained for the next 25 years. Since she'd left home so young, Millie had learned to cook from her mother-in-law. Millie passed on that knowledge to Bina, showing her how to make Syrian pastries like samboosak, mamoul, and calzones. "She had no recipes. I made her show me what she did and would try to write it down," Bina says. "I learned how to flute the edges of samboosak, although I never got them as perfect as hers! She had a tiny tool she'd brought with her from Syria, with tines on the side, that she used to pinch the mamoul together." Millie never used a recipe or a mixer, though she did own a KitchenAid. Even in advanced old age, when her fingers were twisted, she did everything by hand. She also kept a mental tally of each grandchild's tastes and favorite foods, not an easy task with over two dozen of them. "Her chief joy in life was to make people happy," Bina says.
"Every day, she'd make something else for Shabbat; if someone came to visit, she'd make them lunch." Before and after these visits and cooking sessions, she could usually be found with a Tehillim in hand. On Shabbos, family members would walk to her house to visit, and she always had food to serve them. The kids liked marble cake, while the grownups appreciated the Syrian pastries, made without the traditional rosewater, because most of her American-born family didn't like it. "This was her calling," Bina says. "She never said a bad word about anyone; she didn't know what gossip was. She was just focused on always doing the right thing." Today, Bina doesn't often make Millie's specialties. With a large family, she doesn't have the time, and her children don't like the nuts that are so much a part of Syrian pastries. But she's grateful to have imbibed Millie's mesorah of food and love.
Patience Makes Perfect 
With everyone today trying to cook and dress as well as the latest Insta feed, it seems we've been stricken by a plague of perfectionism. But as Malky Fulda sees it, today's perfectionists have nothing on her Hungarian grandmother, Chani Wachs. "She ironed the linens. She even ironed my grandfather's underwear!" she says with a laugh. Her grandmother was meticulous in everything she did, turning out bakery-worthy pastries and keeping a spotless house with doilies protecting the furniture from scratches from the bibelots. Malky remembers her grandmother making a concoction they called "freezer-taster" cake, layers of nuts and chocolate (no flour) that was kept in the freezer. "She had a yardstick to measure the layers!" Malky says. "She would call the kids over to eat up the scraps." Malky tried to make it once and found that it required a lot of margarine and other health-averse ingredients, so she hasn't repeated it. "It was a patchkeh," she says.
Similarly, when she attempted her grandmother's rich dairy lukshen kugel technique (it was a technique, not a recipe, as everything was done by memory and feel), she was dismayed to discover just how much sugar and margarine went into it. "But it was delicious," she sighs.
Bobby came from another place and another era; people were less health-conscious, and women didn't work, investing their considerable energies into making their homes and kitchens showplaces of domestic accomplishment. Mrs. Wachs was a 12-year-old when the war came to Hungary, and she somehow survived the war with her sisters. She learned to cook from those older sisters. Malky remembers the chicken paprikash and the kokosh cake that was crustier and less oozy than today's babka-like versions. For Purim, her grandmother would bake hundreds of tiny rugelach, dipping the ends in chocolate.
"She spent hours rolling them out," Malky says. "It required incredible patience!" As a cosmetologist, Malky has always been artistic and likes working with her hands. Hence, she's the granddaughter who was the most interested in learning Bobby's recipes. When she was a newlywed, her grandparents and mother visited her in her shanah rishonah apartment in Jerusalem, where her grandmother taught her to make kokosh cake and her famous blintzes. Malky loved the blintzes so much as a child that her grandmother had used them as a bribe. "I still make those blintzes once a year, for Shavuos. Otherwise they're much too artsy-craftsy for regular life."
The stuffed cabbage rolls she made every Succos were an all-day affair, a process that involved preparing the cabbage leaves, filling, and sauce. Malky also remembers the minute steaks she'd simmer on top of the stove, watching them carefully to make sure they came out just right. The only thing Bobby didn't make was challah. She'd buy it from the bakery and warm it in her oven as if it was homemade. But no one complained. "Her food was simple, but so good," Malky says. "You wanted that second piece of chicken paprikash." These days, sadly, Bobby doesn't have much memory left. But her grandchildren will always remember the food she made them from memory.

Cookie Bubbie 
When Shani Sandhaus met her husband, she didn't realize just how special his Bubbie would turn out to be. Esther Faiga Pasternak, a"h, often called "Cookie Bubbie" by Shani's children, lived downstairs from her children in a three-family house in Boro Park. Her house was the fi rst stop for her grandchildren when they returned home from school, and no one left the house without a ziplock bag of "Bubbie cookies." "She made two types," Shani says. "For the youngest children, she made a plain white sugar cookie. The others got chocolate chip cookies with sprinkles and nuts." Bubbie always made sure to keep fresh milk in her fridge because there was always someone coming over for coffee. "Asking for coffee was usually just an excuse to receive cookies along with it!" jokes granddaughter Rivkie.
"She always had rolls of cookie dough in her freezer, foot-long logs that were ready to slice and bake at a moment's notice." Those cookies were well-traveled; when the Cookie Bubbie's grandchildren went off to yeshivah and seminary in Eretz Yisrael — back in the years when this wasn't the norm and phone calls cost a fortune — Bubbie would send them shoeboxes of her cookies, garnering them instant popularity. "All her granddaughters have her cookie recipes," Shani says. "But nobody ever gets them to come out as good as hers!" (Bubbie told her, "You're missing my key ingredient: love.") Shani's sister-in-law comments, "I knew Bubbie wasn't much longer for this world when she told me, 'I'm not up to making Bubbie cookies anymore…' She tried telling the home aide how to do it, but it wasn't the same." Bubbie loved to cater to her grandchildren. For those who turned up their noses at gefilte fish, she made "Bubbie fish" flounder fillets dipped in egg, onion powder, and her own homemade bread crumbs. "She called them Bubbie cutlets, and when the kids heard 'cutlets,' they came running," Shani says. "Challah crumbs are sweeter than packaged bread crumbs, so they loved the taste."
Before Succos, Bubby spent hours preparing her choluptches, or stuffed cabbage. She'd also prepare apple strudel, which would cool on the kitchen counter covered with a checked cloth. Today, Rivkie says, all of Bubbie's granddaughters and granddaughters-in-law make her apple strudel. "We exchange pictures of our strudels covered with checked cloths, sitting on the counter," she says. Bubbie was a petite woman always nicely turned out in a sheitel and makeup, and her serene, loving presence gave no indication of the hard times she'd lived through. As a girl, she was deported with her mother and sisters from their Polish town of Pruszanie to Siberia. When her father arrived home from work in the city that day, he found his family had vanished. He asked the police to help him fi nd them, but instead was sent to the gas chambers. Bubbie's family was on the same Siberian transport as the Novardok Yeshivah.
A bochur from the yeshivah named Yankev later met Bubbie again in a DP camp, where they married and moved to America. There he became a rav and an eighth-grade rebbe, and the Russian he'd learned in Siberia allowed him to help Russian immigrants settle into the U.S. The Pasternaks' home was always open; Bubbie never knew who her husband would bring home from shul. "She was very sharp," remembers a granddaughter. "To stretch the portions, she wouldn't serve fish to someone who didn't like fish, or soup to someone who didn't like soup. When she brought out dessert, and then everybody wanted some, she'd tell some of the kids, 'You didn't eat fish/soup/chicken, so you can't have dessert!'"
Bubbie has been gone for eight years, but Shani was happy to name her daughter Esther Faiga for her. "I call her Cookie," she says.
Bubby Esther Faiga Pasternak - Poland 
Signature dish: Cookies!
Always in the fridge: Milk, for coffee
Succos specialty: Choluptches and strudel
Bobby Chani Wachs - Hungary 
Signature dish: Blintzes, kokosh cake, rugelach
Always in the fridge: "She always stocked those individually wrapped slices of American cheese for her grandchildren."
Succos specialty: Stuffed cabbage
Grandma Millie Nahem - Syria 
Signature dish: Pareve mechshi (stuffed vegetables), made from zucchini stuffed with rice, chickpeas, and mint leaves
Always in the fridge: Tabbouleh salad, made from scratch with cracked wheat
Succos specialty: Her pastries and cakes
Bubby Faigie Morgenstern - Poland 
Signature dish: Sugar cookies and chocolate cake
Always in the fridge: Fresh fruit in season
Succos specialty: Sauerkraut rolls: "She prepares cabbage leaves like you would for stuffed cabbage, then makes a fi lling of diced pickles, red peppers, and sauerkraut. The leaves are rolled tightly around the fi lling and lined up in a container, and then a pickling liquid is poured over them."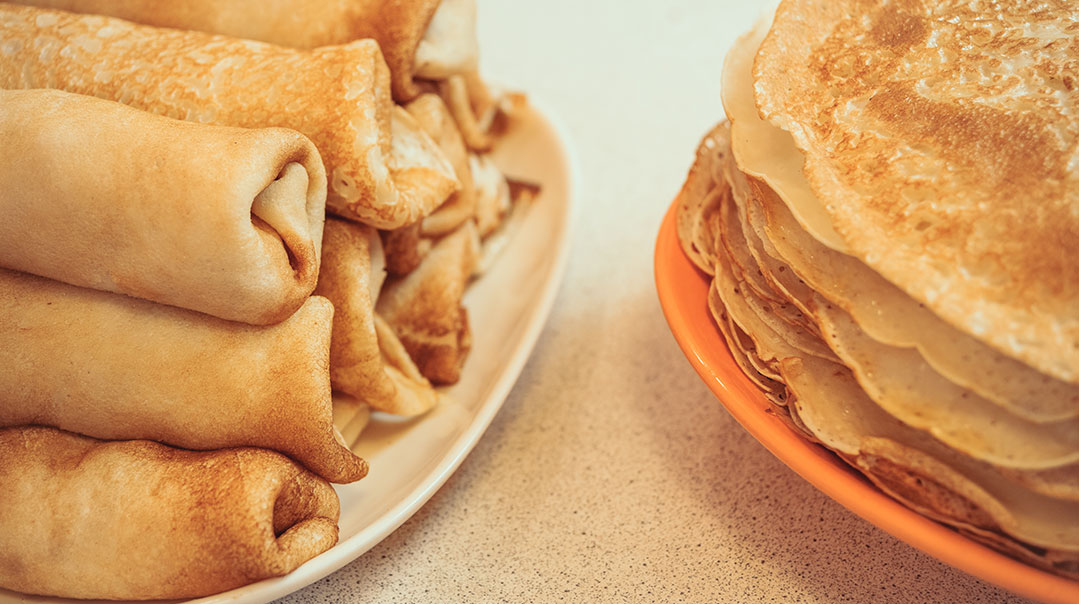 Bobby Chani Wachs's Blintzes 
CREPE BATTER
10 eggs
10 generous Tbsp flour
2 Tbsp sugar
1 tsp vanilla sugar
1 quart milk
4–5 Tbsp oil 
FILLING
3 lbs (1. kg) farmer cheese
1 cup sugar
2–3 tsp vanilla sugar
2 eggs 
Mix all the batter ingredients except the oil until smooth and lump free. Put a little oil into a saucepan, just enough to coat, and heat.
When the pan is hot, use a soup ladle to pour batter into the pan, just enough so the batter coats the bottom (tilt the pan to allow the batter to spread all over). The crepes will cook fast because they're so thin, so flip them when you see the edges starting to curl up. (Malky wears gloves and flips them by hand.) Stack on a plate lined with a paper towel to absorb any excess oil. Repeat until all the batter is finished. Mix the filling ingredients in a bowl.
Place a couple of tablespoons of filling onto a crepe. Roll up with the edges folded in and bake at 350°F (175°C) until golden, about 20 minutes.
Bubbie Esther Faiga's Cookies 
⅔ cup margarine
⅔ cup Crisco
2 eggs
1 cup sugar
1 cup brown sugar
2 tsp vanilla sugar
. tsp salt
1 tsp baking soda
2 cups flour
1 cup ground nuts (Bubbie preferred walnuts)
1 pkg chocolate chips, sprinkles, or colored chocolate chips (get creative, Bubby did!) 
Preheat oven to 350°F (175°C). Cream the margarine, Crisco, eggs, and sugars. Add the vanilla sugar, salt, and baking soda, then add the flour and ground nuts. Mix in the chocolate chips by hand. Refrigerate the dough for 10 minutes, then drop by tablespoon onto baking sheets lined with parchment paper. Bake for 8–10 minutes.
Bubby Faigie's Sugar Cookies 
3 Tbsp margarine
½ cup sugar
3 eggs
3 cups flour
3 tsp baking powder
cinnamon-sugar 
Cream margarine and sugar, add eggs. Add the flour and baking powder and mix well. Roll into balls, then fl atten and press into cinnamon-sugar. Bake at 350°F (175°C) for 10 minutes.
Grandma Millie Nahem's Samboosak 
DOUGH
¾ cup semolina
3 cups flour, divided
1 tsp baking powder
1 tsp kosher salt
¾ cup water
1 cup + 2 Tbsp (2¼ sticks) margarine, softened 
FILLING
1 8-oz (225-g) pkg shredded Muenster cheese
1 egg
pinch baking powder
pinch salt TOPPING
1 egg
sesame seeds 
To make the dough: Mix semolina and ¼ cup flour together by hand. Add the remaining fl our, baking powder, and salt. Add water and margarine to make a soft dough. Mix the fi lling ingredients in a small bowl. Roll out the dough and cut into rounds with a drinking glass. Place 1 teaspoon of fi lling in the middle of each circle and fold over into a halfmoon shape.
Crimp the edges together with a fork. If desired, brush with egg and sesame seeds. Bake at 350°F (175°C) till golden, about 20 minutes.
(Originally featured in FamilyTable, Issue 663)
Oops! We could not locate your form.
>