| One Day Closer |
From Finish to Start
| December 25, 2019
What's on the minds of the mega-siyum organizers, and what stirs their hearts as they put the finishing touches on the historic gatherings?
---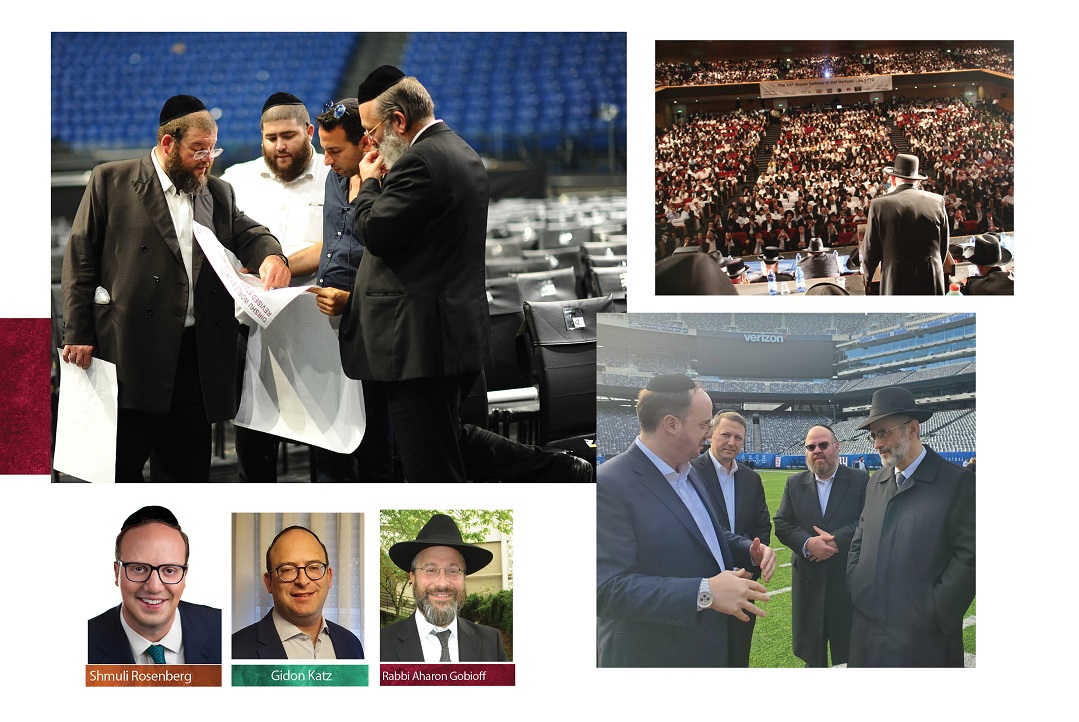 T
he conclusion of the 13th Daf Yomi cycle is a long anticipated event, one that will mark the end of a 2,711 page long odyssey that has taken the Jewish people through all of Shas. As misaymim all across the globe get ready to celebrate their achievements, organizers worldwide are busy putting the finishing touches on siyumim that have been years in the making, and whose details are complicated enough to dizzy even the most seasoned event planners.
Managing to pull coordinators of three large-scale siyumim away from their last minute preparations for just a few minutes, Mishpacha spoke with Shmuli Rosenberg of Agudath Israel of America's Siyum; Rabbi Aharon Gobioff, American director of Dirshu; and Gidon Katz of Kollel Iyun HaDaf's English Siyum Hashas. What's on their minds and what stirs their hearts as they put the finishing touches on the historic gatherings?
What are some of the most notable contrasts between this year's siyum and those of the past?
Shmuli Rosenberg:  On a technical level, the program will be enhanced with additional programming including audio-visual presentations, while the physical configuration at the stadium has also been changed, with a raised center stage with four podiums ensuring that every seat will offer a great view.  And having seen how many people left the 12th Siyum HaShas inspired to learn Daf Yomi, we started encouraging people to step up their learning more than two years ago, with 36,000 children learning through Masmidei HaSiyum and 12,500 thousand individuals taking part in Chavrei HaSiyum.  With so much hisorerus already in place before The Siyum, we can't even begin to imagine how much inspiration will be achieved this time around.
 Rabbi Aharon Gobioff:  In America alone, the Dirshu siyum has undergone an enormous expansion. Our last siyum was a weekend event with 500 people coming for Shabbos and another 1,500 joining the program Motzoei Shabbos; this siyum quickly outgrew its original location and we had to add on two more venues. The number of misaymim has grown with this Daf Yomi cycle and we will have eight different siyumim taking place over several months in the United States, Israel, Europe and South Africa.
Gidon Katz:  This will be the third siyum for the Anglo community in Eretz Yisrael and our largest ever, and it is incredible to see the many types of people who are coming to be inspired. We have heard from a shul in Netanya where the average age is 85 and from yeshivas whose talmidim are 17 or 18 years old.  We have avreichim coming from the Mir, balabatim, Daf Yomi wives and seminary girls and when I went to the dentist last week, one woman told me that she had bought a ticket in row six and was looking forward to the siyum.
How many people do you expect to attend your siyum?
Gidon Katz: Our audience is pretty niche – it's English speakers who are in Israel. Still, we're expecting 8,000 people, a significantly larger number than the 5,500 we saw for the 12th Siyum HaShas. We had to book four separate halls in the Binyanei Hauma International Convention Center complex to accommodate everyone.
Rabbi Aharon Gobioff: The numbers are staggering: 20,000 people in the United States in three separate venues, 15,000 in Eretz Yisroel, more than 5,000  at two events in England and thousands more in France, South Africa and in Russia, with a special Shabbos siyum held in Pinsk/Radin.
Shmuli Rosenberg:  Between our attendance at MetLife Stadium and the recently added Barclays Center, we expect 120,000 people to attend The Siyum in person. Our 1 p.m. start time will give us the ability to reach tens of thousands more overseas and partnerships with various kiruv organizations and their extensive worldwide audiences will allow us to address acheinu bnei yisroel all across the globe with a reach that will top 2 million.
What thought or mantra has kept you going during the long days (and nights!) spent preparing for the siyum?
Rabbi Aharon Gobioff:  Putting together an event of this magnitude requires massive amounts of coordination and planning, but I focus on the commitment required to do Daf Yomi through Dirshu, and that keeps me going. In the United States alone we will have approximately 100 misaymim who will have completed all of Daf Yomi without ever missing a test, 40 or 50 of whom have been taking cumulative exams covering everything that they have learned until that point. I want people to come and see the people who are putting in tremendous amounts of time and whose lives are soaked in Torah.
Shmuli Rosenberg:  This journey began for me in August 2018, and since then I have been incredibly inspired every time I heard of another person whose life has been changed by learning. Those stories push you to do more, to try harder and to give your all so that all the pieces can fall into place, no matter how many there may be.
Gidon Katz:  The first siyum I attended was 15 years ago and although I didn't fully grasp what was happening because I was younger, you still carry those memories with you. Seeing the whole olam saying kabalas malchus shomayim in unison, how proud they are of their own achievements and how happy they are for their friends who were also zoche to be misayem Shas – those scenes are something you can hold on to, and the motivation to make it happen again drives you through the many months of planning.
Which logistical detail seemed almost insurmountable and how did you finally work it out?
Shmuli Rosenberg:  When we started Chavrei HaSiyum, it seemed crazy to encourage people to learn beyond Daf Yomi for The Siyum and we were skeptical if people were going to take to the concept. I spoke to one rav who laughed at me when I suggested having his kehilla take on Shas -- he told me at the time that many of his balabatim hadn't opened a Gemara in years and that maybe they could take on Maseches Makos which is only 22 blatt. Baruch Hashem, that shul is finishing Shas. It just goes to prove that klal Yisrael always has a thirst for Torah.
Gidon Katz: Having to expand into four different halls and making sure that everything could still work simultaneously created certain challenges but, Baruch Hashem, everything came together.
Rabbi Aharon Gobioff:  Thankfully we encountered very few major challenges and the only difficulty we faced was the large number of people who wanted to attend, which meant jumping into additional venues very quickly. Our team members are based in different places but we have conference calls all the time, and we work well together to iron out all the details.
Did you run into any surprises along the way?
Rabbi Aharon Gobioff:  We really didn't. It was beautiful to see how happy the gedolim were to join us and how many people wanted to come. There has been a lot of happiness and excitement and while it is a lot of heavy work, we are seeing tremendous results.
Shmuli Rosenberg: The only surprise in the equation is one that is still up in the air -- the weather. We are assuming that the weather will be nice but have backup plans in place in case things turn out differently. We have brought in experts to help us deal with the challenges of having a live orchestra playing outdoors and one of our musicians --  a former IDF soldier who understands what the siyum is all about -- told us, "I've played in the worst outdoor conditions and done my job;  don't worry, I will be there."
Gidon Katz:  The passing of Rav Chaim Malinowitz, the general editor of the ArtScroll Schottenstein edition of Shas, was an unexpected blow. But we know that with siyata dishmaya, this will still be an amazing event that will inspire participants in an incredible way.
What's your biggest worry as the siyum approaches?
Gidon Katz:  Even though our siyum will be taking place indoors, we're still concerned about weather issues, especially because snow can be a big problem here in Jerusalem. Also, we'll be livestreaming some of the MetLife Stadium siyum, so we're hoping to avoid any technical glitches.
Rabbi Aharon Gobioff: Our big worries are security issues and the weather, but we're hoping that everything will proceed according to plan.
Shmuli Rosenberg: My big worry is that we haven't inspired enough people. Did we start enough Daf Yomi shiurim? Did we get enough people to learn? There's so much more we can do, so many more people to reach -- but we're running out of days to do it before The Siyum.
What feeling do you want people to have when they leave your siyum?
Shmuli Rosenberg:  I want people to say, "I am part of klal yisroel and am going to be kovea itim l'Torah." That's not something a typical man can do on his own – it's usually a family affair and it takes the family's full support to make that happen.
Rabbi Aharon Gobioff:  It is our hope and our prayer that everyone walks out aspiring to be a Dirshu yid, someone who learns Torah with accountability.
 Gidon Katz:  I would love to hear people saying "zeh kef, it's geshmak, to learn Torah." Daf Yomi is hard work, but when you come to an event like this you realize it's worth the investment.
(Originally featured in 'One Day Closer', Special Supplement, Chanuka/Siyum HaShas 5780)
Oops! We could not locate your form.
>