| On Topic |
From Classroom to Boardroom
| June 19, 2019
The fresh-off-the-plane-from-seminary girl's guide to landing your first job — and succeeding at it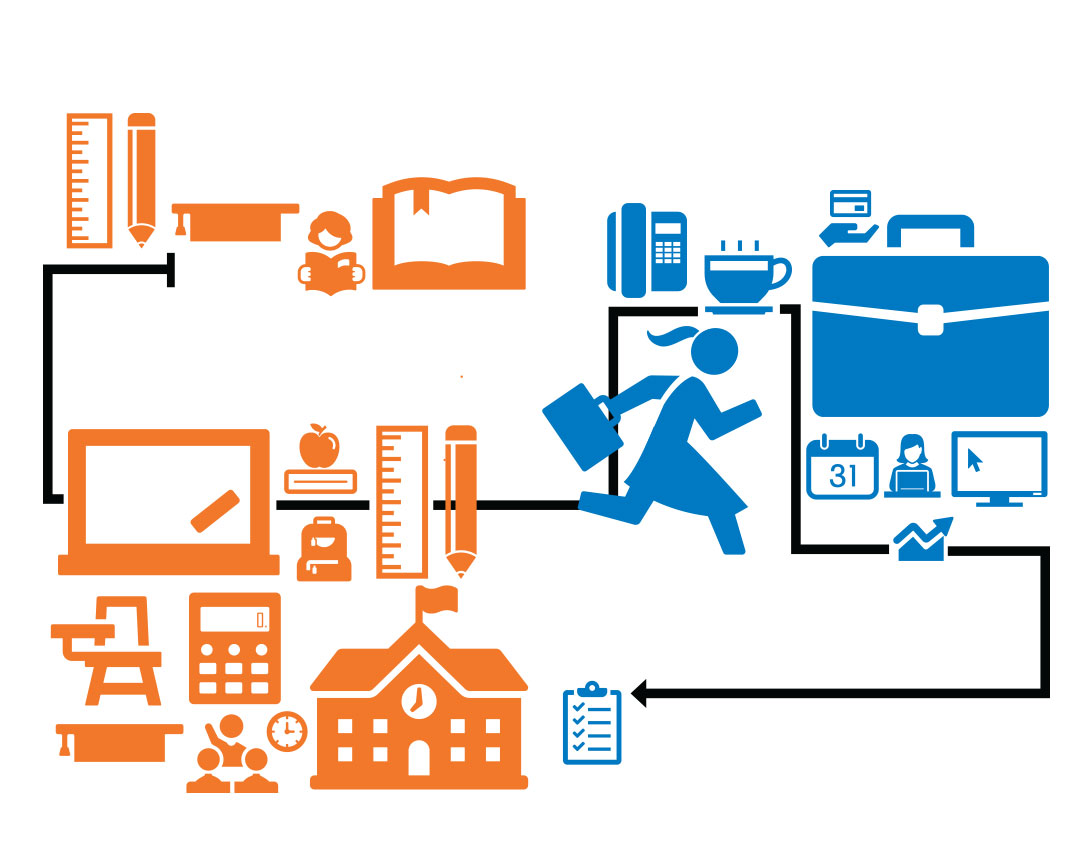 "I
t was around Pesach time of our seminary year when the job-search panic set in," Dini Hoffman remembers. "My sem pals were frantically pacing up and down the stairs of our building, calling friends, neighbors, cousins, and old teachers, desperately searching for a job that would launch them into the real world.
"In my circles, we didn't have much work experience outside of summer camp jobs, so we weren't sure where to start when it was time to find that nine-to-five.
"Across the board, many grads enter the working world with little to no direction about how they can best utilize their talents. Outside of a painfully generic aptitude test I took in seminary — my result was 'farmer,' I kid you not! — I really didn't receive much guidance on what professional path would lead to a fulfilling, sustainable career."
Fast forward a few years. After some hard-earned experience, Dini and her friends finally worked their way up to positions that were a great fit professionally and personally. That's when they decided to start an organization called Thrive Till Five, a Jewish girls' guide to the working world.

The website and organization is run by Dini, Brocha Cytryn, and Avigayil Weinschneider, who emphasize that their "goal is to help women maintain their values, find — and succeed at — a job they love, and create positive spheres of influence wherever they find themselves."
So to all you recent grads out there: Whether you're trying to figure out which career best suits you, you're searching for an open position, or you're trying to succeed at the job you just started, here are some practical and pretested pointers from women who've "been there, done that."
What to be when you grow up
The best time to gain work experience for your chosen career path is when you're young and have minimum commitments, but we often see recent grads wasting those precious years in dead-end jobs with little growth potential. And it's usually because they didn't do the prep work to determine what career path would best suit them and the life they foresee themselves leading.
Our "how to pick a career" advice is simple: Get to know your strengths. Make a list of your favorite hobbies, most enjoyable subjects, and the accomplishments you've achieved — in school, seminary, camp, and at home — that bring you the most pride.
Now sit back, sip your coffee, and examine the list. Try and determine what qualities these activities have in common. Do they use the creative part of your brain, or are they more analytical? Does this subject require attention to detail or is it more fun and spontaneous? Was the best part of this activity the people you experienced it with, or did you love it precisely because you had quiet, solitary time? See if you can draft a simple list of jobs that could potentially combine these qualities into a practical, enjoyable career.
Next, write down your list of "technicalities." For instance, at the height of your career, how many hours do you see yourself working each week? Would you be willing to commute for this job? Can you see yourself feeling comfortable working in a secular environment, or are you determined to work in a strictly frum office? Are you looking for a high-earning potential career, or would you concede to taking a pay cut in exchange for increased flexibility in your personal life?
Lay your "qualities" and "technicalities" lists side by side. Is there a particular industry that would utilize those skills and conform to those conditions?
If the answer is yes, search for entry-level positions (jobs that don't require extensive experience and are usually easier to come by) that could help you hone the skills necessary to succeed in this sphere. For instance, if you're sensing you'd be great at sales, look for jobs that will add "communication skills," "public relations," and "coachability" to your resume.
If the answer is no, try and narrow your interests down to two or three fields. Then try to find internships in those fields so you can experience first-hand what it's like to work in them.
"Internships can give you a peek into an industry — with no commitment," says Avigayil, who worked her way through several internships before landing a sales-planning job that she really enjoys. "You can learn so many new skills and it helps you create a network of helpful contacts before entering your chosen field."
Don't have time to invest in an internship? The second-best way to narrow down your career choices is by doing thorough research. Speak to women working in your top three fields for the inside scoop. They're the ones who can offer a realistic sense of what the job entails. For example, your ideal field might not offer any jobs that aren't full time — and flexibility may be more important to you down the line.
Discussing concerns and questions with boots-on-the-ground women who understand the unique challenges that you, as a frum woman, will face is critical to making an educated choice.
During the decision-making process, another challenge might come your way: the dreaded peanut gallery. There's always going to be someone who tells you the career path you've chosen for yourself is a terrible idea for a myriad of reasons. Now's the time to trust yourself, trust your family and mentors, and trust that Hashem is going to guide you toward the perfect trajectory for you.
Once you have a basic idea of what job market you'll be dipping your toe into, you're ready for the next step….
Crafting a catchy resume
It's hard to draft a resume when you have little to no professional work experience, but don't worry: Employers looking to hire new grads know what to expect. What they want to see most on the rיsumי is your potential.
Try and reflect on the skills and qualities you've obtained and displayed at school, camp, and home that connote organization, leadership, teamwork, etc. Succeeding in roles that require responsibility (such as a camp counselor, lifeguard, chesed volunteer, and the like) will speak volumes about your ability to commit and accomplish.
A few more pointers: Offer some quality references, make sure your contact info is very obvious, and stick to a clear, concise layout.
Now you're ready to start….
The job hunt
Step #1: Find at least five potential open positions in your chosen field. Eighty percent of jobs are filled through networking and word-of-mouth, so speak to extended family members, friends, and community members whose work or skill set interests you. Ask questions to get them talking: What is their day-to-day like? How did they get started? And most importantly… does their office or organization have any openings?
Step #2: Narrow down your options. At this point in the game, it's important to
keep an open mind. Most people's career paths are not linear; there will almost always be twists and turns and learning curves along the way. Even if a position doesn't seem like the glamorous, career-launching job you envisioned, consider accepting it if you can answer "yes" to any of the following questions: Does it offer you room for growth? Will it open doors for you? Will it train you in a skill that you'll need to master before you move on to the next stage of your career?
Raizy's path to her current job, a special education supervisor, took several twists. "I was always super creative, a very 'head-counselor' type with lots of energy. After teaching second grade for about a year, I become a recreational director in a nursing home. After only a few months, I realized I'd rather work in a younger, more growth-oriented space. As I studied for my master's in special education, I worked my way through the ranks until I became a supervisor of an entire special ed program in a frum girls school."
Step #3: Hopefully, the people you reached out to in Step #1 will make an introduction on your behalf for a potential job opportunity. If not, find a contact e-mail or phone number for the recruiter, HR head, or even CEO of the company. Send them a "cold e-mail" with a short, punchy, polite introduction… and name drop! It's perfectly acceptable to open with "Hi, my uncle / second cousin / college advisor recommended that I get in touch with you." If you found the job on your own, explain why the field interests you, and what about their company stood out to you as a great place to apply.
If, at this point, you're thinking to yourself, "Why on earth would someone hire me when I have zero experience?" — well, you're not alone. A common pitfall women face during this stage is imposter syndrome. So many of us doubt we can succeed in certain positions or fields simply because we've never done it before. But it's important to remember that everyone starts somewhere, and many employers will appreciate your "willing-to-learn" attitude and they will take a chance on you!
Congrats! You're hired!
Six steps to get through those first-day jitters and the learning curve of the initial few months — and start building your budding career:
1 present an "I got this" attitude, even if it's just a facade at first.
"Fake it till you make it" doesn't mean lying about what you can accomplish; it's about showcasing your confidence in your own ability. "People with little or no prior working experience tend to doubt themselves and it shows," says Brocha. "Now is not the time to let your fears and insecurities take over. The people in power want to see that you're a positive investment in the company."
If you show your boss that you're capable, eager, and excited — even if you're terrified — they'll entrust you with more responsibility and you'll gain the skills you set out to master when you began your career journey.
2 Bring a notebook.  This is so basic, but so very important. During the first few weeks, you're going to learn many new names and tasks, and have loads of questions — jot it all down! You want to be seen as a good listener, not the person who needs instructions or work procedures to be repeated again and again.
3 Pose smart questions. "When we're training in a new hire, we like to hear them ask questions," says Zahava, an account manager with several years of hiring and training newbies. "To us, this shows that the new employee is actually interested and engaged in their training. Nodding and agreeing with everything I say, particularly when I'm explaining something that could be potentially difficult, doesn't fill me with confidence about your ability to adapt and speak up when necessary."
Also, people who have been in a position for years often forget what it's like to start from the very beginning, so they teach you steps 3, 4, and 5 when you don't even know steps 1 and 2. Never be embarrassed to ask for clarification, especially when colleagues drop industry terms and technical lingo.
4 Be a "Yes" Employee.  When you start working, you might be given tasks that have nothing to do with the job you applied for. Often, they're testing your abilities, but sometimes it's simply because you're the newest hire. Either way, use it to your advantage. Learn the ins and out of the business, meet new people, get your name out there, and take names down. Use these opportunities to make new contacts, gain new skills, or build the trust that will propel you further in your career.
An important caveat: Sometimes, it's okay to respond with, "I'd love to help you, but I have another commitment to take care of at the moment." If you find you're constantly being asked to perform menial tasks that go beyond the scope of your duties, such as making coffee, cleaning the office, or picking up your bosses' children from school (a surprisingly common and inappropriate request), it may be a sign of an unhealthy workplace. It's easy to grow complacent in a job that doesn't bring you fulfillment or build the skill set you're trying to gain, so stay cognizant of your goals and constantly double-check that your current responsibilities are getting you there.
If you feel the job does have real potential, then sit down with your boss and explain your predicament: You're being asked to do minor tasks while you could make better use of your time and take care of more significant projects more effectively and efficiently. Show your boss you're serious about growth, not that you're simply "above" the little things.
5 Come in early, head out late. Career coach Shaina Keren stresses that this can leave a significant impression on managers, and can be a deciding factor when it comes to giving promotions. Additionally, if one day you have a doctor's appointment or a simchah, and you're known around the office as someone who gets in early or stays late, it can give you some leeway.
To all the single ladies: Use this time to your advantage! You will stand out now because of your dedication, and you'll have what to use as leverage when you need the time later on.
6 Work smart, not hard. "Just because a coworker is working harder than you doesn't mean they're accomplishing more than you, getting ahead of you, or doing the work more accurately," says Avigayil. "You should perform your job in a way that makes the most sense for you and fits your professional goals."
New beginnings can be difficult, but at least now you hopefully have some direction on how to jumpstart your career — and thrive till five.
(Originally featured in Family First, Issue 647)
>