| Knesset Channel |
From Ben-Gurion to Gabbay, Labor's Political Slide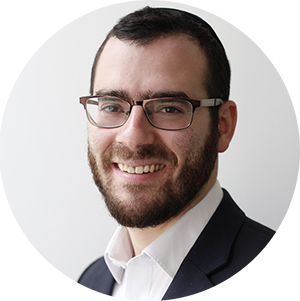 | February 20, 2019
Deep in the digital era of 2019, Israeli elections are a printer's dream. Roads, bridges, and streetlights are festooned with politicians' portraits, and mailboxes overflow with campaign literature. But to understand the current elections, forget the glossy ads of today, and look at the faded posters of 1950s Israel, stored a short distance away from the Knesset in the Central Zionist Archives.
If the Knesset is the stage on which the country's future will be acted out, these archives are where its past is buried. Among learned tomes on forgotten Zionist factions in Eastern Europe and volumes of the 1937 Peel Commission on Palestine is a treasure trove: a collection of evocative election posters from the 1950s and '60s. Israel's socialist past jumps out of every image. Tanned soldier-farmers and idealized kibbutz families look ready to dance the hora and bring in the harvest. A laborer, a housewife, and a factory worker hold aloft a giant letter alef, symbol of Ben-Gurion's Mapai party. But this collection is more than mere nostalgia. It might be the key to understanding one of the big stories of this election, the threatened erasure of the Labor Party.
Israeli political parties come and go, but this is different. Labor, and its previous incarnation as Mapai, ruled Israel with an iron fist for decades. It was the party of Ben-Gurion, and its little red membership book was a passport to jobs and favored status within a quasi-socialist command economy. But in the upcoming April 9 elections, some polls have shown a party teetering on the edge of electoral oblivion. And even according to the latest polls, which give it 10 to 11 seats, this is no government-in-waiting. So how did a party once so dominant sink so low?
1959 Meets 2019
Perhaps there's a clue among the faded posters. Ben-Gurion's 1959 election pitch was simple. "Say Yes to the Old Man," his Mapai propaganda proclaimed. Listing his achievements, including the 1956 Sinai victory, absorbing millions of immigrants, and building a national water system, the message was clear: trust proven experience in challenging times. The knockout blow was a smear campaign against his closest rival. Herut's Menachem Begin is depicted as a little boy in shorts riding a tricycle and holding a toy sword. In other words, a clownish fascist. The two-pronged strategy was effective. In 1959, Ben-Gurion's Mapai won 47 seats, the highest ever in Israeli history.
Fast-forward to 2019, and things are strikingly similar — except in reverse, with Labor as the victim. "Bibi, another league," giant posters read, featuring Likud leader Binyamin Netanyahu standing next to Donald Trump. In other words, proven success. And just to be sure, any challenger, including defense hawk Moshe Yaalon is mocked as a politician of the "left," the current pejorative of choice. Today's Labor is faced with Begin's problem of 60 years ago. It's hard to argue with success.
Meet the New Guard
Old election posters are one thing, but what does today's Labor new guard think about the party's future? MK Itzik Shmuli is a rising party star who surprised everyone by taking second place in last week's primaries. Aged 39, he rose to prominence as an activist in the 2011 "cottage cheese" demonstrations protesting Israel's high cost of living. So why has Labor fallen so far? "One reason for the hard times," he said in a phone interview, "is because people prefer simple answers to complex problems. Others give simplistic answers that are dangerous. But we are suggesting complex answers to complex realities, like immigration, terror, and the economic crisis." The solution, per MK Shmuli, is to take the fight to the enemy. "Many people on the left, including in my party, didn't fight Bibi using the ideology of Labor, which still has high support in Israel in terms of social issues. That's why I was chosen, because I want to raise those issues."
The elephant in the room for Labor, of course, is its association with the failure of Oslo. And here, even the young guard defends the policies of old. "I don't think we have a problem with support for our ideology; we have to change the way we engage with the public," Shmuli insisted. The Tel Avivian doesn't accept that Rabin's legacy could be the party's Achilles heel: "If there was one thing I would turn back the clock on, it would be the Rabin assassination. He was a leader who spoke the truth."
The Nobodies
Back in the Zionist Archives, which I visited recently, there is, of course, no hint of the geopolitical typhoon called Oslo. But to my mind, the key reason for Labor's demise is obvious: it's the relative absence of posters appealing to the Sephardi public. In the state's early years, Israeli politics was a secular white-on-white battle, dominated by Ben-Gurion's Mapai and Begin's Herut. The Mizrachim, as they were called, were an afterthought, expected to dutifully vote for one of the established parties.
A hint of the disdain directed at the Jews of North African and the Middle East comes from, of all sources, a declassified CIA report made available a few years ago. Dated 1972, it describes the social divisions between the successful Ashkenazi elites, and what it calls the "Black Jews," or Sephardim. Borrowing a phrase from Sefer Yehoshua that was clearly current in Israel then, it says that "the Oriental Jews are drawers of water and hewers of wood." The same patronizing attitude extended to religious Jews. Like the Sephardim, the religious parties were viewed as mere ballast in the Mapai ship of state.
But much has changed since the 1950s. The tectonic shifts in Israel's makeup — with more than 50% of Jewish Israelis now calling themselves traditional or religious — are what has truly buried Labor. And while accurate statistics are hard to come by, Sephardim are assumed to be a majority in Israel, with both Shas and Moshe Kahlon's Kulanu as political homes. It's no surprise, then, that the wood hewers-turned-lawyers don't feel comfortable with the patronizing elite who sniffed at them.
So today's Labor has swung the other way. It's a riot of pluralism. The Ashkenazi liberals are led by Avi Gabbay, a former Bezeq CEO of Moroccan extraction. He heads a list including Amir Peretz, a Moroccan trade unionist; the kippah-wearing, splendidly named YaYa Fink; and even a (nominally) chareidi candidate named Michal Chernovitski. But even this is no solution. The Ben-Gurion who frowns out of the posters (schoolboys used to call his hair tufts "wings") was an icon of a (thankfully weakened) secular Israeliness, and his founding-father effect boosted Labor for decades. This is now gone. From Ben-Gurion the kibbutznik to Gabbay the executive, the stretch is simply too far. In a world of clear political messages, Labor sends out mixed signals.
One more gem of political insight lies in the poster collection. It's an anti-Ben-Gurion cartoon from Begin's Herut party, casting the Mapai as Kremlin guards eating sweet Communist ice-cream. It's an attempt to paint the Israeli left in the worst light — as Stalinist stooges. So, here's an intriguing thought: With Jeremy Corbyn and Bernie Sanders leading a socialist revival among progressives on both sides of the Atlantic, could today's Labor mount a comeback by turning hard-left?
Now that's a party Labor leader Ben-Gurion could have loved.
(Originally featured in Mishpacha, Issue 749)
Oops! We could not locate your form.
>