| Feature Articles |
Friend in Court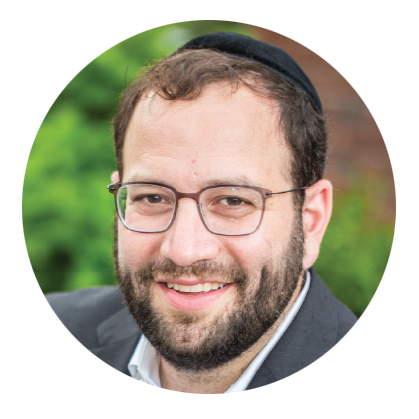 | August 28, 2019
The Catskills slow lane is just the ticket for this Woodridge traffic judge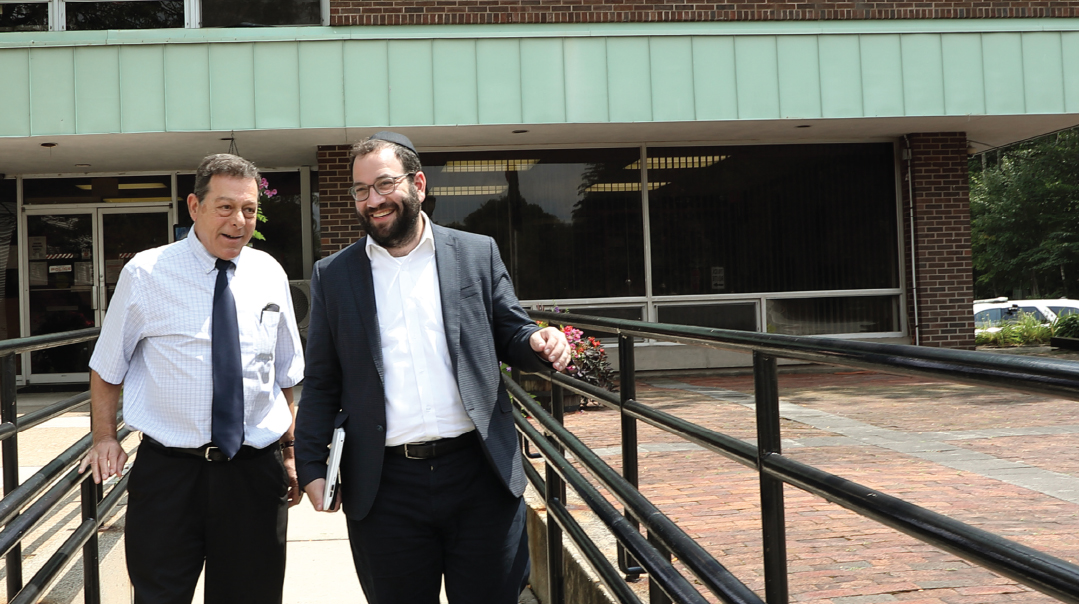 Photos: Alex Pollisky
I
t's never fun to get a speeding ticket, but if it happens in Woodridge in the summer, at least you can have a pleasant conversation with the judge while sharing the courtroom with others like yourself — not exactly criminal types, just going a little too fast for this laid-back town. For Judge Kalter, life in the Catskills slow lane has been just the ticket
On this Wednesday evening toward the end of summer,  the long, low municipal building in Woodridge, New York, feels as heimish as a daled minim market. People holding places in the line running alongside the building and down the street exchange greetings with acquaintances, and small clusters form, little groups chatting to pass the time.
At precisely 6 p.m., the doors open, and the chief of police, John Calvello, sits at the table in a tiny office receiving litigants, one by one. I am part of a crowd made up primarily, but not only, of Orthodox Jews — everyone bearing similar papers, tickets issued by the Woodridge police department over the past few weeks. On this evening, as on every Wednesday at six, court is in session.

The conversations go fairly quick. Plead guilty, get a reduced charge, lower fine and points, and then, once you agree, you get to go through the metal detectors into the courtroom of Village Justice Ken Kalter for the actual sentencing.
You know that classic frum facial expression, the how-long-will-this-take frown, usually accompanied by a I-have-so-much-to-do sigh?
I do it too as I come in, and I immediately know two things. One, is that this will take much longer than I expected, and two, that it might actually be interesting.
Although it's definitely a formal courtroom — clerks direct visitors to remove their hats as they take their seats — there is something relaxed about it too, the judge looking down from his elevated perch wearing an expression of amused tolerance.
I spend too much time on highways, and I've been to many of the courtrooms off the 87 between Montreal and New York. But I've never yet seen a judge who sits this way, leaning forward, really listening to the people talk, his eyes reflecting empathy.
Judge Kalter sighs along with a beleaguered young Hispanic gentleman who shares an apartment with several families and works as a bricklayer. He was going 11 miles over the speed limit on his way to work and is facing a steep fine. The judge, recognizing the litigant as hardworking and sincere, speaks softly. How many days of work would it take to pay the fine? I can see the gentleman relax, his posture softening as he answers.
The judge names an amount and lowers his voice, just a bit. "Can we handle that?" he asks, and then, even more quietly, "Can we try to be more careful with the speed?"
Next is a chassid who was speeding in a Lincoln Navigator. "You're 21," the judge says after reading the charges, peering down. "What are you doing with such a big car?"
"It's my father-in-law's car," answers the defendant.
The judge spends the next few moments hypothesizing about the conversation that ensued after the young man came home. "Did you tell him the truth? Does he still let you drive his car?"
It takes the chassid a moment to realize he's being teased, and then he joins the rest of the spectators in muted giggles.
This judge does financial advisor too when a 60-something woman asks for more than the usual 30 days to pay up her $150 fine. She's retired, she explains, and it will take a few months for her to have the money.
The judge frowns, entirely serious. "You seem strong and capable of work, why did you retire if money is so tight?" She takes a step closer and tells him something quietly. He shakes his head. "You deserve more, you should get your job back. Even part-time."
Over an hour passes, and while patience isn't one of my virtues, the time moves quickly — the judge is somehow entertaining and kind at once.
A rebbi at Camp Morris was speeding on the road between the camp and the main street of Woodridge, and the judge bangs the table in frustration. "So, they got you!"
And for the benefit of his by-now rapt audience, he shares a little history lesson:
"When we were redoing the sewage and plumbing for the village," the judge says, "our friends at Camp Morris wanted to be part of it — they also wanted to be included in the renovations. The site was annexed into the village of Woodridge, so what happened is that the road connecting the camp to the village was also affected, it also became part of the village."
The courtroom goes completely silent. "The law in villages across the country is that the speed limit is 30 miles an hour, but motorists don't realize that and they're always going a bit faster. Our cops loooove to get people on that road."
The judge forms a map with his fingers. "You go down Old Falls Road from Camp Morris to the town and boom, they have you."
Eventually, my turn comes, and the judge asks me what I do for a living. I tell him, and he asks me what sort of articles I write. Inspired, I suggest we sit down for an interview, and he can share his experience and insight with our readers.
His eyebrows go up for a moment — who invited me to play comedian in his courtroom? — but then he goes on, wondering what the exchange rate is on Canadian dollars, and I do  realize that the fine is $125 US, not Canadian.
Then it's on to a guy from Uzbekistan, and the judge wonders if the defendant is scared of Trump and worried about being sent back. "No, I have a green card," the shy slim man who works selling snacks at construction sites says proudly. The judge nods. "Good job. Good job. I don't know what they would have done to you in Uzbekistan for speeding, but here, you pay the fine, and you be more careful, okay?"
Several days later, sitting in a room on the second floor of the municipal building in downtown Woodridge just across the street from Center One, Judge Kalter graciously accepts my compliments.
"Look, I wouldn't say I'm trying to be entertaining, but I do try not to make it less pleasant than it needs to be. Most people don't speed on purpose, and they don't have criminal intent. Yes, they need to slow down, and if everyone would speed, the roads would be quite dangerous. I get that, but we don't have to treat them like criminals. I also try to make it pleasant for those waiting, not just by chatting with the defendants — in this courtroom, everyone has a right to talk for as long as they want — but also by allowing cell phones and magazines for the people waiting."
The easygoing attitude blends in with the scenery: an American flag framed by the cloudless blue sky visible through the window, the laid-back vibe rising from the summertime streets.
"Yeah, maybe that's why it drew me," the judge agrees. "I liked it here, so I stayed."
A child of Queens, Ken Kalter was an ambitious teenager who took a summer job like so many other city kids. "I was too young to be a waiter, so they only let me wash dishes at the old Vegetarian Hotel here in Woodridge. I worked hard, and after a few summers, they promoted me. Other hotels even tried to hire me away, but I was loyal."
After graduating high school and college, Ken Kalter married Barbara — and they knew where they wanted to settle.
"Our wedding was in Queens at the Whitestone Jewish Center, and we came right out here."
The couple started in Woodridge, renting a room in Camp Morris. "It was empty during the winter, and the rabbi in charge, he was a real nice man, realized after one year that it wasn't worth having to heat it for the bit of rent we paid."
Ken Kalter was selling insurance and enjoying the Catskills air all year long.
W
e walk down the stairs and out to the town square. We're surrounded by stores, most of which are closed, paint peeling on the shuttered wooden doors.
"Woodridge had pharmacies, banks, mechanics, shops… so much action, it was beautiful. The old-time hotels were in their heyday, and there was business for everyone."
Ken Kalter was a good neighbor, an active citizen, and a respected local voice. "I was asked to serve as a trustee by some of the older politicians in town, and I enjoyed that. The salary was paltry, but we were making a difference."
In the late 1990s, Kalter was asked to serve as associate village justice, a position that comes by appointment. He agreed as a favor to the mayor, but when the then-justice suddenly resigned, he was called to fill out the term.
With no legal training, he was sent to Albany for training. "It was an important learning experience — they had some great teachers there, and I felt ready."
The newly minted judge kept his day job selling insurance. "Along with the fact that I was raising a family, and I needed a real income, I realized something else…"
And here Judge Kalter shares one of the secrets of his courtroom.
"Selling insurance is about listening to people, hearing what worries them, what reassures them, and addressing their needs. It made me a better judge. When I'm on the bench, I'm trying to see people and speak to them in a way they can understand."
Most of the defendants were there for parking or speeding violations. "We have some big cases, drunk drivers and such, and then we have to adjust the protocol, but generally, it's about having common sense and a feel for people."
After one term, the judge ran for a second, unopposed.
"I was enjoying it and felt like I was being true to the mission of a Jew: It all starts in the Torah, right? Justice comes from there."
The judge, a member of Rabbi Hillel Grossman's Ohave Shalom, became close with some of the local yeshivos. "We tried to help the yeshivah in Mountaindale with services when I was working in that capacity, and I really admired Rabbi Gorelick at Zichron Moshe — he was a smart man."
Though anti-Semitism is a reality in these parts, the judge didn't experience it in any unusual way. "Sure, there have been comments here and there, but overall, everyone in this community has worked together beautifully all the years. I have many good friends from all backgrounds."
The judge also plays down the tension between the locals and the summertime visitors — many of whom are visibly Orthodox Jews. "On the ground, there's respect and understanding that the visitors have every right to come here — this is America, they can buy homes and live here. They pay taxes and respect the law. No one has a right to tell them where they do or don't belong. The locals rely heavily on the influx and the boost the visitors give our economy."
In the municipal building, they feel it too.
"It used to be that every ticket was processed through the state of New York. The troopers would show up in whatever court the trial was taking place — they loved it, a day off to go sit in court and wait around, the drive each way on the state's dime. Now, they don't come anymore, and our chief of police is authorized to offer a plea bargain. If it's not a moving violation, the money stays right here in Woodridge."
"So," I conclude, "it's always worth offering a plea and trying to get a speeding charge reduced to a parking violation since the court will accept that, right?"
The judge shrugs. "It's worth working with the options given to you in this democracy." Then he adds, "But don't feel bad for the state. There's a $25 surcharge added to all tickets that goes directly to them, so they're okay."
S
everal years ago, Judge Kalter retired, but when his successor, Judge Eddie Hernandez, resigned mid-term, the respected former justice was asked to make a comeback.
"Well, it's a chance to give back to the community, and also, to try to do some good."
I remark that not all judges convey such passion for old-fashioned kindness and empathy, joking that he belongs on the Supreme Court.
"I have no law degree, so village justice is as far as I'll get," he says, and then adds, "but it's enough to make a difference."
He tells me about an incident that happened a while back. "There was a large group of children from the Klausenberger camp, and they had gone to play in the park in Silver Lake, right up here. Big deal, right? But they got a ticket, because they'd come without an official special event permit, and a group of that size should have requested a field day permit. The director showed up in court one evening. I asked him what happened, and he said that they had planned to take the whole camp boating somewhere else, but the lake ended up being closed for some reason. The planned trip fell through last minute, and here they had a bus filled with eager kids, they had to take them somewhere, so on the spot, they decided to go to the park and play games. Of course, they had no time to apply for a permit. For this he should get a ticket?"
The judge heard the account and asked how many boys had been in the group. About 70, came the answer.
"Okay, so the fine is $0.50 cents per child, times 72, which equals $36," the judge announced.
He stops mid-story, and I can see that suddenly, his eyes look like they're misting over.
"Listen what happens next," he finally continues the story. "A man stands up in the back of the courtroom and walks forward. 'I want to pay the fine, I want to pay the fine,' he says, 'because this camp carries the name of the Klausenberger Rebbe, and he saved my life during World War II, he gave me strength to go on. I'm paying.' "
The judge looks at me pointedly. "Do you understand what I'm saying? That's real life! In our courtroom. That's real life." —
(Originally featured in Mishpacha, Issue 775)
>