| Feature Articles |
Free at Last
| July 10, 2019
Ari & Ari relive the unjust jailing and dramatic homecoming of their Addis Ababa host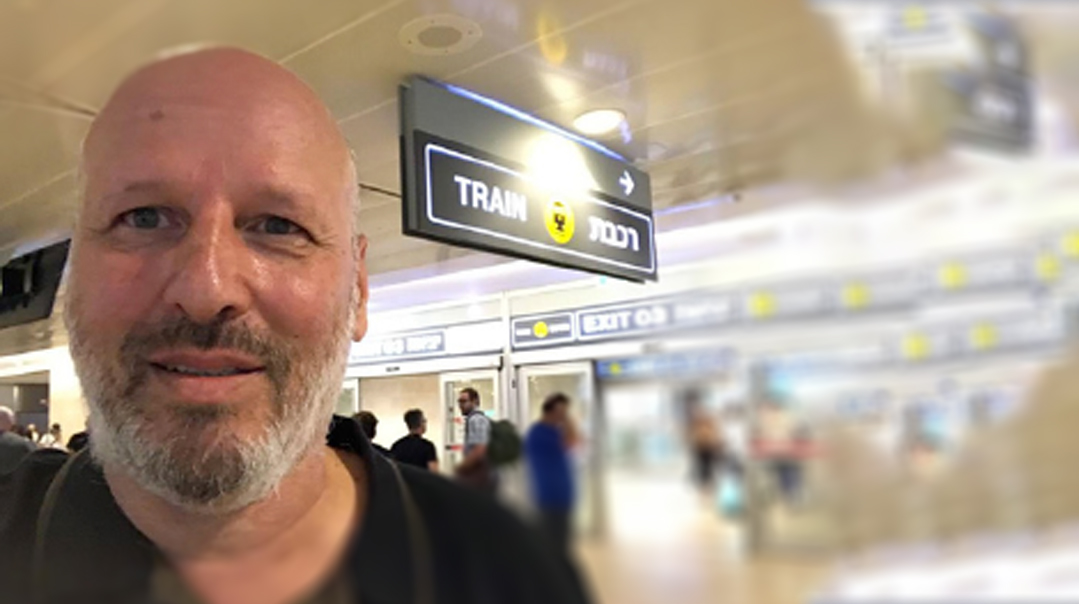 Photos: Dr.  Ari Greenspan
When Menashe Levy stepped into the arrivals area at Ben Gurion Airport last Thursday night, a long list of activists rejoiced that their efforts had finally born fruit. Levy, an Israeli developer finally freed after four years of brutal captivity in an Ethiopian prison without access to due process rights, ultimately clinched his freedom thanks to the Aleph Institute — a Chabad-affiliated organization that advocates for Jewish prisoners around the world — and the support of US and Israeli public officials. But what most people don't know is that Levy's behind-the-scenes advocates from the start of his grueling ordeal were none other than Mishpacha's own "Mesorah Quest" columnists Ari and Ari — Dr. Ari Greenspan and Dr. Ari Zivotofsky.
Ari and Ari first met Menashe Levy, 57, close to a decade ago during one of their African trips. They were spending Shabbos in Ethiopia's capital Addis Ababa, home to a tiny but close-knit community of Adenite Jews, whose parents and grandparents crossed over from the British-controlled Yemenite southern port city of Aden in the early 1900s. When Ari and Ari turned to the head of the community to ask about the possibility of arranging a Shabbos morning minyan at the community's old shul, they were told that minyanim for all three tefillos were actually being held all week, thanks to an Israeli Jew in Addis Ababa named Menashe Levy who was sitting shivah. He would also be hosting Shabbos meals in his house.
Levy, who had honed his road construction skills building many of the arteries in Gush Etzion and other areas of Israel, left for Ethiopia in 2008 to establish a branch of Israeli excavating and mining company Tidhar, which became one of the country's biggest infrastructure contractors. His wife, Anat, and the couple's two younger children stayed behind and would visit occasionally, while Levy moved to Addis with his two older children, a son and a married daughter, who helped him manage the business. Under Levy, Tidhar won major tenders, built roads and other infrastructure for the local government, and employed over 4,000 workers.
Ari and Ari's first Shabbos with the Levys was memorable. A 400-year-old sefer Torah was brought over to the house from the Adenite shul, and "there was a special atmosphere of unity between the small knot of Jews in this foreign land," says Dr. Greenspan. Because Addis Ababa was then the central hub of air traffic in Africa, they passed through multiple times over the years, and were repeatedly hosted by Menashe, who always kept a set of strictly kosher dishes and pots in his house, and kashered his kitchen every time he invited them for Shabbos meals.
Though not fully observant — he would categorize himself as Israeli Mesorati — Menashe still felt the importance of staying connected to family traditions, and kashrus was one mitzvah the family was connected to. In fact, Ari Greenspan remembers once when he and Ari Zivotofsky would be flying through Addis on one of their trips and called in advance to ask Menashe if he needed anything from Israel.
"He asked us if we could shecht some chickens," says Greenspan. "When we arrived, he took us to a field outside Addis where we shechted about 500 birds. An Israeli woman who ran a local floral business lent us her factory space to kasher the chickens, and we used tools for snipping off rose thorns to pluck the feathers."
Over time, Menashe became close to the Adenite community, and even contributed his professional expertise to some renovations in the shul.
Go to Jail
While Ethiopia is nominally a democratic country, holding elections every five years and theoretically conforming to the rule of law, the reality is more complex. Ethiopia was a monarchy until 1974, when the last Emperor Haile Selassie was deposed in a military coup by the Marxist general Mengistu Haile Mariam. From 1974 to 1991, Mengistu ruled the country with an iron fist, instituting "red terror" against political dissidents and executing thousands of innocent civilians. Civil war, droughts and famine wracked the country under his dictatorship, and Mengistu was ultimately deposed by the opposition EPRDF, which has been the ruling party since. Although a new constitution was drawn up promising to respect human rights and the democratic mandate of the people, the Ethiopian legal and political system remains hopelessly corrupt. Fair elections have yet to be held in the country, and while the outward forms of justice are upheld, the government has not hesitated to tacitly ignore the law when it comes to political enemies.
In July 2015, several months after Ari and Ari had last been in Addis Ababa, Ari Greenspan learned from Menashe Levy's son in Israel that Levy had been arrested on charges of bribery, tax evasion, and other financial irregularities. The bank accounts were frozen, and the company's assets confiscated. Menashe's son told Dr. Greenspan that he and his sister Racheli had fled to Israel before they were arrested as well. However, Racheli, a 35-year-old mother of four, suffered a devastating stroke soon after arriving in Israel, which left her blind in one eye, speech-impaired, and paralyzed on one side.
Anat Levy was left to care for her daughter in rehab and take in her four grandchildren, while her husband was locked away in a distant Ethiopian jail among common thieves and murderers.
There was a never-ending trial plagued by constant delays and no verdict. The courts, officials stated, were "pending a decision." Meanwhile, Anat had no way of contacting him and, it seemed, zero possibility of getting him out.
Struck by the family's calamity, and knowing that they lacked the resources and connections to free Menashe, Ari and Ari made his freedom their mission. The first thing they did was to make contact with an acquaintance of theirs, an influential foreigner living in Ethiopia who would be able to get specific information about the charges and the motive behind the arrest. This acquaintance spoke with a senior government figure, and was told that Menashe "had stepped on some very powerful toes." According to Ari Greenspan, Menashe Levy's success at winning public tenders, combined with his strong personality, gave offense to someone in influential quarters. Menashe himself told them that he had been beating out the Chinese companies that were making inroads and he suspected they were behind the arrest.
Regarding the bribery charges, for example, the prosecution was originally incapable of producing any bribed officials. Menashe's lawyer argued that he couldn't be held guilty if no bribed officials existed. Sure enough, after a somewhat suspicious delay, the prosecution was able to cobble together a few racketeers who claimed Menashe had bribed them, but those men were all ultimately released and therefore at least the bribery charges against Menashe were dropped.
Menashe, for his part, claimed that the charges came as a result of parties who wanted to take control of his company, and used their political connections to smear him.
In any case, the courts seemed to go out of their way to delay a verdict. Each time it appeared likely that the case would be decided, new excuses were found for pushing it off. Last year — three years into the process — the three judges who had been supervising the case were suddenly replaced by new ones, who had to spend months familiarizing themselves with the case.
Meanwhile, Menashe was languishing in prison. For the first year of his incarceration, he was kept in a general population prison together with 400 hardened criminals. The jail was a log house crowded way beyond capacity. Dr. Greenspan says Menashe couldn't even reach the bathroom at night, because the entire floor was packed with sleeping prisoners.
Nevertheless, Menashe didn't allow his spirits to plummet, even after a fellow prisoner attempted to murder him by smashing his skull with a metal pole.
"On one of my visits to him in jail, he demonstrated what happened," Dr. Greenspan says. "He told me how one day he's sitting there playing backgammon with some of the guys — he's demonstrating how he's holding two dice in his hands and shaking them back and forth, about to throw them, then he offers up a little prayer for success, whispering 'Hashem yaazreini.' He threw the dice, and just then he says he felt a sensation like a powerful electric shock in the back of his head. He had been hit over the head by a Sudanese prisoner with a metal pole."
The Sudanese attacker, a radical Muslim, was in jail after having assaulted a passenger on a flight from Libya to Ethiopia because he saw Hebrew text on the fellow's computer screen. There, he somehow acquired a metal pole, which he hid in the prison mosque. After he found out there was an Israeli in the prison, he retrieved his weapon, crept up behind Menashe, and smashed his skull with the club.
Menashe lost consciousness and, bleeding profusely, was carried to the prison hospital. He almost died from the assault, and still has a dent in his skull, a limp, and hearing loss from the attack.
"The only good thing that came from this whole story," says Ari Zivotofsky, "is that he was ultimately transferred to the infirmary in the prison, where for the last three years he has been in a more open environment." Still, the conditions there "were pretty appalling. The toilet and shower were filthy and there was no hot water."
But there, after a year, the prison authorities finally allowed Menashe a book. He acquired a Tanach and studied it constantly over the next three years. "He filled 13 notebooks with his own peirushim," says Dr. Greenspan, "and he even created an index! I asked him when he got out of jail, 'Menashe, did you take your notebooks?' And he said, 'I wasn't leaving jail without those books.'"
Ari and Ari visited Menashe numerous times in jail over the last four years, providing him with emotional support and kosher food, and visited Menashe Erev Pesach this year to deliver matzah from Israel. Menashe, for his part, made an improvised "mezuzah" for his cell by writing the Shema in tiny letters on an inside window frame. When the window was closed, the text was hidden by the windowpane, so the guards didn't notice.
Another Idea, Another Solution
Ari Greenspan and Ari Zivotofsky reached out to anyone they thought could help Menashe. Ari Greenspan took Menashe's wife, Anat, to meet with Knesset Speaker Yuli Edelstein; Ari Zivotofsky arranged a meeting for her with famed lawyer Nat Lewin.
As a result of their lobby efforts, Binyamin Netanyahu mentioned Menashe Levy's plight to the Ethiopian prime minister during a state visit to Ethiopia in 2016, and Israel's foreign minister also brought up the issue during a state dinner with his Ethiopian counterpart. Also that year, former agricultural minister Uri Ariel took an unexpected flight to Ethiopia in order to visit Levy. "He made it his personal mission to get Menashe freed," Dr. Greenspan says of Ariel. "He made several additional visits, and brought it up with the prime minister and anybody who could possibly could help. And he was always available — you could call him in the middle of the night about Menashe." When the final fundraising push was organized to secure the sum needed for Levy's release, Uri Ariel himself made phone calls to people to contribute.
In April 2018, Ethiopia experienced a political shift with the election of a new Prime Minister, Abiy Ali, who came to power promising wide-ranging government reform as well as peace with Eritrea, a country which seceded from Ethiopia in 1993 and has been at war with it ever since. As part of his peace deal with Eritrea, reprieves were granted to thousands of political prisoners and enemies of the state. Among the prisoners released was the Sudanese who had attempted to murder Menashe in prison.
Help for Menashe wasn't relegated to Israel, or to Jews. With the swearing-in of the new Ethiopian prime minster, US Congressman Chris Smith (R-NJ) even traveled to Ethiopia with a bipartisan delegation and tried to intervene on Menashe's behalf. Smith was the author of congressional legislation condemning human rights abuses in Ethiopia and outlines a number of reforms the country must take to rectify its record.
But it wasn't till the Aleph Institute got involved that things really started looking up for Menashe Levy. The Aleph Institute, founded in 1981 with the blessing of the Lubavitcher Rebbe, provides financial, emotional, and spiritual assistance to imprisoned Jews and their families around the world, and when possible, works for their freedom. Attorney Gary Apfel (Sholom Rubashkin's lead attorney before his release), who acted as a pro bono legal adviser to the Aleph Institute throughout the case, believes Menashe Levy's release could not have been accomplished without the Institute's involvement. "It's incredible what they did," he says. "Every time there was an obstacle, instead of giving up, they just said okay, now we have to come up with another idea, another solution."
Aleph tried several different routes but in the beginning, they weren't seeing any success, says Lipa Boyarsky, Aleph Institute's lead agent in Menashe's case. "First," he says, "we spent weeks nonstop getting signatures from 30 chief rabbis, including the chief rabbi of Ethiopia, Rav Eliyahu Chaviv, and many respected lawyers and businessmen around the world. We sent a letter to the prime minister of Ethiopia petitioning for Menashe's release. We had 45 very influential signatories, but nothing happened. Then there were some businessmen who had ties with the Ethiopian prime minister, and we encouraged them to bring it up with him. Again it failed."
Among the signatories of the petition was Professor Alan Dershowitz. "Alan is an ish chesed," says Apfel, "and he has the ultimate respect for everything that Aleph does. Alan helps Aleph anytime we call him. No matter what the situation is, Alan jumps in, without charge, pro bono, anything to help another Jew."
Dershowitz's reaction to Menashe's ultimate release was characteristic, says Apfel. "Great News," he emailed back. "He's safe. Now we have to help everyone else who was unjustly convicted or sentenced. We can't rest. We must pursue truth and tzedek."
"You Can Trust Me"
In the end, the circumstances under which Menashe was ultimately freed were surprising.
One Thursday evening a few months ago, Ari Greenspan received an unexpected call from the Aleph Institute with some news: Dr. Asefa Mekonnen, an influential Ethiopian  doctor in Washington, D.C., had been contacted by the Institute and had agreed to help.
Apfel explains that they were introduced to Mekonnen through the office of Congressman Chris Smith, who'd been fighting hard for Menashe's release. Dr. Mekonnen has top-level connections in the Ethiopian government. He was born into a family of the old Ethiopian aristocracy and knew many of the senior figures in the country almost from childhood; in fact, Dr. Mekonnen is the personal physician of the patriarch of the Abyssinian church and flew into Ethiopia on the prime minister's private plane when the patriarch, exiled under the country's previous leadership, was invited back to the country by the current prime minister.
It was about six o'clock in the evening when Aleph called. They wanted Ari to get some of his Jewish acquaintances in Ethiopia to accompany Dr. Mekonnen to visit Menashe in prison — they didn't want Menashe to be suspicious and not cooperate when the doctor would show up to help him. Dr. Greenspan spent an hour calling up everyone he knew in Ethiopia, but couldn't find anyone willing to accompany the doctor. They were afraid not only for their own safety, but for the Jewish charity organizations they worked for that could be implicated should they do anything to offend the government. When Ari called back Aleph with the disappointing news, they asked him if he would be willing to go himself.
"Well, it was seven o'clock," Ari Greenspan recalls. "And there was a midnight flight. I immediately packed my bags, went to the airport, got on the plane, landed at 6 a.m., and went to the prison."
Ari arranged with the doctor and Menashe's Ethiopian lawyer, Mr. Fasil Asnake Tadesse,   an old classmate of  Dr. Mekonnen, to meet at the prison on Friday morning. However, when they showed up, they found that Menashe had gone to a court appearance. Addis Ababa is a city of over three million people, so there was no chance of finding him on the way. And visiting hours were very limited, making it unlikely Menashe would return in time. On the other hand, the next day was Shabbos, and it was impossible to reach the prison on foot. Under these circumstances, Dr. Greenspan contacted his posek, Rav Moshe Dovid Tendler. Given the precariousness of Menashe's situation and the fact that there had already been an attempt on his life, he instructed that before Shabbos, Ari arrange for a taxi to take him to the prison on Shabbos morning.
"As I left the hotel, I decided for some reason that I was going to wear my tallis," Ari says. "It was Shabbos morning, and it was Ethiopia where many people wear these sorts of wraps around their bodies, so I wore my tallis." When he met the doctor and the lawyer at the prison, the guards refused to let them enter, as there were no visiting hours on Saturday. The doctor got into a heated argument with them, and while they finally allowed him and the lawyer to enter, they wouldn't allow Ari entrance under any circumstances. Now the whole plan risked being foiled, because without Ari the doctor had no way of convincing Menashe of his true purpose. But Ari thought quickly.
"Now, my tallis has techeiles on it," Ari explains. "So I gave the doctor my tallis and told him, 'when you walk into Menashe's cell, hold up the blue strings and say, 'Ari is outside, you can trust me.'"
Bailed Out
Once Dr. Mekonnen got involved, the efforts to get Menashe released seriously got underway. Without his help, Dr. Greenspan stresses, the deal that set Menashe free could never have been reached. He calls Dr. Mekonnen a "tzaddik, a truly righteous individual" and describes how at first the attorney general, a personal friend of the doctor,  demanded $10 million down for Menashe's release — the amount of taxes they initially claimed Menashe owed the government., in exchange for dropping all criminal charges. But as more and more congressmen and businesspeople put pressure on the Ethiopian government to relent, the sum was lowered to $4 million — and the attorney general refused to compromise any further. The breakthrough came when attorney Alan Dershowitz, who was visiting in Israel, met with Netanyahu and persuaded him to personally call up the Ethiopian prime minister and urge him to release Menashe.   Between Dr. Mekonnen's strong advocacy among his highly-placed friends and Bibi's intervention, the Ethiopian attorney general got back in contact with Aleph, saying that they would drop all charges if $350,000 could be raised within 48 hours. In the end, the entire sum was raised within the stipulated time by private donations.
"The Aleph Institute made miracles", says Dr. Greenspan. "Their mission to support and assist Jewish prisoners comes from their deep sense of brotherhood and mutual obligation to save a Jewish soul. They didn't leave a stone unturned."
Menashe was finally released from prison after four grueling years an hour before Shabbos on June 21. While it was originally hoped that he would be able to leave the country on the very first plane out, that plan was foiled when an attempted coup in the country over the weekend brought the process to a halt.
At first Menashe stayed with the Israeli ambassador, as there were concerns for his safety, hoping that he could leave as soon as the coup was suppressed. But he had come into the country on a business visa, which had expired during his years in prison. It took another two weeks until he could acquire a new visa. Meanwhile he was hosted by a friend in Addis Ababa.
"We received multiple assurances from Ethiopia that they would not start up with him again now that he was out," says Apfel. "We were very concerned about that. Baruch Hashem, we received those assurances and they were kept."
Two weeks later, on the night of July 4, Menashe landed at Ben-Gurion, finally able to begin life as a free man.  —
---
The Doctor Is In
When Aleph Institute contacted Dr. Asefa Mekonnen, a well-connected pulmonologist and sleep medicine specialist in Washington, DC, who is also the private physician of the who's who in the Ethiopian hierarchy, they never imagined that he'd turn out to be Menashe Levy's savior. Dr. Mekonnen, who regularly travels back to his native Ethiopia on both medical business and for human rights issues, told Mishpacha that as soon as he met Menashe, he realized that there was a terrible miscarriage of justice happening.
"It was just not acceptable that someone who came to Ethiopia and did such important work for the development of the country, giving employment to thousands of locals and helping generate a strong economy, was wallowing in prison. I'm not the lawyer or the judge here, but what I gather is that when Menashe came on the scene, he worked too fast and was too successful. And if he made some mistakes along the way, it's not a reason to throw him in jail and have him face a 27-year sentence, which is what he was looking at had there been a guilty verdict. I'm a physician, and that means my mission in life is to help people. And this man did not belong in jail. He needed help."
Dr. Mekonnen's first stop was a meeting with the deputy prime minister, "a good friend with a good heart," he says. He also met with the attorney general, the tax minister, the ambassador to Israel (a classmate from first grade) and other cronies from younger days in Ethiopia. "The Jews are our brothers, Israel is our brother country," he told them. "We're all family – we can't stand by and let this injustice happen." In the end, the corruption charges were dropped, and they were left to negotiate a steep financial penalty upon which release would be contingent.
But in addition to Dr. Mekonnen's dedication to justice, there was something else pushing him as well. "I grew up in the Gondor province," he says. "That's were all the Ethiopian Jews lived. In fact, our ancestors were Jews as well – before Christianity came to the area, everyone was Jewish." Dr. Mekonnen's father is an ardent Judeophile Christian, and says his mother traces her lineage to Jewish ancestors. He has Jewish relatives in Israel as well.
In fact, the final "pidyon shevuyim" came through Dr. Mekonnen's personal bank account. When Aleph Institute was given an ultimatum to raise the $350,000 within a short few hours, Dr. Mekonnen took his personal credit line and deposited it in the Ethiopian treasury. (He was reimbursed a few days later from private donations.)
Seeing Menashe Levy a free man notwithstanding, Dr. Mekonnen says his most precious souvenir from the entire saga is Ari Greenspan's tallis with the techeiles strings – the tallis Ari gave him Shabbos morning outside the prison, as a sign to Menashe that the doctor was on their side. After leaving the prison, Dr. Mekonnen wore the tallis all that day, and asked Ari if he could keep it. He still has it in his Washington home. "It embraces me," he says. "It's about connecting to all the previous generations."
— Rachel Ginsberg
(Originally featured in Mishpacha, Issue 768)
Oops! We could not locate your form.
>