| Washington Wrap |
For Blinken, Medium Is the Message
| December 6, 2022
J Street is definitely growing more influential under a Democratic administration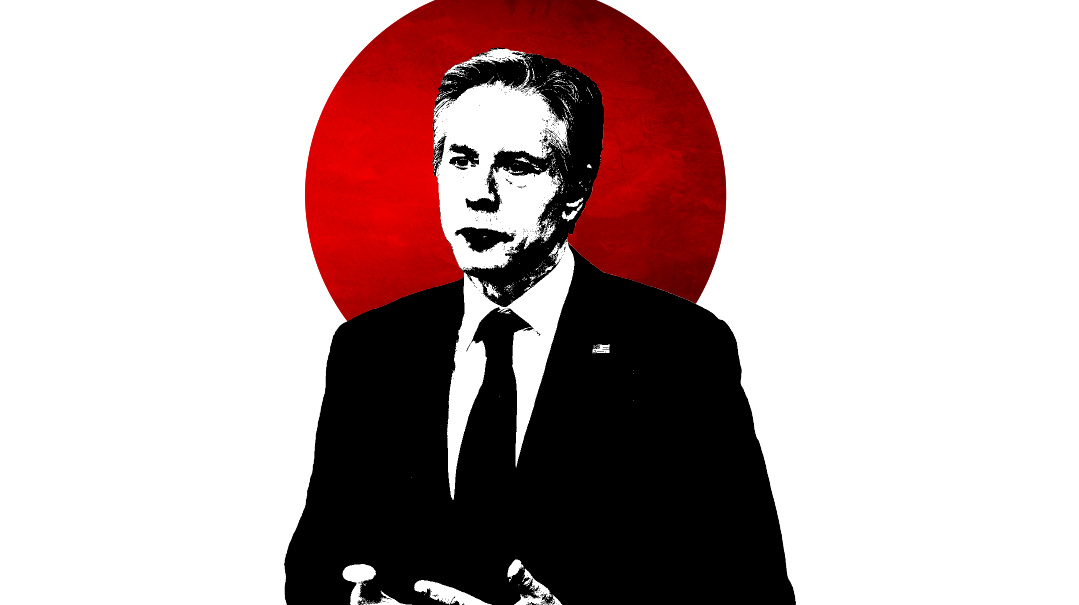 When Secretary of State Antony Blinken addressed the progressive group J Street's annual conference Sunday, he gave a speech about Israel that was polite and diplomatic. But far more significant than the text of Blinken's speech was the subtext — not least of which was in the choice of venue.
Blinken started by praising Israel for holding "free and fair elections with robust participation," adding that the US "fully respects the democratic choice of the Israeli people" and "again congratulates Bibi Netanyahu and welcomes his commitment to make this a government that, in his words, will work for the benefit of all residents of the State of Israel without exception."
Perhaps as a signal to Netanyahu's right-wing coalition partners, Blinken also went on to promise that the administration would judge the new government "by the policies it pursues rather than individual personalities."
However, the secretary of state also made it crystal clear what kinds of policies will be a hard stop for the US: "any acts that undermine the prospects of the two-state solution, including but not limited to settlement expansion; move toward annexation of the West Bank; disruption to the historic status quo at holy sites; demolitions and evictions; and incitement to violence."
He also praised the Abraham Accords, but immediately noted that "for all of its benefits, normalization between Israel and its neighbors is not the substitute for building peace between Israelis and Palestinians." Blinken also illustrated what this peace should look like: "two states based on the 1967 lines with mutually agreed swaps remains the best way to achieve our goal of Israelis and Palestinians living side by side in peace and security."
It is hard to reconcile the congratulatory message and its context. The new government has indeed promised to build in the settlements, and has stated emphatically that there is no scenario under which the new government will seek to return to the 1967 lines, and Blinken knows that.
Thus, Blinken's speech was irrelevant in many aspects, because he addressed a hypothetical situation rather than the actual one — that the new government seeks to make steps toward applying sovereignty (even if not full annexation) while also building settlements and rejecting the '67 lines. That being the case, the two allies would seem to be on a collision course.
And the question is: What will the Biden administration do? Will it take action that affects the relationship between the countries in any way? For example, tabling Israel's inclusion in the visa waiver program? Will the US, which has under Biden defended Israel in international forums, be passive and slow to do so next time?
The administration is keeping its cards close to its chest. "We will speak honestly and respectfully with our Israeli friends, as partners always should," Blinken said, all but promising that the administration already has a plan in place.
Blinken's decision to give that speech at the J Street conference was also an interesting choice. In the hyper-partisan reality of Washington, J Street is definitely growing more influential under a Democratic administration.
While his speech was reserved and diplomatic, the conference, in general, was very loud in its criticism of the incoming government and its policies. In other words, the venue sends a message as well.
$3.41
The current national average price for a gallon of regular gas. With that, gas prices have dropped back close to the levels of a year ago, when a gallon cost $3.36. Just a few months ago, when Putin launched the war in Ukraine, the average price spiked to an all-time high of $5. Some economists have been saying that gas prices have been a main driver of inflation. If so, in the near future we could see further easing of inflationary pressures.
Primary Change
Every political cub knows that presidential primary season starts in New Hampshire's freezing snow and at the Iowa caucuses, with candidates speaking to voters in school gyms or community recreation centers.
President Biden has a plan to change that.
If he succeeds, the order the 2024 Democratic primaries is going to look completely different, making Iowa–New Hampshire a Republican thing — and creating a logistical headache for the election committees planning to hold the two party primaries simultaneously.
According to the plan, South Carolina will cast its votes first, followed by Nevada — a state increasingly leaning Democratic — and New Hampshire will be third. Two other major swing states, Georgia and Michigan, will be next — giving voters there early exposure to Democratic candidates, who will in turn  be forced to give the voters in those states some attention.
Biden touted the need for "diversity" in early primary states, insisting it shouldn't only be the rural states of Iowa and New Hampshire shaping the race.
"Early primaries have a disproportionately higher impact on the outcome of elections and can play an important role in the selection of nominees in a presidential election," explains Halie Soifer, CEO of the Jewish Democratic Council of America (JDCA). "After decades of Iowa going first, it makes sense to change the order of Democratic primaries to better reflect the diversity of our party and country. We are proud of the fact that the Democratic Party seeks to ensure that all voices and votes are heard, and is committed to improving diversity, election integrity, and the future of our democracy."
(Originally featured in Mishpacha, Issue 939)
Oops! We could not locate your form.
>