| TableScapes |
Flower Flair | September 9, 2021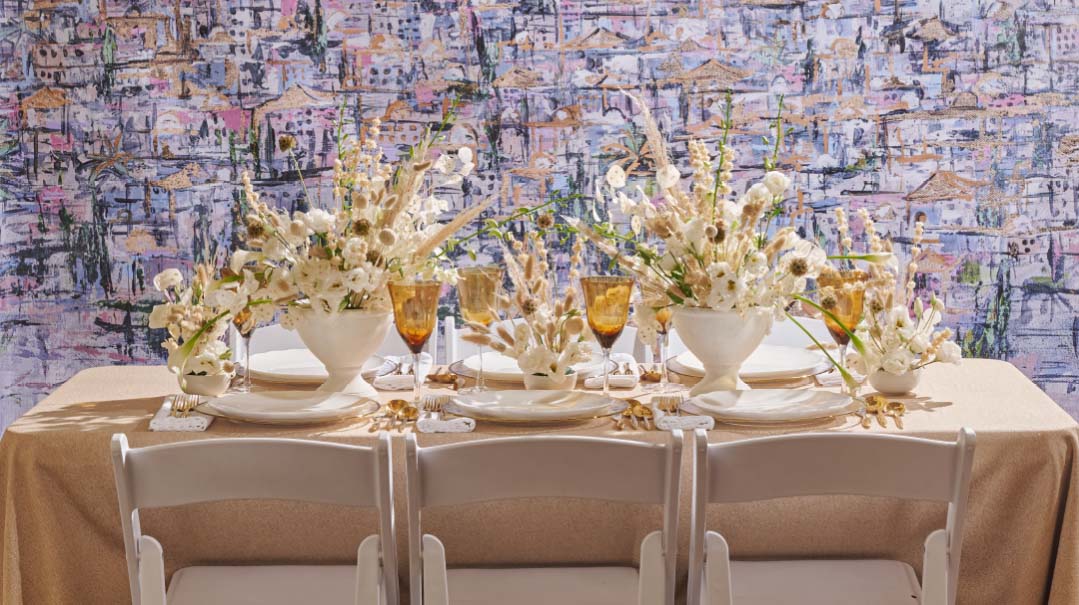 Text and Styling by Esther Ottensoser
Photography by Hudi Greenberger
Freshen up the look of your succah with these simple yet striking floral decorations. And the best part? They don't even take long to execute
Drama with Elegance
For this striking flower arrangement, I had Global Flowers use a combination of white (fresh) flowers and dried flowers. Dried flowers are a great option if you want the flowers to last throughout Yom Tov. If you water the arrangements every couple of days, there's a good chance the fresh flowers will last as well. In the event that they don't last, just replace the fresh ones.
Cover it Right
For the tablecloth, I used a camel-color wide burlap fabric from Stitch n' Sew to complement the centerpieces. This fabric is 110 inches, which is perfect for covering two folding tables side by side in the succah. For a six-foot table, you can actually use the width of the fabric for the length of the tablecloth.
(When purchasing a new tablecloth, always come prepared with the measurements of the length of the table as well as the width.)
Artsy Succah Mural
The beautiful succah mural in the background, from Acrylic Creations, NJ, is a Nechama Fine Arts masterpiece.

String a Ring
This quick and easy flower hoop will add a beautiful touch to your succah. Color-coordinate the flowers to match your decor.
You will need:
12-inch metal floral hoop rings (available on Amazon)
string
assorted lightweight faux flowers (I purchased these at Hobby Lobby)
Tie a long length of string in a tight knot anywhere on the metal ring.
Tightly wrap the string back and forth around the ring as shown. Tie another knot to hold it in place.
Slide the flowers along the length of the string. Vary the heights for greater visual interest.
Tie another piece of string to the top of the ring to hang it.
Flower Hanger
Here's a pretty and easy way to decorate your succah wall. You can make it as wide and as long as you choose.
You will need:
string
branch or large dowel
assorted faux flowers
glue gun
Determine the width and length of your project.
Cut strings to desired length and glue flowers onto them at even intervals, alternating colors and types.
Attach the strings to the branch or dowel.
Tie another piece of string to either side of the branch to hang it.
TIP: To keep the flowers from twisting and turning, you can use some Fun-tak to hold them in place.
Credits
Flowers: Tali's Global Flowers, located in Howell (6520 US Highway 9), Monsey (249 Route 59, Airmont, NY), and Lakewood (1797 Avenue of the States)
Tablecloth: Stitch n' Sew Fabric Centre, info@stitchnsew.com, 732-363-2220
Succah mural: Acrylic Creations, NJ, acryliccreationsnj.com, 732-440-605; artwork by nechamafineart
(Originally featured in Family Table, Issue 759)
Oops! We could not locate your form.
>