| Gourmet Vs. Everyday |
Fish Tacos
| April 18, 2023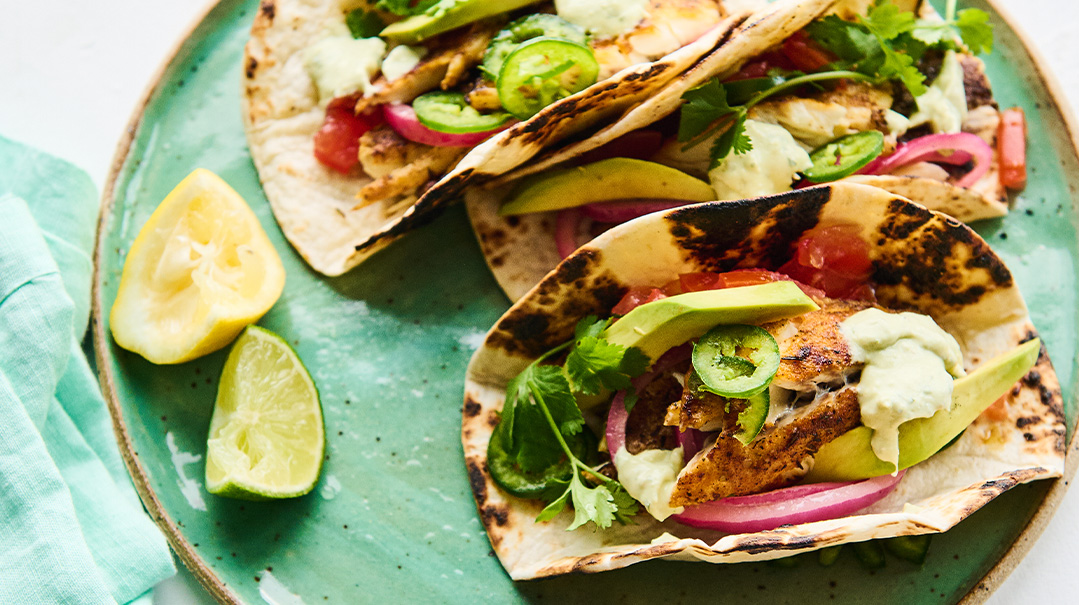 Styling and photography by Sina Mizrahi
Chaya Suri Leitner
Fish tacos are a great dinner when you're looking for something light and fresh on an earlys spring night. The best thing about a taco is that you can customize it to include your favorite flavors! Here's one that my family loves.
Sara Gold
I was really excited to try this recipe. We're big fans of fish tacos, 
and I knew most of my family members would appreciate them.
SERVES 4–6
1½ lb (680 g) cod or any other firm white-flesh fish

I used Nile perch because that's what I found and 
I've never had it before, so I figured, why not!

1 Tbsp smoked paprika
1 tsp onion powder
2 tsp garlic powder
1 tsp cumin
½ tsp chili powder
¼ tsp cayenne pepper

I skipped this, didn't want it too spicy.

½ tsp salt
8–10 soft tortillas
1 jalapeño, sliced (optional)

I obviously skipped this!

¼ cup chopped fresh cilantro

I used parsley instead.
Pickled Onions
1 red onion, thinly sliced
¼ cup ume plum vinegar

I used regular vinegar and it worked just fine.

¼ cup olive oil
1 tsp salt

I added some sugar to give the onions a little sweetness.
Avocado Crema
1 ripe avocado
½ cup sour cream

I skipped this; wanted to keep the dish pareve.

¼ cup chopped fresh cilantro

Forgot to add this! Whoops!

1 clove garlic, minced

I skipped this.

juice of 1 lime
salt and pepper, to taste
To make the pickled onions: In a small bowl, mix the vinegar, oil, and salt. Add the sliced red onions. Let them sit in the vinegar mixture for at least 30 minutes.
Preheat a skillet over high heat.
In a small bowl, mix together the smoked paprika, onion powder, garlic powder, cumin, chili powder, cayenne pepper, and salt.
Pat the fish dry and then rub the spice mix all over the fish.
Once the skillet is hot, place the fish in the skillet and cook for 3–4 minutes on each side, or until blackened and cooked through.
While the fish is cooking, warm the tortillas in a dry skillet over medium-high heat until they're slightly browned and pliable.
To save myself an extra pan, I warmed these directly on my stovetop grate.
To make the avocado crema: In a blender or food processor, blend together the avocado, sour cream, cilantro, garlic, lime juice, salt, and pepper until smooth. Adjust seasoning to taste.
I just mashed the avocado by hand – who has time to take out the food processor anyway?
To assemble the tacos, place a piece of fish in each tortilla and top with pickled onions, avocado crema, and jalapeño. Add a sprinkle of chopped cilantro on top.
Sara Gold
I could eat fish tacos any day of the week, and these really hit the spot!
The Nile perch was a good substitution for cod. It was light and soft and the 
rub gave it a really delicious flavor. If your kids don't want to try these, 
know that we enjoyed the leftovers for lunch a couple days later!
(Originally featured in Family Table, Issue 839)
Oops! We could not locate your form.
>