| PlateArt |
Final Touches | March 8, 2022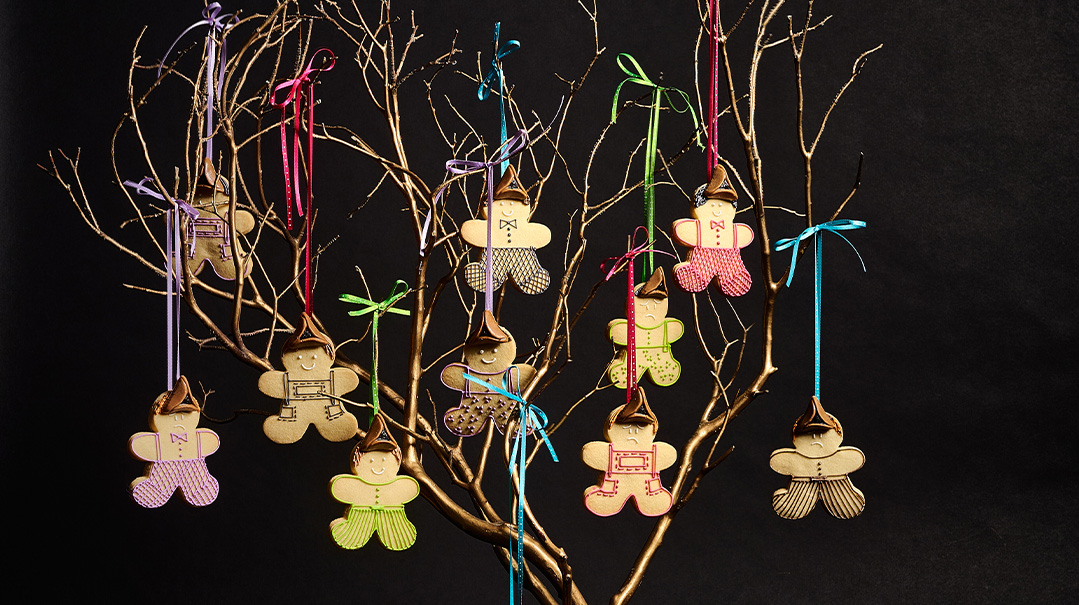 Text and Styling by Esther Ottensoser
Photography by Hudi Greenberger
Hanging Haman Cookies
Growing up, one of the highlights of my Purim was watching my Uncle Shmuel N. knock down the Haman (and sons) cookies at the end of the day. Every Rosh Chodesh Adar, my Aunt Shoshana baked the cookies and hung them from her chandelier, where they dangled until they met their "demise" during al hanissim.
Whether you use this idea as a centerpiece or hang the cookies from your chandelier, they will definitely create memories that will "hang around" for a while! Bake cookies and decorate them on any level — with chocolate chips, sprinkles, royal icing, fondant, and everything in between!
Check out the details of these precious cookies made by Kookies4You. Sheina was so kind and gave exact instructions for creating them.
You will need:
sugar cookie dough
gingerbread cutter
icing (Wilton brand or royal icing mix)
piping bags (you can get disposable tipless piping bags from Amazon)
pareve chocolate chips and caramel chips
triangle-shaped chocolate mold (available from the Westview Shop)
thin ribbons
branches and vase (optional)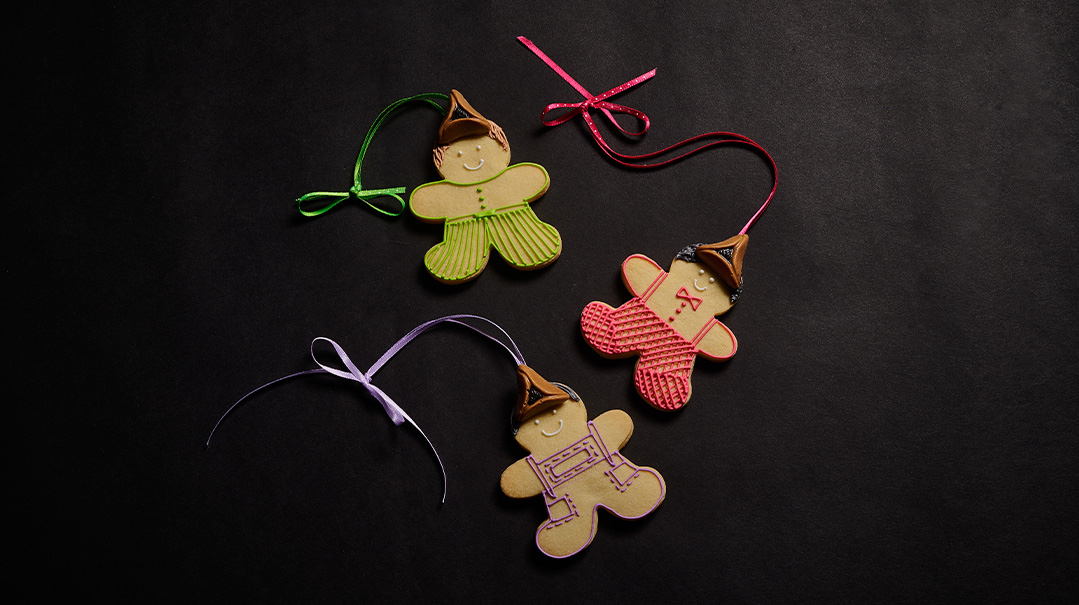 Chill your dough and shape your cookies while the dough is still cold. Cut out cookies with a gingerbread cutter. Using a straw, poke a small hole in the forehead of each gingerbread man. Make sure the hole is big enough to fit a ribbon through.
Place the cookies in the oven while they're still cold and bake immediately. Remove from oven. If the holes in the forehead shrink during the baking process, use the straw to enlarge them right after removing them from the oven, while they're still piping hot.
Let the cookies cool, then ice them. Make sure your icing is thick enough for the lines to stay neat when you pipe it. If it's too thick, add a little bit of water to thin it out. If it's too thin, add some confectioners' sugar to thicken. Separate your icing into parts and color it in different colors. I did light brown, dark brown, black, orange, purple, green, and pink.
Scoop each color into its own piping bag, then cut a fairly small hole at the tip of each piping bag.
Decorate your cookies however you desire. You can add stripes, flowers, suspenders, pockets, etc., or create your own designs. Don't forget to add hair, but don't cover your holes!
To make the hamantaschen hats, melt chocolate chips over low heat on the stove or in the microwave. If melting in the microwave, heat in 15-second increments and mix each time until the chocolate is fully melted and incorporated. Pour into a piping bag and cut a tiny hole in the corner. Pipe a dot of chocolate into the center of each hamantasch mold.
Next, melt pareve caramel chips the same way as you did the dark chips and put into a piping bag. Cut a small hole and fill the hamantasch molds with melted caramel. Place your mold tray in the freezer until hamantaschen are set. Flip the tray over and the hamantaschen will slide right out.
Once your decorations are dry, slip your ribbon through the holes in the top of the heads. Melt some more caramel chips and glue your hamantaschen hat over the ribbon that's overlapping the head.
If desired, hang from branches and place in a vase as a centerpiece for your table. Or just hang from your chandelier!
Haman cookies made by Kookies4You LLC, 248-904-3127, kookieforyou@gmail.com.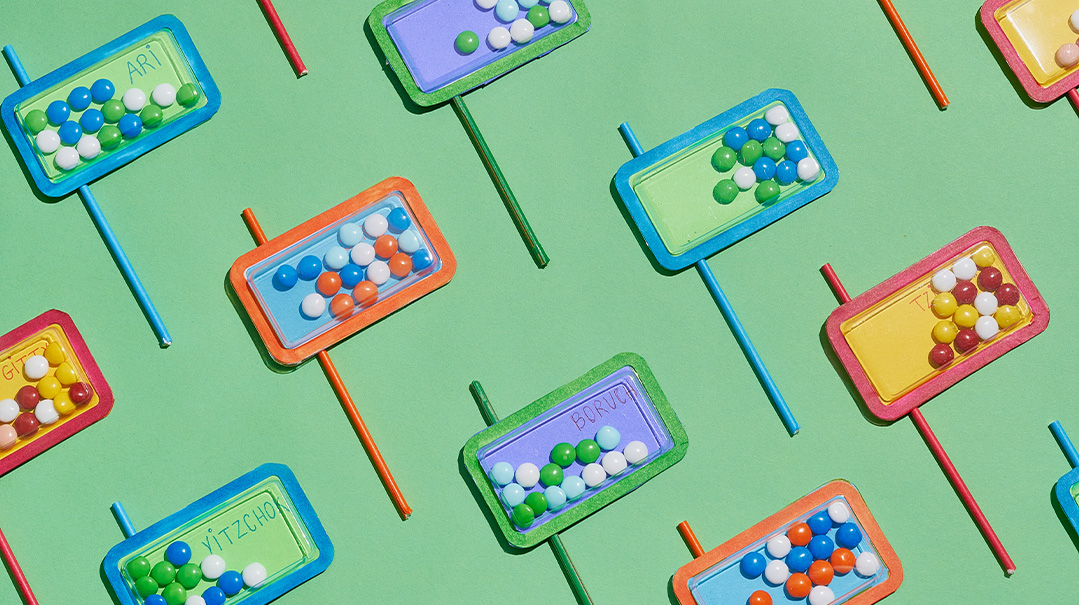 Colorful Seating Card Groggers
I love discovering new products. I recently found these plastic domes at Michaels, and of course I had to bring them home. They're great for filling with small candies, and so this grogger came to be. You can color-coordinate it to match your decor.
You will need:
rectangular plastic domes (made by Recollections)
colored paper
markers
chocolate lentils
lollipop sticks
Trace the domes onto colored paper. Cut out.
Write names on each piece of paper.
Fill the dome with chocolate lentils in coordinating colors.
Remove the sticker back from the dome and carefully cover with the traced-out rectangle. Tape or glue a lollipop stick to the back.
(Originally featured in Family Table, Issue 784)
Oops! We could not locate your form.
>