| Washington Wrap |
Fighting for the Wheel
| May 11, 2021
Will post-Trump civil war consume the Republicans?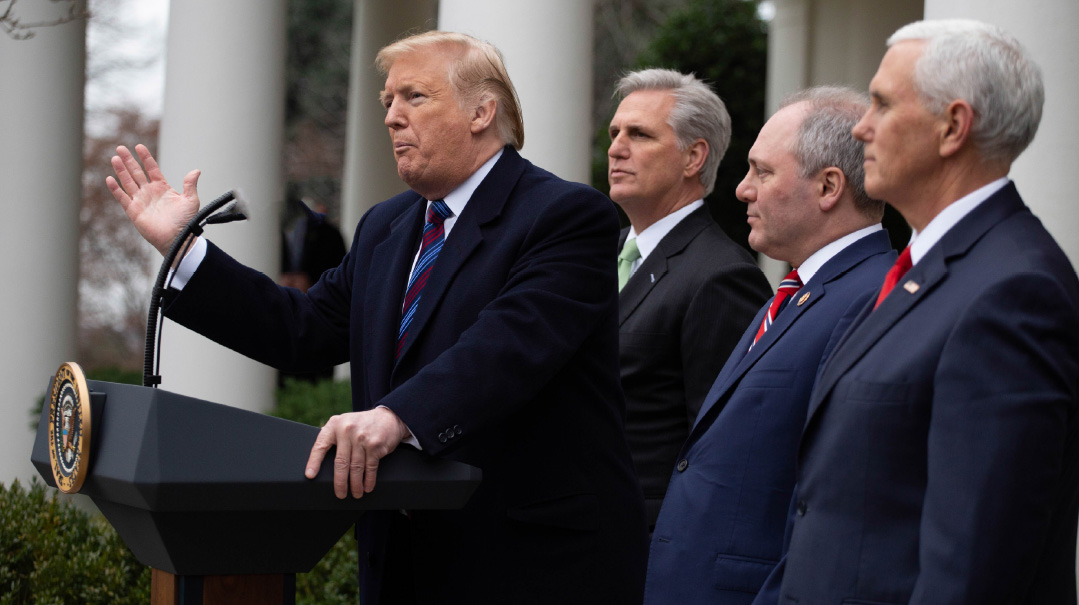 The Democratic Party descended into blame wars and factionalism after Hillary Clinton's loss in the 2016 presidential election, and only recovered just in time for the 2020 elections. Now the Republican Party, fresh off its loss of the White House, is going through a similar process, with several layers of conflict.
Some are receiving considerable media attention, such as former president Donald Trump's criticism of Senate Minority Leader Mitch McConnell in the wake of the Congressional losses. And now Representative Liz Cheney of Wyoming, who chairs the House Republican Conference and who supported the second impeachment of Trump, finds both her leadership position and her House seat in jeopardy, in the face of an expected GOP primary challenge in 2022. Senator Mitt Romney, who also supported Trump's impeachment, drew hearty boos from the crowd at the Utah state Republican convention last week.
The common thread running through all this conflict is the question of whether Trump will be given the party reins again in 2024, or whether the GOP will try to move beyond him and instead tack toward the center in the 2022 midterm elections.
Ultimately, whatever direction Republicans take in the short term won't necessarily be binding in the long term. Biden, for example, presented himself as a moderate and centrist candidate, only to govern as a progressive once in office. But what kind of campaign do Republicans need to run if they want to retake Congress next year?
New York political consultant Michael Fragin, host of the Spin Class radio show, told Mishpacha that these disagreements fall far short of being a "Republican civil war."
"I think the party has decided that they're going to have a good chance of taking the House in 2022, and that's what they're pushing for," he said. "They don't want to mess with their coalition in order to do that."
He noted that Mitt Romney is not up for election and Liz Cheney's seat is going to stay Republican whether she wins or loses. "So there's not much risk in having these fights," he said.
Fragin added that the biggest question is what the electoral map will look like after the Congressional redistricting about to get underway. He said that would shape the entire election cycle.
"Some of the seats that are 50 or 60 percent for Trump could go to 70 percent for Trump, or they could be 45 percent for Trump," he said. "Nobody really knows exactly what kind of district they are going to be running in — except for Wyoming, a statewide seat where the Republican is most likely to win. We know what states are going to gain and lose. But we don't know exactly what the individual districts are going to look like."
For this reason, he said, the Liz Cheney story may grab a lot of headlines, but at the bottom line it makes little difference. Fragin said the bellwether races to watch for an indication of the party's future direction are the Ohio primaries, where Republicans have a tendency to select moderate candidates for most districts.
"Or if you want another example, in 2018 you had Congressman Mark Sanford, a former South Carolina governor," Fragin said. "He lost the primary to a pro-Trump candidate, and then the GOP went on to lose the seat, one of the safest Republican seats in the country. And they went on to lose it because the person who won the primary was too conservative for that seat. The seat flipped back in 2020."
Do you believe the old pre-Trump party establishment can regain control of the GOP, or has Trump changed the party forever?
"I think politics has changed all over the place. I think both parties have changed. The Democrats have veered more to the left, the Republicans are more to the right. It's very hard to be in the center. I don't think the GOP is going to get back to being the old pre-Trump party. Does that mean that Trump will run? We'll see. But there's certainly room for other people in the party, it's a big party, and politics is cyclical."
What's the right strategy for Republicans?
"If you're a strategist and looking at the midterms, just looking at it historically — which way does it swing in the first two years of a presidency? And even though Obama got elected in 2008 with a pretty good number, the Democrats lost many seats in 2010. What was unusual about Biden's win [in 2020] is that it came with losses in the House, and it came with this strange situation in the Senate where you had these two [open] Georgia seats. Which Republicans should not have lost, by any means.
"I think it's interesting that, if you look at where the country is, a lot of what Biden is doing is very popular polling-wise, and Biden himself is popular. The truth is, though, that Congress is not popular, whether it's Democrat or Republican. And I think that's one of the challenges for Democrats, because they hold power in both houses. And if it's perceived that they're not getting the job done, they're going to have a challenge [holding the House and Senate]."
Philip Rosenzweig, chairman of the Republican Committee of Lower Merion and Narberth in suburban Philadelphia, believes most of the current fighting in the GOP is happening at partisan extremes, and overall party unity is not at risk.
"There is clearly a small division among a few and the rest of the party," he told Mishpacha. "Liz Cheney broke away from the rest of the party to vote to impeach President Trump, and also continues to criticize him. Since the election, I've felt a unity in the Republican Party that I haven't felt for a very long time because, frankly, the election of Donald Trump was not all that unifying.
"I'm feeling very good about the party going into 2022," he continued. "I'm not the biggest advocate for Trump, but I am an enormous advocate for my party. Cheney took a divisive position. That's just not appropriate for a person who is the third most powerful person in the House of Representatives."
If anything, Rosenzweig said, Biden's actions as president have been helpful for Republican unity. "Biden pretended that he was going to be a moderate, seeking bipartisan support and working across the aisle. He has turned out to represent what we would have expected from Bernie Sanders. And that has been very unifying for Republicans."
How do you see the future of the GOP?
"My personal opinion is that the Republican Party needs to seek candidates who are not Donald Trump for 2024. We need to move beyond the Trump era and we need to find a diverse and conservative ticket to run in 2024. I would like to see a power ticket with non-older-white-male candidates."
Like who?
"Like [former UN ambassador] Nikki Haley and [North Carolina senator] Tim Scott, and others."
Do you think the party will be polarized in the 2024 primaries?
"No. I think the party is going to be so unified in getting rid of the Biden-Harris administration that it is going to be just fine. I mean, you have to understand, the proposed tax policies are the least of it. Biden wants the federal government to provide the money to fund critical race theory in schools across the country. It is devastatingly horrible. And it's something that unifies Republicans of every kind."
(Originally featured in Mishpacha, Issue 860)
Oops! We could not locate your form.
>