| Family Living |
Fast Find
| March 23, 2021
        Here's what you can do beforehand to ensure you find your little wanderer fast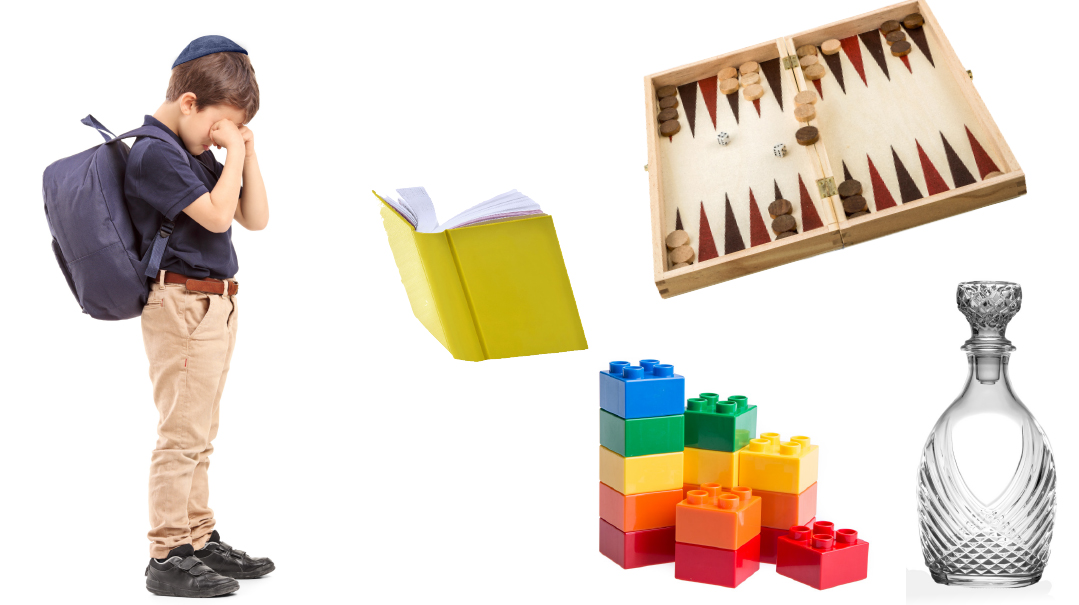 Coordinated by Esti Werblowsky
Fast Find
It's every mother's nightmare — halfway through your Chol Hamoed trip, one of the kids vanish. Here's what you can do beforehand to ensure you find your little wanderer fast:
Immediately upon arrival snap a picture of your kids. That way you'll have a recent photo and an exact description of each child's clothes should you need them  — you may not remember if you're panicking.
Mark your stroller with something big, bright, and obvious, so you know at a glance which carriage is yours. In a sea of Yoyos, Bees, and City Minis, it's all too easy to walk off with the wrong baby. The only tiny tyrant I'm willing to put up with is my own, thank you very much.
Dress your kids in bright colors. It will make them easier to spot in a crowd, and the more noticeable a child is, the less likely he is to chas v'shalom be targeted. Consider having all your children in matching outfits, as well. It's easier for a helpful passerby to return a child when he clearly belongs to a group.
Make sure your children know your cell (not home!) phone number. But don't assume that a scared six-year-old will remember it. She may be too shy to answer questions from strangers. Instead, make sure little ones are wearing a written number somewhere on their bodies. You can give them dog tags, slap a sticker on their shirts, or write it on the tongues of their shoes. My favorite option? Temporary tattoos. They won't wear off too quickly and can't be peeled off or dropped. You can order them customized with your number and any important information. (Anything from allergies to autism can be included). Check out Safetytat.com or Etsy for options; prices start around $1.00/piece
Decanter Do's and Don'ts
There's an unwritten rule that there must be at least half-a-dozen choices of libation for the Kosos. What's more, Seder wine must be served from narrow-necked decanters no bottle brush can penetrate. Here's how to keep those decanters sparkling, no matter what you serve.
Rinse your decanter with warm water immediately after use and leave it to soak if necessary. Since wine is water soluble — and alcoholic — that should be all you need. (Some wine connoisseurs like to avoid soap in their decanters, but if that doesn't bother you, feel free to use it.)
If you still see stains after soaking, you'll want to scour the inside of the bottle. Decanter brushes are annoying to work with and don't work for scrubbing the base. Instead, order some decanter beads ($10–$15 on Amazon). Pour the steel balls into a decanter with warm water and swirl until the stains are lifted. (During the year, you can toss in a handful of rice instead, but that's not an option for many of us on Pesach!)
If you have access to it, crushed ice mixed with a bit of salt will have the same scrubbing effect without the special equipment. Alka seltzer or denture tablets work, too — ask your rav if you can use them for cleaning on Pesach.
When Peace Reigns
We asked, you answered! We wanted to know how you keep your kids busy on Shabbos mornings. Here's what you had to say:
I have big boxes of dress-up so they play pretend. And I buy special Shabbos breakfast like yogurt with toppings or mini cheesecakes that they can feed themselves.
— Mindi S.
I bought a huge foam mat with interlocking tiles and ABC letters that was only for Shabbos
— Malky G.
I have chores during the week for the kids, and if they complete the chores they get a new book on Shabbos morning,
— C. L. Cohen
Years ago my kids played "shoe store." They pulled out all the shoes from the closets and set them up. They also played "library": They set up their books across the seforim shelves and used a broken computer on the desk. One kid was the librarian who signed out all the books…. Kept them busy! Nowadays all they do is read.
— Sorah Leah B.
I found a single player game that my four-year-old daughter loves — you follow the picture to create a castle with blocks and towers of different sizes. It's fairly challenging, and it can keep her busy for an hour. And I have my eye on a new idea book for Clics that shows how to use them in 2-D mosaics.
— Esti W.
What used to keep them busy for hours was giving them free rein to all the building toys and having them make a city with various buildings of Lego, Magna-Tiles, blocks, and Lincoln Logs, and having train tracks running between them with every animal and Playmobil individual called on to inhabit the city. Cleanup was a chore, but worth the hours of creative, relatively quiet play.
— Shifi Bloom
Boredom Busted!
Long Yom Tov afternoons are perfect for board games. Our staff shares their favorites:
Stratego, Pretty Pretty Princess for the girls.
— Michal Frischman
Mastermind, Monopoly, Racko, Stratego, Battleship, and chess.
— Esther Kurtz
Banana Split, Too Many Monkeys, Suspend, Face Chase, Thumbs Up!, Connect Four, Zicke Zacke, Zingo, Match Madness, Déjà Vu.
— Faigy Grossmann
PicWits!
— Chavi Feldman
For the older ones: Splendor, Settlers of Catan, Labyrinth. For the younger set, Outfoxed is a great cooperative game, and Sleeping Queens is an old favorite.
— Bassi Gruen
Blokus.
— Sarah Faigy Berkowitz
Monopoly Deal, Rummikub, Backgammon
— Danielle Renov
Have a brilliant hack, quick tip, or opinion you'd like to share? Is there a product you're obsessed with? Tell us about it at familyliving@mishpacha.com and we'll tell the world!
(Originally featured in Family First, Issue 736)
Oops! We could not locate your form.
>