| Year in Review |
Eye on Europe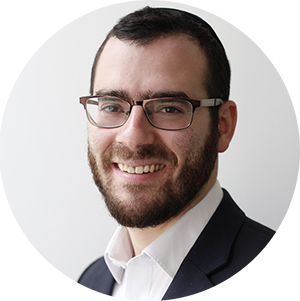 | September 25, 2019
This year also brought more evidence — if any was needed — that European anti-Semitism is a continent-wide disease


Old World, Old News
I
f Europe's newspaper editors wanted to take a shortcut for their year-in-review features, they could copy last year's headlines — because this year's big stories felt like old news.
Honest burghers from Brussels to Birmingham are heartily sick of the Brexit saga — yet it's no closer to resolution than a year ago. Shorn of his majority in Parliament and unable to threaten the European Union with a No Deal Brexit after MPs voted against it, new prime minister Boris Johnson's only option is a general election. That, in turn, depends on the good offices of the opposition, who seem in no hurry to give him what he wants. Johnson may have brought new aggression to 10 Downing Street after the Theresa May fiasco, but a year on, the EU still seems to hold all the cards.
This year also brought more evidence — if any was needed — that European anti-Semitism is a continent-wide disease. Britain's opposition Labour Party under Jeremy Corbyn was declared to be "institutionally anti-Semitic" by departing MPs. Less than 75 years after the Holocaust ended, a German official warned that kippah-wearing was not safe in the country. Dutch football supporters chanted, "Hamas, Hamas, Hamas — Jews to the gas." A grotesquely anti-Semitic float was paraded at a carnival in Aalst, Belgium — and the list goes on.
But if these prolonged crises feel like a slow-motion car crash, the good news is that Europe seems to have turned the corner on Islamic terror. Jihadist attacks killed 62 people in 2017, which fell to 13 in the following year. So far in 2019, no lives have been lost to terror in Europe.
Perhaps it's unsurprising that in a place with such ancient roots as this continent, trends are measured in decades, not years. But it doesn't take a prophet to predict that the big stories of this year will continue to drive news cycles well into the next.

Famous Words
"You also don't like Israel hosting Eurovision, although for different reasons."
— Speaking in front of the Conference of European Rabbis gathering in Antwerp in May, Mayor Bart De Wever joked about a BDS protest he'd passed on the way to the event. Perceptive of his largely rabbinic audience, he quipped that they would be as uncomfortable with the international pop concert happening in Israel as the demonstrators outside.

Game Changer
Ukrainian comedian-turned-president Volodymyr Zelenskiy was the big winner of the year. Having previously played a president in a popular TV show, Zelenskiy, who is Jewish, went on to defeat the real president and then win a majority in parliament.
Commentators were divided as to whether the election of a Jewish president showed that Ukraine was becoming more liberal, but his election has already paid dividends for Jews beyond Ukraine. As part of Israeli politician Ze'ev Elkin's recent visit to the country, agreements were reached on Israel-Ukraine cooperation to develop Uman, including using the nearby military airport to enable direct flights.
Zelenskiy may not yet be a Breslover chassid, but having crossed a narrow bridge to get to the presidency, he's unafraid of the road ahead.

Fake News Item of The Year
"No deal is better than a bad deal" was former British prime minister Theresa May's mantra, and the fake news of the year. Meant to persuade EU leaders to give her a good deal, the strategy failed for two reasons. First, the EU never believed that she was serious about crashing out without a deal, so she had no leverage. Second, and equally important, MPs back in Parliament thought that the deal that May eventually negotiated was the bad deal that she herself had warned of.

Letdown
Sephardic Europhiles everywhere will mourn the failure of Spain's Sephardic Heritage law. By the time it expires on October 1, it will have granted citizenship to under 10,000 people out of an initial projection of 90,000.
What put a stop to Spain's well-meant efforts were the complex bureaucracy and high cost of the process. Even speaking Ladino, a traditional Sephardic language, was insufficient to qualify, as applicants had to speak Spanish as well.
With Spain slamming the doors shut once again, Portugal is the next great Sephardic hope: its open-ended Sephardic citizenship law has far simpler terms. It might lead, 500 years on, to a Jewish Reconquista of the Iberian Peninsula.

Bright Spot
Europe's bright spot, in Jewish terms, is the growth of Torah learning. The kollel revolution began decades ago in Gateshead, spread to Manchester and London, and then to other locales across Europe. But in the last year, this correspondent has been exposed to the growth of the kollel in France. Paris has become a must-visit stop for organizations promoting daf yomi initiatives, from Agudah to Dirshu. Visiting Marseille shows many graduates of Mir and Kol Torah learning across the city. Dayan Avraham Weill of Strasbourg says that the local schools are unable to cope with the flood of families coming to join the city's five kollels.
France may have its problems, but the land of the Baalei Tosafos is back on the Torah world's map.

Stat of the Year
7.6%
Hungary may have added goulash and kokosh cake to the Jewish menu, but Jewish continuity took a body blow there. In a DNA test of 4,981 people conducted by MyHeritage and London's Institute for Jewish Policy Research, 7.6% of Hungarians (about 745,000 people) were found to have at least 25% Jewish ancestry, while 130,000 people had 50% Jewish ancestry — in a country with an official Jewish population of about 75,000. In a testament to the disastrous rates of historic intermarriage, Hungary is the country with the highest rates of Ashkenazi ethnicity outside Israel.
(Originally featured in Mishpacha, Issue 779)
Oops! We could not locate your form.
>